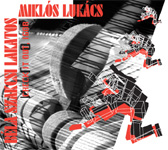 Hungarian Improv : A Close Look
The closest of all Eastern Block countries to the West during the Cold War because of its near-free market, so-called goulash communism, the past decade has brought more capitalist expansion in all fields—including music—to Hungary. Distinctive local improv still exists however, exemplified by four recent CDs by some of the country's most accomplished jazzers. Coincidentally nearly every one features improvisation that incorporates such traditional instruments as the cimbalom, or hammered board zither; Roma-style violin; and woodwinds such as the wooden saxophone-like tárogató and tenor-pitched or deep-bass folk flutes like the kaval and the fujara. Additionally, the players blend the freedom of jazz-improv with indigenous Hungarian musics that include Roma plaints, Klezmer rhythms, and a classical tradition that encompasses major so-called serious composers from Ferenc Liszt to Béla Bartók.
Not that the players are musically xenophobic. Mainstream tenor saxophonist Tony Lakatos, whose Gypsy Colours CD (Skip Records) tries to recapture his Roma roots now lives in Frankfurt, Germany. Pianist Béla Szakcsi Lakatos was for a longtime associated with the American fusion band Special EFX and has played with everyone from Frank Zappa to drummer Marvin "Smitty" Smith. Guitarist Gábor Gadó, featured on the French-Hungarian La Manivelle Magyare (Budapest Music Center Records), has lived on-and-off in France since 1995, and elsewhere heads an otherwise all-French quartet.
Still, there is continuity among the discs. Versatile keyboardist Szakcsi Lakatos plays different roles on three of these four CDs, whileMiklós Lukács, 30 years his junior—a second generation cimbalom player, who has played Liszt as well as gypsy music—is featured on three CDs, two that also include Szakcsi Lakatos in the ensemble.
Fascinating in its minimalist mixture of Hungarian folk and high classical sounds, Check it out, Igor (Budapest Music Center Records), a Szakcsi Lakatos-Lukács duet, sometimes floats on romantic impressionism like one of those Bill Evans-Jim Hall guitar-piano collaborations. Elsewhere the folksy string-based polyharmonies predominate with the pianist and cimbalom player's picking either resembling those produced by a bluegrass duo, or is more freely percussive, referencing drummer Max Roach's meeting with pianist Cecil Taylor.
Although Szakcsi Lakatos is known as the player who first popularized fusion in Hungary, he's been a committed jazzman since he was recognized for his talents at the 1970 Montreux Jazz Festival. Here, using both the keys and the piano's internal strings, he showcases flashy octave runs and low-frequency chording with the same aplomb as he outputs rolling walking bass lines and Magyar-styled nursery rhyme patterns.
Chasing one another like a cat and mouse, Lukács' claw-hammer-like slurred picking and the pianist's harmonic licks meld in splayed vibrations, exposing the overtones as well as the initial notes. At points each could individually be playing a tenor banjo or a steel guitar. Double-timed and melodious, the call-and-response sections of keyboard wandering and single-string response can be as folksy as blues guitarist Scrapper Blackwell's work with pianist Leroy Carr in the 1930s or as sophisticated as that of Hall and Evans.
Still, the Roach-Taylor resemblance is particularly apt on the title tune after Lukács extracts sitar-like textures from his instrument. Later steady hammering develops into polyrhythmic patterns as Szakcsi Lakatos introduces sprightly Chopinesque circular voicing, then slurred fingering from both players extend the melodies in double counterpoint. When the pace slackens somewhat, the two exit in style with "Gypsy dance à la espagnole" as the zitherist's single-string snaps meet ragtime-like cascading piano syncopation. As the cimbalom picks out the melody with the timbres of a metallic comb, walking bass reverb from the pianist offers opposing, gentler timbres until the two combine polyphonically at the end.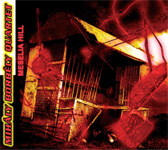 Lukács also adds his cimbalom talents to eight of the ten tracks on reedman Mihály Borbély's Meselia Hill (Budapest Music Center Records). Borbély explains that this hill with a Serbian name near his hometown "village inhabited by Hungarians, Serbs, Slovaks, Germans and Gypsies" would tell tales of "neighbours who, for centuries, have lived together, fought together, worked together, have shared their worries and had fun together." Besides utilizing the indigenous folk zither, the reedist expands his band's textures with the Orientalized fiddling of Zoltán Lantos, and by soloing on the tárogató, kaval, and fujara as well as his usual soprano, alto, and tenor saxophones. For additional colors, Borbély adds mainstream pianist Gábor Cseke of the Budapest Jazz Orchestra and folk/jazz drummer István Baló to make up the rhythm section along with his regular bassist, Balázs Horváth.
Throbbing cimbalom strokes and sliding slurs from Borbély's folkloric reeds are the first sounds heard on Meselia Hill, with subsequent tracks developed with a group strategy. With the saxophone exposing snake-charmer tones and Klezmer riffs as well as straight-ahead tones, Baló often bounces and ruffs, while Cseke comps in an understated freebop style. Alternating these group tracks with one-on-one interface with Lukács, the woodwind player contrasts or complements the zitherist's wooden slaps and thumping, chromatic runs with echoing multiphonics from the tárogató or buzzing overblowing with fripple blockage from the kaval or the fujara.
In larger group situations, such as the title track, the mixing doesn't always take, as when the woodwind player's shepherd-in-the-field trills and clinking cimbalom backing is almost buried under a fantasia of arpeggios from Cseke, who comes on like a Magyar Keith Jarrett. More descriptive are "Triptych" and "Bear Dance".
On the first, mallet-driven rhythms from Baló help integrate Lukács' flat-picked fills with piano harmonies and soprano saxophone chirps. When Cseke's block chording gives way to modal overtones, the musical resemblance is to a McCoy Tyner trio outing. Finally Borbély's near-abstract, split tones and droning, low-pitched double bass resonation introduces a meld of Middle Eastern-style sax lines, piano fills, bowed bass lines, and resonating waveform strokes from the cimbalom.
Featuring all six players, "Bear Dance" is even more textured and exotic, a reminder that the Arab expansion into Europe 600-odd years ago included parts of modern-day Hungary. Here the drummer and bassist's patterning is linked to timbres from the percussive Persian zarb and kamancha, or spiked fiddle. Similarly Borbély's sluicing reed improv is close cousin to what you'd hear from the Turkish mizmar. Ironically though, the fleet-fingered vibrations and echoing scrapes could only come from a cimbalom. Eventually, cowbell smacks and Horvath's double-stopping define this melding of Maghreb and Magyar multiphonics. If only Gypsy Colours mixed its influences as well as others are melded on this session.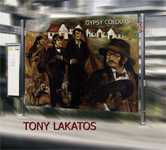 Although he makes a point of his use of Roma folksongs, former Budapest native Lakatos seems to be far from his roots. The tenor and soprano saxophonist, who has recorded with the likes of American vibraphonist David Friedman and Dutch keyboardist Jasper Van't Hoff, is a journeyman player. His previous CD was a tribute to songwriter Hoagy Carmichael, and there are points here when Lakatos' playing is reminiscent of the time singer-guitarist Josh White made an album with harmonica player Sonny Boy Williamson II. The contrast between the bluesman Williamson still was, and the mannered folk singer White had become was more than obvious. Lakatos makes a similar mistake here by hosting unreconstructed Roma players.
He further weakens his case by playing syrupy soprano saxophone on many of the tracks; leaving the violin parts to his brother, classical violinist Roby Lakatos; and recording Django Reinhardt tunes with only the finger-style nylon guitar of Ferenc Snetberger backing him. Despite the saxman's smooth, romantic feel, Charlie Byrd and Stan Getz scored higher in that department without ever referencing the Roma.
Pointing out that "all the musicians involved… come from old Hungarian gypsy families", the CD features five players with the Lakatos surname, plus two each from the Orban and Rostas families. Unfortunately again, one of the Rostas is Monika, a lyric soprano, whose two vocal numbers appear to have migrated from Brazil not Hungary. Here, percussionist Kornel Horvath lays into the claves and marimba, drummer Andras Lakatos plays a shuffle rhythm, and the sax line could slip into a Special EFX session.
However, pianist Szakcsi Lakatos is present to supply some authentic firepower, as is cimbalom player Lukács. Still, with even the saxman's salute to vibist Friedman, "Mr. Fried", more of a foot-patter than a foot-tapper, it takes a lot to rouse this crew from a laid-back revel. Bassist Gyögy Oban does prove himself a competent walker and the pianist contributes some standard jazzy fills. Nonetheless, Szakcsi Lakatos' mainstream/fusion leanings weaken "O.C.", one of the better tunes. Named for a slang Roma expression, but linked to early Ornette Coleman, Lakatos' tenor saxophone is properly double-timed and free, but the pianist's showy glissandi upset the piece's folkloric simplicity.
"Crying Way from India", is one of the few memorable part-jazz/part-Roma compositions here. It features the saxman's adaptation of a classic melody, a walking bass line, drum ratamacues, and sparking fills from the pianist. Blending gypsy melancholy and a blues base, the saxophonist uses a wide vibrato—and what sounds like a quote from "Nature Boy"—to suggest his dual identity.
Written by Lakatos, like almost all the originals, "East of the Moon" is a Klezmer melody with double-timed guitar strums, frailing chromatic runs from the cimbalom, col legno thumps from all the string players and rumbling percussion. Even more impressive, the saxman's highly rhythmic "Bebop Csardas" makes violinist Lakatos swing, uses Csaba Rostas' Roma "mouth bass" in double counterpoint with the saxophonist—a folkloric appropriation of Eddie Jefferson accompanied by James Moody—and introduces bebop stop-time. While his heart is in the right place, saxophonist Lakatos may be further away from Hungarian culture than he imagines.
An antidote to this is La Manivelle Magyare, loosely translated as "hearing Hungarian", by a band whose name also loosely translates as "The Provincial Campaign for Music Worth Hearing". Related to more theatrical bands from the Netherlands and Italy—not to mention French musette—three musicians are Hungarian, three French. On the Eastern European side are Szakcsi Lakatos again, violinist Balázs Bujtor, a member of the improvising RTQ String Quartet, and award-winning guitarist Gadó, who often plays with locals like Szakcsi Lakatos as well as with his own quartet.
Campagnie des Musiques à Ouïr was founded in Rouen in 1995 by Christophe Monniot, who on La Manivelle Magyare plays alto, baritone, and sopranino saxophones, effects, and sings; plus Denis Charolles, whose instruments here are trombone, keyboards, percussion, clarion, friendly chirping, watering-can, gravel, and anything that can be struck [!]. Monniot has worked with Antoine Hervé's big band and drummer Daniel Humair, while Charolles' employers have ranged from legendary French saxophonist Michel Portal to guitarist Marc Ducret. A member of the Axone Saxophone Quartet, Brittany-born Frederic Gastard here plays tenor and soprano saxophones, bass, imaginary monophonic, fur, and giant siphon [!?!].
Unlike saxophonist Lakatos' labored attempts at identity music, Gadó and Szakcsi Lakatos take their Hungarian-ness for granted; it's merely internalized, not displayed. For instance, the guitarist's "Winnie the Pooh Joins Europe" parts I and II, which introduce and sum up the program, are filled with call-and-response vamps from saxes and strings, pitter-patter piano pulses, rock-like guitar reverb, and tempo-changing drum rolls. With its layered polyphony "Part I" features Bujtor plucking his fiddle like a bluegrass mandolin and repeated bogus endings that reach a vaudevillian climax. Less than half the length, "Part II" has stop-time rhythm that showcases multiphonic horn lines, staccato violin runs, and buzzing distortion from guitar pedals. As it zooms to its climax, splinters of Austro-Hungarian marches, Roma laments and Lisztian classicism appear.
The pianist's aptly titled "Distortion" is all flashing dynamics from Szakcsi Lakatos, ruffling bowed strings plus honks and snorts from Monniot's baritone. Jerky, buoyant tenor saxophone lines and chromatic trombone burrs give the other Frenchmen something to do as the rock-style hooks waft the piece to a contrapuntal conclusion. Monniot, who contributes three of his own compositions, appears to be firmly in the POMO school. He mixes Gadó's country-style picking, resonating wooden claves, and door-knocking percussion on one piece with Hungarian-flavored fiddle arpeggios, tap-dance bass rhythms from Gastard, and contrapuntal reed honking.
With its punning title, "Have you met mystic?" has one of Gadó's best solos, as his slurred fingering outlines both the notes and their defined vibrations. When the harmonies open up, the strings approach czardas rhythm. Thus the tune links those dance beats with unison, R&B-like horn riffs, and concludes with whooshing jettes from Bujtor and dynamic arpeggios from Szakcsi Lakatos.
Defining the identity of Hungarian improv seems best done within the country, as these CD demonstrate. Unless, that is, you take the indigenous ingredients and spice it up with seasoning from elsewhere to turn the whole thing into a nourishing musical goulash.