CONCERT REVIEW
Kieran Hebden & Steve Reid + Six Organs of Admittance + The Thing
London UK, 26 April 2006
On the face of it, this triple bill seems like an impossibly disparate collection of performers and influences. It's a lineup that could only exist in a 21st century world where broadband connections and file-sharing systems mean that everyone is listening to everything. Tonight, the result of this furious musical cross-pollination is around a thousand fashionable hipsters and musos crammed into a venue on the north side of central London, to witness the following:
1) A Scandinavian band playing a hybrid of high-energy free jazz and acoustic garage rock, led by a saxophonist who's worked with a wide range of collaborators from avant-rockers Sonic Youth to Chicago jazzmen like Ken Vandermark and Hamid Drake, and incorporating one of the best rhythm sections in the world that also forms the backbone of Raoul Björkenheim's free-rock outfit, Scorch Trio.
2) A leading light in the new American free-folk movement, playing supercharged psych-fuzz guitar, backed on twin drum kits by the leader of freak-improv pioneers Sunburned Hand of the Man, and a young percussionist who has come out of the same scene to become a stunningly inventive and powerful drummer, making a series of coruscating free jazz recordings with veteran saxophonist Paul Flaherty.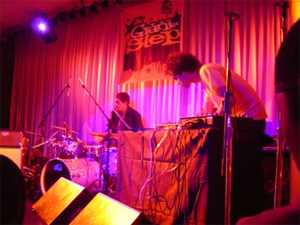 3) A young British DJ and musician who evolved from playing with post-rock outfit Fridge to making sensitive electronic music cut with delicate samples that led journalists to spawn the moniker "folktronica", here using electronic sound manipulation to accompany a drum legend who played on Martha and the Vandellas' "Dancing in the Streets" at age 19 and went on to back giants such as Sun Ra, James Brown, and Fela Kuti.
Notwithstanding this genre-straddling eclecticism, the connecting factor tonight is clearly the drum. For many, the prime attraction is the chance to witness three of the most revered drummers currently operating on the creative music scene.
The Thing's Paal Nilssen-Love sets the bar extraordinarily high, diving headlong into a blistering display of pulse-time fury, cut with crunching rock moves as he drives forward his bandmates—bassist Ingebrigt Håker Flaten and Mats Gustafsson on a wailing, Ayler-esque baritone sax—in a punishing, sweat-drenched, pain-fest.
Next up, wunderkind Chris Corsano—in his occasional role as drummer with Six Organs of Admittance—never really gets the chance to cut loose. Here, he's held back within the confines of leader Ben Chasny's song-based, amplified avant-folk. Although the presence of Sunburned Hand of the Man's John Moloney providing a steady rhythm on a second kit does free Corsano to add flourishes of colour, it's clearly Chasny's set and the spotlight's firmly on his molten, atonal psych guitar and almost ironically overblown rock stances—culminating in a surprising and painful looking somersault that lands him smack on his back.
Then we're on to the main event: Kieran Hebden and Steve Reid, playing in support of their acclaimed albums The Exchange Sessions Volume 1 and the newly released Volume 2 (both on Domino). One of the main points of interest with these two albums is that they document one-take, real-time improvisations with no overdubs or editing and expectations are riding high that the duo will be able to recreate the same fluid intensity in a live setting. From very early on in the set it's clear that they are not going to disappoint.
Steve Reid is utterly entrancing to watch in the flesh. It's not just the palpable sense of history that he brings with him (this is, after all, a man who knew Coltrane personally and jammed with Miles) but the unbridled joy that he radiates, whether with a wide, mischievous grin on catching Hebden's eye, or with eyes rolled back in his head, slack-jawed, zoned into complete immersion in the moment.
Interestingly, of the three featured drummers of the evening, Reid is easily the least technically accomplished, in terms of pure chops. Yet whatever he lacks in flashy technique is compensated for in pure, soulful intuition. In any case, as with the two albums, the music performed never really approximates any known form of jazz and, as such, Reid rarely needs to conform to any recognizable patterns—managing to avoid even familiar free jazz techniques. This is something else entirely.
For the most part, it's a sustained wall of energy; pure, shimmering sound, rising and falling in intensity, with Reid providing a huge, rumbling backdrop of constant kick-drum barrage and swelling, oceanic cymbal work. Against this, Hebden—better known as electronica/dance act Four Tet—pitches electronic squawks, squeals, blasts, and booms with astonishing responsiveness and imagination, almost single-handedly redefining the role of electronics as an improvisational tool.
Of course, there are moments when the two become disconnected, flailing around for a hook. But when that hook comes it really takes hold: a momentary, bass-heavy lick from Hebden touches something in Reid, a look of recognition flashes between them and they're off on a deep, four-square, metronomic groove—Hebden rocking back and forth on his feet, Reid shaking his head from side to side, eyes ghostly white. Somehow managing to avoid any traces of funk, these grooves seem to owe more to the motorik stomps of Krautrock bands suck as Can or Neu!, leading from one crescendo to another before dissolving back into the formless wall of energy from which they sprang.
Amazingly, the duo manages to keep this up, pretty much uninterrupted, for over an hour, and still come back for an encore. They're obviously loving every second—and the attendant hipsters and musos seem to dig it too.
Now, you just can't help hoping that those who came to see Ben Chasny, or who were making the Thurston Moore connection through Mats Gustafsson will go home, get online and start looking for Reid's 70s left-field, deep-jazz classics Nova and Rhythmatism. And if some of them keep on going as far back as Miles and Coltrane, well, so much the better. It's just possible the Internet might still save the world.