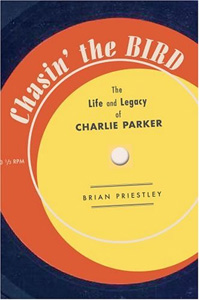 BOOK REVIEW
Brian Priestly
Chasin' the Bird: The Life and Legacy of Charlie Parker
(Oxford University Press)
Corresponding to the work of those recording engineers who remaster and/or pitch-correct selected CDs to more faithfully reflect the original music from earlier eras, Brian Priestly's Chasin' the Bird is a substantial expansion and recasting of a volume originally published in the early 1980s. As remasterers struggle to not distort the original session, so Priestly's updating adds to alto saxophonist Charlie "Bird" Parker's history and corrects apocryphal tales disproven by current scholarship.
Chasin' the Bird includes an extensive 59-page discography, filled out by the legitimate issue of many air checks and private recordings that weren't in general circulation in years past, and which are discussed in the text. These so-called discoveries, recorded by compulsive Bird fans like the fabled Dean Benedetti, have only augmented Parker's reputation, which had already reached an almost equal level of awe and infamy before his death at 34 in 1955.
"If Charlie Parker wanted to evoke plagiarism laws, he could sue almost everybody who made a record in the last ten years," pianist/teacher Lennie Tristano famously said in 1951, reflecting the view of most musicians. On the other hand, Parker himself told one of his sidemen that many in his audience were there to merely see "the world's most famous junkie".
In truth, the excesses of his erratic life created the Parker legend, which Priestly endeavors to push aside for accurate musical comment. But he still has to include personal details about the Kansas City-born jazzman, whose life story was replete with three sort-of-marriages and numerous liaisons; extensive heroin and alcohol abuse; one heavily chronicled and a few lesser-known nervous breakdowns and hospitalizations; a reputation for unreliability at club and recording dates; and often fractious relations with bookers, agents, club owners, and even his loyal sidemen.
To cite one famous example: New York's Birdland club was named in honor of Parker, yet after a gig there with pianist Bud Powell's trio in 1953, he so alienated management that he was barred from the premises for about a year. When that ban ended he was hired to work at the club with his best-selling string section ensemble, made up of legit fiddlers. One night, having drunk a sizeable amount of alcohol backstage, he publicly fired the band for incompetence, and was promptly let go by management himself. Obsessive and a heroin addict from the age of 16, his habits encouraged him to pack decades into years. As one K.C. club owner said: "When Bird was sixteen, he looked thirty-eight."
Yet, Parker's subsequent, perhaps inflated reputation as one of jazz's most celebrated junkie victims of American racism—like Powell and vocalist Billie Holiday—shouldn't overshadow his musical importance or worse, embellish it. Wisely, Priestly's carefully reasoned account doesn't let hyperbole over-inflate the saxophonist's musical importance. Throughout his one chapter of extensive musical analysis—which includes six transcriptions of Parker solos—as well as frequently throughout the book, Priestly memorably makes the case that the alto saxophonist's greatness was part-and-parcel of his place within the jazz tradition.
While the author, a British jazz pianist who has also written separate volumes on John Coltrane and Charles Mingus, acknowledges Bird's role as one of jazz's protean figures, at this point in the 21st century, this volume shows that while Parker's contributions revitalized jazz, they were actually less revolutionary than they seemed when bop was first acknowledged by a mass audience in the 1940s.
Mostly an autodidact, Parker, who always played a fraction behind the beat and had a close relationship to the blues, was also a master of rhythmic variations—which he passed on to one of his closest early musical associates, trumpeter Dizzy Gillespie—and extremely sophisticated in his use of harmony. But like Texas alto saxophonist Ornette Coleman, who was portrayed in similar fashion in the late 1950s when his unparalleled approach to improvising was first promoted, Parker was no backwoods savant who magically appeared with his style intact.
For starters, the so-called flattened 5ths, 9ths, 13ths, etc. that supposedly distinguished bop from earlier jazz while extending the chord sequence were something that other jazzmen had been doing in the past. The tale of how greedy plagiarists turned his "Now's the Time" into the 1949 R&B hit "The Huckle-Buck", also makes a good story. But Priestly points out, that like most of his other original tunes, instant gratification-seeking Parker sold the rights to that one to the record company, which subsequently put out "The Huckle-Buck". Anyhow, more recent research indicates that the distinctive riff which defines both tunes had at that point been common among musicians for at least a couple of decades by the mid-1940s.
Rather than a singular genius, Parker was very familiar with the musical progress of advanced swing soloists like trumpeter Roy Eldridge and, especially, fellow K.C.-er tenor saxophonist Lester Young. Plus, as noted by one of his long-time sidemen, trumpeter Kenny Dorham, he had an encyclopedic memory for all eras of jazz and the American songbook.
The trumpeter recalls Bird once playing a spontaneous version of a little-remembered pop song covered by singer Holiday, and at another improvising on un-jazz-like lines such as "Slow Boat to China" and "English Country Garden". Tellingly as well, at a 1953 Boston engagement, Bird happily jammed with traditional jazzmen trumpeter Doc Cheatham and trombonist Vic Dickenson on "Royal Garden Blues". As an aside, with or without standard Afro-Cuban accompaniment, Parker's double-timing and phrase interpolation often showcased how comfortable he was with south-of-the-border rhythms and how he could adapt to, yet dominate these situations.
Concurrently, Parker's melodic sense revealed his absorption of the creative work of the best 18th and 19th century European composers. His taste was catholic enough to revel in all good music, even if played by klezmer or polka bands, and like most exceptional players "everything had a musical significance for him," according to bassist Gene Ramey, who in the early 1940s worked with Parker in pianist Jay McShann's big band. "He'd hear dogs barking for instance, and he would say it was a conversation—and if he was blowing his horn he would have something to play that would portray that thought to us."
When sober, Parker's musical powers were such that with his photographic memory he could sight-read a big band arrangement and fit in as if he had rehearsed with the group for weeks, and his technical skills allowed him to deflate all comers in jam sessions—as British pianist George Shearing discovered when Bird called for "All the Things You Are" in five sharps.
But he was also realistic about his talents. By the late 1940s Parker often discussed seriously studying composition and 20th century classical music—after all, he had already taken all he could from the 18th and 19th century. Just before his death, self-pitying anecdotes aside, he admitted how his lifestyle choices had detrimentally affected his improvising. Considering the medical examiner's famous estimation of his age at time of death at 53—19 years older than his actual lifespan—whether he would have continued to thrive and innovate had he lived is open to speculation.
Still as Priestly writes, Parker's "particular combination of European and African elements was more complex than any previously achieved and… [w]as capable of infinite variation." Reading this carefully reasoned and well researched volume should convince anyone of that.
However, now that Priestly has revisited one of the few jazzmen whose legend has inspired multiple volumes of prose, isn't it about time he does the same for his 1983 biography of Mingus? A similar updating would add to our knowledge of the mercurial bassist, whose equally fascinating life has spawned far fewer books than Bird's.