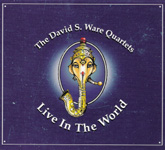 David S. Ware : Into That Reservoir
In his 55th year, David S. Ware has given us a three-CD set of live performances—Live in the World (Thirsty Ear)—that should finally confirm his reputation as a giant. As a musician, a composer, and a bandleader, very few still at the top of their game can scale the heights of Ware's accomplishments. Typically such pronouncements are reserved for those whose music has precipitated great change, but we've also allowed ourselves to gush over developers of distinctive and prodigious styles and idioms, and thus Ware is deserving of such encomium.
As a member of the second generation of free players, Ware has charted the direction of such playing beyond its dead ends of desultory fulminations, by pursuing the free jazz aesthetic without wholly abandoning the traditional grammar of jazz. In doing so, he has fulfilled some of the grand expectations that were cut short by the deaths of Coltrane and Ayler, and that many had for say, Sonny Rollins, when he recorded Our Man in Jazz. Some of Ware's more raucous records can still be challenging to some ears, but the fervent ingenuity of his attack, with its astonishing range of expression from low register runs to high hollers and hoots, has consistently converted the open-minded.
Virtuosos of his kind can be hard to ignore. They're even harder to resist when they continue to evolve their sound with the fecundity of David S. Ware. His solos are spiraling effusions that can be at once furiously atonal and fluidly lyrical. No one sounds like him, and he sounds like no one else. And rarely has a free jazz leader had a more responsive complement of bandmates as he has in Matthew Shipp and William Parker.
However, simply mentioning the term free jazz to Ware draws his ire. "Man, that label is a problem," he said as we spoke by phone. "It's an artificial limitation put on my music, which doesn't need to be categorized. It's music, and you can say whether it's good or bad. When Branford Marsalis signed me to Columbia, he did not consider me a free jazz musician, he just liked what he heard in my music."
Despite his accomplishments and the many accolades that have come his way, Ware is still sensitive about the lack of a larger audience for his music in the U.S., and there's a hope that this release of three live performances might reach more people here. It's meant to serve a sort of mid-career retrospective.
"Yes, it's a summation of what we've been doing for 15 years. And there's a lot of music there, a lot of variety… What I've gotten out of working with the quartet is something transcendent. We can take the music to the ­nth degree, take any piece to the maximum, and in these performances there is something special. Special when we played them and special when we listened to the recordings."
What does he mean by that? "Like I said, man, it's transcendental, it goes beyond the spiritual, it's where something spontaneous just keeps giving us more to work from and work with. Music exists in this universal reservoir and you just pull out of it what you can." Into that reservoir, Ware dips deep, and brings forth a music that exhilarates in a variety of tempos, with constantly shifting dynamics, and everything that has made his quartet so admired is well showcased in these three performances.
The first disc dates back to 1998 and has Susie Ibarra on the drums. To many Ware fans, she's been his best drummer, and if you admire the subtle pulse she adds to the density of Shipp and the rich lyricism of Parker, you won't be disappointed with this disc, recorded in Switzerland and featuring mostly numbers from the Go See The World album.
Ware is in fine form throughout this live date (two other cuts from this performance fill out discs two and three), doing that magical thing he does—abstracting a song's theme into so many tonal configurations—that each time he finds his way back, it is genuinely surprising, and of course, exciting. His solos are lengthy and in them he constructs his ideas from brawny roars, sustained circular cries, extended foghorn bellows, choppy flurries, and flowing, florid arabesques. Ware is nothing if not dramatic, and as much as we come to love what Shipp, Parker, and Ibarra do during the long stretches where he lays out, we're also waiting for him to raise his horn and shake things up again (though Parker does treat us to a few bowed solos that are pure beauty).
There are only two complaints about this disc. Parker's bass does not come through well on the mix when Ware is playing. And Shipp, who is often given a lot of space, does not always show himself to be an inventive soloist. At times, he's banging and pedaling indecisively, and there's a passage on their interpretation of "The Way We Were" where Shipp seems a little shocked to find himself playing the melody so straight for so long, and blunders into a brief, clunky chord change that sounds like he's had enough.
Disc two, which comes from a performance in Italy in 2003, is what will lure some to buy this package, and that is because it features Hamid Drake on the drums. Well, it just so happens that this is also the set's best disc. As a drummer, Drake is an extrovert, a polyrhythmic muse who drives the band to stunning heights. Despite his power, Drake never obscures or overwhelms, he simply keeps things cooking at a high temperature.
The opening cut, "Elder's Path", is a 25-minute tour de force—and a ferociously beautiful lesson in group dynamics with Parker's sinuous bowing and Shipp's vibrant clusters deserving mention. After that workout leaves you breathless, the next number, "Unknown Mansion", begins as an extended duet between Ware and Drake, and their interplay is as inventive and bracing as anything you'll hear this year. Suffice it to say, this disc alone makes buying this set necessary.
Finally, disc three is the quartet's version of Sonny Rollins' "Freedom Suite", with current drummer Guillermo E. Brown. The folds and facets of this great quartet's communication are boldly displayed here. As expected, it's a little looser and a little longer (by 22 minutes, actually) than the studio version released in 2002 on AUM Fidelity, and that's a very good thing.