Visionary Artifacts : Vision, Volume 3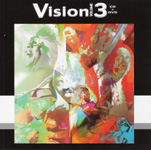 Chances are you're too busy or geographically distant to attend all the essential avant-jazz festivals that you'd really like to. If so, Vision Volume 3 (Arts for Art), a double CD and DVD package documenting the Eighth Annual Vision Festival held in New York in 2003, is an absolute must: a dizzying musical postcard of the sights and sounds of this heavyweight gathering of serious musical muscle.
Coming out of the same artist-led ethos that characterized the 1970s loft scene, this collection of live performances is a tenderly crafted offering of deeply intelligent improvisation from some of the most daring musicians on the planet. Presiding over the whole thing is the huge, genial spirit of bassist William Parker. Not only is he co-organizer, along with his wife, dancer/choreographer Patricia Nicholson, he also plays on most of the tracks on both discs.
This recording—and the festival itself—oozes with an all-embracing love: for the music, for the performers, for the audience, for the listener, for all kindred spirits, for the whole damn world if only it would listen. It's an act of reaching out, as the sleeve notes make clear: "Art must be seen and heard. It is for the enrichment of all those who attend and those who do not."
The discs try to bridge the gap between these two groups by plunging the listener into an atmosphere of excitement. Audience whoops and cheers are high in the mix, conveying the thrill experienced by artists and audience alike. The CD kicks off with "Coalescence One" by the Whit Dickey Quintet, pitching straight into the middle of a deeply swinging Ornette-like groove just as Roy Campbell is getting into his trumpet solo and the audience is already sounding feverish. It's a visceral jolt that rarely lets up throughout the whole disc.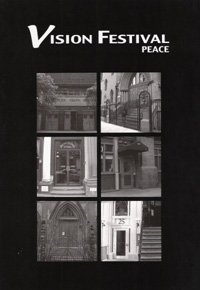 The key to appreciating these performances is to equate their intensity with commitment to a deeper spiritual concern. The artists are playing as though the fate of the world depends upon it. The Matthew Shipp Quartet's "Surface and Dream—Excerpt No. 1" is a tough, sinewy slab of heaviness with Shipp's percussive piano barrage bashing up against William Parker's insistent, digging bass and tangential, abstract drums from Gerald Cleaver. Over this, Daniel Carter's tenor is fiery, lyrical, and inquisitive. These are no idle excursions: they are working towards something important. They really matter.
There's political commitment too. "War Crimes and Battle Scars: Iraq" begins with Warren Smith's solo drums turning into bursting incoming shells before William Parker launches into a painfully stinging arco bass attack of enormous urgency, like he's trying to rip the guts out of his instrument in an act of sympathetic magic to spare the poor grunts who are suffering actual dismemberment on the streets of the Gulf right now. Finally, the drums set the pace for a disoriented, paranoid parade-ground exercise, as Roy Campbell's trumpet and Joe McPhee's soprano sax flounder around in anguished confusion—young soldiers watching their past certainties dissolving into chaos.
There are some more meditative moments, too. Thomas Buckner's "Improvisation No. 1073—Excerpt No. 1" features the singer's operatic vocalizations and other-worldly scat against a backdrop of toyshop percussion, clinks, chimes, cymbals, and whistles provided by Jerome Cooper's 'multidimensional drum' and Roscoe Mitchell reprising the 'little instruments' of the Art Ensemble of Chicago. Elsewhere, Patricia Nicholson's PaNic features another Art Ensemble-member, Joseph Jarman on oriental flute and alto sax, supporting Nicholson's audible dance—footfalls, grunts, breaths, and cries mingling with spoken poetry, exhorting all of us to "Rise Up!"
The CD's highlight is probably the closing track—"Bowl of Stone Around the Sun" by William Parker's Jeanne Lee project: a loping, joyful stroller anchored by Henry Grimes' unshakeable bass motif. With feverish female vocals preaching about the need to "go home to the spirit world", and its infectious, abstract swing, it comes on with the serious playfulness of Sun Ra's Arkestra and just won't let go until the fade-out. This ensemble also provides the stand-out performance on the DVD—"Song for Jeanne Lee"—featuring a monumental Billy Bang violin solo that's worth the price of admission alone.
Both of these discs are crammed with more moments of beauty and surprise than there is room to discuss here. Along with the accompanying book, Vision Festival Peace, which features photographs, essays, art, and poetry by many of the participants, they offer a window into the minds of a group of people who are desperately trying to save us. Their message is clear: love your family, be good to your neighbors, don't believe the bullshit, fight for what you believe in, be creative, sing, dance, make a noise, and everything will come right in the end. We should all give thanks right now that someone, at least, is trying to make a difference.