Gebhard Ullmann : 3 Musical Paintings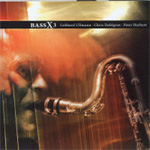 Saxophonist, clarinetist, flutist, and composer Gebhard Ullmann has been creating a unique catalog of recordings for 20 years. On his three new releases, BassX3, The Clarinet Trio's Ballads and Related Objects, and The Big Band Project, Ullmann tackles lower register ambience, chamber music, experimental blowing techniques, classic big band orchestration, and improvised trio explorations, and he manages to infuse all of his pursuits with such a sense of curiosity, purpose, and ability that the listener is left with three recordings worth of challenging and stimulating material. While it would take other artists years to arrive at one of these albums, Ullmann has seemingly done it simultaneously.
On BassX3 (Drimala), recorded in Brooklyn in 2001, Ullmann, on bass flute and bass clarinet, is joined by bassists Chris Dahlgren and Peter Herbert. All three musicians share the composing credit, and the music has the feel of instant composition, a term Ullmann uses in the liner notes to Ballads and Related Objects. The recording has an ambient sensibility with Ullmann's bass flute oftentimes weaving in and out of the two basses almost imperceptibly. On bass clarinet, Ullmann begins the third tune, Small Birds/DreiHolz, with some seriously primitive sounding extractions from his instrument, and rather than aimless exercise, it sounds as if he is exorcising demons; and after arco and pizzicato bass, Ullmann lays out a beautiful and multi-layered solo, the basses always underneath.
The title tune then offers the greatest reward of the recording with an ethereal, dreamlike blending of bass instruments that completely captivates. Colors factor into the titles of a few tunes here and it is no accident since color and texture are laid out as plainly as if one could stand witness to a master painter laying paint on canvas. On " Blue Mint", Ullmann on bass clarinet proves that he can swing with the best of them, as the bass players slap and pluck out a groove over which he glides and floats. " Slowliness in Green and Yellow" closes the album by doing just that, slowing down the tempo with arco and pizzicato bass and Ullmann fading into the ether.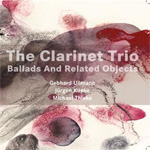 The Clarinet Trio consists of Ullmann on bass clarinet, Jurgen Kupke on clarinet, and Michael Thieke on alto clarinet and clarinet, and their album Ballads and Related Objects is, as the title indicates, a more structured affair. Recorded in Berlin in 2003, the trio works in various time signatures, nicely laid out by Ullmann in the liner notes, and free improvisations entitled " Collectives No. 9-12". Having no bass or drums on a recording could scare off some listeners, but this trio has the sound of a band that has worked together enough to know how to fill the roles necessary to keep the proceedings from drifting into chaos.
Ultimately, the lack of a rhythm section is a non-issue. The solos are purposeful and inventive and the accompaniment, or lack thereof as the situation dictates, is dead on. There do seem to be more related objects than ballads, but I suppose that is only if one is thinking of ballads in the traditional sense. The group keeps the improvised pieces short and well dispersed throughout the recording's 13 tunes, which gives the entire work the feel of what Ullmann describes as one long suite. One is left with the sense that perhaps this recording is more of a sampler of what this trio is exploring, but not as fully realized an album as BassX3 with its more coherent structure and intent.
Structure is vital to Ullmann's third offering, The Big Band Project, his first foray into recording with a big band. Recorded in 2001, all of the compositions are his, but the arrangements are by Satoko Fujii, Chris Dahlgren, Guenter Lenz, and Andy Emler. Ullmann is featured on bass clarinet, tenor and soprano saxophone, with the NDR Big Band consisting of conductor Dieter Glaswisching and 20 various instrumentalists. The work of pianist Vladyslav Sendecki is particularly notable, including a wonderful solo in the piece "Ta Lam", which is a standout on the album, full of shifting instrumentation and tempo changes.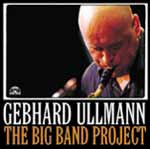 After listening to trio workings of Ullmann's compositions, it is fascinating to hear his work arranged and performed by a large ensemble, with his voice still very much present with soloing in each tune and wonderful changes in pace and improvised segments. Ullmann's finest solo is most likely his unaccompanied bass clarinet foray during "Kreuzberg Park East/ High Lam Earth", in which he is gradually joined by members of the group until guitarist Stephan Diez crashes through with a solo, described as post-Hendrixian in the liner notes, to break things up.
The most intriguing piece, however, may be " Fourteen Days/ Cafe Toronto", as it features two compositions in one arrangement that moves from tenor saxophone/ flugelhorn interplay into the most traditional, straight-ahead ballad as any on the three albums, and rather than sounding out of place, it is a nice point of reference as to how much more there is to explore in the world of music referred to as jazz and how far Gebhard Ullmann has gone in that exploration.
It is obvious from these three recordings that Gebhard Ullmann is an artist who is unwilling to rest on his laurels. His music is a jumping-off point for the listener to take his sounds and textures, his colors and shapes and form them into something new and original with each listening. It is a gift, and one to be cherished in this era of commercialism and cookie-cutter art. The most we can ask of the creative musician is what Ullmann delivers, and that is to ask more of us, to take the work further and create endless possibilities which help us to accentuate, rather than escape from, our existence. With Ullmann's three new recordings, the listener is left with what Ullmann calls "musical paintings that may create different associations for everybody—like short movies to listen to". And the associations can be different with each listening, which makes his work a true success.