TUM Records : Label Profile
Throughout the history of jazz and improvised music, persnickety independent labels have pumped the heart of the music with their own vision. While much of this music continues to require some time and energy to track down, the results are often worth the effort. Birthed in the spring of 2003, Finnish indie label TUM is one worth consideration, with plans to become one of the "great ones". Its aims are simple, though no less ambitious than any other independent with similar high ideals. Generally speaking, the label seeks to present top-notch music focusing on primarily Finnish players, both on recordings and through curations of live music. At present, the label's 12 releases consider mostly improvised music from the artist's pens, though there are certainly sprinkles of others' works. Perhaps the best aspect of the label is to not only document plenty of young talent, but also veterans deserving more consideration.
Though it is likely a long plane ride for most readers here to actually catch these artists performing in their home countries, we do have the opportunity to enjoy TUM's excellent and compelling packaged goods. Putting the musical results to the side for a moment, TUM's discs follow a classy and well-planned design—each release has introductory notes, musician bios, track-by-track comments, and an overview of the artwork featured on each cover. As for the latter element, some of the art recalls the conception recently utilized by Verve's recent reissues of 15 nuggets from the America records catalog. Getting back to the music, then, the following looks at the most recent six releases on the label, which present music from both Scandinavian and American talents.
First up is one of Finland's most recognized reedsmen, Juhani Aaltonen, in an improvisation-centric 2002 meeting in Helsinki that pairs him with American marvels, bassist Reggie Workman and percussionist Andrew Cyrille. Unlike the trio's collaboration with strings from contemporaneous sessions (released as Strings Revisited), this session focuses on the interplay of these seasoned masters. The atmosphere mixes heady interplay with introspection and is guided by Aaltonen's instrumental choices. Take the opening tenor-driven "Serenity", for example: a luminous initial foray that looks inward and contrasts nicely with their stirringly rhythmic take on Coltrane's "Selflessness" with its soft, rather than harsh undulations. Along similar lines is the bristling oscillation of "Effervesce", arguably the group's most spitfire moment, or the parting of ways on the 11-minute "Supplications", the sole live interaction, where an anthemic theme parses out the surprisingly deep connection between these survivors.
Aaltonen's flute is at the heart of the record's most convictive moments, which result in some serious meditation. Cyrille's mini-suite "The Navigator" is the most compelling, with Aaltonen's lustrous flute purring amidst Workman's bouncy pizzicato work and Cyrille's march snare cadences, eventually locking into a peppy groove. Similarly along the flute angle, the slow smolder of "Still Small Voice" features Cyrille's dancing brush work and Aaltonen's warm alto flute, while "Reflections" is a classic thinker with its deep emotional content. A warm session and cross-cultural exchange that produces moving results, Reflections will beckon those with a love for the New Thing era and just beyond.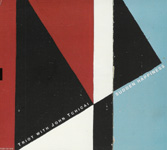 Moving away from the spiritual side of the music and towards the blues comes another 2002 session, Triot's Sudden Happiness. This live performance pairs the cooperative trio of a Finn (saxophonist Mikko Innanen) and two Danes (bassist Nicolai Munch-Hansen and drummer Stefan Pasborg) with the masterful sounds of John Tchicai's tenor. The result is a vibrant inside/outside piano-less quartet that fans of Ornette and Don Cherry's small group work will want to seek out, especially for the near-constant dialogue between Tchicai and Innanen. A fitting opener, "Good Company" commences with a two minute Tchicai-Innanen conversation that signals the record's future, especially after the rhythm section joins in for a rapturous exchange of ideas.
A sense of swing is a key ingredient here, with the upbeat tempo spurring on the front line, such as on the free-improv of "Netop" that eventually dissipates before segueing into the blues-infected jump and slow swagger of "Sci-Fi Hotel" (check out Innanen's gleaming alto solo here). The midtempo swing of "Second Night" also keeps the toes tapping and features another dose of Tchicai's spoken word work. Groove is important to this outing, especially on the 12/8 romp of the African-tinged "Berber" or Johnny Dyani's charming "Appear" with its calypso rhythms and the captivating tenor-alto work. Hidden amongst these lively outings are subdued moments, the most gripping being the record's closer, the dark majesty of "Undercurrent" with Tchcai's foreboding bass clarinet intertwining with Innanen's fluttering baritone sax. Full of emotion that touches joy and despair and dashes on with its balance of poles, this one is a definite keeper and arguably the best of the bunch.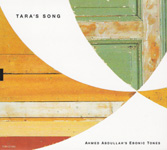 Moving away from its Nordic-centric roster for a moment, Sun Ra disciple and trumpeter Ahmed Abdullah offers the initial recording of his group Ebonic Tones, playing music termed "Jazz: Music of the Spirit". This joyous celebration is steeped in the spirit of Ra and 70s loft jazz with a group including baritone saxophonist Alex Harding, violinist Billy Bang, bassist Alex Blake, and drummer Andrei Strobert, incidentally all one-time Ra collaborators except for the youngster Harding. This composition-based program includes two Abdullah compositions that present the solemn side of this group, the meditative "Tara's Song" dedicated to Abdullah's young daughter, and the two-part "The Cave", initially a pensive journey before Strobert's drums strike up the band for a rousing swing-based theme and solos from Harding, Abdullah, and Bang. As one might expect, two Ra compositions take shape, including the charming "Tapestry from an Asteroid" and the call-and-response loose funk of "Fate in a Pleasant Mood". To be frank, the vocals are far from being technically accomplished, but they certainly contain a lot of heart.
As for the rest of the cuts, Gigi Gryce's "Sans Souci" is an unexpected delight with its bright theme and happy rhythmics, while Ornette's "Lonely Woman", arranged by Bang, is delivered with its usual dramatic flair, as Harding heats up and Bang sparks a tumultuous rhythmic exchange. Frank Lowe's funky "Nothing But Love" is somewhat clunky in its syncopation, but is a catchy number that won't leave your head too soon, as is the old school rearrangement of Monk's "Blue Monk" that twists the melody and thrives on Abdullah's old school mutework for a trad jazz-like foray. The group concludes with the contagious fun of "Iko Iko" that is hard not to like. While there are several erratic moments from both harmonic and rhythmic spheres, Abdullah's concoction works rather well.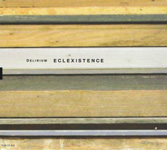 Saxophonist Mikko Innanen and drummer Stefan Pasborg return on Eclexistence, the second outing by the Delirium quartet that matches this duo with two other Danes, cornetist Kasper Tranberg and bassist Jonas Westergaard. Like Triot, the Coleman-Cherry axis is a strong reference point for its ample elbow room and felicity, though the results are still fresh. Perhaps the most interesting aspect of the recording is its broad compositional aspirations, with each musician making at least one contribution.
The record begins with the highly charged bang of "Drive-Thru", with opening statements that remind one of the horns of a railroad crossing mixed with Tranberg's muted cornet and Innanen's schizophrenic soprano/alto hybridization before Pasborg takes it home. Things get funky on "Autoabsence" with a vamp that would sound at home on a Vandermark record that encourages Tranberg's bright edges. The scattershot horizons of "Jazz & Poultry" prove unpredictable though serve as a nice starter for its successor, "Välkomma Äter", a three-part Innanen piece that is condensed into a march/rumination/anthem in less than four minutes.
Following on the tightly-packed musical conceptions, the group looks at several realms on Pasborg's ambitious "Iki", which commences with a Lithuanian-influenced melodic vignette before a heady 6/4 vamp spurs on the front line horns; the dust settles, crickets chirp, and the opening melodic aroma returns. To round things out, Innanen adds his "The Multi-Cultural Suite", commencing as a quiet sojourn highlighting Tranberg's shimmering cornet, before locking into a punchy Afro-Latin vamp propelled by Pasborg's multi-textured cymbal work and Tranberg's continuing escalations. Surprisingly, the record concludes not with a lot of fire, but rather, Westergaard's smoky ballad, "Kreutzer Valse". This is another easily admired record from a group of ambitious youngsters who prove that while they can deliver a knockout opening salvo like "Drive-Thru", they have much more up their sleeve than mere blowouts.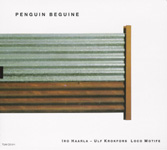 Keyboardist Iro Haarla and bassist Ulf Krokfors, both former members of Edward Vasala's Sound and Fury group, previously recorded a serene duet record for TUM (Heart Of A Bird). This time out, Penguin Beguine presents nine compositions, separately crafted by the duo, that utilize a biggish band of Finns (dubbed Loco Motife) to work through their diverse ideas. There are quite a few memorable moments here, though the overall picture is rather broad and at times, a tad too ambitious. It is worth noting that the music is quite rhythm-section centered, with Haarla's keyboards mixed with the Hendrixian-drenched sonics of guitarist Mikko Iivanainen, two bassists (including Krokfors), and two drummers. Such focus is immediately apparent on the opening track "Penguin Beguine", where sound splotches pulse against a rhythmic vamp and punchy horn riffs. Haarla's organ and other keys often are the chief colorizers, leading to a conception that sounds more like sketches that the band took and "ran with", rather than neatly-organized songs (the liner notes cite the influence of Miles' Bitches Brew era bands).
Such open melodic/improvisational terrain is well represented on the moody, aptly titled "At Night, Cat Walking", which features a knockout trumpet solo from Anders Bergcrantz as well as the airy "Frosty Night". Many tracks have this sense of fluid melodic shapes, such as on the slow walk of "Bells", with guitar freak outs from Iivanainen; the spacious "Samoaja", which features Krokfors; and the rockish jam of "Crimcum Cramcum", featuring a double drum in-the-groove blowout. Perhaps the standout track here is "Farewell Song", the most "jazz" oriented offering, which spotlights an inspired turn from Innanen's alto, Mikko Korsström's tenor, Haarla's pulsing organ and guest drummer Reino Laine. Another successful piece is the beautiful "Voice Behind the Wall", a ballad that is enriched by Haarla's puckish harp and Innanen's swirling soprano. Unfortunately, the session ends with the saccharine "Beside You", featuring vocalist Johanna Iivananien, which is a sharp contrast to the proceeding eight tracks and borders on the unlistenable. Overall, Penguin Beguine is a disjointed affair that has several bright spots but doesn't manage to put them together in a seamless, convincing fashion.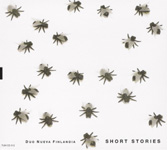 Finally, the most abstract record of the bunch is the freely improvised piano-bass duet between Eero Ojanen and Teemu Hauta-aho, Short Stories, which collects 14 vignettes of around five minutes or less. This arguably limited instrumental palette can be a bit trying over the course of the entire listening experience, though Ojanen and Hauta-aho do a commendable job at maintaining one's interest. Technically, both are busy players who have an innate sense of melody even in this improvised setting, no doubt a result of their broad musical experiences both together and apart from one another. Worth mentioning is that folks may know of Hauta-aho from several high profile bass stints with Cecil Taylor and as a member of Quintet Moderne.
While there are the typical ping-pong ball volleys on many of these excursions, the duo offers more than mere tête-à-tête linguistics. Some of the highlights are the jazzier "A Definitive Story" or "A Double Story", the tightrope-walking of "An Ironic Story", the tension-filled "No Story", the melancholic "A Sad Story", and the sprightly conclusion, "End of the Beginning". While stereotypically, Finns are known for being reserved and introverted, the duo offers quite a sense of relief from the typical high-mindedness often found on improvised music summits with their keen sense of humor, exemplified by journeys such as "Haloo-haloo!", where they briefly engage in a vocalized exchange with what else, "haloo!", and the squeaky "A Firefly Story", which pits Hauta-aho's scratchy arco with Ojanen's percussive plunks. A worthwhile improv trek whose short running times add to the digestibility of the experience.