Screaming Headless Torsos : On CD and DVD
Once upon a time, in the early to mid-1990s, there seemed to be an opening for a band like Screaming Headless Torsos. Before Phish became bloated arena demigods and before Medeski, Martin & Wood met John Scofield in the nether regions of the jam band universe, there were the Torsos. A fiercely talented, jazz-trained unit with a populist's ear and a love of all things funky, heavy, and fusion-derived, the Torsos were (and, much to the surprise of many listeners, still are): guitarist David "Fuze" Fiuczynski, vocalist Dean Bowman, bassist Fima Ephron, percussionist Daniel Sadownick, and drummer Gene Lake (who by 1996 had replaced original drummer Jojo Mayer). On their 1995 self-titled album, the band played a furious amalgam of electric Miles, Bad Brains, and Ronald Shannon Jackson. These two recent signs of life—released on the Fuzelicious Morsels label—confirm that the mix is still potent and fun.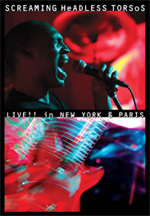 The DVD is a double-disc, each one containing a full concert recording captured in pristine sound. The first is from a 1996 concert at the Knitting Factory in New York (some of which was released on disc by Fuze's own label in 2002). As ever, the action here centers on Bowman and Fuze, who dance, spar, reharmonize, tweak, and mug with crazed abandon. They open with James Blood Ulmer's "Jazz is the Teacher" and from there turn "Word to Herb", one of their signature tunes, into a mutating quote-a-thon, beginning with Bowman's a cappella "Bewitched" takeoff and continuing with Fuze's Woody Woodpecker solo.
As the band stretches out beyond the relatively brief renditions heard on their studio recordings, they flex all their improvisational muscles. The multiple shots of the worshipful crowds testify to the effect this can have on audiences. Most of the players have a very understated stage presence, except possibly for Sadownick, who seems very animated in his Wu-Tang t-shirt. Some of the material falls flat—like Bowman's monotone delivery on "Graffiti Cemetery", which was more successful on the original record—but it's mostly excellent, high-octane fun.
They're fond of slapping bop-inflected melodic lines (sung with precision by Bowman) onto vernacular rhythmic forms, as on the light reggae of "Arline". There are long improvisational extensions (such as Fuze's incendiary work on "Just for Now") and several points where the music transforms into sheer blunt noise; but some of the most exhilarating moments occur when the band simply gets a loose booty and funks hard ("Panic 178"). And Bowman's marvelously versatile voice sounds so good on the silky smooth "Darryl Dawkins' Sound of Love". The single best highlight of the Knit set, though, has got to be "A Smile in a Wave", the tune where they appropriate, extend, and mangle Miles' "Jack Johnson" theme (it's a kick in the ass to see how much fun the mighty Lake and Sadownick have during that tune's big metal breakdown).
The Paris set is just as tight, far-ranging, and crazily expressive as the band was in its (early) prime. Playing to a packed house at the New Morning venue, Fuze brandishes a double-neck (shades of McLaughlin, baby!) and leads the band charging through material new and old. The crowd responds eagerly to new material like "Mind is a River" (the rousing opener), "Just for Now" (with its insane breakdowns and jagged diversions), and the soulful "No Survivors", and Bowman sounds fantastic.
In some ways, the band is even more exploratory during this concert than on the Knitting Factory set (though some tunes, like crowd favorite "Vinnie", remain fairly consistent), with longer solo spots (including an excellent Sadownick feature), more crazed interplay (as on the seriously psychedelic "Sakura", with Fuze's tweaked tune cutting through the ambient washes), and a greater range of material (such as the darkly exotic "Phoenix Rising", a tune originally featured with Fuze's band Kif, or the brief, raucous miniature "Acadia Finlandis"). Sure, the Torsos don't engage in on-stage histrionics and it could be argued that there's no real point in watching them. But this DVD two-fer contains so much good music that it's impossible not to recommend.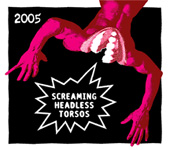 The new full-length album finds the band in fine form, with a slightly greater reflectiveness in its lyrical content and slightly more subdued music to go with it. But fret not: things are still funked-up, freaked out, and occasionally metallic. And Bowman can still croon, coo, yodel, and wail—even if his upper register isn't quite as forceful as it once was. Familiar from the DVD set is the big open-sky psychedelia of "Mind is a River", the gorgeous R & B "No Survivors", and the ska to funk heard on "Woe to the Conquered". The latter tune is as good a place as any to study their methodology, including not only abundant chops (here evinced by the difficult tempo morphing—the tune is broken down and built back up regularly by Lake), but a barrage of idioms (from Bowman's soulful crooning and Fuze's vibrato comp to the howling metal section) that somehow mesh.
One of the best of this set is the joyful hip-hop infused "Faith in the Free", which Fuze tweaks with some straight-ahead comping. There are some missteps here, though. For example, as sympathetic as I am with the politics of "S.U.V. S.O.B.", it sounds a bit didactic ("Oh what a bummer, I'm in my Hummer, I'm just so dumb and dumber") and for once the Torsos don't sound convincing in their genre-appropriations (chugging metal). But they redeem themselves with things like the crazed, tough-as-Zappa rhythmic changeups on "Just for Now". And for those awaiting a pleasant surprise, just dig guest vocalist Freedom Bremner, who steps in for Bowman on the hilarious "Mr. Softee's Nightmare" ("Ice cream terror is on hand!!"), the Hendrix-y blues-influenced "Fuel Farms", and the nasty funk of "Zoom Zoroc". Yeah, the Torsos can still kick ass all right. It's not to everyone's taste but it sounds damn good to me.