Thollem McDonas : Medium Messaging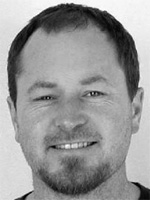 A picture of Thollem McDonas reveals a burly looking Irishman, sitting deeply on the hardwood floor of an open space. His jeans and rolled up sleeves are indicative of his attitude: free from the frills of extravagance. McDonas is soft-spoken. He sometimes stumbles over his words, but only because he is trying to find just the right ones. Talking to McDonas makes you realize that he lives for music and life, not for anything artificial.
And his music cannot be categorized. He could easily be the next underground indie-folk star or the next hip jazz experimenter. But fortunately for McDonas, none of that matters. The work he produces is varied and original; his influences are incredibly disparate. One minute he is running through a Tom Waits sounding piano and vocal piece. The next minute drops into a grooving samba tune. And best part is that through all these styles, McDonas manages to keep an almost entirely original voice.
McDonas' journey started around age 5. His mother was in San Jose working on a B.A. in music. He remembers his mom attending classes taught by vanguard composer Lou Harrison. A young McDonas would sit in on these classes and help his mom with her theory tests. Around the same time he started playing piano. His mother was a piano teacher so there were always students around. And for the next six years, piano was McDonas' life.
Then he quit. At age 10 he was done with piano. He wanted no more of it, needed time without the instrument. Luckily, for us listeners, McDonas started back at piano, under his own volition at age 14. He also started teaching.
At the Kuumbwa Jazz Center in Santa Cruz, a tiny little place according to McDonas, his jazz roots were christened. He would sit in the audience and listen to Elvin Jones, McCoy Tyner, Pharaoh Sanders, and others. Not a bad way to learn. Every Monday night from age 14-20 he would hear the masters with help of his step-sister, who has worked at Kuumbwa for 25 years.
College was a long road for McDonas. It technically took him until age 29 to finish. He studied at San Jose State like his mother and studied piano performance and composition. But he quit school just after two years when most of his music requirements were completed. His general education credits would have to wait.
In the early 1990s, when the Persian Gulf War hit, McDonas decided to drop out of existence. He had no money and lived on couches up and down the California coast. This Kerouac of the piano played with various groups, one being the Hundredth Monkey Generation Trio. For two and a half years they played mostly protests, benefits, and riots.
"My activism and my music were inseparable during my time with the Hundredth Monkey Generation Trio," McDonas said. "The music and the type of music offer solutions."
"The medium really is the message," McDonas said to me, speaking of pop culture theorist Marshall McLuhan's theory that the medium of the art sets the message more than the actual piece of art work. As far as activism today, McDonas is more focused on constantly trying to wake himself up to the multitude of life. He wants to love life simply rather than focus on a specific cause.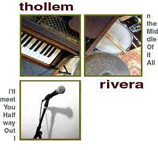 After his life of pointed activism and nomadic playing, he started playing gigs more constantly. He was teaching, playing other people's music and making a good living for a few years, but was unsatisfied. McDonas had been composing and wanted to focus on his on music.
So in a musical leap of faith our hero quit teaching and, for the last three years has been making his own music. His wife has been doing part time teaching work to pay the bills. They live simply and they love it. McDonas seems hungry for opportunities to write and play, but he is satisfied with modest living. Stars are not in his eyes, pure notes are.
McDonas has put out three discs recently, two with percussionist Rick Rivera and one solo effort. The birth of the first record, I'll Meet You Halfway Out In the Middle of It All (Edgetone), happened when McDonas heard percussionist Rivera playing standards with a trio around the corner of McDonas' house in Pacifica, California. He found out that Rivera lived less than a mile from him so he brought Rivera back to his house and they listened to some music.
The 13-track disc is as varied and original as McDonas's other recordings. His vocals are an incredible treat, especially on the track "March 13, 2004". The piece starts with a rollicking samba beat before going into a cabaret style sing-song about life and death. McDonas said that he wrote the song after a very meaningful day. Apparently he was looking out over the ocean thinking of what a beautiful day it was and then, later heard that in that same ocean a little boy drowned. The dichotomy of both music and lyric are extraordinary. And Rivera's percussion, especially on the beginning and ending samba part, is tight and plays along with McDonas.
The duo has a great feel on the album. They work together like a tight and personal ensemble should. This is especially realized in parts of the tune "War Is Terror, Terror Is War". The piece is a complexly structured avant-garde work, almost collage-like in effect. Rivera follows (and even sometimes leads) McDonas along the journey.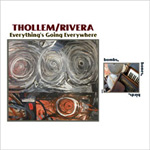 The second record McDonas recorded with Rivera is Everything's Going Everywhere (also on Edgetone). There is a "no words" version of "War Is Terror and Terror Is War" that rivals the vocal version in both intensity and complexity. One of the absolute standout cuts, however, is "Tritones and Howls", a chaotic free work that features fierce playing by both Rivera and McDonas. The track is one in which communication could have easily broken down. But the way McDonas and Rivera interact keeps everything on the verge of breakdown without ever falling off the tracks.
The sixth track, "Insanity's Done With Mirrors" stays true to its name. The composition begins with a syncopated interaction between McDonas and Rivera driving forward into a very real musical insanity. And this track grooves as well: the piano moves jarringly, but fluidly and Rivera's traps offer the perfect interplay.
This album is a lot more musically complex than the first but with no less fire and passion. McDonas and Rivera make an incredibly deep statement on both records and, the chemistry between the two is akin to the chemistry of a group that has been together for years.
Beyond his forthcoming solo disc, Nuclear Bomb, Cave Painting (Pax Recordings), McDonas' future plans include a tour of Mexico and some dates in New York. He is also planning a tour with Rivera of the East Coast and Midwest.