Wayne Shorter & Herbie Hancock : To Fusion And Beyond



Fusion derailed hard bop in the late 1960s. Composers such as Andrew Hill, Jackie McLean, and Grachan Moncur III among others were integrating the energy and techniques of the avant-garde into the compositional structures of hard bop. During the 1950s, composers were consistently stretching forms. Mingus is the most noted example, but Kenny Dorham and Benny Golson were as well, albeit in a less flamboyant ways. This came to fruition on the Blue Note label, where composers and bandleaders were afforded the rehearsal time before sessions to prepare more challenging material.

It was this creative vein that Miles Davis tapped when he in succession hired Herbie Hancock and Wayne Shorter, two of the premier composers and session leaders of the time, as well as the star rhythm team of Ron Carter and Tony Williams. That last great quintet became a landmark in this progressive style of hard bop. Mixing edgy harmonies as hard to read as a hipster's demeanor, rhythms that could roll like the surf on a calm day or crash and roar like hurricane driven whitecaps, and flashes of fire music, it was a volatile combination but not a particularly lucrative one. When the first of the baby boomers matured, they set off a cultural gold rush. Everyone wanted to cater to the youth movement—bell-bottoms and sideburns were in, as was the backbeat. All else was passé, and it seemed everything was swept away.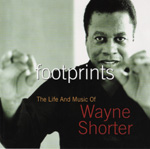 The new Columbia Wayne Shorter anthology Footprints: The Life and Music of Wayne Shorter traces one musician's voyage through that period and beyond. It opens with "Lester Left Town", his tribute to Lester Young played by Art Blakey and the Jazz Messengers, and concludes with a live version of "Masquelero" by his own quartet recorded in 2001. In a time when self-promotion was deemed necessary to be successful, Shorter proved an enigma, all too willing to step into the shadow of others, a collaborator at heart even when his talents outshone those he was working with. His greatest contributions came as musical director for Blakey and as one of the catalysts in the Miles Davis Quintet, not to mention his formative influence on Weather Report. His studio sessions, primarily on Blue Note, under his own name seem to be workshops for developing ideas brought to fruition by others.

Now inevitably with this kind of venture, fans will likely complain about the selection—what's included, and more so, what's not. The Blakey years get short shrift with only the 1960 "Lester" included. Of course, this dearth is likely due to Columbia's inability to license any more tracks. His solo work on Blue Note gets little better treatment, two tracks: "Speak No Evil" and "Infant Eyes". These and a guest spot with Gil Evans ("Time of the Barracudas") show the Coltrane-emulator of the Blakey band loosening up, his sound becoming more effervescent, his lines more oblique. As such he proved an effective complement to Miles Davis: Unlike Coltrane, who headed off from the trumpeter's at right angles, Shorter blazed a path and dared the leader to follow.

The music proved the logical next step for Davis. Having explored strict modal compositions on Kind of Blue, tunes like "Nefertiti" and "E.S.P." stretched form and extended lyrical freedom, creating pan-modality. The tunes have a harmonic ambiguity, embracing a complex, ironic worldview. Of course, this kind of emotional distance was precisely the opposite of the naïve sincerity of youth culture, and as beloved as these quintet sides are now, they didn't sell particularly well.

Bitches Brew was Davis' outreach to the youth market, blending the open forms of free jazz with the electronics and groundbeat of rock. Shorter's "Sanctuary" was one of the most direct pieces on that record. The yearning melody is stretched out over a wash of electronics and percussion. It's a ballad with a strong clarion call that served wonderfully to punctuate those long medleys Davis favored in his shows of the time. Shorter's limited role here—his soprano glides under Davis' trumpet on the theme statement—foreshadows his work with Weather Report, where he more and more disappeared into the undergrowth conjured by Joe Zawinul's wizardry. Maybe it's testament to Shorter's diminishing role in the group that the Columbia producers have opted to only include four tracks from his 14-year tenure with the band, about three times as long as his service with Davis that is also represented by four tracks.

I suspect I'm not the only listener for whom the break from disc one to disc two marks a switch from very familiar material—"E.S.P." was on a Davis greatest hits collection I bought 35 years ago, probably the third or fourth jazz album I ever owned—to less familiar material. That's not because middle period selections like "Lusitanos", "Elegant People", or "Palladium" are in any way obscure, it's just that I checked out on Weather Report after Mysterious Traveler, represented here by the title tune. Beyond that Zawinul refined the sound. Just how formulaic it became is evident on "The Three Marias", from Shorter's own Atlantis, recorded at the time Weather Report disbanded. It retains the anthem-like melody, static rhythmic underpinnings, and portentous electronic punctuations that defined the Weather Report sound.

Shorter's occasional studio albums over the next decade, represented here by "Mahogany Bird", "Joy Ryder", and the orchestral "Children of the Night", continue along the same lines. I guess I was hoping I would discover something I had missed here, but it only confirmed my indifference. Footprints also includes two songs with Shorter as featured sessionman. Certainly Steely Dan's "Aja" and Joni Mitchell's "The Dry Cleaner from Des Moines" are the most expendable of the tracks included here. Still they do serve to demonstrate how the Weather Report sound influenced pop artists of the time.

The set concludes with Shorter's return both to an acoustic format and to live performance. J.J. Johnson's "In Walked Wayne" echoes the hard bop of the opening Blakey track, albeit with a more elaborate arrangement. The final two tracks find him evoking his years with Davis, first in the duet with Hancock "Aung San Suu Kyi" and finally a live version of "Masquelero", first recorded with Davis, and one of the few songs that made it into the quintet's live repertoire—like "Sanctuary" it features a dramatic fanfare lick.

Shorter's return has been nothing short of spectacular, earning Grammy nominations and being named Jazz Man of the Year in 2004 by the Jazz Journalists Association. I look forward to hearing him continue with kind of work he has delivered of late. It is heartening that the most satisfying track here is the last one.

Not included in Footprints is any work from the VSOP quintet. Started as a tribute to Miles Davis at the Newport Jazz Festival, the ensemble took on a life of its own. The group was the Davis Quintet with Freddie Hubbard in the trumpet spot (or Herbie Hancock's Maiden Voyage band with Shorter on tenor instead of George Coleman). By the mid-1970s Hancock and others realized there was still a market for acoustic music. The VSOP quintet kicked off the new acoustic phase—although Keith Jarrett was more responsible for its long-term resurgence, certainly VSOP was a prime driver in the Columbia studios. The label would in a few years sign on Wynton Marsalis, who would tour with a later edition of VSOP, and launch the Young Lions craze.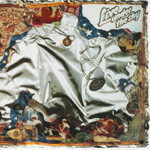 Columbia has recently released Live Under the Sky, a two-disc set of the band recorded in 1979 in Tokyo. Most of the material on the first disc was released only in Japan, and the rest appears for the first time here. Hancock was the leader, but this was clearly a band of all-stars. Yet the band never gels like the Davis quintet; it lacks a guiding force other than to showboat for the adoring crowd. Carter has fun with them, playing a stop and go figure at the end of his "Fragile" with the crowd roaring in between phrases.

In particular, playing fusion in high-volume situations had started to take its toll on Hubbard, who lost all the subtlety in his play and a good deal of suppleness. He blasts away solos that are merely a series of disconnected phrases. Williams' polyrhythmic rampage only serves to encourage him; together they give the band a frenetic tone. Bassist Ron Carter is high in the mix—I suspect he was plugged directly into the board—so anyone wanting to study the way he constructs lines would do well to pick this up; he's steady as always. Shorter's playing is workmanlike, and he contributes no compositions; Hancock is the most consistent soloist.

The band was no longer a Miles tribute band. Little of the repertoire here was drawn from the Davis book; instead Carter contributed two pieces: "Fragile" and the classical "Tear Drop", a song that just doesn't fit the group's hard swinging demeanor. Hubbard brought in a "One of Another Kind" and Williams brought in "Para Oriente" and "Pee Wee", from his days with Davis. Hancock contributed "Domo" and, from Maiden Voyage, "Eye of the Hurricane". Also worth mentioning is that Live Under the Sky features two shows with the exact same program. Disc two, however ends with a refreshing piano and saxophone duet that reiterates two Davis favorites: "Stella by Starlight" and "On Green Dolphin Street".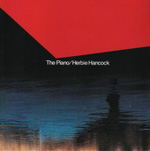 "On Green Dolphin Street" makes its appearance as well on the contemporaneous solo Hancock session, The Piano. Like the VSOP recording, it was made for the Japanese market, recorded with the then-fashionable high-tech system of "direct-to-disc". By 1979 this was not groundbreaking, and had pretty much run its course. Touted for its high fidelity, direct-to-disc revived the old practice of using a disc for the master. Doing an album this way meant the performer had to deliver 17-minute long chunks of music without breaks. The LPs did sound pretty good, though truth be told, I didn't have the kind of stereo equipment at the time to fully appreciate them nor the cash to pay the hefty price tag. Now converted to digital, I can appreciate the clarity of the sound.

Hancock responds to the challenge with a fine recital that emphasizes lyricism. One side of the original record was devoted to standards associated with Miles Davis—"On Green Dolphin Street", "My Funny Valentine", and "Someday My Prince Will Come". The second half was devoted to Hancock originals—"Harvest Time", "Sonrisa", "Manhattan Island", and "Blue Otani". Aside from the closer, Hancock mines an impressionistic vein that's quite effective in showing off his sound. But however pretty the music, it's also shallow, giving just the slightest hint of what Hancock could have accomplished had he decided to devote himself to acoustic, adventurous jazz rather than treating it as a sideline to his more lucrative electronic pop endeavors.