Randy Sandke On Evening Star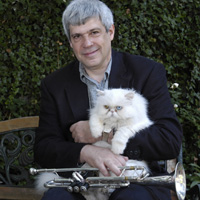 Before hearing this recent trio of discs from Ed Berger's Evening Star label, I had mostly known of Randy Sandke as a first-call trumpeter for swing-to-mainstream bands. He's on countless recordings for labels like Concord, Arbors, and Nagel-Heyer, in the company of Marty Grosz, Dick Hyman, Howard Alden, Ken Peplowski, Scott Robinson, and other sprightly scholars of the jazz tradition. It's a corner of the jazz world that many fans of more contemporary styles unjustly bypass, as if it were merely genteel repertory playing. The acrid and divisive polemics in the air since the 1980s about "neo-conservatism" versus "innovation" have meant that listeners whose primary allegiance is to modern jazz likely undervalue or ignore players working in earlier styles.
Sandke's typically witty liner notes to Outside In describe the dilemma: "At concerts I would sometimes see both [the jazz critics] Joe Klee and Gary Giddins in the house, knowing that one only liked jazz with banjos and tubas and the other couldn't abide that stuff. So in effect I was assured of a bad review from one of them before I'd even played a note. Such are the professional hazards of being a jazz musician in this day and age." I don't wish to devalue Sandke's more traditionally-oriented output, but I also think it would be a shame if listeners who exclusively associate him with it missed out on his new discs as a leader. These three albums are so musically diverse that few listeners, perhaps, will respond equally sympathetically to all three; but each in its own way works to extend the traditional jazz ensemble sound in new ways, while offering music that is satisfying in itself.
Sandke's albums have always drawn on an impressive and shrewdly-picked cast of players from both revivalist outfits and the contemporary jazz mainstream; but it was with the 2002 release Inside Out (Nagel Heyer) that he really brought both musical strands together. The one-of-a-kind lineup featured the incomparably versatile Scott Robinson (on soprano, baritone, and contrabass saxophones, bass clarinet and—his specialty—theremin); the twin clarinet/saxophone team of Marty Ehrlich and Ken Peplowski; trombonists Ray Anderson and Wycliffe Gordon; and a rhythm section of Uri Caine, Greg Cohen, and Dennis Mackrel.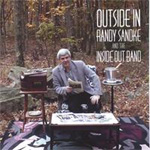 Outside In, one of the new Evening Star releases, reconvenes this nonet; where the original album was self-consciously even-handed, giving each player a composer's credit, this time Sandke is the primary composer and arranger. It begins and ends with Jelly Roll Morton's previously unrecorded "Ganjam", an extraordinary piece of jazz exotica that anticipates Ellington's later experiments with Asian and Middle-Eastern music—even though Morton wrote it shortly before his death in 1941! Ellington is also a strong presence elsewhere, in Sandke's Strayhornish "Two As One", a lush ballad feature for Ehrlich, and in an arrangement of "Tonk", originally an Ellington/Strayhorn piano duet, as a fast-paced clarinet duel between Ehrlich and Peplowski.
Just as Sandke likes to pull together different kinds of players, he also loves making sly, unexpectedly apt musical connections: there's a particularly fine example here in "Ornette Chop Suey", a harmolodically fractured version of Louis Armstrong's "Cornet Chop Suey". Everyone in this exceptional band is given an opportunity to shine, with the honors going to pianist Uri Caine, whose bravura performance on "Raising Caine" recalls Earl Hines' dazzling setpieces with his 1930s orchestra.
Years ago when I first started getting into playing piano I got hooked on George Russell's early music and ordered a pricy copy of his Lydian Chromatic Concept of Tonal Organization. I used to while away the hours working through the exercises and fiddling with the little hole-punched cards and charts included in the pocket at the back. Ever since then I've been fascinated by the personal harmonic systems that jazz musicians have invented for themselves—from Ornette Coleman to Barry Harris—and so my ears perked up when I discovered that Sandke had developed his own "metatonal" harmonic approach, which expands the available palette by making systematic use of chords outside of conventional triadic harmony.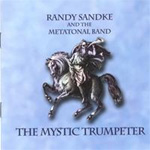 His CD The Mystic Trumpeter contains two long-form examples of his work in this vein, the title-piece (based loosely around a Walt Whitman poem) and "Symphony for Six". The band consists of Scott Robinson (for once playing just soprano and tenor saxophone, plus a little bass flute), pianist Ted Rosenthal, and the Cohen/Mackrel rhythm section, plus trombonist Wycliffe Gordon on "Symphony for Six". There's little trace of the wry wit of Outside In in this dark, often turbulent soundworld, though the results can be sombrely beautiful, especially the "Liquid Prelude" that opens "The Mystic Trumpeter".
Scott Robinson, like Sandke often underrated because of his work in repertory bands (and because he often is called in to play such exotica as contrabass sax, water-phone, and theremin), is a revelation here, playing tenor with a keening intensity recalling Sam Rivers. Rosenthal is also strongly featured, beginning and ending each movement with delicate, rather mysterious piano—it's as if each section of the piece emerges from a bank of mist. Of the two, the title piece seems to me the more successful, or at least more approachable for a jazz-oriented listener (it provides extensive space for soloists); the "Symphony", with its bright but harder textures and its smaller amount of solo space, is a tougher nut.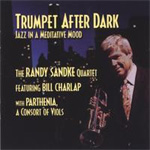 At first blush Trumpet After Dark looks like it will be mellifluous ear-candy—it's a ballads album with strings, subtitled "Jazz in a Meditative Mood"—but it's as out of the ordinary as the other two CDs in this batch. Sandke's solution to the perennial problem of integrating strings into a jazz group (Cohen and Mackrel again, plus ace pianist Bill Charlap) is to make use of Parthenia, a consort of Renaissance viols. The sound of these period instruments is darker, soft and more plangent than the modern violin family: the viols blend closely with the jazz group's sound, and do not "sweeten" the music in the usual manner of strings. The tempos are relaxed and swinging rather than deathly-slow, and as usual with Sandke the repertoire is imaginatively chosen: a varied group of originals (even reaching back to Sandke's early jazz-rock days with Michael Brecker for "Being Human"), and a set of covers that runs from Brian Lemon's "Blues for Sandy" (a tribute to the ill-fated clarinettist Sandy Brown) to Frank Signorelli's "A Blues Serenade" to the late Mal Waldron's immortal "Soul Eyes".
This is the best album to hear Sandke's solo work at length—he's a warm and surpassingly thoughtful player whose playing is unusually licks-free. Charlap's laconic, slightly mischievous approach to ballads-playing keeps the music alert and unsentimental. One track, "Monk's Mood", finds them in duet, bringing a mercurial, almost dangerous edge to the theme. It's among the finest recent readings of a Monk tune I've heard.
Together, these three discs have intrigued, puzzled, pleased, and enchanted me in turn over the past few months. As different as each is from the other, I wouldn't do without any of them.