Sonny Rollins
Ann Arbor MI, 1 October 2005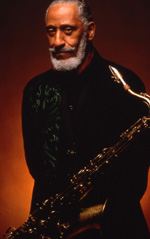 Sonny Rollins has never seemed all that comfortable being "Sonny Rollins". As dedicated as Theodore Rollins is to the art of the jazz improviser, he's always tried to maintain a distance between the artist who has spun some of the most stunning spontaneous creations via some strange deep-seeded alchemy, with "Sonny Rollins" the entertainer, who's called on again and again in live performance and in the recording studio to match that perfection. The result has been various retirements, and in the last two decades—the listening lifetime of the majority of fans—a string of workmanlike, but forgettable albums. Now in the last years, if not days of his career (Jazziz reports that the saxophonist will have dental surgery this summer), emotionally bereft over the loss last year of his wife and manager, he presents "Sonny Rollins" in a carefully managed package that thankfully contains flashes of the great improviser.
The monumental nature of his achievement is evident from the adulation with which he is greeted as he takes the stage of the University of Michigan's Hill Auditorium in Ann Arbor. People rise to their feet as he gingerly ambles on stage, slightly stooped, his hair and beard gone white, tall and looking quite like the specter of an aged Abe Lincoln. The saxophonist and the band members distribute themselves on the four Oriental rugs, overlapping at the corners, arranged on the stage. The red-faded-to-pink one in the center, a color complementing the red pants Rollins wears with a loose-fitting black chemise, is the saxophonist's territory. I'm tempted to say his cage given the way throughout the evening he will prowl its limits.
The rest of the band members are more settled in their stations around the leader. To the saxophonist's right is the two-man electric string section of journeymen guitarist Bobby Broom and bassist Bob Cranshaw. To his left is his right-hand man and nephew trombonist Clifton Anderson. To his rear is drummer Al Foster, an associate from his great quartets of 20 years ago, and still a firebrand. The others, though, are not. Cranshaw lays down stolid, reliable time and Broom comps modestly. Anderson has soldiered on all these years, suffering the critical sniping that has questioned his worthiness to share the frontline with the great Sonny Rollins. Yet he provides a steady second voice, a burnished smooth tone that sets off well the still jagged contours of the great man's thought patterns. His style harks back to Rollins' one-time collaborator J.J. Johnson, and so serves as a reminder of that time. Over the years he has clearly absorbed some of his uncle's structural ideas. His use of theme fragments to build his solos around sound at once like a kind of tribute and as a guiding commentary to Rollins' method.
Of course, we know the practical reason for Anderson and Broom—at 75, Rollins is not physically able to hold forth at center stage as he once did. That's clear from the first two numbers: an opening exuberant bop piece and "I Want to Talk about You". Both take long solos with Broom's seeming to stretch well beyond what he had to say. Then Rollins turns to Foster for a series of ragged exchanges... not trading fours as much as trading three and halves, two-beats, four bars, and a beat. It is clear here as it is throughout that Rollins' method is that of an improviser no matter how settled his surrounds. When playing the opening theme, Anderson plays it straight and precise while Rollins darts and dodges around it, adding melodic fillips at points, as if he were playing it alone. In his exchanges with Foster he sounds like he's trying to strike a spark. But on the opener it's Foster who launches into a solo. Rollins comes back for a chorus of theme variation before taking the number out. On the ballad he delivers brief smoldering spots with a few molten lines that would do any of his much younger admirers proud. Rollins' tone has returned to the focused, bright sound of his heyday. Gone is the booming, bassoon-like sound of the past two decades.
Those exchanges with the drummer are one of the elements the audience comes to expect in a Rollins performance, more so than a reiteration of his greatest hits. Unlike Dizzy Gillespie who always included "A Night in Tunisia", Rollins has laid aside "St. Thomas", "Oleo", and "Doxy", songs he has bequeathed to the jazz repertoire. Still he'll always include a calypso number. Having warmed up on the first two songs, Rollins took on a generic sounding calypso, "Brownskin Girl", maybe, or something quite similar. Doesn't matter, they all serve the same purpose for Rollins. With their short harmonic cycles and motivic melodies, he blows freely, taking the whole song for himself. He spins the melody around and around, decorating it with brusque scales and tart melodic asides. He lunges forward to honk, implicating the audience in his celebration of the tune. Of course, the audience roared. That out of the way, Rollins strolls back in with another old-time ballad, Irving Berlin's "They Say It's Wonderful", from Annie Get Your Gun. He spikes his solo with a prominent quote from "I Get a Kick Out of You", which leads into another series of trade-offs with Foster, including one in which he brings back another fragment from the Porter song.
Foster was a marvel all night. As my interested waned during Broom's solos, I found myself shifting my attention to Foster and I was always intrigued by the rhythmic subtleties of his playing and the fine gradations of tone he caressed from his skins and cymbals. The polyrhythmic complexities he brought to earlier Rollins bands are still present, but now turned down, and focused. No wonder Rollins would want him back. He seemed very much the saxophonist's drummer, eliciting little interplay, it seemed, from the guitarist or trombonist.
"A Nightingale Sang in Berkeley Square" has become a staple of Rollins' repertoire (it was striking to me how much the same his set seemed to the one I heard here in 2000). It was an occasion for him to provide the last element expected of any Rollins concert, the extended cadenza. As they go, this one seemed perfunctory, yet Rollins never seemed any less than fully engaged in the music. He ended playing to fans in the front row bent over like a blues-blowing bar walker. Then as the band played the lullaby-like "The Moon of Manakoora" with a hint of old New Orleans, he thanked the audience and announced the band and took it out.
But the crowd insisted on more, and the band members never moved from their spots before shifting into their encores, another bebop-like line and then another calypso. Rollins stalked the stage some more on the latter, wringing every last bit of succulence out of the tune, then turning to Foster and the band and bringing it to a close with the cadential lick from "St. Thomas". There was a finality that could not be denied. The band was up and off the stage. The audience applauded but it was with knowledge that the show, one set of 100 minutes or so with encores, was done.
Arriving home my wife asked how it was. And for once I could tell her precisely. "If I had never seen Sonny Rollins before, I would have been glad to hear this show and be satisfied that I had heard him. But I'm sure glad we got to see him 20 years ago."