Bruno Råberg : Interview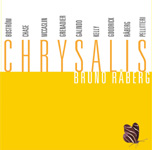 Bassist/composer Bruno Råberg is an acclaimed musician and bandleader, as well as a respected educator and clinician at Boston's Berklee College of Music, where he has taught since 1986. In addition to work with Swedish trombonist Eje Thelin, and membership in the award-winning Swedish jazz group Corpo, the Lars Erik Norrström Trio, and Orange Then Blue, he has also collaborated with a long list of notable musicians including George Garzone, Billy Hart, Sam Rivers, and Bobo Stenson.
Råberg's work as a composer and bandleader is documented on five recordings under his own name. He recently introduced his latest ensemble, an all-star nonet, on his latest release, Chrysalis (Orbis Music). Ludwig vanTrikt caught up with Råberg in February 2004 to discuss his experiences in Boston as both a student and instructor and his theories on composition and improvisation.
There is a stereotype of some Swedish jazz being remote or cold; the ECM sound, for example. Yet your writing and playing are very visceral.
When it comes to the Scandinavian style of improvised music I think the nature of Scandinavia has a big influence along with the folk music, which is really dance music. I think Scandinavian music reflects the vast mountains and forests. You can see very far and that calmness and meditative spirituality comes through. There is also, of course, a whole new trend of Scandinavian improvised music that blends these more spacious sounds with intense drum grooves.
I'm glad my music doesn't fall into the category of "cold or remote", so thanks for that. I have many influences on my palette. A lot of funk, soul, jazz, African, and Brazilian music, along with Scandinavian sounds from musicians like pianist Bobo Stenson, Jan Garbarek, and Palle Danielsson. I'm really trying to draw upon all these influences instead of shutting any of them out in order to make my CDs easier to categorize.
What made you move to Boston and study at the New England Conservatory?
Well, I was working quite a bit back in Sweden and Europe, but I had always wanted to spend some time in the States and really get in touch with the roots of the music I was playing. One way to do this would be to study somewhere, and when I found out that Miroslav [Vitous] was teaching at the NEC that sounded like a good idea. I actually chose him for two reasons; one that I really liked his playing on albums like Chick Corea's Now He Sings, Now He Sobs and his own Infinite Search. The other reason was that I knew that Miroslav's teacher back in Czechoslovakia was an incredible classical bassist named Frantisek Posta and I knew that I was going to get some of that knowledge through Miroslav.
I actually was more interested in studying the bass as an instrument rather than studying jazz with Miroslav. I learned a lot from him; I took notes from every lesson and I still read those notes and work on material that he presented back then. As a matter of fact there are certain things that I'm finally getting now 20 years later! The best I can say about Miroslav is that I did not leave one lesson with him without being really inspired. That's a pretty good compliment for any teacher to get. He also played a bass duet with me on my senior recital and that was a blast.
Your background is quite varied, including funk and fusion—what made you opt for the acoustic music you play now?
Various reasons, actually. I began leaning more toward acoustic settings because they seemed to create more openness and accommodate more intricate interplay. I also really started to feel that I could express myself better on the acoustic; that my voice came through much better. But, of course, each bass does certain things that the other doesn't. I also started to feel that to get really good on either bass, going between them created technical problems; going from a fretted electric made the intonation a bit off on the acoustic, for example. It also did strange things with the tone production on both. I still doe some gigs every year on electric, though—I play Fenders, by the way.
What kinds of music were you hearing during your youth?
I heard an interesting mix of Swedish folk music and the American pop, blues, and R&B of the day. My sister got a turntable at one point and with it came a jazz LP. They didn't like it so they let me use that one if I left their Elvis LPs alone. I forgot about that album until 20 years later. I managed to dig it out and it was an album called Hammond Console with Wild Bill Davison, Johnny Hodges, and Milt Hinton among the players. When I put it on I remembered all the solos and everything. I was about seven at the time and I think I must have listened a lot to it. A bit later I found John Coltrane, as well as Igor Stravinsky, at the local library and that really changed my life. I still remember the moment very well when I first heard Trane; it had a big emotional impact.
Please talk about one of your instruments: the 150-year-old upright.
I bought my bass in 1978 back in Sweden and it's been with me since. I've had it rebuilt a couple of times; last time after having it severely damaged while traveling. It's a Tyrolean-style bass, flat-back, most likely German and around 150 years old. The builder could possibly be someone named Otto, a well known builder that supposedly traveled and built basses in different locations and countries. I'd like to have some expert take a look at it to get a more definite idea of where it's from. It's easy to get real neurotic about an instrument like that; humidity levels and temperature changes affect the sound very drastically, so August can be pretty bad.
What made you use non-chordal instruments on Ascensio?
I have been very excited by non-chordal settings for a long time: Ornette's groups, of course, Sam Rivers' trios with Dave Holland, Dave Holland's Conference of the Birds album, Joe Henderson and Sonny Rollins' trio recordings. But more than the chordless improvisational aspect, I think it was the compositional aspect. I have been fascinated by contrapuntal writing for a long time; exploring the possibilities of creating very strong musical statements with only two lines. It also frees you up from the typical jazz composition with chords and melody. It's easy to get stuck in that kind of writing. Playing-wise it's a challenge for me as the bassist; each note becomes a bit more important when there's no chord structure being stated by guitar or piano. Everything I play is counterpoint to the horns—it always is—and I think contrapuntally in a chordal context as well, but it's just a bit more exposed in a non-chordal setting.
There's also a lot more freedom; I can really steer the harmonic direction a lot more. Both Allan [Chase] and Phil [Grenadier] are so quick at following me that I can leave the changes and they will be there with me. This, of course, is one of the creative and inspiring aspects of group improvisation. Sometimes however, it [the bass] sticks more with the drums and functions more like a groove supplier; like on "African Daybreak" from Ascensio, I stick more with an ostinato and my main interaction focus is with the drums. To finish up I'd like to quote saxophonist Joe Henderson. When asked how it felt playing without a chord instrument, he sang "On a Clear Day, You Can See Forever".
You have mentioned the similarity of the six-against-four groove found in Norway's region and Somalian wedding music...
Well, this particular piece [that I was referring to] is played on a Norwegian "Jew's harp" called "munn harpe", which means "mouth harp" in Norwegian. What blew me away with it was the fact that it had a six-over-four polyrhythm. I had never heard those kinds of rhythms in the Scandinavian folk music before. For me personally, it was a connection between the Afro-based music I have been playing—jazz, funk, Latin, etc.—with the native music from the area of where I grew up. I based my composition "Runestones" (Presence) on this rhythm. I'm imitating the Jew's harp on the bass in the intro to the tune. When we performed this tune in a club in Boston, an African man came up to me afterwards and was very excited and said that it was exactly the same rhythm as a wedding song from his homeland of Somalia. I found this very interesting and was fascinated by how these "heart beats" common to many parts of the world have developed so differently.
The Scandinavian region is known for element of naturalistic mysticism—do you try to use these elements in your playing/writing?
Not in any conscious way, but you're right, the folk music from that region is very connected to nature and folklore, etc.: Trolls, elves, nymphs, and "Nacken", who is a fiddler that can be seen sitting on a rock in the middle of a stream or river playing the fiddle. He is half-human, half-mermaid, but male—so maybe we could call him a "mer-male". Edvard Grieg depicted a lot of this naturalistic lore in his compositions and I think some of my writing/playing has influences from that Nordic sound whether it's conscious or not.
How do you go about the process of writing—devoid of using harmony or chords—when you compose?
I really enjoy writing for just a couple of voices without the backing of a chord instrument. It really opens up the possibilities of my imagination. It's more like drawing with charcoal rather than painting; you have to be really aware of how each line is shaped and how it relates to the other line(s). The harmony is there, of course, since just a single line suggests a certain harmonic backdrop; when you have two lines this is even stronger and many times I go back after the composition is done and pencil in what chords the lines suggest.
As for the writing process, I use a couple of different methods sometimes applied to the same tune. I like to come up with the "seed" to a composition by playing one line on the bass and singing another on top. I like this because it usually comes very fast, sporadic, and when I least expect it. There's a certain organic feel to how the lines relate when doing the singing-playing. Another way is to use the piano, of course; sometimes I start a tune on the bass and voice and complete it at the piano.
Since my piano skills are a bit limited, I also use sequencing programs on my computer. I use Reason and Digital Performer and I can record each line separately. Since you don't really perform the lines simultaneously and you can really put anything together with anything, one has to be careful to keep the organic feel between the lines. With Digital Performer I can easily record a bass line using my bass, then either record my singing or piano on top of that. Sometimes I just improvise over a line and listen back for ideas that I think sound strong, take them out, and develop them.
To have a strong basic seed-idea, I think, is very important for creating a strong composition that has its own identity; usually, these basic ideas come very fast to me. That's why I record my improvisations because sometimes the ideas come very fast and it can be hard to go back and remember them. This is where improvisation and composition intersect. Once you have the basic idea that's when your craft comes in. How you shape this idea into a complete form with development and contrast, that's what takes time; sometimes two bars can take days.
I have over the years learned to weed out unnecessary material and this is something that I teach my composition class/ensemble at Berklee. The beginning writers always write too much stuff and I'm teaching them how to take things out and learn to hear what the essence and basic seed of the composition is. It is something hard to hear the essence because of the cluttered texture and it can also be hard to scratch a section that you've spent a lot of time writing. I have also learned to know when to stop; spending too much time on a composition means to me that it's going dead. Maybe it can be brought to life later, but I don't keep too many sketches around; I either finish the tune or it goes in the wastebasket.
I recently recorded an album with six horns and rhythm section (Chrysalis) and for this I wrote a piece that is based on a tone set from another of my compositions. The tone set is the basis for everything: harmony, bass lines, and the melodic counterpoint ideas. The recording will be out in 2004 and has Mick Goodrick, Donny McCaslin, Allan Chase, and others on it.
You will be recording with a larger ensemble; how did you come about the skill of arranging for an extended group?
I took a big band arranging course at New England Conservatory when I was a student there. The same year as I graduated, 1984, I was one of the founding members of a composers' large ensemble called "Orange Then Blue", titled after Charles Mingus' composition, "Orange Was the Color of Her Dress, Then Blue Silk". Some of the other members were drummer George Schuller, pianist Bruce Barth, and saxophonist Adam Kolker. Almost everybody of the twelve members in the band write for it and it was a great place to try out ideas. We played mostly around Boston although the band was later relocated to New York City and they did more touring, etc. after that.
Do you plan on staying centered in Boston? Are there any plans to perform in New York City?
At this point in time I'm planning on staying in Boston for a while. I'm in the middle of putting my kids through school and I have a really good thing going at Berklee. I should mention that I received three "Faculty Recording Grants", which have made it financially possible for me to record four of my CDs.
I'd love to bring my band to New York City and hope to do so this fall. The competition for the gigs is fierce and the money not great unless you are a bigger name. I'd also like to play with some of the great musicians down there. I know so many players already since so many come through Boston and Berklee.
In a bigger sense, I'm planning on devoting more time to booking gigs: here in the US, as well as Europe and elsewhere. I have already taken my band on a couple of tours to Sweden and Norway and it's always such a fruitful experience, both musically and in a friendship way. I'm getting a lot of good press for my CDs and my name is getting around a bit, so I hope this can lead to some performance opportunities. Recording is one thing, but playing a well received concert can leave you energized for weeks. Giving is receiving.