Mario Pavone : The OFN Interview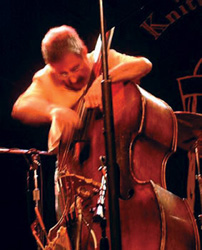 One Final Note recently sat down with bassist/composer Mario Pavone on the cusp of his 40th anniversary in music. Initially sparked by the message and spirit of John Coltrane, Pavone has spent the majority of his professional career collaborating with some of the most important names in Creative Music, including Paul Bley, Bill Dixon, Anthony Braxton, Wadada Leo Smith, Marty Ehrlich, and Thomas Chapin, to name only a few. He has also developed his own compositional and leadership style over the course of his 16 dates as a leader, with his most recent series of releases on Playscape arguably being the strongest of his career. This meeting surveys his recent group work, as well as his lifelong inspirations, the excitement of working with both seasoned players and inventive newcomers, and several exciting projects in the works.
You are about to celebrate your 40th anniversary in music—what keeps you going on both a personal and creative level?
Well, the music itself does: the making of it, the reward from it, and today's players are a big inspiration to me. Especially the skill of the way the players can interpret the music.
Could you elaborate on that?
Today you can present music without an overabundance of harmonic information, for example, and the players today—I could cite many of them, like Tony Malaby, for example—they seem to intuit very much. By that I mean, what to play as though there was more harmonic information. It is very loose and free, so it is exciting.
That is interesting because the perception is that so many of today's musicians are coming out of conservatories, etc. and don't really pay their dues on the stand. They can all read, but...
They all can read and many of them can play idiomatically and play with great skill within the harmonic structure. There are also many people coming out of the schools that are not bound by structures too much. It is those that I am referring to that make it exciting. Not to put down any particular style of music, subgenre or category, but there are a lot of players that come out that really can play this music. That doesn't mean that there is a story to tell, however.
You've been able to surround yourself with players that possess an intuitive connection with you, musically speaking.
Yes, I have. I live close to New York and I am in New York most of the week, in and out. Some of the greatest players in the world are there, so it's been easy to connect with them.
Let's go back into your history. How did you get the music bug, how did it all begin?
I went to a high school in the early 1950s which was primarily black. At that time, I learned a lot about rhythm and blues and black music versus white music. I've said this in other places, so at the risk of repeating myself, it was very clear to me about what was going down. Take a great hit tune like "Earth Angel", for example. The Penguins made a version of it and then The Crew Cuts made a version of the tune. The Crew Cuts made whatever was considered a lot of money then. It took decades before The Penguins were really recognized nationwide. I love rhythm and blues and seeing guys walking around singing. First of all, that was my entry into music. Specifically jazz, when I went to the University of Connecticut, I had a friend that had a great collection and I got into jazz there. Then, seeing Trane, specifically, it turned a corner for me.
I remember reading that you went to one of those Village Vanguard Shows in 1961.
Right, the record-making week. It was incredible.
Then you went to a "day job".
I graduated as an engineer and I worked for several companies here in Connecticut until exactly the day that Trane passed away or the day after it. I read about it and I went down to the funeral and I never did return to that job [laughs] as it turns out. I've been able to go forward in music since then.
You worked with Joe Diorio?
Yes, Joe was an inspiration. I went to Chicago and saw him there. He grew up a street over from me and when I got interested in jazz, I realized that this guy was a great player, a legend. So, I went out and saw him and he was an inspiration, even though I wasn't a player yet. I was singing Wes Montgomery's solo on "West Coast Blues" and he said, "You ought to get into music." That was inspiring and I was flipped at how he played. Figaro's [in Chicago] used to run early morningsessions. Eddie Harris was there, a pile of great Chicago players, Jodie Christian, Wilbur Campbell, Scotty Holt, Gene Shaw, and all of those people were there. I came back and rented a bass. Took a couple of lessons with Bertram Turetzky and that was it.
No real formal training?
No, pretty much self-taught.
You have a distinctive sound on the bass. Where did it come from?

Partly when I jumped into music it was in New York City in the '65-'67 era and there were no pickups for the bass then. I played in an environment before what they would call the "loft era". There were these sessions going down with Archie Shepp. I remember Stafford James being there. Lots of players were present and, quite frankly, a tune felt like it was twelve hours long. It would go on and on, everybody screaming—it was an angry time in the country and it was reflected in the music, so I had to play very hard to hear myself. I hardly could hear a note I played. That atmosphere certainly contributed a lot. I had to press hard and it remained with me. Sound is everything to me.
You mentioned the loft scene. What was your role in it and I understand that you worked with Bill Dixon around that time?
Bill had an orchestra of the streets down there on Avenue A. I remember going down there for Saturday morning sessions. Everyone from very out players to Kenny Dorham would be there, interestingly enough. The scene was ripe with stuff then. I met Bill then and a lot of the players like Archie [Shepp]. A friend of mine from Boston, Laurence Cook, introduced me to Paul Bley and within a few months, I was in Europe with him and Barry Altschul. We toured in '68 and again in '71-'72; we toured Europe with that same trio with Barry. Whatever my role was in it then, it was being inspired by the Composer's Guild that Dixon and Carla [Bley] organized—the organizational aspect to it was very inspiring.
Are you on any of those records from the Composer's Guild or others from that era?
I am on an ESP record from that era with Alan Silva that has been reissued. My earliest record is Paul Bley in Canada. That Canada Radio thing.
I heard that there were some inaccuracies in one of the bios floating around the Internet. What were they?
There was just one, I think. All Music Guide said that I played with Bley in '64. I began music professionally in 1965 and was with Bley by 1967-68.
Let's talk a little more about Bill Dixon.
Working with Bill was great. He's just a master of gesture and language and it was so inspiring working with him. We had very little rehearsal time and we just went in and he had these hand gestures that would key things in, which was very instructive to me.
What about Paul Bley?
Bley was a master and also masterful about teaching me to document everything and to take responsibility for your music. Bley would do it all himself. We'd go to Europe and he would have some tape of Ornette and him and he'd invariably sell it to Manfred Eicher or someone like that. He was into this—you document everything you do and it is one of the ways to take responsibility and it can be a benefit financially. Business lessons!
Did you start writing at this time or was that after?
No, well after that, actually. In the 70s, I began writing. I was really influenced by Leo Smith and Bobby Naughton in terms of composing. They were people that really believed in composing and the concept of writing and playing your own stuff.
I know that you worked together [with Leo Smith] on records.
Yes, and we were in an organization together in a very important five-year span in the late 70s/early 80s with Wes Brown and on the scene. Yale and Wesleyan are just a half-hour from each other and everybody was up here at that time. Ray Anderson, Anthony Davis, Mark Helias, Mark Dresser, Rev. Dwight Andrews, Jay Hoggard, Braxton, Marion Brown. Everybody was right in the area so there was a lot going down. Those guys came in from Chicago and brought that school of thought to the East Coast.
Why New Haven and Middletown?
I think the schools were supportive. A lot of the people went to the schools there, like Jane Bloom and Mark Helias went to Yale. Some were just on the scene and others were associated with Wesleyan. Wesleyan had always had a great ethnic and world music program. Connecticut is geographically situated pretty well to New York.
You've done some exciting collaborative work with other musicians, including Anthony Braxton, like the duets record.
And we also co-lead a Knitting Factory release called Seven Standards 1995.
So tell us about working with him?
A genius; so prolific. Walls and walls of his office are stacked with music up to the ceiling and symphonies for planets. He was just terrifically inspiring and terrifically supportive. Being around him and playing with him was so exciting.
You worked with him in the 90s. Are you planning to work together in the future?
We talk from time to time. We actually worked together in the 80s as part of CMIF [Creative Music Improvisers Forum] organization that was based in New Haven. We had a lot of big band collaborations lead by Muhal [Richard Abrams], Leroy [Jenkins], Carla, Slide Hampton, and Anthony. It was a fabulously exciting time.
What about Marty Ehrlich?
Same beginnings. That is where I first met Marty. During that era, he was on all those cats' records, it seemed. All of the Chicago cats and, of course, Marty himself comes from the BAG [Black Artist Group] group from St. Louis. Then, of course, as the arranger and collaborator on those New World records, the first one there with Josh Redman, Steve Davis. He's been so helpful to me in arranging and being a friend in the music. Marty is, in my opinion, the reigning ambassador for the music. The way he cares about the music and the plight of the musicians is remarkable. A lot of players do, but Marty is quite special.
In all areas or the way in which he leads the band?
As for the musical part, he's incredible. I just heard his forthcoming release that will come out on Palmetto in September. He is leading a sextet and he writes so well with those Julius [Hemphill] harmonies for saxophones. All of his work outside of playing and writing, he is this force in the music. Everyone will call him for advice. I don't know how many people realize that. The people in the music know, the "downtown" people from then and now. You won't find anyone more widely recorded or experienced in that way in the breadth of players. He was and is the right-hand man to people like Braxton or Muhal and the entire early wave of black players from Chicago and St. Louis. He's quite amazing.
A significant force in your life is Thomas Chapin. Tell us about working with him.
Thomas was just an exciting, incredible guy. I don't think that he had thoughts ahead of time that he had a short time here, but he sure played like it. I always felt that every time he took a solo it was like everybody else taking two solos. It was like he had more information than people realized. He was a very exciting player to work with. We inspired each other and influenced each other a lot. He was younger than me and he first played in my bands up here in Waterbury, Connecticut, at a club I was booking for about eight years, the Hillside Jazz Club. Pretty much everybody came up from New York and played there. Then, when he left Lionel Hampton, he could always play very well on changes in the harmonic idiom. He decided that he wanted to do something different with this trio and that I would be the person for it. What those eight Knitting Factory records ended up being was "big band music for trio" because he wrote it like that.
When I listen to those great records like Menagerie Dreams or Skypiece, I think of every single adjective for musical communication—telepathic connection, spiritual, etc.
He imparted it and we had it naturally together, him and me. At first it was Steve Johns and then the great Michael Sarin. It was beautiful to be together, play together, and work together. We rehearsed a lot all through the years. Towards the end, we were playing all over the world. He had the uptown and downtown thing going—George Wein's corner because he was the musical director for ten years of Lionel Hampton's band and on the other side, the downtown players with Michael Dorf and the Knitting Factory. We worked a lot of weeks, 30-something in those last few years.
It was like a big crescendo and…
…Then it happened.
It's a shame that all of that music is out of print at the moment.
Yes, well, Terry, his wife, has ownership back. The matter has been settled so I have mine and she has his albums. I think that keeping the big Alive box set in print is the goal. I think it will be. I also have—which may come out on Playscape, which I've been associated with more recently—a record that is the best of all of them, including Skypiece. It is just incredible—we do a Beatles tune on there. This is the highest evolved state of the trio. It was recorded during the last year in Perugia and at the North Sea in Holland. That will come out one way or another within the next year and a half or so.
Any favorite moments from the trio that stand out?
So many. Our Newport performance was incredible. There is a film that was spread around the country because the JVC electronics company used it in their promo. I received calls from all over the country from people that were watching it in these discount marts because it was being shown on their TVs. So much of it was pretty transcendent and we were pretty elevated.
What set you on your path as a solo artist?
All of the things I talked about from Paul Bley and Leo Smith, from taking charge of yourself. I wasn't trained a lot, which had its advantages, as well as disadvantages. I knew that I may not be necessarily the most elegant of sidemen players, but that wouldn't be my path. Fred Hopkins talked about this a lot; that I would have to become a "specialist" as Fred used to say. A specialist means that you create your own music and carve out your own way. I worked on trying to find my voice. I used to tape myself in the early days, endlessly taping myself on this bad cassette payer. Boy did it sound awful! I hated it! Yet, somehow, through the agony, this is something I advise people to do, after awhile I heard my voice in there. That is to say, what was unique about me and my sound. I then built on that. In terms of writing and playing, I am so influenced by the normal, traditional repertoire too, the whole idea of excitement, so I try to take everything in. My stuff is angular and thrives on propulsion...
Your first two records were on your own label, Alacra?
Three, actually, including the one reissued by Playscape.
How did that come about—did you just want to get your music out?
It was the same thing. How am I going to do this? It was very hard to get a bigger company to put out your music, especially in the late 70s when I started the label. You did it and it was great, but after awhile you just spent hours in your cellar with your stamp putting your return address on the envelope and sending out vinyl. It was vinyl—at the cusp of when vinyl was turning into CDs.
Tell me about your current groups—let's start with the Nu Trio.
I use the word Nu Trio because it is the basis of all of my groups at this point. It's always been with Peter Madsen, who is a great pianist that splits his time between New York and Austria now. We began with the Remembering Thomas album with Matt Wilson and then a variety of drummers, Michael Sarin and Gerald Cleaver. I like the term because to me, the trio is at the heart of the music and it's not like the trio stands behind soloists and starts different groups with the horns out front. That's not the way we set up and it's not the experience of the music. That has lead into those recent collaborations on Playscape, Michael Musillami's label. I am happy to have an outlet for my work and it is inspiring to know that you can write and get stuff out. There are only a couple of places you could go—OmniTone for awhile there.
OmniTone is still around, though…
What I am saying, though, is that there is not a lot of room and there are so many great players. So it is great to have this and we are doing OK in an age where I think that the future of how you are going to sell this music, much less any music, is being revamped to who knows what. I know that we are going to have downloading of individual tunes from Playscape albums in the future; that's in the works.
What about Steven Bernstein?
He's become the arranger now for me and it is great to collaborate, to write these pieces and to go down there [New York] and have Steven voice certain things and give them a wider harmonic thing.
Like the Orange record?
Yes, the Orange record, one of my favorites—Mythos and Orange are exactly like that.
What about the Totem group?
I am having a lot of fun with this group with Tony [Malaby], his wife Angie [Sanchez] and Kevin Norton. We are doing gigs in April and May [of 2005].
How did that come about?
I'm not sure that I remember exactly. At first Peter [Madsen] couldn't make one of the concerts and Tony had suggested Angie and we played and it was terrific. Our concert in September in New York went so well and they had suggested Kevin Norton. We just hit it off. It is a mix of material. Some of it is from Orange, some of it is from Mythos and some is from Boom. The group that I am recording is now yet another extension and a mix of personnel. This one is going to have Charlie Burnham on violin and Howard Johnson on tuba, so that adds more color.
So is that Totem or another group?
No, I am calling that under the heading, Nu Trio/Sextet.
Let's go back to Peter Madsen—the guy absolutely knocks me out. How do we get this guy some more recognition?
He's unbelievable and he is so under recognized, but he's played with everybody. He is from Racine, Wisconsin. He has such a breadth of experience, from the JB Horns with the trombone player...
Fred Wesley?
Yes, he still plays with Fred and has done so for many years. He is versed so legitimately and authentically in funk—the real thing from the JB guys, Maceo Parker, etc. and he played with [John] Abercrombie and the late Don Cherry. He toured a year with Stan Getz.
What I love about what he does on your records is that while you are riding an angular funk groove, for example, he'll just monkey-wrench the thing and the whole direction will change…
Exactly, he is a monster and an incredible guy. I am joining him in a couple of weeks in Austria and I look forward to that.
Tell me about Michael Musillami and working with him.
We go back a long time too. He is from the West Coast and I think that he came east in about 1981 and his experience came from the organ groups. He played with Jack McDuff and Jimmy McGriff. Almost everyone went through their bands at certain points, especially guitar players and tenor players. We played together at that Hillside Jazz Club. So we collaborated quite a bit then, but then he went into full-time teaching up at Hotchkiss. He's still head of much of the music there. He then returned more actively six or seven years ago and he called me and said, "I am starting this label and I'd like you to be the main advisor on it." I ended up doing all of the covers. I am not really officially part of the record company.
To expand, Playscape has been a great supporter of your work. Do you foresee continued releases on the label?
I do. I've got a lot of writing here. The point to me is that there is a place for me to go with my music and it spurs me on. There are plenty of people downtown that just go into the studio and make their records and you know, the work hangs around, some of it comes out, some doesn't. I know a lot of these guys hand me a CD and it doesn't necessarily come out for years. We are doing as well as any independent is doing. I think the sale of CDs is not an easy thing these days. We've got such shifting tides with Dave Douglas and Dave Holland. We'll see how it goes.
There was even a Wall Street Journal article about that last week, actually. The thing about Playscape is that it seems as though the artists are really trying to say something. The releases tend to shy away from the mentality of, "OK, I am going to do another record and I am going to record because I can."
Exactly. Michael Musillami and I both get a lot of solicitations. The thing is that there is a certain concept to the label. Michael and I both played with Thomas Chapin. That is sort of still the guiding force, as a naturally occurring thing. Some of the people that worked with Thomas ended up being friends and that is the common thread.
Getting back to your anniversary blitz, tell us about this.
After we get back from Europe, we are doing four presentations in New York. You have to do it this way because, as you know, there's just not a ton of places to play. I am going to digress for a second. I was recently thinking as I was setting up this tour in Europe and I was thinking of the distance. You know, you start in Amsterdam and you go down to Northern Italy or Switzerland. You occupy the space from Maine to Chapel Hill. There's literally hundreds and hundreds of decent jazz venues in that span and we're lucky if there are 70, so that is one aspect of the thing, the situation in America. In New York, there are just not a heck of a lot of places to play for most of us.
Tonic was having trouble...
Tonic was having trouble and now CBGBs was having some trouble. Tonic may be coming out of it OK and one of these places is John Zorn's new place, the Stone.
Is that named after Irving Stone?
It is. John is another one who believes strongly in taking possession of your own music. He is another inspiration for that. It is great that he can have the place support itself through the sale of certain records. So, we are going to do something there with the Totem Quartet and then Marty Ehrlich is going to join us on some pieces. Then we are going a couple of sets on a Sunday night at CBGBs with Steven Bernstein as a guest. Then, we are going to a little bit of a different kind of venue—all of these venues are great but have a different range of music that they put on. I feel fortunate because I don't want to hem myself in and thankfully, people don't feel that way about it. I don't want to be limited by description and only be able to play in one place and not play the other. 55 Bar, for instance, is another great place. Queva, the woman who has been running it for years, is great so we'll have a party there. We are going to record the next day, too, so that will be an entirely different group with Michael Sarin, Peter Madsen, and then Steven arranging some music and playing along with Howard Johnson and Charlie Burnham.
That is the sextet that you mentioned previously?
Yes. It's going to be new colors to work with and I am really excited about it.
You said that you are recording. You are in your 40th year of music, so are there any new recordings on the docket?
Well, this new one will be out in September and I am always writing so I am always looking for other stuff. I have to record the Totem Quartet. It hasn't been recorded. Tony and I have recorded together on three or four albums. I am writing for that now and in mid-May I will work on that.
You have such a rich and varied history. Do you have any future goals or things you'd like to accomplish over the next few years?
To keep playing. Marty Ehrlich and I have some sheet music that was written by Thomas that was unfinished. He was working on trio-plus-woodwinds music and there are three pieces scored for this ensemble. It is a big project. They are long pieces so I've been talking with his wife, along with Marty Ehrlich. A presentation of some of the things that are still out there that haven't been recorded of Thomas'.
There is the Herbie Nichols Project, why not the Thomas Chapin Project?
Exactly. At almost every concert I give here or aboard, I play one of his pieces. There were two on the Boom record that were his.
Yes, "Bad Birdie"...
And "Out and About", which was unreleased. "Bad Birdie" is the one piece that Zorn was on and it is just killer. Those two alto solos by Zorn and Thomas, to me, are phenomenal. You have the whole history of the music there—Charlie Parker and Ornette Coleman.
Any final thoughts?
I won't end on a pessimistic note because I've been able to maintain my optimism. I think we have some difficulties here in the States, for lots of reasons. I hope that somehow we can continue to build on the audience. There is such a big audience for pop music. There are plenty of kids and young people that could get interested into this music if we can find a way to make room for it. It is a cultural and political phenomenon.
What records would you recommend people check out to learn more about you?
As far as my work, I would recommend Mythos and Orange. I would recommend the New World releases with Josh Redman and Steve Davis, Toulon Days and Song for (Septet), just as an example of twelve to thirteen years' difference and how there can be a continuity or thread in one's work and life in general and yet you can see a clearer message. That is what I am after. There's a whole pile of composers who we all keep getting clearer and clearer that are truly unique voices, like Mark Helias and Dave Douglas. I would just say to kids, go out and buy a John Coltrane record. I was having dinner with some people the other night in New York and this woman has a rock group. I didn't hear her, but she is quite a wonderful woman. I was telling her about the John Coltrane thing and we got into the history of the music and how my belief is that almost everything went down between 1957 and 1965. If you think about it, almost everything, including Ornette, Albert Ayler, Kind Of Blue… on and on and on. So much of what we revere was done then. I sang [he sings melody] "My Favorite Things" and she said, "Oh, he did that! That's him!" Of course, she knew that version of it, not the Julie Andrews version and it was so remarkable. So I would say, go out and buy a John Coltrane record.