Dennis Gonzalez : The OFN Interview [part 1]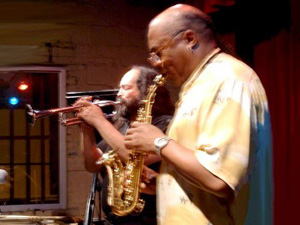 Dennis Gonzalez and Oliver Lake at Tonic
August, 2004 / Festival of New Trumpet Music
Photo by Barbara Sfraga
[part 1 / part 2]
Joe Milazzo published his OFN interview with Dennis Gonzalez in April 2001. That discursive, illuminating conversation was foundational to my own attempt to get current with Dennis. Mr. Milazzo's spadework made it possible for me to focus on both a deeper personal history, and Dennis' activities since 2001. I want to thank Joe for his interview, to say nothing of his many other contributions to the blogsphere, a true diamond in the rough.
AFFINITIES
Dennis, I'll start with a bit of self disclosure that informs this interview: we were both born in 1954, we each have two sons close in age, we both underwent life changes in the 90s that resulted, among other matters of consequence, in a rather lengthy, self-imposed period of retreating from music listening, and, in your case, performance/recording.
Additionally, we have both stayed alert to the wisdom traditions originating in India/Nepal/Tibet, and as listeners/fans, both spent a serious amount of time in the 70s digging Stanko, Wheeler, Schoof, and a select clutch of fondly remembered ECM releases. Then there's Cherry, John Carter, Hemphill...
I first "spoke" with you in June 2004, when I stumbled upon Jazz Corner, a bbs you had been involved with for perhaps a year prior to my landing there. On your improbably active discursive thread, "Ask Dennis Gonzalez", which is 3,000 posts/50,000 views strong at this writing (July 2005), I screwed up the courage to write what was essentially a praisesong for your 1987 recording, Catechism. I recall that while intending to simply convey my high regard for that date, my post developed its own extemporaneous intentions, and I told you of the circumstances of my first hearing Catechism in '87, getting a hold of several other Silkheart dates released around the same time, and the qualities of gravitas and joy I responded to so immediately in your writing and playing.
So, I essentially "met" you in '87, via those recordings, then encountered you anew 17 years down the road! For the past year, we have exchanged brief posts that have, for me, knit together a sense of you as a human being, encompassing your music, your vocation as an educator of many years, and your unwavering dedication to being a father and husband. And then there are those facets of you that I am confident are only glimpsed by some participants in that odd forum, the "Ask Dennis Gonzalez" thread. There you have recorded the trials and obstacles, as well as the rewards, that have attended teaching in the Dallas school system; the rigors of touring, fueled by a DIY ethic of necessity; harrowing and hilarious events around chez Gonzalez, from tales of your sons narrowly escaping serious harm in the workaday world, to a truly chilling story involving a neighboring house with a history of dark, macabre goings on. You also reminisce, often at the gleeful prodding of the JC denizens, about several decades of the musician's life—strange phone interventions with Sun Ra; road stories, global in scope, that are inimitably evocative of place; and the events around the periphery of recording sessions arguably as interesting as the sessions themselves. The bbs as a public, interactive, diary.
ACTIVITIES
"I try to always come away with something beautiful."—DG
Looking at the trajectory of your released recordings: '79-'88—14 releases as a leader; '91-2001—10 releases as a leader, followed by several years of retreat from recording. Then, the fecund and furious activity of the last several years. 2003-2005—4 releases as a leader, 3 in the vaults, several more hermetically sealed at the Gonzalez manor...
A trip to Michigan for several gigs, Vision Festival 2005, an extensive tour of the eastern seaboard, the fourth tour with Yells At Eels, a jaunt to Portugal, a third appearance August of 2005 at the Third Annual Festival of New Trumpet Music—this without mentioning the academic and public performances involving your music students at North Dallas High School.
What sort of extra-musical causes and conditions underlie these bursts of creativity and work? Viewed holistically, your sort of map of the world anyway, what do you attribute this cycle of intense creative output/rest/return to intense creative output to? Is the formula simply an impeccable work ethic + luck + inchoate forces?
Interesting question. I think often about what these factors are that cause work/play for me. I decided early on that I wanted to play my own music. I felt years ago that the sounds I heard in my head were unique enough that I should pursue a course of self-study and composition, and that I needed to find a way to go around the dues-paying component of playing this music. So I started putting together artistic extravaganzas almost as soon as I arrived in Dallas, to bring attention to myself and my music, my art and my writing.
One of the local institutions of which I took advantage was the local NPR station, KERA-FM. The station was pretty progressive and played jazz and classical music, and on Saturdays played international musics as well. I began making myself known to the staff and managers at KERA, and within a year I was on air. I felt I had something better and more creative to offer. This, in turn, made my name known to hundreds of thousands of Dallasites and gave me a forum to put together concerts, both on-air and in public places. Max Roach and Anthony Braxton were among the first to come here under my sponsorship, and Braxton, along with Art Lande, proposed that I pull together all the creative musicians I worked with at the time and form an association, the Dallas association for avant-garde and neo-impressionistic music, daagnim, and which in time evolved into the daagnimRecord label. All along the way, I taught public school in order to be able to pay the bills, and whatever surplus was there, I used to further my music. The fact that I teach Mariachi music made it possible for me to form wonderfully varied musical groups in the school where I teach, North Dallas High, and be recognized for that as well.
Every advantage I could think of I pursued, from meeting musicians who came to Caravan of Dreams in Ft. Worth to play—Lester Bowie, Jack DeJohnette, John Purcell, Pheeroan ak Laff, Charlie Burnham, so many others. They would come to the house and jam and eat some of my wife, Carol's, wonderful cooking. They would carry back to NY or Chicago stories about this crazy trumpet player in Dallas (of all places) who was carving out a place for his own music in this musical backwater. And I would call them and arrange real concerts and real recordings to keep pushing my music in the major jazz cities of the world. When the internet arrived at my home, I took full advantage of the low cost to spread my music, art, and writing even further and more quickly than before.
I guess it's obvious by now that any hole I find, I crawl in and open it up. Any opportunity I see, I try to find a way to maximize it for the good of the music. I still have a long way to go, but people know me and they know my music. It's a lot of work and I have to keep my eyes and ears open to events and musicians who happen to be in the area. It still costs me money to play my music, but I am hoping that in the next year or so I'll begin to be able to make a real living from it. I feel that I still have a huge fount of creativity waiting to be opened up, and I need to make sure people remember me. During the years that I didn't put myself in the public eye, people didn't forget me, but many assumed that I had died. Every day I get emails, phone calls, and letters from people who have re-discovered me, who had put away the seminal LPs and CDs from the 80s and early 90s, and are now delighted, as I am, that I'm back and ready to keep kicking down the barriers.
HISTORIES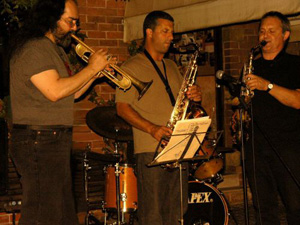 Dennis Gonzalez, Rodrigo Amado, and Floros Floridis
Live at Speakeasy, Lisboa, Portugal
August 22, 2005
So the epicenter of nearly three decades of artistic activity was actually hearing unique sounds in your mind that you were convinced merited development. The locus of Dallas, anchoring yourself there by activity at KERA-FM, the teaching gig, curating concerts and the foundation of daagnim, were decisions to generate strong interest in and reactions to your work without chasing off to NY, the epicenter for most "jazz" improvisers of your generation. "Bloom where you're planted", a stance that necessitates a different set of obstacles and solutions than transplanting to NY.
At first, I was excited to be working with people in Dallas who understood the music I was aiming at composing, performing, and recording. We were all young and idealistic, and our music had a certain amount of chaos and brashness... much of it was totally extemporized, and we would get together to see where we were as musicians, as technicians. Some of daagnim's musicians were veterans of years of playing jazz and blues and show music, great chops and the ability to really play the instrument well and read music well. Some of the musicians were very primitive technically and had been in rock bands and free jazz groups where music was composed by rote and required no reading skills, and where it was essential to be able to scream and make noise above the din of the rock ensembles they came from. Along the way many of us had studied some jazz and improv or taken workshops designed to use the individual's creativity at whatever level the musician was on. For a few years it worked beautifully, and the Anthony Braxton, Art Lande, and Max Roach residencies taught us what to do with our energies and our musics.
At that point, we decided that it was time to start documenting our progress on records, so I released my first solo LP at the end of 1979. In 1980, I put out another recording and some of our daagnim people became interested in putting out their music as well. But something that didn't agree with many of the daagnim musicians kept rearing its ugly head—the business, money. It was fairly equitable at first—several people put out, with their own money, their own musics, and I began approaching distributors such as New Music Distribution Service to help us sell our music. The Mohamed brothers and their group Beledi released music on daagnimRecords, as did Ron Bucknam, Henry Franklin, Bob Ackerman, Pam Purvis, Rob Blakeslee, Joe England, and Austin players Tina Marsh and Alex Coke. Money wasn't exactly rolling in, but our presence was being felt and our music was being heard.
Then one by one, the musicians in our collective quit putting their money into the till, and my wife and I were left paying for most of the concerts and recordings. New Music Distribution Service closed up shop and took our records with them. We never saw our money or our records, and I was blamed locally for it. Fairly soon after all that happened, I decided to make daagnimRecords a vehicle for my music, as it was my money putting the records out, and many of the musicians became quite perturbed and a bit jealous when I started getting press and gigs from around the world. One of my closest musician-friends came up to me and said flat-out: "So you're taking our money and traveling to Europe and becoming famous, huh?" Thing was, this guy, and several of the daagnim stable hadn't ever put a penny in on anything. When they had gigs, they never asked me to play. Anytime we played, I asked as many musicians as I could to play on the concert, and paid them first, usually walking away empty-handed after paying them. Still I stayed in Dallas.
When I met John Purcell in the mid-80s, he and I developed a strong playing and family relationship. It was John who made it clear that it was time for me to stop dragging the shell of a by now almost defunct daagnim organization around, and start concentrating on, as he described it, my international-quality music. And as I jokingly quipped when people incredulously asked if I truly lived and worked out of Dallas, "Dallas has a great airport—I can fly in and out of here so easily!" I had also lived in New York for a summer, in 1972, in Brooklyn, actually. As a young man, I loved it a lot. It was vibrant and fresh and new. But here ten years later with a family, I couldn't see moving them there and spending every bit of my hard-hustled money paying rent and living in a matchbox, and having my children attend rough neighborhood schools. So I made a very conscious, and I feel wise, decision to stay in Dallas and I attempted to put together a career from here. European labels such as Silkheart gave me great support and put me (and Dallas) on the map, and used my growing influence to produce records by people like Charles Brackeen and Ahmed Abdullah. And after all that, I am here still.
I wonder what basic personal scaffolding—emotionally, mentally—provided you that level of confidence to hold your seat in Dallas, and draw collaborators and an audience to you?
My Mom and Dad were educators, my Mom a teacher and my Dad a principal. My siblings and their spouses are all teachers, and one of my brothers is the headmaster of a major private school in Dallas. We were also raised very strictly in the Baptist church, and music was a great part of our upbringing. We all play instruments, or have played in the past. My brothers and I had a vocal trio that sang Spirituals, and for years I played trumpet for worship services. My sister and Mom were church pianists for years. Our household was very strong on studying, finishing one's education, getting a degree, all that. The discipline to keep on until a goal is reached. And once I decided to stay here, as opposed to moving to NY or LA or even Chicago, as lots of musicians did, I had to put together a plan (improvising and adding onto it along the way… with many, many detours) that would shine a light in this direction and project an image of me worldwide.
You asked about what gave me confidence. As a child, I realized that I'd been given many gifts, many talents, and in the church we were taught to be stewards of those talents. Which meant I had to practice, write, study, work, and plan so that I wouldn't lose those talents. If you are raised bilingually, for example, and only use one of the two languages, the unused one will disappear after a while, and you will be unable to speak it or write it, because you are no longer practicing it and thinking it. So it was with my visual art—I've exhibited all over the world because I knew I could do it. And with my music, which people know me for. I've published lots of my writing, from poetry to prose to reviews, and I've taught thousands of young people how to play an instrument.
Somewhere all over the globe are people from age 12 to age 45 who from time to time think: "Mr. Gonzalez taught me to play this instrument. I wonder what he's doing?" I did radio for 21 years here in Dallas, and people still recognize my voice, even if they've never seen me before, and that is gratifying to be recognized that way. Every four or five months, there is an article in one of the local papers about how my career is doing, and when I travel elsewhere to play or exhibit or teach, the local media refer to me as being from Dallas. There's almost a mythical aspect to my being from and living in, of all places, Dallas, Texas. And the things I've put in motion from this place are fairly major in scope. That keeps me going as well, from this place.
TONGUES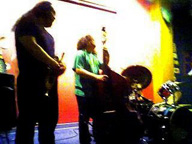 Yells At Eels Live at Sangha
Washington, D.C. / June 18, 2005
Photo by Fred Kendricks
Before I start digging into the music of the last 3-4 years, I want to comment on another interest of yours that explicitly informs your poetry and travel writing, probably more subtly your compositions and improvisational language—that is, your ear for regional dialects, idiomatic language, etc. You are fluent in half a dozen languages, but I am referring to a thread I see running through more casual conversation. By dint of visiting the same bbs, I have enjoyed your rather frequent lapses into Southern drawl, the occasional French bon mot, your ear attuned to the speech style of musicians you've played with from South Africa, elsewhere... all employed when engaging with JC posters who communicate in sometimes truncated, pidgin English, from many regions of the U.S., as well as around the world. You also display a knack for creative phonetics, conveying the sound of these dialects/idioms through onomatopoeic posts. The most frequently discussed example of this is the signifier Yells At Eels.
I wonder how your ear, seemingly always canted toward how people say what they say, informs your playing?
Probably the thing I love the most about our world is the phenomenon of our being similar to each other as humans, and yet how we are different from each other in so many ways. There is a dangerous trend now rampant in our world that makes it even more possible than before to separate people from each other due to those differences, rather than celebrating those differences and coming closer to each other by fact of our interest in each others' uniquenesses. I always viewed jazz as a music based on a tolerance of those differences, and I always assumed that the listeners of jazz would respect that tolerance. But much to my surprise, I am finding out that many listeners of this music are actually quite bigoted and prejudiced against the ideas, lifestyles, cultures, even the ethnic and racial diversity of humans not within their political or tribal proximity in many, many ways, and this does not jive for me.
I was raised speaking Spanish and English, and as a child, for various reasons, I began to pick up and become interested in dialects and regional differences in the two languages. I had Mexican cousins who would come visit us in south Texas when I was young. They were raised in Mexico City and in their speech they had a sing-songy delivery, and the words they used were different, more "high-falutin'" than the Spanish the Mexicans spoke right across the border, six miles away from my hometown of Mercedes. I noticed at that same time that the sophistication of the musics my cousins listened to were more "high-falutin'" as well. I even noticed that the Spanish we used in church, and the music we sang and played in worship were of an even higher order than the border Spanish (and music) or even the Mexico City Spanish (and music). I also had relatives in West Texas, in cowboy country, and their English as well as the music they listened to were totally different than the English I spoke and the music I listened to. We were from the same Hispano-American culture and ancestry, but the beauty of the differences they lived—the way they spoke and acted—was never lost on me.
My father worked for various state education agencies as an expert on the education of the children of migrant workers. Because of his job, we traveled all over the United States and were exposed to the many ethnic, racial, cultural, religious, and regional groups then present in this country. Everywhere we went, we heard many different accents, vocabularies, languages, and musics, and I drank it all in as fast as I encountered these things. I remember as a child being asked by my mother, as we visited friends in Toledo, Ohio, to run around the corner to a small grocery store to buy her some items for supper. The place looked exactly like the little tendajo, the little grocery store down the block from my house in Mercedes, but as I walked in, I was transfixed by the newspapers and signs posted around this neighborhood store in Toledo... they were all in Polish! Even the music playing on the radio in her store was from the Old Country. And I was so excited! The old woman running the place had a strong, beautiful Eastern European accent, and I asked her what the language was that I could see written all over the store. She told me that it was Polish; "...and thees newpaper is in Rrah-ssian; thees is Oo-krahy-nee..." I was entranced.
Experiences such as those were eye-opening and exciting to me, I dreamed about one day being able to hear these languages in their places of birth, to hear these musics where they originated. And my music and art made it possible to do just that not that far into my young future.
My sister decided to take French in the 7th grade. Every afternoon I would be waiting out by the driveway to hear what new words she'd learned that day. She would very patiently teach me the new phrases, the new vocabulary, and I was struck by the fact that, although it was a different language than the two I was raised on, it had many similarities, and yet it was beautiful in its own way. And the French folk songs she learned in class, she would come home and teach me.
All that has stayed with me all these years. And though I'm surprised that so many people see these differences as threatening, I am never deterred from finding the poetic and the beautiful in these differences in tongues. Not only are they poetic and beautiful—they show the inner life of a person and where that life intersects the place where they live—they are also (to borrow a word you used so well in the question) signifiers of a more-deeply residing part of humans which we call "spirit", that which truly unifies us, even stronger than blood does.
Words interest me. Wordplay even more. These hold an equal place with my love of the language of music and the language of visual art. These form the basis of my understanding and expression of spirit.
And to answer your question directly, everything I hear ends up in some way in my music.
HYMNS
"I have always lived in a spiritual world."—DG
Let's dig into the music. I want to focus principally on your performances and releases in the fertile period of 2003-2005. At the same time, there are several pervasive aspects of your compositions and approach to ensemble work that I hear in your playing from the Silkheart recordings through Idle Wild. Those areas you seem to be refining and reframing extend from at least 1986 to 2005.
I think I've been through three distinct "eras" with my music: The beginning—1978 through 1984; the growth period—1985 through 1995; the refinement—1999 through now.
Let's start with an obvious one, the hymns. You said to Joe Millazo in your 2001 OFN interview, "it's like one of those mantras. You have to say it over and over until you learn it to the nth degree, and you have to learn it in so many different ways." By my count, there are at least 11 "Hymns For...", the dedicatory/incantatory form you use to bring forth something of the spirit of another musician you love.
These are the Hymns I remember: "Hymn", "Hymn for Albert Ayler" (2 versions), "Hymn for (Sam) Rivers", "Hymn for John Carter", "Hymn for Julius Hemphill I" (3 versions), "Hymn for Julius Hemphill II", "Hymn for Julius Hemphill III", "Hymn for Mbizo", "Hymn for the Perfect Heart of a Woman", "Hymn for Louis Moholo", "Hymn for Lionel Batiste", "Hymn for King Sunny Ade", "Hymn for Tim Green", "Hymn for Don Cherry", "Hymn for the Ashes of Saturday", and "Hymn for the Elders".
I clearly missed being in the pews for several recitations from the hymn book!
I pray you will get a chance to be in the pews sometime in the near future.
The lion's share of these hymns fall in what you assess as "the growth period", with several more extending throughout the recordings from Herido [2001], to the stunning "Hymn for the Ashes of Saturday" [2004]. I told you in my first correspondence with you last year, your development of this particular song form serves, to this listener, as a sort of binding element, a narrative continuity that gathers together disparate projects, sea changes in players and instrumentation, and the passing years. Interesting, as the etymology of 'religion' is thought to be 'religare', meaning 'to tie together'.
There is a hymn called "Blest Be the Tie that Binds" that is sung as an invocation of fellowship, tying one to another in service, in unity, and peace. It is a very pure song, almost innocent, especially during these days of quickening and strife. That is one aspect that I want my music, especially the hymns, to do. If I don't literally reach out to my audience—and in the past, especially as I lost my hearing more and more, I was totally unable, and way too shy, to physically reach across and talk to my audience one on one—my music continues to function as the go-between, as the communicator on my behalf, and I provide the same function for my music. I am its expressor, its facilitator.
The word religion has unfortunately taken on a negative connotation that removes it from this type of re-tying, re ligare, and lumps it, associates it, with tying someone down, making them inflexible, dogmatic, a slave to the idea of the religion one takes on, rather than the religious experience freeing up the individual in a spiritual way, which I think is the function of religion.
To quote from Milazzo's interview again, you said at one point, "I've realized over the years that I live in a world of spirit." You've sought to give that hunch expression not only in your music, but in every corner of your life and work: inviting the Tibetan Kagyu monks to your high school to offer sacred chants for your students, your interest in Santeria which I suspect followed your trip to Cuba, an interest in Hindu and Buddhist metaphors, the healing fans you construct, your intuitive poetry and visual arts, not to mention your connections to fellow improvisers and your family. All, of course, "archetypal objects".
I was taught as a child that, although our bodies don't survive the transition from life to death, our "us's", our selves, the part of our existence and life that is actually and always alive, what I consider to be the spirit, this part of us is that is detectable and is what connects us to the great One, what some people call the Silent, God, the Unknowable, the Eternal… this is what I praise and call forth, this Mystery that is totally understood and totally Unknown. This is the first aspect I see and feel when I meet someone. And these hymns are calls for these spirits, these Ancestors to bless us and teach us patience and beauty. They are vibrational rituals composed just for that purpose.
I hear this mystery, to cite one example, in the way Ellery Eskelin's tenor solo opens "Hymn for the Elders" [NY Midnight Suite]: a fluid, concise essaying of the Hymn's theme, with pungent variations, a stellar improvisation (I told Ellery after first hearing "...Elders", that his solo owns all the elements of a Rollins cadenza, simply placed at the outset of the tune) that flows into the entrance of trumpet and bass on the gospel chord change, sounding the simple harmonies that seal it as an ageless gospel tune. In that opening two minutes or so, there is the old wine/new skins conceit you work over and over, the hymn a form into which a distinctive improvisational voice is heard, a fresh set of players enter to cook the hymn their way, all the while the threnody and basic melody of the hymn is extended. There's mystery in that blend of elements, for me—the old hymn a vehicle for each new ensemble, each new decade, each soloing voice appending a chapter to the hymnal.
That is a very intelligent way to describe what is happening when the hymns are played. The way you describe it is very basic, very down-to-earth, and I hope that me and my audience will meet somewhere along the continuum of what you say and how I describe what I do.
What are you 'saying over and over' in the hymns, mantras that obviously invoke multiple emotions, some joyous and declamatory, some quite dolorous?
I suppose if I knew exactly what I am "saying over and over" in these mantras, these hymns, I would probably be able to stop this caravan of songs and get on with being enlightened... sort of like reaching a state of bliss, a state of rest, after endless cycles of sorrow and light, bitterness and sweetness. I suppose that my hymns are prayers and blessings, questions—and the answers to those questions—which, in order for me to glean understanding from them, I have to play them over and over in order to learn what they have to teach me; what it is I must learn from them. From time to time I get glimpses of what they represent, what they save me from, and where they are taking me.
Cormac McCarthy's protagonist, the sheriff in his book No Country for Old Men says, "...when you encounter certain things in the world, the evidence for certain things, you have to realize that you have come upon something that you may very well not be equal to and I think that this is one of them things. When you've said that it's real and not just in your head I'm not all that sure what it is you have said." I feel that at this point, I am not yet equal to these mysteries, I'm not sure what it is I am saying, but I have a strong faith that these hymns are leading me in the direction of myself. They are leading me into the realm of myth and archetype. I have always let the music guide me, because in it is the inherent mystery we all seek at some point. And for me, the seeking is all.
You're digging into that pitiless sage McCarthy, who wrote this passage: "Billy watched the light bring up the shapes of the water standing in the fields beyond the roadway. 'Where do we go when we die?' he said. 'I don't know', the man said. 'Where are we now?'"An instinctive kind of humility in the face of the many things we may not currently be equal to.
As humans, I feel many of us fall into the trap of not reaching forth, of not calling on that which we don't understand, and so we stagnate and breed ill rather than building an access to that which we need to fill our spiritual stomachs. The man speaking to Billy answers his questions with a prayer, "Where are we now?" For years, Preachers have been raging at God to disclose his Mysteries to us… "Where are we now Lord?" For aeons artists and poets and musicians have predicted That that is to come by trying to place where we are now. The Eternal Now.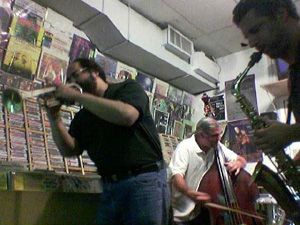 Dennis Gonzalez, Ken Filiano, and Rodrigo Amado
Live at Downtown Music Gallery, NYC
September 11, 2004 / September 11 Memorial Concert
Photo by Pedro Costa
DUENDE
"The arrival of the duende presupposes a radical change to all the old kinds of form, brings totally unknown and fresh sensations, with the qualities of a newly created rose, miraculous, generating an almost religious enthusiasm."—Garcia Lorca
We've talked about the roots and tributaries of your creativity, the ground of family, spirituality, and other inspirations.
I am still curious about a period of your life you talked about briefly with Milazzo in 2001: riding the momentum of roughly 15 releases as a leader, following many travels and collaborations, around the age of 37 you experienced a reversal of fortunes. Two serious motorcycle accidents and a concomitant depression, as well as a trek through the absurdly schizophrenic economic realities of India, Nepal, and Tibet, and you entered a darkness that resulted in your withdrawal from, among other things, music.
Actually, the period you are talking about began December of 1989, when my family and I rolled over on the highway in our van on the way to Missouri for Christmas. It was a frightening, sobering experience that left me questioning a lot of things and acknowledging many more. Many of these things are too private or too volatile still to speak of and put a name to. For some reason, I was the most badly injured in that crash, which I am grateful for, considering that my wife and boys were with me in the car, and I still go through times of asking myself "What if…" Very scary indeed.
I had already gone through a series of painful body changes… and I was informed the next month, January of 1990, that I was diabetic. Not exactly a death sentence, but then, "inconvenient" changes are almost never welcome. Many things would have to change, and they did. Strangely enough, this is the time period during which I really began traveling a lot. I'd be in Chicago playing concerts with Hamid Drake, and then trekking in Nepal the month after, flying home and turning right around to fly out to El Salvador. Then I'd be back home for a month and fly out to Seattle, and then go to Honduras, and L.A., and then play a week's worth of gigs in Ljubljana, after flying in from Oslo… it was exciting and tiring, and it pulled me further from home each time, and deeper and deeper into this darkness of which you speak. My mind and body and spirit were on overload, and I couldn't slow down, or rather, wouldn't.
I read your poetry on the Web site, which includes these lines:
"...lightened space reaching deep
into my skin, bleaching out
the darkness."
For some reason I immediately connected these lines to your bride of many years, Carol. You attribute much of your recovery from the lacuna of those dark years to her.
She has been my support for all these years. She put money into projects, when she could have taken the money and put it into the house or into her wardrobe, or traveling to Missouri to see her parents. She put her love and knowledge of food to cook for all the musicians who ever came to the house to rehearse or record, thereby facilitating the breaking of bread and good conversation, which is so essential for the making of creative music and art. When I came out of the dark period, she had saved up money for herself but decided to take me to musical instrument and recording equipment stores in town, saying to me, "OK, get what you think will help get your music out there again."
So I got Aaron a new stand-up bass (two actually, when some overzealous fan knocked down and broke the first one), Stefan got a new drum kit, and I bought the 8-track digital on which NY Midnight Suite, Nile River Suite, Home, Pictogram, Old Time Revival, the Portugal concerts, and the Michigan studio recordings with Faruq Z. Bey and the Northwoods Improvisers were all recorded, along with state-of-the-art microphones and stands and all the paraphernalia to go with them. She stood by me when I was falling apart and after I was wheeled into the emergency room to get me pieced back together after I hit the pavement on my motorcycle and was badly torn up. And though I try to tell my boys that they will have to find their own way through the world now, she never fails to have a bit of food, a few bucks, and a lot of love and support for them.
"All the arts are capable of duende, but where it naturally creates most space, as in music, the living flesh is needed to interpret them."—Garcia Lorca
While it would be understandable some might find this revisiting that period as "negative," I sense it is more accurately the stuff of what Catholic mystics of many centuries ago describe as "via negativa"—the stumbling through the darkness that owns the potential to become a source of immense value to creativity and living.
I was able to see what lies on the other side of the light, of the spirit, and see the light from another perspective; from the side that enfolds death and darkness and madness. I was able to see for myself that this side is always good, always bright, always healing. I realized that I love living on this sweet old world and being with the people I love, though I tried to run away from it all for a while, and I have been blessed to be able to come back to this side and continue playing the music I want, creating the visual art I love, write the words I need to write, and continue living in the bosom of family, which many people don't get to do on this plane of existence. I don't understand why I was allowed to visit the valley of the shadow of death and survive, but I did learn a lot about magic and healing, and although I can't put it into words, I learned what real love and admiration is about… and I'm alive to be able to express it.
You certainly came through with a revivified creative output and activity, something like 14 releases, several tours and, perhaps instrumental to it all, a new musical language with your sons in the formation of Yells At Eels.
I know I've already said that it was my boys who asked me to come back and accompany them on their new musical journey, which started in 1999. The new language you ask about is actually very recent, more recent than 1999. I say that because when I came back out into the world of music, I was still using my old musical vocabulary in the context of my boys' rhythm underpinnings, and as we went along, we were forced into situations of having to invent and appropriate new ways, as you say "New Languages" of playing. The three of us sound like we speak the same language, but the truth is, once they'd absorbed the musical lessons of the Silkheart sessions, which they were present for as young children, they began using their own dialects, based in the world of punk.
When they added me to the mix, we had to triangulate to find a common thread that carried us very tenuously through our new explorations… it was very difficult work… until we reached the same place, or rather, until we created a new place based on the old maps we'd been using. It's like all of a sudden finding a new land mass that looks exactly like three places you've lived before, and it's all familiar and unfamiliar at the same time. It took a lot of re-mapping, but in the long run, we've succeeded beyond our wildest expectations. It was amazing to be asked to present this trio at Vision Festival in New York in June of 2005, and even more amazing that Oliver Lake, the great saxophone legend, knew in his musical heart that we were worthy colleagues.
Does that make sense to you in terms of your perspective on the other side of the rough patch of ten years?
Yes, it makes perfect sense.
I very much appreciate the scope of your answers to some intensely personal questions, touching as they did on family, loss, and happily, regeneration. I think providing this sort of storyline explicates some of the elements that a perceptive listener hears in the music you've created the past 30 years.
In the late 1980s, after my father had been gone for almost ten years (he passed away in 1980), John Sadler, who took the cover photos for my CDs on Silkheart as well as Charles Brackeen's covers, and who is an internationally-known published psychiatrist, began a series of discussions with me about the role of grief in my music. Of course, the first time he asked me about this, I denied being, after all those years, still in mourning. He disagreed with me, and pointed out whole passages of my compositions that were stark and filled with grieving, that I myself had not been aware of. So when you say "I think providing this sort of storyline explicates some of the elements that a perceptive listener hears in the music you've created the past 30 years," I begin to understand perfectly well the deeper purpose of such an interview as you are conducting. Not only to understand the musician and his music, but to shed light on previously unknown feelings and states of being.
Yes, I am glad you chose to share that observation by Sadler. You'll have to take my word for it, but my notes from several months ago on this quality in your writing and sound say, "threnody, soulful, and mournful elements are the strongest elements at times in Gonzalez's writing."
It's interesting to me that you felt this too.
With probably enormous relief on your side, we can move into discussing specific performances and releases of the past several years especially.
I think it was important for me to be able to respond and reflect on the questions you asked. I answered very carefully, and truly had to re-think just how to approach some of the subjects broached. Perhaps that speaks about just how guarded I am about that time and the changes that came. Possibly in the future the whole story will be revealed. I will have to weigh the possibilities and consequences of doing such a thing carefully.
[part 1 / part 2]