Erik Friedlander : The OFN Interview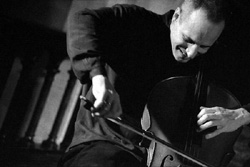 Photo: Emiliano Neri
Cellist Erik Friedlander, perhaps the most in-demand improvising cellist on the East Coast, recently completed a country-wide tour in support of his solo record Maldoror. A visual document of his travels can be experienced in the recently released tour DVD, Vanishing Point (Arconomics), which follows Friedlander cross-country as he plays everywhere from tiny galleries to huge rock clubs. In addition to being a fixture in the Downtown NY jazz scene and a mainstay in the numerous ensembles of composer John Zorn, Friedlander has also found himself a recent collaborator with indie rock up and comers John Vanderslice and The Mountain Goats. In addition to this busy sideman schedule, Friedlander also leads his own ensembles, including his long-standing rhythm quartet Topaz and a brand new trio, The Broken Arm. Troy Collins spoke with Friedlander in September 2005 about his recent solo tour in support of Maldoror, and what he has up next for listeners.
Watching your recent solo tour DVD, Vanishing Point, one gets the impression of the sparseness of the open road. What was the actual turnout like? Was the tour advertised? Did you use a booking agent?
Rachel Finn at the The Billions Corporation, who mostly handles indie bands, managed the tour. It varied though. A couple of the nights I opened for the Valley of the Giants. I didn't know of them beforehand, but they're a band, a big band, a couple of them are from Godspeed You! Black Emperor. So they were all sold-out gigs. The other gigs were solo and they varied. In Toronto I had a full house there at the Rivoli. I went to Buffalo, NY on a Monday night and that was pretty weak. Chicago was pretty packed. That was a good night. Boston was not bad. So it varied, it really did. Cleveland was pretty light, it was a big ballroom place and that was a Tuesday night. It was just billed as Erik Friedlander solo, the Maldoror Project. But weird places were really good. Lexington, Kentucky was packed. That was in an art gallery. But I played everywhere, from clubs to art galleries.
Did you have a preference?
I guess for that project I liked the less rock, clubby kind of places because they're a little bit dingy sometimes and I like the brightness of a nice room.
There was one location featured on the DVD where you were set up in an exceptionally bright space, where was that, from the angle it looked almost like a classroom?
Ann Arbor, Michigan. I think it was the Kerrytown Music House. It holds about 60 people comfortably, has seats off in two directions; yeah, it's more like a small classical venue.
So what were people's reactions like? Did it vary based on venue? Did you get any feedback?
I would sell CDs afterwards. The only nights where it was tough was when it was lightly populated, but even those people really loved it. I really developed the show so I was telling a story from beginning to end. I tried not to keep it too long. I would try to do maybe 50 minutes at most. Some nights I did two sets and I would say that was a little long for a solo show.
I noticed a marked difference between the pieces from Maldoror that you played on Vanishing Point. It seemed as though the four or so pieces from the album are more forceful live and I wondered if that was a conscious decision you made beforehand? Since Maldoror was all improvised I assume you had to re-learn your own improvisations?
Yeah, that was a little tricky. It's a little onerous but I think it ended up being a good idea. I would say the big difference is that the album is an intimate experience when you listen to it. It's recorded very beautifully, like a classical recording. It's a more atmospheric, intimate experience, where the live experience can't just be that. I was thinking that I was going to do either a very varied show that had music by other people where it would move from one thing to another, or I was going to do a stage set, with atmosphere and a lamp and a coffee table, so I could present this Maldoror in its entirety. But that was too big a deal and it was a little unwieldy. And so the pieces had to change a little bit. Like "Here Comes the Madwoman", people love that piece. It became much more fast moving, it's an aggressive piece but it became much more aggressive and kind of fun.
"May It Please" became pretty much anything I wanted it to be. Every show it was a little different, I would touch on specific themes, but… I felt to go out and sit down in front of a crowd, I needed to grab them and bring them into my world a little bit, especially with "May It Please", which I often performed first. So I felt that—right or wrong—that it needed to be a little flashier. And I think mostly I was right. The big surprise, the one that turned me around on this whole solo cello project was when I went down and did a set at South by Southwest in Austin. I don't know if you've been there but it's like a zoo of indie rock and hard rock and rock, rock, rock… and I opened one night at one of the venues and I really got over, I really connected. I felt like people were really interested in hearing something different and hardly any of these people knew who I was. The only trick was I needed to play pretty high energy the whole time.
I was wondering, in that sort of setting how many of the indie kids would be familiar with your work, as opposed to say the crowd in an art gallery setting?
Well, you know I did a bunch of gigs with John Darnielle and the Mountain Goats and he had a hot record, The Sunset Tree, that I played on, which was a nice little opportunity. And I would open for 800 people in a sold-out house who really didn't know who I was and it was the same sort of thing. I was able to make it work. What works for me is not playing that Maldoror record verbatim. I needed to play "May It Please" and "Here Comes the Madwoman" and then I would do an Arthur Blythe piece and then a Santana piece and then I would do one of mine and then an Eric Dolphy tune, just moving back and forth, depending on the crowd. If I was opening for an indie rock crowd then it would be 40-minute max, high energy from top to bottom. If it was an art gallery crowd then I had a little more freedom to tell a more varied story. It's tricky.
I remember reading that you were initially a little down on the idea of doing a solo record.
Well you know, that has to do with the performer's feeling. You think of the Bach solo suites and I think of all that stuff and I felt like it wasn't something that I was ready to do. I guess one can be locked in a mindset that needs to be re-examined and I guess I was locked into that mindset. My friend Michael Montetz was someone who said, "Listen, this is something really worth hearing," and he had the idea for Maldoror. He put it together and it turned out to be a really great thing for me. It is something I'm interested in and it does turn out to be something that I can do.
Didn't you play a solo cello piece on John Zorn's Madness, Love and Mysticism record?
Oh yeah, the Joseph Cornell piece, "Untitled". Yeah, that's a very challenging piece to play. No, that's true, I had that experience, didn't I? And almost every Masada String Trio record has one solo associated with it and I'm actually going to do a solo record for him with a new book of music.
Really, is it going to be Masada tunes?
Yeah, the new Book of Angels music; he wrote another 300 or so pieces and I picked a dozen out of there.
Not to redirect the line of questioning to Zorn, but I am curious what it's like to work with him and what exactly the Downtown scene is like now. Now that Tonic and the Stone have taken the place of the Knitting Factory, I'm curious what the scene is like now for you guys as opposed to what it was like in the heyday of the old Knitting Factory?
I couldn't talk generally; I could only speak for me. Things are just getting better for me all the time. I'm doing more touring of my own music and recordings of my own stuff. I came in at the end of the Knitting Factory heyday, right after they moved. And I would say right after they moved, the Knitting Factory became less and less a focal point for us. And then Tonic took over and it was a great scene there. I played there so many times with a whole bunch of different groups. The Stone is a different kind of place, a little more intimate, a little smaller and it's a great place. I feel like things are great. The so-called Downtown scene is alive and kicking, it's very vibrant.
Do you have a preferred venue?
The Stone is clean, comfortable… it's a little warm in the summer but other than that it's a fantastic place to play. I'm going to be playing at the Knitting Factory soon and they seem to be trying to find their vision of what they really represent.
I wasn't even sure the Knitting Factory featured anyone from that group of musicians anymore.
They pretty much abandoned our scene and they don't seem to be able to keep one booking agent there for a while. They just seem to have lost their focus for what they're about.
I realize that New York is going to be the center of the universe for a musician such as yourself, but did you notice anywhere on your tour that seemed capable of supporting the sort of scene that is as vibrant and healthy as what you have there?
I don't know about that. Toronto struck me as a place that had a lot going on. A lot of smaller places, I don't think the scene is going to be as varied or as vibrant. Chicago has an amazing scene going on there. I had a great night there, Ken Vandermark came down and we played trio with Tim Daisy. I did my solo set first and then we played trio. Vandermark is really one of the main guys there. He's like a rainmaker there, coming up with gigs and booking festivals. So I think the Chicago scene is really a formidable one.
Boston to a lesser extent, it's always been a little tough there. I don't know all the scenes so well. San Francisco has a certain scene but it seems to be drying up a little bit, just the nature of business, what with the disappearance of the dot-coms driving artists out of town, it just seems a little bit in flux there. Portland has a scene, Seattle has a scene, Pittsburgh has a scene, you connect with them a little bit. Los Angeles is always fun to play. I don't think I came across anywhere… maybe Chicago, but nowhere as varied and vibrant as New York yet.
On the tour DVD you were recording at Dublab studios, where was that located?
That's in Silver Lake, just outside of Los Angeles. It's on top of a venue. It's a 24-hour online streaming radio broadcast.
So you were just laying tracks down for them to broadcast?
Yeah, it's dublab.com. You record 30 minutes worth of music and they make it part of their stream and then they feature it as part of a focus group where you can zoom in on different sets. So that was just an opportunity on a Sunday morning.
So how does that work as far as artist compensation? Are you paid?
No that's just exposure, some airtime. The gigs pay, everything else is gratis, advertising.
How did your playing with the Mountain Goats and your recent affiliation with John Vanderslice come about? Did they seek you out?
Yeah, well, it was kind of a little bit of both. My record company sent John Darnielle a CD. They have a little bit more of an indie rock approach to things than some of the other labels that I work with in an attempt to get the album some notice and also hook me up with some gigs. And it did work out; he really liked it, and when he came to New York a year and a half ago to play, I went down and opened for him. That was a huge success and when he went to do his new record they called me up to come out and play on it. I negotiated with their record company and it turned out that Vanderslice was producing. We worked for a day and a half and came up with a lot of great stuff. And then it became natural for me to open on the gigs that were more convenient for me. So I did about five or six gigs with him on the East Coast. When John Vanderslice was doing his record he brought me out too and then we did some live gigs as well, it was fun.
I'm not sure how well you know Nels Cline, but to draw a comparison I was wondering how different touring with a more conventional rock ensemble would be from the tours you're more accustomed to, as an improviser. I'm not sure if you've had any experiences like that.
I really dictated terms that made it so I wasn't on the road. And something like the Mountain Goats, he's so particular in his own way, it's not so normal. I know Nels is with Wilco and I know they do tons more dates, I'm sure. I'm not sure what his experience was; for me, number one, I was doing my own set. Number two, I would just come out and play with Darnielle, three, four tunes at the most. So it was all good for me. I felt like it was great. The trick is negotiating some fees, because the whole scene is used to paying less.
Really? Less than a typical jazz scene?
Oh yeah, much less. They do many more gigs and make money from merchandising. But Darnielle was very generous and John has given me studio time at Tiny Telephone. I just recorded my latest solo CD out on the West Coast and we mixed it at Tiny Telephone, so it's a nice trade.
Is it an acoustic recording?
Yeah, it's going to be a completely different approach; it's all analog, recorded to 2-inch tape. I love working with Scott Solter, who John works with all the time on his records and produces; and once again he recorded the Mountain Goats and Vanderslice's new record, Pixel Revolt. This guy is amazing. He and I basically produced the record together. It's going be great I think.
When improvising musicians collaborate with non-improvisers, I wonder what each side brings to the table and if this results in any sort of creative conflict. When you play with these musicians are you asked to improvise, or do they have parts already written out?
Well, it's always different. I do a lot of session work, but these situations that you're talking about are the most fun for me because I'm asked basically to create parts. It is a collaboration, but my job is to make their pieces sound better, or more filled-out. So I don't think they're meeting me halfway. The basic project is to create cello parts that fit the tune, not to just solo on the records. So I go in there to create parts, write arrangements basically. I weave in and out of what they've already done and I like to have the freedom but also the guidance of a really active producer or artist. I mean active intellectually, in thinking and coming up with ideas together and then focusing and creating the part together. So I make up all that stuff and then together we focus down on what really works, we record different tracks and that's how it works. It's really fun, but my job is to go in and make something happen that works for the music. It's not like we're both on a gig together and playing free.
Did any of those studio sessions result in any new collaborations that you want to keep going?
Yeah, well all of them, I love all of this stuff. I'd love to do more with Darnielle; I'd love to do more with John Vanderslice. I like this kind of work. To me, it allows me on the composing/arranging side to create parts and make something happen in a different kind of relevant music.
Has any of your session work left you stuck doing commercial jingles?
Yeah, I still do jingles. I actually like jingles; other kinds of dates I don't terribly love. I don't mind jingles so much because it's a certain kind of lunchpail gig that I like doing because it demands a high level of playing ability and you're getting paid really well and you have to get out of there pretty quick. I like all of those things.
So then what is the sort of thing you have to do that you don't want to?
Dates and sessions with a bad arranger, because you can't always suss it out before hand. Long record dates where the music isn't very well written.
Is this some sort of anonymous recording gig, where you're part of an orchestra?
Yeah, exactly. But most of the time on jingles I'm playing solo, so it's kind of fun.
Any jingles of note that I'd recognize?
There are so many, I don't know… I'm trying to think of something. Actually a piece I wrote recently was for lendingtree.com and was playing quite a bit. But I've done all these car commercials and a lot of stuff where you wouldn't even hear the cello so much.
So I assume that allows you to play for a living then, you don't have to have any kind of day job?
Right, that's what I do. But touring pays too and I'm going to Europe in November and it's going to be a really good tour with my trio, which is the new project I'm doing called The Broken Arm. [Note: In 1949 Oscar Pettiford broke his arm playing baseball. He could still move his fingers even though his arm was in a sling, so he began experimenting with a cello a friend had lent to him. He tuned the cello like a bass only an octave higher and later recorded a series of cello-led projects including the great, under-recognized 1964 Fantasy release, My Little Cello.]
So what's the line-up like on that?
It's going to be me, Kermit Driscoll on bass and Mike Sarin on drums. I haven't recorded the group yet, but when we do it'll also have Bryan Carrott on vibraphone.
Do you have a label in mind for that yet?
No, I have no nothing. I think it's going to be a great project.
So are you going to do all pizzicato for that?
Yeah, I think all the heads will be pizzicato, I might improvise a few times with the bow to spice it up, but I haven't used a bow on it yet, so I'm still refining it.
Since that project comes from a more traditional jazz background, and you've been doing all this session work with indie rock guys, the nearest parallel I can draw would be the work of Zorn and Vandermark, who both derive a lot of inspiration from pop music. Has there been anything recently that you've been involved with along these lines that you can see influencing your own working methods?
My new solo record is going to be all about "Americana". It's probably part of this whole trend that you're talking about. I was listening a lot to the Harry Smith Anthology of Folk Music and that inspired this. Playing a lot of pizzicato cello kind of triggered that as well. I started doing more stuff in that Folk Anthology kind of vein, instrumental music that had that kind of vibe. So this new record is a set of written pieces and then a set of improvisations based on literature, like Maldoror. It's hard to know where it all starts, but it probably comes from working with those guys.
So is there a new Topaz album?
Yeah, I have a new quartet record coming out on Cryptogramophone. In fact we're dealing with artwork right now. I just got the mixes to that and it sounds amazing. And that's a record called Prowl. The music is inspired by a lot of different African rhythms that kind of triggered me thinking about different ways of structuring music. It inspired a whole new book of music that I wrote. It still sounds like Topaz and my music, but if you listen closely you can hear African rhythms on some of the stuff that are very specifically the engine to the pieces.
Speaking of Topaz and the ill-fated Skin CD/DVD combination, what ever happened there?
They went under, I wasn't the only artist on the record label [Siam]. It was part of a time when a lot of record labels were going under; they did too and it was unfortunate.
I noticed that the Skin DVDs started showing up at cut-out distributors, and didn't even realize the label had folded.
Actually he did give me boxes and boxes of them before he folded the label completely.
I told you before about when a friend and I went to Philadelphia once to see you, I think it was for Topaz and the gig ended up getting cancelled before our eyes…
Oh yeah, it was for Topaz. I showed up at the venue and they had a sign saying "Topaz" with an arrow pointing… and I knew that was a bad sign [laughs]. Then we drove down the block and they [the promoters] came out and said, "Well, we asked this bar if it's OK for you to set up here and they think it's OK." And I looked around and there are all these waiters looking really pissed-off and I thought, "No, they don't really want us." And I said no, forget it, no.
So what happens in a situation like that then?
Well, basically I got screwed. I had a guarantee, and I asked him to pay me, and he did, but he bounced the check [laughs].
Well, whoever is in charge of promoting jazz gigs in Philly obviously has their shit together now, because they've been getting really excellent shows lately.
Yeah, I came down with Tim Berne and I was there with the Mountain Goats too, some place in a church.
Yeah, there's a Unitarian Church…
…Yeah, that's the one.
At that point in time, were you your own booking agent?
I think then I was still with Siam and they had a woman booking for us and she was really great.
How often does that sort of stuff end up happening?
Very rarely. The States are a little bit different, but at that same time we were going to Europe at least ever year and doing ten days of touring with no problems like that. I did have someone offer me a bag of marijuana on my solo tour, as payment.
[Laughs]
[Laughs] …Which was kind of lame.
Yeah, I guess it doesn't help when you have bills to pay, unless of course you could resell it…
Yeah, well then he could have done that as well for cash to pay me with.
What city was that in?
That was in Indianapolis. He gave me a couple hundred in cash and then he offered me the bag of marijuana and I said, "I think you're going to have to work this out with my booking agent" [laughs]. So I got paid eventually, but I don't know if she got paid. That's the good thing about having a booking agent.
So what's up next then, you're taking the Broken Arm to Europe?
I'm taking the Broken Arm to Europe. I've got two records coming out next year; I just have to manage all the artwork and titles and release dates of those. Two very different records, the new Topaz and the solo record. I definitely want to record the Broken Arm with Bryan Carrott. I'm still searching around for someone who might be interested. It's a very sweet, optimistic sort of project, very buoyant. I hope it gets off the ground, but actually we booked this whole tour solid, without a record. I think that's a sign that it's a good project.
People often talk about how much better playing in Europe is.
I love playing in the States and I would do it all the time if I could, I love it. It's just easier in Europe, because of the train system and everything is bunched up together. And also, you're going there as an American and so your fees are going to be higher, since you're a little more special, whereas in America you're just another guy…
…That they're giving bags of dope.
[Laughs] yeah, they're giving you bags of dope and hoping you say yes. And the fees here are a little less, so it's harder. But traveling solo, I can make that work, at least some of the time.