James Finn : CACP 10 Questions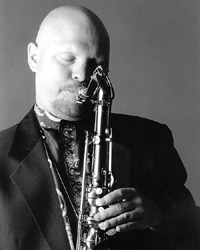 ©Ron Swerin
Saxophonist James Finn has received a wealth of attention since releasing his debut recording, Opening the Gates (Cadence Jazz) in 2004. Since then, with two more studio releases—Faith in a Seed (CIMP) and Plaza de Toros (Clean Feed)—and a handful of live CD-R issues on his own Ginkgo Leaf label further documenting his work, Finn has extended and amplified the jazz community's admiration for his music. Finn graciously agreed to respond to OFN's CACP questionnaire via email—and the depth, passion, and honesty of his answers parallel those same qualities that are so fully on display in his music.
CACP 10 Questions developed by Mark Patel of the Center for Artistic Collaboration and Performance.
1) What have you been listening to lately?
I don't listen to CD's much this time of year. Between practicing and teaching, I have to rest my ears when possible. Listening has been mainly devoted to my own recent recordings. Today, I listened to the 9/7/05 concert at the Stone with Jaribu Shahid on bass, Warren Smith, and Newman Taylor Baker on drums and percussion. I like to step back and get what painter's call "an arm's distance" from the work.
Also, when possible, I've been listening to recordings from musicians, whom I've never heard of, who'd like to play with me. It feels good to have a few musicians interested in what I'm doing.
2) What is your most memorable live performance?
That's difficult because there's been many colorful and memorable performances. If I had to choose one right now, I guess it would have to be a Fourth of July concert in the mid-80s with the late Arthur Rhames.
It was a gloriously beautiful summer day in New Paltz, NY. This was a block party in the center of town, attended by a few hundred people. The stage was on the rooftop of the building where I used to live—which was also the building that Arthur was living in at the time. It was a very spontaneous thing. Arthur said, "Let's go play something." I went home—which was next door and got my tenor. Arthur was ready to go with his alto. We went out onto the roof and began playing "The Star Spangled Banner". We accented and embellished each other's lines building the music to an intense crescendo of energy. At the conclusion, we were both playing from our knees, totally drenched and exhausted. The song went on for over 45 minutes. The entire crowd in chorus cheered for a while. It was perhaps the most intense that I had ever played and was the most intense that I had ever heard Arthur play. Arthur was a true force. For the most part, the world of music missed out on this brilliant musician. His full potential was never actualized.
3) What is your most memorable concert-going experience?
The last time I heard the late/great J. R. Monterose was very memorable. It was at the Tinker Street Cafe in Woodstock 14 years ago. He played wonderfully that night.
J. R. would play the same repertoire every gig for a few years. It was interesting to hear what he had arrived at on tunes like "What's New" and "Star Eyes" since the prior time that I had heard him, which was a few years. His performance was very moving for me. He and his wife Phyllis stayed at my place that night. J. R. and I conversed about everything under the sun until the sun came up.
4) Who is the one musician with which you would most like to play?
That's tough because I'm very happy with whom I've been working with and am eager to play with them again. Playing with Cecil Taylor could be an interesting experience. I'm not interested in being a sideman at this time, so this could be an additional obstacle towards us getting together. I always consider collaborations. In fact, a spontaneous collaboration entitled Great Spirit will be released this October on Not Two Records.
I'm also considering adding new players to my ensemble... but, the smaller the ensemble, the greater the opportunity for each player to stretch. I want everyone on my gig to feel that they have ample time to express themselves.
Barry Guy and I have written each other about playing together. This, I think would be an auspicious meeting.
5) Who is your biggest non-musical influence?
There have been many who have had a big influence on me—my parents, grandfather, aunts and uncles, teachers, and my wife. To say who is the biggest influence in my day-to-day... I'd have to say Jesus. No, I'm not a "born again". We watched Bill Maher the other night on HBO. He made a lot of sense about most things, but then he slammed people who believed in God. I think that he's directing his ridicule predominantly towards the religions of the world and to groups like Christian and Moslem Fundamentalists. But, there are many people out there, such as myself, who aren't necessarily religious who do believe in a higher power.
My feelings are that anyone who doesn't believe in God just hasn't really been open-minded and openhearted enough. Just ask yourself, "What if there are no coincidences in my life? What if everything is happening for a divine reason? Is there a message in this moment?" and you will enter into a wonderful and possibly miraculous adventure.
Every moment presents an opportunity to learn, heal, and grow in wisdom. The teachings of Jesus are universal to all faiths. Don't get hung up on whether he is the Messiah or the Son of God and see the humanity of his teachings. Try to get past the corruption of man's churches and experience your own personal relationship with Spirit.
I believe all paths, all faiths eventually lead to God. I believe that my true purpose is to bring love and light to this world.
6) What is your first musical memory?
My mom used to sing us to sleep when we were babies. As we got older she would sing songs with us. Her father, my Grandfather, was a terrific whistler and music lover. My mom's brother, Uncle Charlie, was a great tenor saxophonist from the swing era. He would play for us whenever he visited.
7) When did you know that you wanted to be an improvising musician?
In 1976, I was bedridden from an automobile accident. I had to take an incomplete grade for the semester at business school. I was very unhappy being a business major. I was only doing it to please my Dad.
One afternoon a friend played Charlie Parker and John Coltrane back-to-back for me. It was my first time hearing both men's music. That was it. When I heard Coltrane pray to God through his horn, I had a strong feeling that I wanted to learn how to do this. I began practicing all day from bed. When I told my Dad that I was dropping out of business school to pursue music further, he stopped talking to me. It lasted more than ten years. We never reconciled, although I tried many times. He's been dead now for 12 years. There is always a little pain for me when I pick up the horn.
It could be said that in a way music saved me. It gave me direction at a time when I felt lost. It was something that I've grown to have a deep passion for. My musical career, for the most part, has been a struggle. Many times I've questioned my own sanity about this undertaking. An old friend once said to me, "Jazz has never done a damn thing for you. Why are you so dedicated to it?" I told him that I'm dedicated to living my life from the heart and my heart is telling me everyday to play music. I'm dedicated to learning how to express my soul through music—to be a force of nature reflecting its splendor... to speak to the heavens. I'm following my bliss and on God's blessed path I pray to go.
8) What is your ultimate goal as an artist?
It would have to be that my music be considered a healing force for at least one person.
9) If music was banned tomorrow, what would you do?
This would imply that we were no longer living in a free and open society. I would take my family to a place where we could be free. If that was impossible, I would be a sonic smuggler and make my living as a teacher and healer.
As you know, music originates in the mind. It would be totally impossible for me not to be creating music... to be transmitting music... to be hearing music. I'd write it out and hope for a day that it could be played and heard by others.
Finally, I feel that we can all make music without the use of external instruments. We can become instruments ourselves, finely tuned to make music with our thoughts, words, and deeds.
10) Can music save people, and if so, how?
Music can be a catalyst for physical and emotional healing. In that sense it could potentially save someone.
It can be physically healing, if the listener is able to achieve a state of peacefulness and well-being. This will enhance the autoimmune system to fight off infection or disease. Have you ever felt chills or a tingling up your spine when listening to something engaging? This is your chi or life force being stimulated.
Music can also facilitate emotional healing if it brings to the surface various feelings for the listener to further process. Music has brought up feelings of sadness and painful memories which I've been able to feel to their end. Many times it's been a catalyst for healing the past which is always emotionally in the present.
For someone who is beaten down by life, music can be evidence of the good in this world and give them something positive to connect with, to identify with. Music can point to the path of joy. It can be a lighthouse in a storm.