Graham Collier : A Vibrant Balancing Act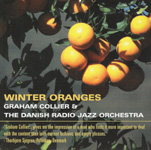 British composer Graham Collier was part of the crop of forward-thinking jazzmen that flourished in the late 60s/early 70s that included the likes of Kenny Wheeler, John Surman, Keith Tippett, Michael Gibbs, Ian Carr, and a host of others (check out Collier's Disconforme releases covering this era). While also a bassist, his interest in education is a crucial hallmark of his life, having been the first Brit grad from Berklee and the instigator of the jazz studies program at London's Royal College of Music. The majority of the music considered here looks to a time since he left Britain for Spain in 1999, in order to concentrate on composing full-time for ensembles of different sizes. As evidenced by four Jazzprint releases (Charles River Fragments, Winter Oranges, The Third Color, and Bread and Circuses), Collier's continued vibrancy no doubt is due to a belief in charting his own course and the ability to get others on board, as noted that almost every piece here is a result of a grant or commission.
As for Collier's individual sound, while the music he writes is challenging, it is not demanding in a way that might suggest a classical, postmodern grounding, such as in the music of Barry Guy or Alexander von Schlippenbach's ensembles. Rather, Collier is firmly rooted in jazz with a primary focus on colors and textures fully weighted with emotion that might suggest the sphere that includes Gil Evans, Kenny Wheeler, or Maria Schneider. Further, he is not afraid to throw in rock or classical tinges where appropriate. His blueprints involve a scripted program that while containing set compositional boundaries, the improvisational element is just as essential to the whole. In other words, it's a vibrant balancing act.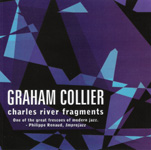 Charles River Fragments consists of two suites, with the majority of the disc featuring the titular suite performed by The Jazz Ensemble, an "'improvising big band' made up of a pool of players from different generations". Originally released in 1997 on a tiny Canadian label (Boathouse Records), the recording comes from a BBC Radio 3 commission for the May 1994 Jazz Festival, dedicated to both Charles Mingus and Collier's Berklee mentor, Herb Pomeroy. The initial piece, "The Hackney Five" is a dark-tinged funk/swing piece grounded by the potent rhythm team of bassist Dudley Phillips and drummer John Marshall, with the busy horn colloquy opening up the stage for emotive trombone work by Hugh Fraser and Steve Waterman's spirited flights amidst the horn motifs. But on the 55-minute, ten-part "Charles River Fragments" suite, as with all of Collier's work, the spotlight is firmly on the ensemble's interaction with the soloists and their rainbow shades. One of the most important soloists is trumpeter Henry Lowther, Collier's collaborator for many years, whose touches are sprinkled throughout. It's a rich and overflowing tapestry that reflects Collier's most compelling work in the improvisational realms, but without entirely eschewing the spirit of jazz.
In November 2000, Collier met up with the Danish Radio Jazz Orchestra for a live session at the Copenhagen JazzHouse that became Winter Oranges. From the first moments, it is evident that Collier is quite comfortable with this ensemble, and he should be—he has written over 35 compositions for the Danes. The record presents two of Collier's suites, two chapters of his "Three Simple Pieces", and a piece written for this ensemble, the four-part title suite. As for the "Simple Pieces", the opening "Part One" is a lush ballad that glistens due to Thomas Fryland's gorgeous flugelhorn. "Part Three" reflects an opposite side of Collier, a spirited vamp sparked by Tomas Frank's probing tenor solo amidst the rush of the ensemble that leads to a bombastic drum solo from Soren Frost. "Winter Oranges" not only reflects Collier's core values in ensemble writing, but also his attention to creating space for soloists to weave around the ensemble passages. Standouts include Michael Hove's soaring soprano on "Blue Spring", Anders Chico Lindvall's rockish guitar flights on the funky "Eggshell Summer", and Henrik Bolberg's vibrant trumpet on "Tinted Autumn". Excellently executed, this is compelling original music that dazzles in the hands of this crack ensemble.
In November of 1997, Collier turned 60. In celebration of this milestone, the Oris London Jazz Festival feted Collier and gave him the opportunity to present four new compositions, all collected in one release, The Third Colour, but spread out over two discs. The Jazz Ensemble makes another appearance here, with similar personnel to Charles River Fragments (with special mention to the spirited rhythms of drummer John Marshall). The first suite is the complete "Three Simple Pieces" and a comparison with the Danish group's take provides another layer of depth with which to look at Collier's work. The solos are the definite high spots, such as Steve Waterman's glorious flugelhorn, Ed Speight's piquant guitar, and Art Themen's piping-hot tenor. On "Shapes, Colours, Energy", inspired by the Canadian Rockies with the goal being to capture the natural beauty of the landscape, Collier's dynamics reign.
The second disc commences with "The Miro Tile", a suite inspired by a tile on Collier's desk that reminds him that he must do his "own thing". It commences with some of the most "outside" moments of any of the recordings considered here, horns fluttering and shaking until a groove locks in and Karlheinz Miklin's strident tenor soars. The horns patter, inviting Roger Dean's keyboard flurries, leading to a high-flying swing section with Speight adding some distortion to the mix to match the moody tension, with a line picked up by Warren's fluttering alto. After Ed Sarath's heartfelt flugelhorn flurries, the piece concludes with "Mud 4", a powerfully understated tension-builder. The concluding suite, "The Third Colour", represents Collier's aims to find "the third color between what is written and what is improvised", and arguably, this may be the best encapsulation of Collier's style. The piece contains five "groove" pieces and one concluding "Out Blues". Another expert ensemble that makes Collier's dense charts sound easy.
Finally, Bread and Circus presents another of Collier's large ensemble pieces with the added bonus of a string quartet to richen the schematics. Collier is at the helm of a different ensemble here, this time, it is the Graham Collier Collective, a 15-piece group hand-picked from Perth, Australia's talent pool for a 1997 appearance at the Totally Huge Music Festival (!). Recorded in September 2001, two of Collier's suites, "Bread and Circuses" and "Oxford Palms" are performed. With respect to the addition of the string quartet, don't worry—this isn't some goofy third stream experiment. Rather, the strings add depth and highlight the corners of the ensemble's hues. Structurally, the suite consists of nine short sections that present different themes/moods. The suite has an overall melancholic feel, though as often in Collier's work, the sparks fly with the soloists. For instance, the jagged "Clapping" allows alto saxophonist Lindsay Vickery plenty of room to soar, the striking balladry of "Pattern One" coaxes smoldering bone work from Jeremy Grieg, as does Kieran Hurley's trombone on the sad beauty of "Pattern Two" and the slightly funky piano duet of "Blues". The second suite, "Oxford Palms", is a combo of blues and ballad motifs, with each concept present within the two-part sequence. The ensemble charts remain rich, but the solos are fantastic from these Aussies. Check out Graeme Blevins' searching alto on the second part, Vickery's soprano on the third section, and finally, leader Adrian Kelly's prickly trumpet (in league with both Blevins and Vickery).
Looking at these four snapshots, they provide evidence of Collier's continued growth and refinement of his remarkable skills as a composer. To be sure, this is arresting, yet accessible work that proves that Collier is another master deserving of wider recognition.