CONCERT REVIEW
Jane Ira Bloom
Bowling Green OH, 29 January 2005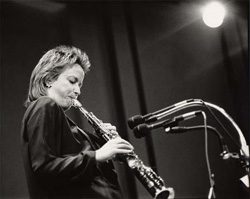 Photo: Susan Cook

Another snowy night in northwest Ohio and a Chamber of Commerce banquet across campus may have kept some of the regulars away from the Festival Series concert at Bowling Green State University, but it didn't deter Jane Ira Bloom from doing some celestial exploration. Bloom brought the current edition of her quartet—with longtime associates drummer Bobby Previte and bassist Mark Dresser along with a newer collaborator Jamie Saft on piano, Fender Rhodes, and electronic effects—to the campus for a concert that was something of a stretch for the series. (Though, I should note, not for the university, which hosts an annual new music festival that's had Anthony Davis and Anthony Braxton as featured guest composers.)

For all the amplification ready on stage the show began with Previte waving his brushes in the air as if gathering silence. The crowd quieted, then a few laughed, then they grew silent again just before the band launched into a medley of "Unexpected Light" and "Chasing Paint". Dresser, who would prove the most compelling soloist of the night, bridged the two pieces with a slashing solo that had his instrument ringing. For her part, Bloom delivered a serpentine singing solo. As she blew she executed a pixie-like dance, twisting her body at right angles as if wresting the sound, assured and full of vocal inflections, from deep within her.

Then she did more twisting, turning the focus from material drawn from her most recent CD Chasing Paint to her forthcoming release Like Silver, Like Song. The music took on an electronic cast. Saft turned his attention from the grand piano on which he'd delivered a riveting percussive solo on "Unexpected Light" to the Rhodes and various electronic gizmos positioned on its lid. Bloom, no stranger to electronics, periodically plugged in to deliver fully charged filigrees to all corners of the hall. "Dreaming in the Present Tense" found the band slipping into a Miles circa 1969 groove complete with moments where the ensemble would snap out a sharp, percussive smack. "Night Skywriting" featured tutti jabs executed with a precision that was testament to the ensemble's status as a working band.

Bloom proceeded with another medley of "No Orchestra" and the jaunty "Vanishing Hat", which opened up for Dresser and Previte solos. Bloom then announced the band would play "White Light" followed by "Dark Knowledge". After a brief exchange with the band she announced there was a "change of plans. The moment feels right we're going to play 'Dark Knowledge' for you." Previte launched the piece with isolated strokes on the bell of his cymbal against Saft's electronic swishes. Dresser answered on bass. The beat seemed to drift in the air, almost imperceptible. Bloom intoned the melody over Dresser's arco bass. "Dark Knowledge" evolved into a more pop melody that Bloom teased out and reiterated before bringing the band to a stop with Saft's electronics ringing for an instant more.

Thus came to a close a performance that often hovered on the brink of lift-off. The 75-minute show was consistently engaging, drawing a warm response from the audience, but whenever it seemed ready to push further out something seemed to hold it back. I, for one, am game to follow Bloom and company as far as they'd want to take me.