Jeff Arnal : CD Roundup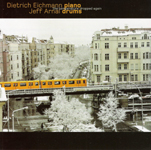 Up until a few weeks ago I really had no clue who percussionist Jeff Arnal was. I do now and I am very glad about that. I received three CDs by the Brooklyn-based percussionist for this month's magazine and each one is laden with a great mix of composition and free improvisation.
The first disc, The Temperature Dropped Again (Leo), is a series of two suites ("The Temperature Dropped Again" and "Four French Apparitions") and a single piece for Benno Trautmann ("…Dur Offene Grenzen") all played alongside German pianist Dietrich Eichmann. All of the pieces were jointly composed. The intense composition on this record is a very even combination of Arnal and Eichmann (who studied with Alexander von Schlippenbach in the early 80s). And the free improvisation is much of the same. Arnal and Eichmann seem to have a solid, unspoken understanding when they play together that makes the music seem much more like a cohesive composition than some freeform ruckus.
These two musicians also have an amazing range of influences. In the liner notes, John Rottiers (presenter of Radio Centraal Antwerpen) writes that Arnal's vocabulary is a synthesis of new music ideas and structures informed by an understanding of diverse musical styles. He goes on to say that Arnal contributes a unique approach toward sculpting the form, focus, intensity, and dynamic qualities of the music. This is most evident on the tune "Radio Set", a nine-and-a-half-minute free improvisation. Arnal's range on this single tune sets a precedent for which other free improvising percussionists should follow.
Eichmann's piano playing is near legendary as well. About seven minutes into "Radio Set", the dark timbre of his bass lines places a stable platform under Arnal's free cymbal work. But Eichmann is not a supporting cast member on this record. His piano work on the opener, "Swing Dribble", is in perfect simpatico with Arnal's percussion and almost leads the way for the drummer. Eichmann really seems to like to play around in the bass areas of the piano before flourishing up into the higher register. As was said before, the way these two musicians work together is the real shining part of this record. The compositions and improvisation are wonderful, but the interplay is gorgeous.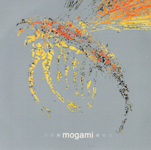 The next two discs, Mogami (Public Eyesore) and Red (Generate), are from a totally different universe than Temperature. Pulling from the amazing collective of artists and musicians that Arnal has befriended in Brooklyn, both discs are truly multimedia works of avant-garde art. Whereas Temperature, despite all of its free improvisational absurdity, is a more traditional avant-garde recording, these other two discs are a fresh, maybe even more hip style of avant-garde treatment.
Mogami utilizes Ryan Smith's computer to generate all sound not created by Jeff Arnal's amplified percussion. The opening track, "Radio Telescope", starts out thundering with computer-generated noise. A distant sound—some sort of metal percussion instrument—then begins to rumble in the background. A few minutes in, the buzz of computer blips spastically breathes in and out of the track until Arnal's distorted percussion starts to take over. "816 Bees", another one of the best cuts on the record, could easily be the 21st century remake of a Hitchcock soundtrack.
Despite my usually discerning ear, I had trouble hearing what was Arnal's percussion work and what was Smith's computer work. I think that that is great for the album; too many times electronic music mixed with other styles sticks out. But on Mogami, Arnal and Smith blend seamlessly together. The cover art to Mogami is just about as stunning as the music. The artwork was done by Mark Bouthilette, a New York artist and friend of Arnal's. It features the skeletal outline of some prehistoric looking bug and is part of a series that Bouthilette has done in that style.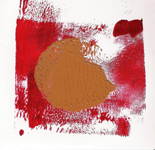 That brings us to the last recording, Red. It's a just over 15-minute, avant-garde, ambient explosion packaged on a neat little three-inch disc. The outer packaging features more artwork by Bouthilette, save for this time, instead of just a print by the artist it is actual sponged-on paint. Red, at least in this packaging, has been limited to a pressing of 50. The album features Arnal on percussion, Chris Dahlgren on double bass, and Seth Misterka on alto sax (he also recorded the album on January 18, 2003 at Brooklyn's Newsonic Studio).
Red, in all its intense glory, takes the listener pretty far, maybe even farther than Mogami, but with an acoustic edge that resembles some African-style recordings. Arnal's percussion is intensely rhythmic, almost chant-like with an amazingly deep groove to it. Misterka lets his alto sax speak like a shaman on the recording; it's almost trance-like. Halfway through the recording Misterka goes into some kind of Ornette-induced hysteria and both Arnal and Dahlgren follow suit. The piece culminates in a wild orgy of bass, percussion, and saxophone. I keep using the word intensity; normally I don't like to repeat phrases or words, but there is nothing better to describe this piece. It just simply is intense. The best way to listen is to just sit back and let it blow your mind.
Arnal and friends have a couple of amazing records here and hopefully this little collective will branch out to keep a serious and playful avant-garde movement flowing.