Red Toucan : Then And Now



The lifeblood of creative, improvised music is fostered by small, independent labels. Anyone familiar with the music already knows this, but it is worth a reminder now and then. And when, hope against all hope, one of these labels manages to stay in existence for a decade, and manages to record a wide range of compelling music from a variety of otherwise unrecorded or under-recorded artists, it is truly worthy of celebration.

It is with great pleasure, then, that listeners and fans of contemporary jazz and improvised music are afforded the opportunity to rejoice in ten years of Red Toucan through two new releases: amalgam(e), a two-CD compilation and label retrospective, and in the cusp of fire and water, by the trio of Stuart Liebig, Vinny Golia, and Michael Vatcher.

THEN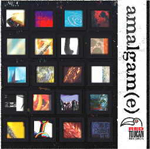 amalgam(e) is proof enough that Red Toucan has been a vital addition and contributor to today's jazz scene. Originally formed to document vital Québec jazz, but later developing significant relationships with a variety of Canadian-born and international improvisers, from clarinetist François Houle to contrabassist Jöelle Léandre, Red Toucan has consistently presented cutting-edge improvised music, devoid of pretension and brimming with thoughtful, potent musicianship.

Comprising twenty-two tracks and over two hours of music, amalgam(e) is a fantastic starter course for those unfamiliar with the Red Toucan diet. Beginning at the beginning with a humorous pre-song dialogue among musicians that culminates in what could be a Red Toucan motto, "check your hang-ups at the door", Charles Pappasoff's "Serious" is both reminiscent of "Lonely Woman" and a driving beast of a tune with the ever-resourceful Pheeroan Aklaff in the engine room.

Tracks two through four take a sharp left turn in presenting some of the many wonderful sessions Red Toucan has captured with the aforementioned Houle, including recordings where the clarinetist is partnered with label-staple Léandre, as well as Marilyn Crispell. Houle's sound, crisp and clean, is rare in these times of multi-multi-instrumentalism, and it is indeed a treat to hear the clarinet in the hands of a studied master. Mostly eschewing extreme harmonics for more classically-reminiscent tonalities, the three selections manage to showcase the range of Houle's talents, including an almost klezmer-like swing in "Prayer", a rough and tumble affair with Crispell, and a free-improv setting with Léandre and Georg Graewe.

The remainder of disc one highlights a variety of group, duet, and solo settings from increasingly well known, and hopefully soon to be better-known players, with particularly nice statements from Dana Reason on piano (from border crossings), Dylan van der Schyff in fine, Bennink-link playfulness on drums playing with Paul Plimley and others (from stable chaos), and a start-stop big band piece alternating between Zorn-like hopping and Threadgill-like orchestration, with trombone, cello, violin, electric guitar, tenor sax, bass, bass clarinet, and drums (from polish theatre posters).

Disc two starts with a Peter Brötzmann blowout, acerbic as ever, but with a bit of the ridiculous, unfortunately, in the guitar of Sakari Luoma, who appears to be in full heavy-metal attack. The hoped-for Last Exit sound never quite emerges, and the piece is one of the few low points on the compilation. Tracks two and three, both featuring Gerry Hemingway in very different settings, on the other hand, are quite beautiful and return to the high level of disc one. Hemingway's duet with John Butcher (from shooters and bowlers), in particular, is beguiling as ever. A trio piece (from arrears) with Graewe, Frank Gratkowski, and the redoubtable John Lindberg on contrabass is again a moving piece of improvisation, with Lindberg spending the better part of the first four minutes on the body of his bass, thumbs and fingers, only to move to a percussive statement on the strings, followed by some inside-the-piano finessing from Graewe: A nice, evolving piece of collective improvisation.

Back to Léandre for tracks six and seven of disc two, this time in performance with Masahiko Satoh—not entirely a meeting of the minds (almost a sense of two competing aesthetics), but only in light of the other remarkable performances from the bassist throughout the rest of the compilation—and Yuji Takahashi—whose meeting with the bassist turns out to be a much more satisfying endeavor. The Laura Andel Orchestra is featured on track eight (from somnambulist) in a four-minute take on sustain—bowed cymbals, heavy on the strings, with some processed (?) white-noise accompaniment. A haunting piece, truly. In with a few Chicagoans for track nine, (from wrack) with Tim Daisy and Jeb Bishop teaming up with Kyle Bruckmann (on oboe, English horn), Kurt Johnson (bass) and Jen Clare Paulson (viola): Some early steam turning into a saunter and eventually evaporation, only to restart again.

The last two tracks are highlights from the Cactus Records label, dedicated, as the liner notes to amalagam(e) state, to "music of a more composed nature". An interesting if less then audible distinction—certainly the likes of polish theatre posters are heavily composed works. Nonetheless, two pieces from Catus records are included, the first being a welcome duet setting for Dave Liebman. The second track and the closer to amalgam(e), is "Hommage à Debussy", performed by Michael Jefry Stevens: A fitting tribute and lovely end to this spectacular two disc set.

NOW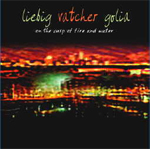 The newest release from Red Toucan, a trio setting for Stuart Liebig, Vinny Golia, and Michael Vatcher, continues in the grand tradition of the label. Vatcher in particular is an astonishing player, shamefully under-recorded. (For those only familiar with Vatcher's playing on Zorn's Spy Vs. Spy, Michael Moore's Jewels and Binoculars, a set of Bob Dylan covers, is mandatory listening.) Liebig, on the unruly E-flat ContraBassGuitar, applied tools and technology, set up the encounter, but certainly no one here plays the starring role. This is striking group interplay, with a generosity and musicality too often missing in such spontaneous combinations. "flurries" turns into a stunning clarinet workout for Golia, with wonderful moments by all. Tracks two and three, "prelude" and "aftermath" (one wonders what happened in between?), are extended forays into collective improvisation with Vatcher's popguns featuring on the latter—an odd but not gimmicky sound.

Golia, as always, is ultimately a melodicist—even with his typically extreme exploration of registers and his love of, seemingly, the entire reed family—and song-like statements never seem too far from his mind. He puts down some aching melodies on the latter half of "aftermath", as Vatcher seems momentarily lost to the world. Liebig's contributions may be the hardest to pinpoint, as his sound is rather mercurial – deeply sonorous at all tempos, sounding both and not at all like a bass guitar. He manages some remarkable speed, counteracted by slow-moving statements from the other two, during the nearly eight-minute (shortest piece on the disc, by the way) "transit". Wrapping it all up is "undertow", beginning with the sound of falling objects courtesy of Vatcher and a warped electronic from Liebig. The opening nine minutes are a model of restraint until all hell brakes loose in a momentary lapse of King Crimson (imagine Tony Levin and Bill Bruford circa Discipline and you'll get the idea) before everyone regains their senses. The remainder of the piece stays truer to form and ends with a swinging outro from Golia.

A wonderful recording, worth returning to again and again; here's to many, many more from Red Toucan.