This Is Polar Bear
Polar Bear's Sebastian Rocheford

"Cuddly but dangerous" is the catchphrase the English quartet Polar Bear has come up with to explain their choice of name. Here's the long version: "I called the group that because polar bears are seen as quite cuddly kind of things: You see cartoons of them and they're all kind of cute, but in fact they're really dangerous. All the explorers who go to the Arctic say that the most dangerous things are the polar bears. I like the contradiction, I guess." Indeed, while the music found on their debut album Dim Lit is highly melodic and often driven by modern (but acoustic) beats, it is also somber and even elegaic, with a wailing saxophone extending a gently cresting written line and, every so often, a full-bore Mingusian stomp, replete with the requisite shouts. Polar Bear is led from the back by its drummer and composer Sebastian Rocheford, who has just been awarded the BBC's Rising Jazz Star award. Along with saxophonists Pete Wareham and Matthew Lockheart and bassist Tom Herbert, Rocheford came second in the Best Band category.

Dim Lit was, surprisingly, released on the Belgium-based label Rub Recordings and in October 2003, I met the band (with German saxophonist Ingrid Laubrock subbing for Lockheart) in Antwerp, just before the second concert of their first Belgian tour. The previous night I, along with a roomful of others, had discovered (the album wasn't out yet) Polar Bear's characteristic blend of moving (emotionally or physically) melodies, clever arrangements, and open-ended improvisation. All present left thoroughly impressed.

An Aberdeen native, Rocheford comes from a large, boisterous, and musical household, surrounded by 7 sisters and 2 brothers. It's a mystery how, in such an environment, he ever managed to be heard: contrary to the exuberant personality his truly spectacular mass of hair would point to, the drummer is congenitally incapable of speaking above a whisper. "My oldest brother used to be a drummer and I think I always wanted to play drums. I was always really into music as far as I can remember. The first record I got really into was the Star Wars soundtrack. There's actually a jazz tune..." At which point, bassist Tom Herbert interrupts to sing the tune from the cantina scene.

The road to professional musicianship was a rocky one at first. After several failed attempts at starting bands with his primary schoolmates, at 15 Rocheford decided on his path. "I actually recently found my diary from years ago. The day I decided to be a musician, I wrote, 'Today I told my dad I wanted to be a musician.' I auditioned for the Guildhall at 18, but didn't get in. I auditioned for Newcastle and didn't get in that either. Then I auditioned for the Guildhall again, and didn't get in."

Even getting together this successful band was fraught with difficulty. "I moved down to London 6 years ago. It took me a while to get to know people. I started with a sax player and a bass player and didn't really work out. I phoned a sax player to ask if he wanted to be in the band, but he didn't want to. He gave me Pete's number. We had a play and from the very first second it was like... I'll always remember that, it just went. It was just like the best feeling in the world. That was in '99."

"I was about an hour-and-a-half late," remarks Wareham.

"Yeah, I phoned you up: 'Are you coming?' and you were still in bed!" the none-too-strict leader laughs.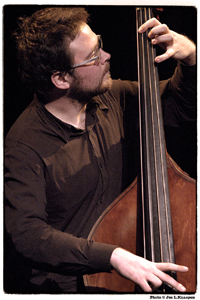 Polar Bear's Tom Herbert

Since then, the band has gigged steadily. Herbert explains, in his young professor-ish way, "I think that one of the things that this band has really got going for it is that it really stands out in the British scene. There's a lot of really good bands in London, but—I've got to be careful what I say now—Seb's music brings something fresh to the scene and people really appreciate and respond to that. It's not necessary that the band is better than any other band, I just think it's got a different angle."

Pete Wareham explains the music a bit further. "The way he writes chord changes is very open. So you don't spend half your time thinking 'God, how am I going to do this?' You get past that stage. Because it's so open, I'm learning it from the perspective I've got now. The way I was playing it 3 years ago was totally different. The music has got lots of longevity in that way. I wrote tunes for a band I had a few years ago, and within a few gigs I was totally sick of playing them: They didn't have any longevity at all. Learning it is just the first stage, the main part of the work is how to interpret it. Whereas a lot of other music, the mechanical learning of it is it, and the interpretation is fairly limited. For example, 'Argumentative' I think I've done at every gig and I'm not sick of it at all! I've only just learnt it. I've been playing it on every Polar Bear gig for four years now and I've only just learnt it."

Rocheford's melodies are crepuscular, of a dark and fragile beauty and wear their heart on their sleeve, while paradoxically keeping a British reserve. The latter quality is heard in the music when, while a saxophone exposes a deliberately-paced and affecting main theme, key details and extensions are hidden away in the bassline or in a cello accompaniment. Combined with the openess Wareham speaks of, a strong emotional direction or context is created, so that the soloists have something to build on, even if that something is less tangible than a detailed harmonic structure. "For Dim Lit", says the drummer, "I just wanted us to play as we play. What we try and do as a band is play solo sections that are personal to that tune. I think that's really important. Try and make every tune have a different concept. We've got quite a lot of tunes, so we just choose what we feel like playing that night."

"Sometimes it changes from night to night", adds Herbert. "We recorded the album about a year ago. You do quite a few gigs and things change over time. Somebody plays something one night and that becomes part of the arrangement."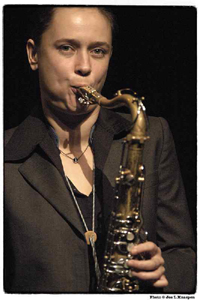 Polar Bear's Ingrid Laubrock (subbing for regular member Matthew Lockheart)

Sub Ingrid Laubrock chips in: "I've done toured with Polar Bear twice before over the last two years, I think. I'm really enjoying it, because you can just play yourself and it's appreciated, and that's not always the case. There's no paranoia. It's a good 'band' and it's a good supportive 'band.'"

The mixing of a jazz background with modern electronic and left-field pop/rock is evident in Polar Bear's music, although the totally acoustic context should avoid Dim Lit showing its age too rapidly. "I just like a lot of different kinds of music, get inspiration from wherever I can", Rocheford replies. "Just muck around with it, really. Use it and try to mix things all together. Sometimes you're not even conscious of it, like one day you'll listen to six different kinds of music and when you write something, sometimes you can hear where it came from, but it doesn't really sound like that anymore because it's so mixed up in your head. Also mixing musicians from different scenes. One of my main influences is Venetian Snares, a genius Canadian programming group. I've also been destroying Ingrid's music. It's kind of an extension of composing."

Perhaps the most distinctive tune on Dim Lit is "Snow", which features the album's only vocal. Singer Julia Biel's voice is surrounded by a deep-hued and slow-moving arrangement, for an alternative pop result. "I really love vocal music as well", Rocheford admits, "and to put some vocal music on it really rounded the thing off for me. I wasn't even sure I was going to put it on the album at first. I got her to record it on her computer: I played the piano to it, she sang to that piano-playing. Pete came round to my house and played the saxophone and we just built it from there.

"The album in general was played all live, we all played in the same room. Just a few things were overdubbed later. I wanted to experiment a little bit. On the next album we're going to try to develop: A live thing, but with the freedom rock albums have to use the studio as a tool. It's not explored enough."

There are viola and cello parts on a few of Dim Lit's tracks, which manage to stay well away from well-worn sappy clichés. "I sang the parts for strings and wrote down what I had sung", Rocheford explains. "I thought 'What do I want to hear here?' I didn't really have any pre-conceptions. On the last tune, 'Wild Horses', I got the cellist and the viola player to play completely free on top of the lines I'd written. Ben Davis on cello makes the most incredible tones and sounds, so I got him to do loads of takes free, then picked the bits I liked and edited them together."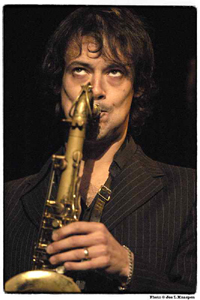 Polar Bear's Pete Wareham

The members of Polar Bear are part of a collective called F-ire, which is attempting to broaden perceptions of the UK scene, too often seen as consisting solely of irreconcilable radical free improvisation and staid mainstream. Being involved in this large musical community is obviously quite important for the members of Polar Bear and they speak of it animatedly. "F-ire", says Wareham, "is a very similar thing to France's Hask. Barak Schmall, who founded F-ire, goes over to Paris quite often. We're trying to hook the two collectives up. AKA Moon, Octurn are playing in London at the moment and F-ire organizes gigs where bands from collectives abroad and our bands will hopefully go over to Paris to play. F-ire organises workshops twice a year and gets people like Stéphane Payen and Gilles Coronado over to teach."

All members lead their own projects, often drawing on the large pool of F-ire members. Wareham begins, "My band is called Acoustic Ladyland. We started off doing adaptations of Jimi Hendrix tunes, with Seb and Tom and a piano player called Tom Colley. Then we started doing Strokes and Led Zeppelin. Now we're starting to do originals and turning it into a punk band. Trying to use that school of influence, interesting rock bands from the past. It's just the music I've always loved. We were worried at first, we didn't think we were going to get an audience. But everyone loves it, young and old, because there's something in it for everyone", he laughs.

"I play electric bass in Jade Fox", continues Herbert. "With drummer Tom Skinner and guitarist David Coombey, we've been playing together for about 11 years. Everybody involved in the F-ire collective is involved in a lot of different music, so I don't think any of us necessarily see what we're doing as being purely jazz, although a lot of it is based in jazz, I suppose. It's groove-orientated and it's not necessarily about solos all over the place. I do another band called Timeline, which is a rhythmic, M-base type project."

Laubrock chips in: "I have my own quartet that will be upgraded to quintet. We just recorded as a quintet, with a cello, the same cellist as Polar Bear. We were going to record as a quartet, and I thought 'Why not add an unknown element?' It's my own writing, it's quite eclectic, I think."