Dom Minasi : Time's Tales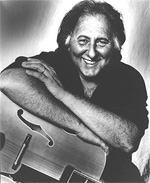 Time Will Tell is the kind of CD title that makes artists and record label marketers nod in approval. It's a familiar, even banal aphorism that has an amusing, music biz double meaning. But when the title was chosen for the new CD by guitarist Dom Minasi (both artist and label chief in this case), it takes on another layer or two of meaning. He is, after all, a man who made his recording debut as a leader on no less a label than Blue Note then, disillusioned by the music business, quickly disappeared from the scene. It's a depressingly familiar trajectory in jazz and for many players, that's where the story ends. But a few gritty souls climb back from obscurity to resume their careers or, in Minasi's case, to begin a second career that bears little relation to the first.

Dom Minasi is a survivor. And like the fine champagne whose name he shares, perhaps Minasi, who was effectively off the scene for two decades, has improved with a little cellaring. He's certainly acquired character, both musical and personal. The 61-year-old Queens native (he was born on the same day as guitar great Wes Montgomery) looks like actor Danny Aiello, but speaks with the wisdom and resignation of a gunfighter whose seen too much killing and has put his weapon away.

But Minasi never put down his guitar, not since he first saw his cousin play the thing as a child. "I begged my father to let me play, but he wouldn't let me start until I was seven." His ill-tempered first teacher didn't work out, so Minasi found Joe Gianelli ("He taught Chuck Wayne to read and was like a second father."), then early bebopper Sal Salvador. "He really got me to know the instrument", Minasi told me in a long, discursive phone conversation from his Upper West Side home. "In the summer, when I was 12 I was practicing 12 hours a day and six hours a day on school days."

By his teens, Minasi was teaching ("When I was 19, I had 110 private students. The Beatles were hot and everybody wanted to play guitar."), and hanging out at Birdland. "I saw that Johnny Smith was going to be at Birdland and I begged my father to let me go. He did, and that was it."

Soon, he was hanging out at the jazz corner of the world and absorbing the changes that were roiling within the music world at that time. Minasi was especially taken with Monk and Coltrane, who were making new ways through jazz harmony, a lesson he never forgot. But he was also a working musician at a time when live music was everywhere. Weddings, dances, big bands and small combos—even a little of the newly-ascendant rock and roll. Minasi was a well-schooled and seasoned musician who could cover any gig.

He came to the attention of Blue Note's George Butler, who assumed responsibility for the label after the United Artists buyout. Butler signed Minasi and released his first record as a leader in 1974. When Joanna Loved Me received adulatory reviews and—at a time when jazz could be found on the radio—airplay. Minasi's career seemed assured.

He was flown to California to record a follow-up. But, by this time, Blue Note had been sold and was about to reach its disco-inferno nadir. I Have the Feeling I've Been Here Before, a commercial recording overburdened with production in the manner of contemporaneous Blue Notes by the Blackbyrds and Bobbi Humphrey, had none of Joanna's graceful takes on standards. Minasi disowned the record, fired two managers who were using him to get in front of Butler and, at the height of his career, walked away.

"I just got disgusted with the music business", Minasi told me.

But not with music.

"I started playing different kinds of gigs, just like I did before Blue Note—weddings, dances, and a lot of demos. Don't kid yourself. A lot of jazz guys do weddings. They just don't talk about it."

And that is what Minasi did to support himself and his family for nearly two decades, pausing to return to college at age 48, earning a degree in composition. ("I took 26 credits the last semester. There was a screw-up in the registrar's office and they let me do it.")

Gigging around, he met bassist Dominic Duval, who had himself abandoned professional music and worked as a window washer to pay the bills. "[Duval] asked me to play with a group called MICE. We did the Knitting Factory but we never got off the ground."

The band's drummer, Jay Rosen, recommended Minasi for a Mark Whitecage recording session that Rosen was to be on. It was to be the guitarist's first in nearly 20 years and would rekindle Minasi's long-dormant career. But the Minasi who returned on that record (Elements, Leo Records LR241), playing in a style that some would call "outside", was not the fluid, bop-influenced musician of the Blue Note recordings. Or was he? "I've been playing like this since I was 15. I just didn't have the chops. At one gig, I was told to stay inside, so I had to relearn how to play", Minasi said.

But he never forgot the heady harmonic and structural lessons he learned as a young man at Birdland. Away from the pressure of building a career, he built a style instead. It's characterized by an advanced sense of jazz harmony built on the upper partials of the scale, and frequently punctuated by Minasi's signature scrabbling up and down the fret board of his custom-built, Carlo Greco hollow-body.

No other guitarist sounds like that, and that sound disappointed those fans that had anticipated a return to Joanna's swanlike bebop. This kind of thinking perplexes Minasi, who sees himself as entirely within the tradition. "Look, I've played standards for years, so all my songs are A-B-A." When I pointed out that his note choices seem more radical than even Eric Dolphy's, he said, "Sure they are. But Dolphy's been dead for, what, forty years? I hope I've moved things forward from that point."

He has, but heard in the context of bop's harmonic advancements, Minasi's playing sounds strikingly familiar, almost traditional. And he delivers it with the rounded, classic hollow-body tone of his teacher Sal Salvador and his first idol, Johnny Smith.

"I really believe that as a jazz musician, you should be well-rounded. You should know harmony and rhythm. You should know how to read. You have to do that to survive."

And, as time has told, survival is something Dom Minasi knows a lot about.