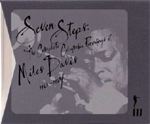 Miles Davis : Seven Steps



Without question, Miles Davis is one of the music's supreme bandleaders and musicians; ask even the casual music fan and they know his name. But even though creative forces like Miles have their off days or periods, Miles had few in a career of constant searching for something different, whether it be personnel or for new or freshly arranged compositions of yore. Longing to be ahead of the curve, even if there was some trial and error along the way, his interest in pushing the music forward was tantamount. While the period considered here is hardly his best, it will be most remembered as a transitional phase that lead to arguably his greatest collective, the Second Quintet.

Seven Steps: The Complete Columbia Recordings Of Miles Davis 1963-1964 is the latest (and last) installment of Columbia's massive, wallet-busting, barrel-scraping reissue project. While the six others focused on collaborators (Gil Evans or John Coltrane) or specific records (Live At The Plugged Nickel, In A Silent Way, Bitches Brew, and Jack Johnson), this collection is the only one that limits itself to a specific time period. As for the contents, only one studio record, Seven Steps To Heaven, appears. While the set is a harbinger of what was to come, the bulk of the material is made up of live recordings in the US, Europe, and Tokyo that comprise the Miles Davis In Europe, My Funny Valentine, Four & More, Miles In Tokyo, and Miles In Berlin records. Over this two-year span, what emerges is a well-honed unit that is tweaked, shaped, and challenged before gelling and it is marvelous to listen to it formulate here. Oh, and for those that wonder "what's in it for me because I have all of this already", the fancy packaging is here, along with four unissued studio tracks, three unissued live cuts, and three pieces returned to their original, unedited forms. As expected, a major sound upgrade is worth noting.


SEVEN STEPS TO HEAVEN
In the spring of 1963, Davis was without a regular working band and, as he stated in his autobiography, he was looking to build a new group from the "ground up". His first recruits were the Trane-approved tenor saxophonist George Coleman and bassist Ron Carter. After a few dates on the West Coast, but unable to secure the release of the promising young drum phenom Tony Williams, Miles went into the studio for two days in April 1963. These two sessions eventually comprised half of Seven Steps To Heaven (with one track going to the ill-fated Quiet Nights record). Looking at these two sessions in their entirety, the results reflect a solid hard bop-leaning focus, the consequences of which prove tasteful, yet ultimately somewhat unsettled.

The session begins with a previously unreleased version of pianist Victor Feldman's "Joshua", a bluesy midtempo version with respectable solos from Miles and Coleman, though the band sounds like they needed more time with the material. Similarly, Feldman's "Seven Steps To Heaven" and "So Near, So Far" present the group trying out new compositions and arrangements, both of which come across as less than satisfying, lacking the flair and cohesiveness that would make the cut. An interesting exercise is to compare the work of drummer Frank Butler, a West Coast studio legend, with that of firebrand Williams. Where Butler plays with a Philly Joe Jones-sourced sense of class and rhythm, including some adroit solo work on "Seven Steps To Heaven", Williams attacks the kit, playing slightly ahead of the beat. He risks everything, but almost always comes out way on top.

On the other hand, Miles, without Coleman, shines on the ballad performances from the sessions, making it easy to comprehend why these tracks made the finished product while the others did not. "I Fall In Love Too Easily" is a beauty, capturing some late-night atmospherics and Miles' breadth of emotion, colored nicely by Feldman's Evansisms. Ditto the smoky "Baby Won't You Please Come Home" and the Armstrong-era chestnut, "Basin Street Blues": While somewhat strange choices of repertoire for the forward-looking Miles, his performances go straight to the heart, with the latter highlighted by Feldman's bluesy chorus.

As Miles stated in his autobiography, "Just hearing that little motherfucker made me excited all over again", and so began an entirely new direction for Miles, driven by Miles' new inspiration, Williams. Along with another new talent, pianist Herbie Hancock, the one day session a month after the last California date contains an electrified vibe and as it would turn out, the rhythm section would now be set to take Miles to his next fruitful phase. Accordingly, from the first moments on the second disc of the set, commencing with a rehearsal take of "Seven Steps To Heaven", it is evident that this is an entirely new start. In fact, even Coleman sounds inspired by the new recruits. The next track, the master take of "Seven Steps To Heaven", is heard at an even brisker tempo, with taught rhythmic and solo expressions. Likewise, "So Near, So Far" is rearranged and the front line's interplay is more in tune, while "Joshua" is also given new life, with Williams' enthusiasm spilling over.


ANTIBES (LIVE IN EUROPE)
Disc two concludes with the opening tracks of the Quintet's appearance at The Antibes Festival, which sets the stage for the remainder of this set—a series of live recordings that shows the group growing together and interpreting Miles' book (alongside two new Feldman compositions). The concert, unfortunately captured in mono sound, opens with "Autumn Leaves", taken as a playful journey, with Coleman being the one that particularly shines, mixing well with the rhythm section and turning out plenty of sonorous arpeggios. "Milestones" is up next, taken at a brisk tempo that reflects this group's energy; yet the group isn't all flash, as demonstrated on "I Thought About You", though Miles eschews his usual mute for an open horn here, adding a new timbral dimension to one of his favorites.

Disc three contains the rest of the show, with five tunes, all of which clock in well into the double-digit range, demonstrating not only the level of inventiveness, but also the extended solo space afforded to the musicians. In addition to a Williams-driven reading of "Joshua", a 17-minute "All Of You" contains another brilliant Miles solo construction, a vibrant "Walkin'" thrives on an exceptional Williams solo, and "Bye Bye Blackbird" is Coleman's shining moment, initially emotional, yet white hot at its conclusion.


PHILHARMONIC HALL (MY FUNNY VALENTINE AND FOUR & MORE)
The Philharmonic Hall performances are spread over discs four and five and present the best example of this version of the Quintet's work with Coleman, captured in excellent sound. Worth mentioning at this point is that much has been made of the tension between Williams and Coleman, with the drummer's main complaint being that the saxophonist was "too perfect". Despite this sentiment, which actually supports the creative tension present on this and other sessions, the two were able to work well together (see Hancock's Maiden Voyage, for example). As for this show's atmosphere, it was a benefit show during the Civil Rights era where Miles reportedly told his band that they were not going to be paid for their performance right before hitting the stage. There is an aggressive, yet productive frustration that fuels these wonderful performances.

While the concert presents two lengthy sets, there are many highlights. The previously unreleased "Autumn Leaves" has the group initially following the mood set by Miles' mutework, yet sets into a midtempo groove that inspires Coleman's warm melodicism and Hancock's sprightly lines. "So What" and "Walkin'" both feed off of the rhythm section's boundless energy, with the latter highlighted by Coleman's seemingly effortless virtuosity. "Stella By Starlight" also highlight's this group's tender side, with Miles' lyrical solo as its high point. Finally, "All Of You" is a showpiece for Hancock that signals the rhythm section's growing intuitiveness and interest in more "modern" technical approaches to the music and risk-taking—check out Williams' brief boogaloo rhythm that guides his partners at the end of Hancock's solo.

The second half of the program has more of a mix of speeds, although the bulk of the ballads appear here. The moody "All Blues" (with another dazzling Hancock contribution) and a barn-burning rendition of "Joshua" get the set started off with a bang. As for the ballads, this set includes the romantic, yet tonally complex approach of "My Funny Valentine", another reading of "I Thought About You", this time aided by a stunning Coleman solo in the company of Hancock and Carter, and, finally, a midtempo, yet emotionally rich wildcard in "There Is No Greater Love". On the whole, it's a fantastic concert with breakneck tempos and thoughtful balladry that, when compared to previous forays, presents Miles and crew at their most abstract, yet with a deeper sense of emotion. Unfortunately, Coleman gave his notice shortly after this show's conclusion, leaving Miles searching yet again.


LIVE IN TOKYO
Few that love creative music would argue that Sam Rivers is anything but a master, yet his work with Miles seemed doomed and incongruous from the start. Looking for a replacement for Coleman, Miles agreed to Williams' recommendation of Rivers. While Rivers is a technically proficient and vibrant player, he simply does not fit in with the group dynamic at play—as hard as it is to explain on paper, it is something that listeners will have to hear for themselves.

As for the show, it seems surprisingly conservative, even when compared to the Philharmonic sets, yet the Japanese crowd eats it up. The concert commences with "If I Were A Bell", with the rhythm section humming along, Miles' muted goodness, and Rivers' left-of-center approach (that clearly excited Williams). After a restrained, yet mournful "My Funny Valentine", "So What" presents the Quintet in more explorative realms, particularly during both Rivers' and Hancock's solo spots. Before the concluding "Go Go" theme outro, the Quintet digs into a charged "Walkin'" and a surprisingly harder-edged "All Of You". While fans of Rivers will want to hear his work in this context, there are far better examples and, for the purposes of this set, the Quintet fares much better elsewhere.


LIVE IN BERLIN
After Rivers was given his notice, Miles and the group put on a full-court press to persuade Shorter to join the band—and he did. Given the "modern" direction that the group was moving, Shorter seemed to be the perfect fit. Despite his relatively bop-based pedigree at that time, including solo work, session work, and a stint with Art Blakey, Shorter proves that he is an advanced soul in the truest sense. Always searching, pushing forward and seeking new tributaries to venture into, he proved to be a great match for this team.

Specifically, the Berlin concert presents the first officially released recording of what became Miles' Second Quintet in action. From literally the first moments of "Milestones", it is obvious that a special chemistry has finally congealed, as the sparks fly once Shorter takes his initial solo breaks with the now trademark elastic rhythm section pushing, pulling, expanding, and contracting around him. Both the uptempo "Autumn Leaves" and "So What" further elucidate the newfound symmetry between the co-conspirators. Worth noting is Shorter's simply awe-inspiring solo on the latter, where he is more progressive than even his hot seat predecessor as the rhythm section roars underneath. Throughout, there is a joy in the air and the freshness spills over, especially on the Hancock centerpiece "Stella By Starlight", as well as the final track, an abstract, loosely constructed rendition of "Walkin'" that surely hints to future directions. Particularly after a full listen to the preceding six discs of journeying, this concert is quite a marvel. Oh, and the old man seems to be having a hell of a lot of fun too.

So, what now—is it worth the dough? First and foremost, there is a lot of repetition, repertoire-wise, which may get on some people's nerves (though if you have the Plugged Nickel set, you can likely handle a little overlap). However, the nuances among the performances make this collection worthy of study and probably, a set that will appeal more to the already converted legion of Miles fans, as opposed to casual listeners. Second, due to the concert performance setting, the sound is not consistent, though that is a minor quibble. However, the most important motivation to tracking this one down can be summed up in two words—TONY WILLIAMS. A constant wonder at a mere 17 years of age and a steady source of out-loud "Oh Yeahs", one can easily see why the jazz world of the mid-60s was electrified by this young prodigy.