Words For Mal : Remembering Malachi Favors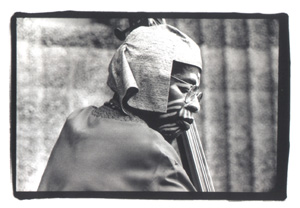 photo © Lauren Deutsch

I don't remember exactly when I met the great New Jazz bassist Malachi Favors. I simply remember a concert in 1978 with the Art Ensemble of Chicago, the band in which Malachi played for more than 30 years; probably the best known band in avant-garde jazz. The concert took place in Houston, with pianist Cecil Taylor's Unit as supporting band... a concert that would change my life in one fell swoop. A year later I would begin studying with Cecil Taylor, in Woodstock, New York, and eight years after that, I would finally have the honor of Malachi's presence on a recording for Silkheart Records, Namesake.

On Friday, January 30, 2004, I got a call from Alvin Fielder about the passing of my colleague, Malachi Favors, at the age of 76.

I'm still in awe of the fact that, of the five personalities that made up the Art Ensemble, the "quiet one" of the group would be the most influential and known of all the contrabassists who have played bass in my groups during my career as a jazz musician. Three of the members always painted their faces like African warriors—Mal was one who did—and at times he would dress like a pharoah as well, but a usually silent pharoah. At least I don't remember him saying much. So quiet, in fact, that all his bios gave him a birthdate of 1937, which he never corrected. We all thought he would be 67 this year. So quiet, in fact, that we all believed his stomach pain to be ulcers, as he claimed, when in reality he was suffering from a strong and swift cancer—of the pancreas.

I remember Alvin Fielder recommending Malachi to fill the bass chair in my New Dallas Sextet, and I was uneasy about calling up this legend and asking him to play on the recording. Fielder said, "Man, just call him up and say, 'Mal, I need you to play bass with me!'" He gave me Malachi's phone number in Chicago and I gathered up my strength and called. Malachi was home and answered the phone call: "Malachi Favors speaking..." So I started in before I lost my nerve: "Hi, Mal, this is Dennis Gonzalez, calling from Dallas. Alvin Fielder asked me to call you and see if you'd play bass on a recording for my group..." There was an unbearable silence, and then his quiet voice comes back: "Uh, my name is Malachi." "Well, I blew that", I thought to myself, and prepared for the inevitable no from Mr. Malachi Favors. But then he chuckled and said, "Alvin Fielder!...I haven't been able to stop him from calling me 'Mal' all these years...Yeah, Dennis, I'll do it! Just let me know when to be there." And he hung up.

Malachi Favors was born on August 22, 1927, in Lexington, Mississippi, according to his obit in the Chicago Tribune, and confirmed by his daughter, Malba Favors Allen, his only remaining family, except for two brothers and two grandchildren. The last time I saw him he came to my home in Dallas to record with the New Southern Quintet, on August 20, 2002, two days before his 75th birthday. He looked like a child next to my son Aaron's bass, which he played on the recording. Between my wife's cooking and Alvin's ministrations (Fielder is a pharmacist by trade in Jackson, Mississippi), his stomach problems and pains were lessened while he was here, and Alvin sternly warned him to go see the doctor as soon as he got home. I never found out if he actually got a checkup when he returned to Chicago, but when Alvin called to tell me of Malachi's death, he kept lamenting the fact that, "Man, Mal told me he had ulcers... I hadn't talked to him in a couple of months! And it was cancer... I shoulda called him..."

Favors was christened with the biblical name Malachi, but he added the mystical "Maghostut", an ancient African word whose meaning he kept close within himself for years, but which he eventually explained meant I Am the Host. He never explained in words just what exactly he was inviting us to with his name, but if one listens to his full and deep notes on the contrabass, we can divine, in a magical sense—or perhaps visualize—the hidden and mysterious land from which he gleaned his silent and constant strength.

Even though I don't remember when exactly I first met Malachi, I do remember the 7 times that we played together—one concert and six recordings—each time in Dallas. My favorite number has always been 7, but I never imagined all those years ago that that number would come to signify the number of times that Malachi Favors Maghostut would bless me with his magical presence in my music and in my lifetime.