Edgefest 2004
Ann Arbor MI, 13-16 October 2004



Edgefest in Ann Arbor, Michigan is an avant-garde jazz Brigadoon. Walking into the Kerrytown Concert House, the same folks are settling into the same seats as they were just over a year ago, and as they have been in the six years I've been making the trek up here. And even the leader of the band ready to take the stage was familiar. Guitarist James Emery had been here last year with the String Trio of New York. In fact, Edgehead-in-chief David Lynch likes to present musicians in different formats. This year he presented Emery leading his own quartet featuring ace reedman Marty Ehrlich with the rhythm team of bassist Drew Gress and percussionist Kevin Norton.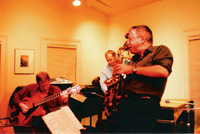 (Left to right) James Emery, Drew Gress, Marty Ehrlich
(© David Dupont)

Despite the different instrumentation the quartet takes a similar approach as the more famous—as much as any ensemble in this genre can be called famous—trio. The group features a balance between compositions, including some switchback ensemble passages, and free blowing. Emery made a point of spelling out the structures of the tunes in casual way that seemed fitting for a concert space that used to be the living room of the 150-year-old house turned into a concert venue and art gallery.

On the opener "Arc Into Distant Night", Ehrlich, who was making his festival debut, earned his keep. Blowing alto saxophone, he took a figure down the ladder, twisting it lower. And on the closer, "The Pursuit of Happiness", he pushed his clarinet to the limit with some high energy blowing. My notes say it all—"damn!" In between, the quartet traversed a variety of moods, including the aptly named "Down Home Tone Poem" with its amorphous four-way collective jam and the waltzing "Black Diamonds and Pink Whispers". The leader played characteristically cogent work, the high point being some piquant avant-Delta guitar on "Cobalt Blue".

While this was a fine way for me to open the festival, in truth, the music had started the night before with Edgefest extending into a Wednesday night for the first time with a performance by Jim Black's Alasnoaxis. Alas, for myself, facing yet another 130-mile commute proved too daunting, so I missed this as well as a few other sets. In a fairy tale land, of course, I'd be light and lively for every set, and fly home every night on a magic carpet of sound. Not so. Real life intrudes. All the more reason to savor the sounds I was able to catch.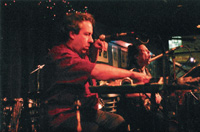 (Left to right) Jean Derome, Joane Hetu
(© David Dupont)

But Thursday I'm ready to make the short six-block walk to the Firefly Club, a cozy nightspot in the heart of Ann Arbor's downtown. Opening the two-band show was Nous Percons les Oreillles (We Pierce the Ears) featuring Jean Derome and Joane Hetu. Derome's appearance is an example of how festival producer David Lynch likes to work. In 2002, Derome was at the festival with two different groups. In 2004, he returned with a third aggregation, a duo with his wife. Together they delivered their own brand of urban bohemian folk music. Their sounds seemed rooted in the urbane detritus of a cosmopolitan household. They both sing—she in a powerful, malleable voice and he in a rich, but unaffected voice. They both play saxophone, though on this night the saxophone playing seemed more of an emulsifier than the key ingredient.

Derome adds a toy chest full of little instruments—toys, whistles, animal calls, which the duo brought together in odd, whimsical combinations. Sometimes their singing seemed to be emanating from a church. Or on one number, Hetu produced gagging sounds as if she had something lodged in her throat. It had the audience on edge, caught in that odd place wondering whether this was to be taken seriously. I smiled, and breathed a sigh of relief when Hetu's voice suddenly rang free. Following the piece, Derome explained the text. Sure enough, it was about having something caught in the throat. Yet this was more than the reprise of an unfortunate scene one might witness at the dinner table. Even at her most strangled gagging, the overtones in Hetu's voice resonated.

"We're from Montreal", Derome said. "This is the kind of music we do." Not everywhere, he added dryly. "So you can visit." At one point between numbers, the bar's ice machine clattered—an aberration, the Firefly is very solicitous of performers. "The ice is nice", Hetu commented, thinking I suspect about how it could be integrated into the music. The duo closed its set with a game of avant-garde patty-cake, beating hands together while singing a simple four-bar, nursery-song like phrase. That little melodic nugget stayed lodged in my ear during the break between shows.

Next up was What We Live, a trio of saxophonist Larry Ochs, bassist Lisle Ellis, and drummer Donald Robinson with special guest vocalist Saadet Turkoz. The performance was bifurcated. I never really felt the two entities, the free jazz trio and the Central Asian laments. Turkoz has a powerful voice and the presence of an actress. She projected the emotional nuances of the narrative in a way that communicated even if the words were in an alien language. Her voice was at once clear and unaffected, and then suddenly clouded as if by age, a reflection of the characters embodied in the song. And she could make the overtones ring out in full multiphonic splendor when she wanted.

But these seemed set pieces, apart from what the trio was doing. Robinson's subtle, yet insistent percussion provided the link between the disparate parts. Only on the last piece did the ensemble seem to jell. Ochs' sopranino evoked some kind of ancient flute sounding over the steppes, and Ellis played fitting lyrical counterpoint under Turkoz' lament. It would have been a fine starting point.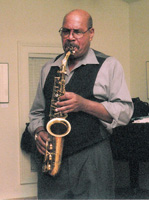 Sonny Fortune
(© David Dupont)

The Friday night appearance of the duo of Sonny Fortune on alto saxophone and legendary free drummer Rashied Ali was the big draw of the festival. Demand was such that a second show had to be added to accommodate all those who wanted to hear the duo. That unfortunately meant those like myself who attended the late show missed the quartet of Hetu, Myra Melford, Andrea Parkins, and Jenny Scheinman, assembled just for the festival.

The spirit of John Coltrane hovered over the Fortune-Ali performance. Fortune is a devotee of the early-1960s period Coltrane, the time before Ali was added to the quartet. He delivered a version of "Impressions" that lasted over an hour. Using relentless streams of modal figures, he'd build to a climax. After each climax, he'd fashion what sounded like a new melody head and use that as a launching pad for another ten minutes or more of cascading scales. Sometimes he'd stagger backward as if pushed by the force of his own blowing.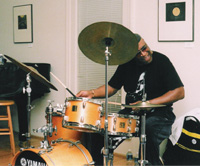 Rashied Ali
(© David Dupont)

Underneath, Ali fashioned a swirling mandala of rhythm. He extended the meter into eight-bar phrases, accenting down the piece's structure with exclamation marks. He sometimes would quote from the ensemble passages of Coltrane's own classic versions of this tune with a snare drum accent, two contrasting cymbal crashes, and then a rim shot on the snare. When after about an hour Fortune stepped aside, Ali built a solo that elaborated on all he'd been playing before. At one point he played a bit of call and response between different parts of his kit. At another he slipped in a bit of funk. It was Ali's playing that kept me engaged during Fortune's endless choruses. Fortune closed with the ballad "What's New". Frankly, though, I felt a little staggered myself, and while I enjoyed the contrast, I wasn't able to summon the concentration the piece demanded.

A quick walk to the Firefly helped revive my brain. The place was packed and still buzzing from the previous show. No one was moving, so we late arrivals had to lay claim to spots against the back wall and bar rail for Scheinman's Shalagaster with Melford, trumpeter Ron Miles, bassist Todd Stickafoose, and drummer Mark Ferber. Scheinman's piquant elegance proved a welcome tonic to Fortune's musical assault. "American Dipper" was a gently pulsating groove that inspired Melford to create a ringing solo. "Tango for Luna" elicited a long-lined, swirling solo from Miles with half-valve effects that seemed to evoke his namesake. The music, though as wonderful as it was, couldn't compensate for the late hour and sore back, so I regretfully beat an early exit.

I arrived back at the concert house the next night early to secure prime seats for Trio X with the opening act of Danish saxophonist Lotte Anker with Americans drummer Gerald Cleaver and pianist Craig Taborn. Something was amiss from the start. The house drum kit sat on stage with no cymbals in place. I noted this and waited as concert time approached. About the time the trio was scheduled to hit, Lynch arrived on stage. He had just learned that Anker, traveling from a concert the night before in Toronto, had been stopped at the border at Windsor and refused entry into the United States. Her rhythm team had stayed with her for three hours of bureaucratic haggling. (Despite implications that she'd been stopped for political reasons, a la the former Cat Stevens, it turned out her work papers were deemed not in order, which, of course, may just be a pretext for the former.) Taborn and Cleaver had now settled her into a motel and were on their way to Ann Arbor.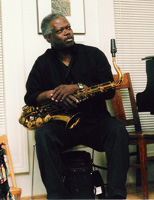 Joe McPhee
(© David Dupont)

Meanwhile Trio X, then enjoying the fare at one of the city's eateries, was being summoned to play the first set. Lynch promised the audience a show shortly. Soon McPhee, bassist Dominic Duval, and drummer Jay Rosen arrived and, before a full house, got ready to play. The concert house is an intimate venue in any case, with listeners in the front rows close enough to be members of the band. This camaraderie was especially pronounced as Rosen, Duval, and McPhee got ready to play. Again the venue seemed more like the living room it once had been. Lynch delivered water to them, and they wondered if maybe something more potent was available. So glasses of white wine—in stemware even—soon arrived on stage. Well, they should feel at home.

This was the group's second visit to the festival. A year after the band's inception in 1999, they played a high-energy show here. Five years later when they are—despite the vagaries of the free music scene—still a going concern, they returned for a quite different show. Someone suggested "Stella By Starlight" when the lights were lowered at McPhee's request. "What version should we play?" asked McPhee, who was sitting on the side of the stage chatting with fans as Rosen and Duval got settled. The version was the slow one, the very slow one with McPhee gliding along the edges of the melody. Rosen cushioned the lead with a wash of cymbals.


Dominic Duval
(© David Dupont)

Their entire set seemed a three-way conversation on the nature of beauty. Ballads in various guises dominated. The spirits of Ornette Coleman's "Lonely Woman" and the spiritual "Motherless Child" were summoned in the second number. And the closer was a version of "Going Home"—"We're going to steal from Dvorak", McPhee told the audience. "We steal from everybody. We steal from everything." Even the middle number, a tribute to Bill Dixon, was a nod to the theme of the band's current tour. "Trio X: October Revolution 2004/The Journey Continues", opened with airy, subdued flugelhorn, and later McPhee (on tenor) seemed on the verge of slipping into "My Funny Valentine". A surprising set perfectly in tune with the moment.

Cleaver and Taborn arrived after they too made a pit stop for food (at Zingerman's, an Ann Arbor landmark and one of the festival many sponsors). Again their setup was in full view of the audience, and they played on that. Cleaver started testing a cymbal stand, and Taborn adjusted his bench and the music stand on the house's vintage Steinway. Soon listeners clued into their intent. The set had started as they crafted these "extraneous" sounds into musical patterns.

Both are festival favorites. Cleaver is a Detroit native, Taborn graduated from the University of Michigan, and both first emerged on the Southeastern Michigan scene. They've played Edgefest in a variety of contexts; indeed, they've each probably made more primetime festival appearances than just about anyone. And I for one have always been impressed. This would prove to be their most challenging assignment, creating a show on the spur of the moment as two-thirds of a trio. Their way of easing into the set, taking the soundings of their instruments, proved an apt opening. The quiet of the opening also proved to be an aberration. The opening number grew in intensity until they were roaring to the beat of the industrial jungle.

Taborn is most known for his work with electronic keyboards, but here he showed he knows how to take advantage of the full resources of a gorgeous acoustic instrument. His playing resonated with chromatic waves of sound that rolled and crashed on the harmonic beaches. His left hand was restless, rushing underneath. On the closing number he laid out a fearsome stride accented by clusters. Cleaver complemented all this, responding in kind with a variety of percussive color. Then on the second number, he exploded with a slamming drum solo. Their short set proved to be the hardest-edged, most uncompromising work of the festival. What followed across the street in the upstairs of a stationary store was certainly the most accessible.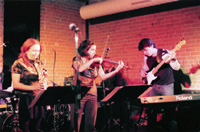 (Left to right) Marie-Chantal Leclair, Marie-Soleil Belanger, Nicolas Masino of Miriodor
(© David Dupont)

The theme of the night seemed to be return appearances, with the Montreal prog-rock band Miriodor back four years after their last appearance. The band has expanded to a sextet. It wove together bright intertwining figures with a spontaneous spark. Improvisation plays a relatively minor part in the music, but the band had a herky-jerky breakdown and brief solos by Marie-Chantal Leclair and violinist Marie-Soleil Belanger that that colored "Deep Forest". Miriodor plays with the kind of ensemble verve one expects from a band that's been around for about two decades, and still includes two founding members, drummer Remi Leclerc and keyboardist Pascal Globensky. Along with guitarist Bernard Falaise and bassist/keyboardist Nicolas Masino, they served up a fitting dessert with which I concluded my festival attendance. (Composer and saxophonist Patrick Zimmerli was playing a midnight set at the Firefly, but there had been too may long nights already and the road back home from Ann Arbor seemed to be getting longer each night.)

So how did Edgefest 2004 stack up? The festival is always a high point of my year, and this year was no exception. As usual the variety of acts that fell under the cover of the festival's large umbrella was impressive. I suspect the strongest images I'll retain from this festival will be Rashied Ali's torrential drumming, the fine balance of James Emery's quartet, the out-lyricism of Joe McPhee, and those few fleeting moments of Jenny Scheinman's Salagaster. Those are the kind of memories that will keep me in anticipation of next year's festival.