Albert Ayler : Holy Ghost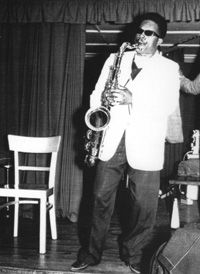 Albert Ayler, Paris 1960
(© Ralph Sgrillo)

According to Amiri Baraka, Albert Ayler's favorite rhetorical barb was, "You think it's about you?"—a tactic that at once challenged and disarmed its recipient, especially after Ayler confessed that it wasn't about him either. So who (or what) was it about then? No analysis of Ayler's music will ever trivialize the importance of religion as a primary influence on both his philosophy and his compositional/improvisational devices; at certain points in his career, interviews with and published writings by Ayler directly assert that he was little more than a mortal conduit for the voice of God, to an oftentimes troubling extent. But if there is any question as to whether or not it was indeed all about a higher power in the extemporaneous moments in which Ayler so often musically lived, Revenant's new addition to the saxophonist's legacy does little to dispel the myths surrounding Ayler's life. Billed as "the first comprehensive attempt to construct a monument in sound to Albert Ayler", what is perhaps most interesting about the Revenant set is the construction itself. For presumably by now, Ayler's music is strong enough to stand alone.

If the name chosen for the package—a play on Ayler's famous permutation of the Christian trinity that cast Coltrane as the Father, Pharoah Sanders as the Son, and himself as the Holy Ghost—isn't the most obvious tip-off that Ayler's mystique is of principal importance in this (re)telling of the story, then the presentation itself closes the deal. There's good reason why Revenant has won awards for similarly extravagant undertakings; without getting too far into a table of contents, let it suffice to say that this set is no exception to their established standard of both aesthetic and partisan detail. But beyond the gig poster reproductions and 200-page hardbound book, there is a sort of contrived shamanism at work in the pressed dogwood flower and plastic-molded "spirit box" that reflects a materialistic iconography entirely disconnected from the presumed sanctity of Ayler's musical message.

As Ben Ratliff, writing in the New York Times, has already commented, the book's essays are little more than pat retellings of the now mythic Ayler story—a life spent as a misunderstood, precocious, and later anarchistic/visionary artist. Val Wilmer's piece is simply an updated version of her As Serious As Your Life chapter; Amiri Baraka's solipsistic essay is a rehashing of his Black Music-era writings, lacking a bit of the vitriol but also, unfortunately, most of the poetics; and Marc Chaloin's meticulously researched reconstruction of Ayler's post-Army, pre-Spiritual Unity time boasts another handful of primary sources to reinforce the tale. While there is some merit in having these materials compiled, there is little new here and even less that helps clear up the polemics and pseudo-religiosity continuously surrounding Ayler. Project Supervisor Ben Young's annotations, on the other hand, contribute invaluable insight to the existing musicological analysis regarding Ayler and it's appropriate and compelling that his contributions comprise roughly half of the book's content. In many ways, Young is the unsung hero of this entire endeavor.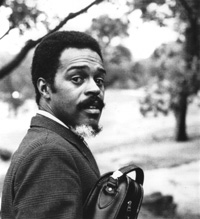 Albert Ayler, Harlem 1966
(© Val Wilmer)

The audio interviews with Ayler himself—found on discs eight and nine of the set—make up for some of the book's obfuscations by providing glimpses both brief and exhaustive into Ayler's disposition and worldview at different points in his career. The 1964 and 1966 interviews in Copenhagen present flip sides of Ayler's state of mind, practically bookending the period of his most fertile musical development. In 1964, Ayler sounds upbeat and optimistic on the eve of returning to the US, confident that he will reconvene his group with Peacock and Murray and insistent that his music will soon be accepted as a legitimate progression of jazz. 1966 finds him more resigned and vague in tone, wanting to clarify the fact that his music is not about protest but rather a message of peace.

A July 27, 1970 interview with Daniel Caux is conducted with a calmer, more reflective Ayler who largely dwells on autobiography; Val Wilmer's essay in his own words, so to speak. He does add some fuel to the long-debated fire surrounding his "commercial" turn with New Grass and signing with Impulse! Records by stating that producer Bob Thiele "told" him he had to sing. He doesn't seem all that bitter about it, however, rather sounding pleased to finally be able to make significant money as an artist (of course, this being Free Jazz we're talking about, significant is certainly a relative term.) Ayler is revealing through his reticence to a question about the connections between his music and the Black Power/Black Arts movement, distancing himself from Baraka and coolly dismissing Larry Neal's scathing review of New Grass in The Cricket—in light of the man's own words, then, it's interesting that Baraka would be included at all in Holy Ghost, much less as a featured contributor. The box's fundamentally Afrocentric design elements also seem suspect.

The interview with Kiyoshi Koyama, conducted two days earlier in Saint-Paul-de-Vence, is easily the set's most priceless non-musical treasure. More conversational than Q&A in tone, Ayler speaks in depth on some issues very close at hand during that late stage of his life: His settling down with companion Mary Maria in Brooklyn and the growing infrequency of his trips to the East Village, and his allusion to the fact that his brother Donald had been staying in Cleveland to take care of their ailing mother are just two examples of the conversation's loose vibe. The candid setting even lets Ayler reveal a rare sense of artistic conceit, whether implying that Sonny Rollins would be jealous of the strength of Ayler's tenor tone (and presumably, few wouldn't be), or telling an interrupting Allen Blairman that he had better keep the intensity level high at that evening's concert because Ayler was "gonna be vibratin' that plastic ceiling off".

Koyama's interview also provides greater insight into the Impulse! era than has previously been available; as Ben Young outlines in his discussion of the New Grass outtakes, the interviews and the music work in tandem to give a palpable sense of closure to that unresolved aspect of Ayler's career.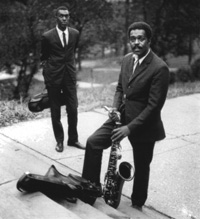 (l to r) Donald Ayler & Albert Ayler, Harlem 1966
(© Val Wilmer)

As to the music presented, for the Ayler fan it is what one would expect: A series of striking performances (bootleg quality, mostly) ranging from the European days through the early trio with Peacock and Murray (still the most compelling music of his career), to the quartet with Cherry, through to the Michel Sampson era, and ending in Saint-Paul-de-Vence. Notable side-performances include a track with Cecil Taylor (a nice companion to Revenant's masterpiece release of Taylor's Café Monmartre recordings), a rather unfocused reading of "Upper and Lower Egypt" with the Pharoah Sanders Ensemble, and an absolutely paint-peeling Don Ayler Sextet, which turns out to be the real revelation of the entire box, sounding like a cross between a bullfight and a bloody insurrection. As a box set devoted to a central figure of the jazz avant-garde, it is certainly a valuable document to have. As a "monument in sound" to Ayler, it is suspect for both what it presents as well as what it lacks.

On the presentation side, anyone coming to Ayler cold would unfortunately come away with a rather skewed version of the man's music. What one hears throughout the box are performances attended seemingly by three people in the audience, all clapping uncomfortably, and recorded by a gentleman in the back with a microphone hidden in his coat pocket. Hard to make an argument about the centrality of Ayler without evidence to support those statements—and make no mistake, this is a document fundamentally about canon formation. Based upon the evidence that Revenant presents, one might come away with the impression that Ayler was a profoundly powerful saxophonist who was never heard and never recorded. While he certainly was under-heard and under-recorded, Ayler was also well known—enough at least according to Revenant to be "THE catalytic force in defining the sound of the tenor in Free Jazz." (It is this kind of hyperbole that unfortunately undermines the set as a whole.) Compared to Beauty is a Rare Thing, Berlin '88, or the recent Ayler Records set devoted to a similarly overlooked genius, Jimmy Lyons, Holy Ghost somehow feels like it is underselling the man. While all of the essential songs and tunes are here, for better and for worse, Ayler's recorded output is inextricably linked to the solvency of the ESP label. Due to, no doubt, contractual reasons, those items are not in the set and it is consequently why Holy Ghost can never be the definitive Ayler collection.

Luckily, Ayler's other recordings (including those on Impulse!) are available, and the Revenant set helps immeasurably to flesh out the story, as opposed to being the sole documentation. But it is the Revenant argument that remains troubling: "Albert Ayler. Heard ABOUT more than heard. But that's all about to change." This sort of overzealousness cannot help Revenant's (or the Ayler estate's) cause and undoubtedly will not sell any more copies of the set. While they managed to treat Cecil Taylor with understated elegance, there is a sense that Ayler somehow needs to be built up more than necessary. It is an odd feeling that pervades the entire box and ultimately cannot help but mar Holy Ghost. But perhaps it's only fitting that, even 35 years beyond his time on the planet, Albert Ayler's music continues to have to burn through both hype and hysteria, depending upon one's proclivities. It is his sound, after all, that ushers forth from the discs as powerful as ever, regardless of what constructs we might wish to place upon it.