Jimmy Lyons : The Box Set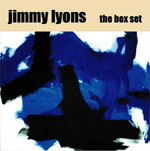 In the summer of 1975, as Ben Young's invaluable annotations to Jimmy Lyons: The Box Set relate, alto saxophonist Jimmy Lyons was but three years into the decade and a half (or so) of his most concentrated work as a bandleader. By 1975, Lyons' reputation as one of free jazz's pre-eminent soloists, ensured by his creative partnership with pianist/composer Cecil Taylor, was further enhanced by a two-year residency at Antioch College in Yellow Springs, Ohio (again, under Taylor's leadership), a period during which Lyons was able to mentor several musicians of the next generation. His association with Sam Rivers also gave Lyons quick entry into New York's loft scene, where, on the evidence of a June 1975 trio concert—with two Antioch students: bassist Hayes Burnett and drummer Henry Letcher—given at Rivers' Studio Rivbea, the alto saxophonist distinguished himself yet again as a player of unusual passion and intelligence. In other words, by 1975, Lyons' career would appear to have turned the proverbial corner. But it is only now, in 2003, that I can write about these June 30, 1975 performances, which, in this reviewer's opinion, constitute some of the strongest music Lyons ever made.

But consider that this reviewer is also sitting, with his feet up no less, in a cushy armchair of retrospection and is far removed from the clamor, steam and grit of Lyons' downstairs workshop. Ed Hazell, in the clear-eyed reminiscences he contributes to the 5-disc set's notes, speaks at some length about Lyons' personal standards of perfection. Perhaps it is a good thing for all of us that the saxophonist, who passed away at a young 54 in 1986, is no longer in a position to second-guess his work or claim that these tapes existed merely for the purposes of furthering his own study and refinement of his playing. The relationship of "posterity", or, to be a little looser with the vocabulary, "history", to an aesthetic predicated on the realization of the present, the moment, is indeed a curious one. I don't mean to mislead you, though; Jimmy Lyons: The Box Set is anything but a cenotaph. In terms of presentation, this extremely limited edition (500 copies worldwide) can hardly be faulted. The elegant packaging is familiar from Ayler's previous releases of new and archival material, and manages to be an appropriately somber celebration simply by virtue of avoiding anything remotely frivolous. Executive Producer Jan Ström, Ben Young, Per Ruthström, et al—everyone who contributed to what is clearly a great labor of love is deserving of the highest accolades.

If most of what we have previously known of Jimmy Lyons is that he was a career sideman—a permanent resident of Elsewhere—then this document is our passport to whatever country Lyons called home. The 1975 trio session is, without question, a key document in the Lyons discography, largely because of the several ways in which it is not representative of Lyons' music. "Family" and "Heritage"—apparently inspired in part by Sonny Rollins' "East Broadway Rundown"—are very lengthy but wholly proportionate collective improvisations, with Lyons well-centered in the mix, playing with incredible power and concentration. This is also "energy music" ("fire music"?) of rare exhilaration. One can only marvel at Lyon's creative stamina over the nearly hour-and-a-half extent of this concert. Lyons demonstrates that he does not just play very rapidly—he thinks at almost super-human speeds. It's here, as Lyons stretches out, that one can really begin to appreciate what sets him apart from other free alto players of his generation. He does not draw upon the same blues resources Ornette Coleman does (however, check out the totally personal blues inflections of the 1984 trio version of "Shakin' Back"). He does not have the intervallic bravado or penchant for tonal melodrama of Eric Dolphy (this ability to generate entire passages of garishly distorted phrases is what allowed Dolphy to function successfully in hard-bop settings). He's not the Satie of free jazz alto a la Marion Brown. Lyons is a master of fragmentation via rhythmic distress. His phrasing, herky and careening though it may seem, glides and slips off-beat. What sounds like several strains is one long strain broken at unexpected joints. Though a Jackson Pollock painting decorates the original Atlantic LP jacket to Ornette Coleman's Free Jazz, Lyons, who trained himself to articulate note values of almost infinitesimal duration and specificity, is much closer to that painter in terms of sheer gesture. Like Pollock's flung drips, the saxophonist's lines begin in thickness and a certain accumulation of sonic resources, only to flare out into shrunk but still brilliant streaks and eventually distant dabs of pigment. The manuscripts reprinted in the box's booklet reveal that Lyons carefully registered the desired pitches in his scores, but left strict tempo and meter undocumented. Think of the connotations of the steeplechase (an old bop line, come to think of it) or obstacle course; its not about one's route, but how expeditiously one can take it… In his most rapidly articulated passages, the internal rhythm of Lyons' phrases, the careful compression and distension of space within what sound like "flurries" (a random scatter) of notes is advanced to a level that a very few musicians—the Coltrane of Interstellar Space, Even Parker in certain of his solo soprano sax recitals, Roscoe Mitchell—have achieved. He seems an inexhaustible font of ideas not so much because the content of his solos, phrase by phrase, well-defined note by well-defined note, is so remarkable. It is because Lyons knows that it is not just the individual ideas themselves, but how they interface with each other that matters. All tissue is connective tissue, in a sense. What is so amazing is that this breakneck processing of melodic variations, tightly organized but separated utterly from any sort of harmonic foundation, is the foundation of Lyons' approach. Lyons departs from a point that most musicians would consider a destination: his instrumental virtuosity really is a manifestation of self-knowledge.

What is moreover apparent from this trio session is how much of a leader Lyons truly is. The bands draw their energy from him and he gets the most out of relatively callow and obscure musicians such as Burnett, Letcher, and drummer Sydney Smart. This is not to say that there are not other major soloists to be heard on this set. Both bassoonist Karen Borca and trumpeter Raphé Malik rise repeatedly to the occasion here, matching Lyons with an eloquence that is not predicated on simple economy of means. So, like any diligent band-leader, Lyons also delegates responsibilities; he does not rely entirely on his own abilities to realize his own vision of coherence. Given the level of abstraction and relative absence of emotional specificity—The Flash, outrunning the cathartic sound of his own horn—in Lyons' work, it's another measure of the man's self-awareness that works within his ensembles, and does not attempt to work on them from some bulging without.

As much as I recognize the value of the 1975 trio concert, this reviewer has to admit that his personal favorite of all the material gathered here is the solo session (recorded live at Verna Gillis' Soundscape in Spring of 1981). I acknowledge that I am getting old and cranky and less tolerant of the kind of music that made me fall in love with free jazz in the first place. Here, Lyons' pace is relatively unhurried, his delivery poise incarnate, and his tone at its most sumptuous. You could criticize this kind of playing as simple public rehearsal, but such a complaint seems to miss the point. Is Tai Chi calisthenics or ballet? Depends on the aesthetic significance one assigns to tension, control, and the more ritual aspects of redundancy. And this solo session also presents me with a re-playable occasion upon which I can really take note of the "bop-a-deedle-ee-dee-bop" figures that crop up in just about every Lyons solo. But are these bop quotes or unique cells that just sound like bop quotes? By this point in his career, bop was no longer Lyons' raw material. Rather, what he thought about bebop had become his raw material. Alongside these half-memorable melodies from Lyons' own repertoire, then, and whirling if systematic rotations through favored licks are little bursts of singing that bear more resemblance to themes from Albert Ayler's universe than anything else—folk material of unknown but unmistakably urban origin. The heterogeneity of Lyons' solo constructions is marvelously distracting in the sense that it throws stars in the eyes of the idea that, to paraphrase Breton, originality is convulsive, or not originality at all.

The only vaguely disappointing music here is to be found on disc 5, a document of a 1985 concert from Tufts University. An unfriendly live mix, exacerbated by Lyons' only slightly retiring personality (apparently, Lyons habitually stepped back from the microphone) is to blame. More to the point is the fact that, although the interplay of Borca's bassoon and Lyons' sax is as eloquent and witty as always, there are solos here that meander: an unpardonable sin when one is discussing improvising as focused and committed to dogged pursuit of articulation as Lyons' typically is. Finally, since this band and repertoire is fairly well-documented on Lyons' Black Saint albums Wee Sneezeawee (1983) and Give It Up (1985), this particular concert adds only a little to their legacy. If Jan Ström's "Introduction" to the set's notes are to be trusted and other material was excluded in order to make room for this concert, I have to admit that, had I been in a position to program this release, I would have hoped to include something else. Music more in the revelatory spirit of that to be found on the trio and solo sets would have been more in the spirit of a release that is, in part, about how the intent of documentation can exceed itself.

Ekkehard Jost's Free Jazz, although it has been neither revised nor expanded in the nearly 30 years since it was first published, nonetheless remains the definitive musicological text on the subject. In particular, the author's close reading of the most dense and variegated music produced by Cecil Taylor up to that point in the pianist/composer's career—Unit Structures (Blue Note, 1965)—is still unsurpassed in terms of its lucidity and absence of bias (expressed either as hyperbole or over-emotionalism). But you will search the index to Free Jazz in vain for an entry on alto saxophonist Jimmy Lyons, the one musician to demonstrate an actual ability to withstand and even master Taylor's brilliant excesses. What Bud Powell was to Charlie Parker, and what McCoy Tyner was to John Coltrane, Jimmy Lyons was to Cecil Taylor. Like Powell and Tyner, Lyons entered his association with his visionary partner as a more-than-competent, technically accomplished conversant in the prevailing musical idiom. Like Powell and Tyner, Lyons, through the course of his association with his visionary partner, transformed himself into the improviser able to prove the universal musicality of another man's work by most fully engaging and at times struggling with the underlying principles of what could otherwise have been mistaken as an essentially idiosyncratic and wholly instrument-bound conception. Lyons was no "popularizer", but… and perhaps this is his greater accomplishment, for Lyons transliterated a music from a harmonic instrument to a linear, melodic one. In jazz history, often the pianists are expounding upon what the horn players have been doing, formalizing the harmonic and rhythmic implications of the great solo voices.

What accounts, then, for Jost's omission? The simple answer is that it is all a matter of perspective. Consider the observance Jost does make of Lyons, brief as it is:



Lyons is something of an outsider in free jazz, because his playing usually sounds like a successful transformation of Charlie Parker's musical idiom into a new context. While taking advantage of the freedom Taylor's music offers him, Lyons achieves a rhythmic and melodic continuity typical of bebop musicians. (78)


Which is it, then? Was Lyons a thinker, a proactive player whose pursuit of his own voice was turbo-charged by the demands of playing someone else's music? Or was Lyons really just interested in making atonal free improvisation safe for Bird? Was Lyons' style just that, primarily style, a reconciliation of surface features that stand up well enough on their own, but, on closer examination, rest on deep fissures of incongruity? Of course, I'm setting up a false dichotomy here, but only in an attempt to recreate some sense of the actual stalemate of mutually destructive posturing through which Lyons tread when he joined Taylor's ensemble in the early 1960s. It is fair to note that it is not necessarily the opinion stated in the previous paragraph of this review, but rather Jost's assessment, that is representative of the received wisdom regarding Jimmy Lyons. Not to over-indulge in refutation, however, but, while it true that Lyons was a proficient bop and hard bop player—he could count among his instructors slightly tarnished luminaries such as Buster Bailey and Elmo Hope—it is not enough to say that he re-engineered the principles of bop-based motivic improvisation so that they could withstand the gale-force extremes of the free jazz environment. If it is true that Lyons is both a bopper and the author of the most sensitive and sustained critical analysis of Cecil Taylor's music, and if it is true that there is no contradiction binding these two propositions, then Lyons is pressed between two giants of the music in a way most other musicians would find overpowering. Perhaps this is why he has remained so marginal a figure, such a quintessential "sideman", for so long—because he chose to remain active on the periphery, a vantage from which one is better situated to survey the territories that are most distant from yet contiguous to the center.