An Evening With Mark Whitecage & Rozanne Levine
Houston TX, 21 June 2002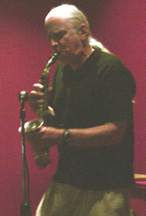 Houston was fortunate to be in the path of two outstanding improvising artists who were touring the country. Through arrangement with the Pauline Oliveros Foundation, Mark Whitecage and wife Rozanne Levine performed as a duo at the Proletariat, a new venue in the culturally rich Montrose area of the city. Whitecage played clarinet, alto saxophone, and 1/2 alto clarinet; Levine explored the clarinet, alto clarinet, and bamboo flute; and both artists manipulated percussion instruments and foot-controlled electronics in a set that ranged from intricate and delicate musings with ethereal overtones to combustible and emphatic outbursts of sheer reed power. As one would expect, there was an innate sense of communication between the two that allowed them to investigate complex areas while always being responsive to the direction of the other.

The electronics were used very sensibly to augment the natural acoustics. Whitecage and Levine created echoes and retorts to their own statements, which provided a harmonic background or an extra bit of reverberant ambiance in an already live room. Whitecage's solos were impeccably constructed in upwardly spiraling rings of sound. His improvisations rose, circled, and hung in the air. The complementary filaments of color conjured up by Levine established contrasting tonality (alto clarinet vs. clarinet, clarinet vs. alto saxophone, etc.) to enhance the interrelationships of the horns. Her mystical offering on bamboo flute built around the electronic restatement of Whitecage's immediately preceding phrases was an enchanting example of her ability to relate to the challenge of the moment.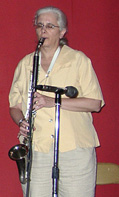 For their second set, Whitecage and Levine performed with Houston's exciting trombonist Dave Dove and Austin's highly creative drummer Chris Cogburn. Whitecage and Levine had never met either musician before this tour, and although Cogburn had joined them in performance the night before in Austin, it was their first exposure to the trombonist. Musicians somehow do not find this an obstacle, and the quartet proceeded to make challenging and authoritative music as though they were a working band. Taking a cue from a stimulating alto solo by Whitecage, Dove used long, drawn notes and several mutes to create a meditative, sensitive ambiance. His soloing developed forcefulness and power, eventually erupting into a demonstration of improvised low-toned splendor. Dove frequently retreated into a serene world where he and Cogburn exchanged quiet offerings, which encouraged the others to continue establishing the séance mode. Just as quickly, they would all gain momentum and sing out in boisterous union.

It was intriguing to see how seamlessly these musicians blended and the ease and facility with which they interacted. They fed off of each other's ideas and produced music with startling brawn at one moment and beauty at another. Levine interjected high-pitched clarinet riffs while the team built the set systematically into a haven for improvisers. Cogburn was extensively visual in his percussion choices. He used cups, triangles, and an assortment of small implements to accent the songs, but he also explored his more volatile nature by transforming himself into a robust, passionate drummer. At times, Whitecage would create a circus atmosphere by playing a simple ditty, which inspired the band to take off into an unpredictable improvised realm of total freeform sound.

Both sets were artistically satisfying to the small but dedicated crowd who seemed to thrive on hearing instantly composed music. They had their fill from Whitecage, Levine, Dove, and Cogburn.