Revenge Of The Solo Trumpets : Wadada Leo Smith + Raphé Malik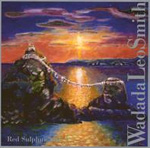 Rising out of the fallout from the New Thing that blanketed jazz in the Seventies, solo saxophone music has become a staple in the repertoires of the leading luminaries of the instrument. Not so when it comes to recitals of the trumpet. The reasons behind the disparity are of course subject to interpretation but one rationale centers on the inherent limitations of the brass family when compared to those of their reed brethren. In theory four valves offer fewer possibilities, but another feasible reason could be that the circle of players who feel they possess the chops to carry a program of solo music to conclusion is simply quite constricted in circumference. This latter explanation rings true in the examination of the relatively small number that has taken to the task.

Still there are those brave souls that seem to welcome the rigors of such means of creative expression, Bill Dixon being the primary exponent with a six disc set of solo works set for upcoming release. Wadada Leo Smith and Raphé Malik are two others. Stylistically the two are quite divergent both in terms of technique and the manner in which each man approaches unaccompanied improvisation/composition. Smith is no stranger to solo recording, having released several such documents early in his career. A long hiatus from the form is broken with Red Sulphur Sky, his recent release on John Zorn's Tzadik label. Many of Smith's myriad influences enter the musical milieu of his solitary musings from Native American and Asian cultural, philosophical and religious referents to modern Classical and minimalist processes. On the opening title piece, strident note salvos are tempered by connecting metallic lines of lengthier duration. Silence also comes heavily into play punctuating Smith's iridescent runs and creating a sense of weightlessness in the sometimes-cavernous cracks between his statements. "Evening Glow…", scripted with Zorn in mind, stitches a ghostly patchwork of austere tones and fluttering notes prefacing the oncoming intricacy of the first of the suites, where Smith's skill as composer comes brilliantly into play.

Combining compass points, virtues, mammals and hues, each wedge of "The Medicine Wheel" traces the interrelationships of Nature's manifestations. Smith employs mutes throughout the piece's early sections, sliding from shrill staccato to varied rubato and back and painting the walls of his soundstage with a tempera wash of chromatic smears. The second suite "Purity and Poverty" involves an even wider reliance on dynamics and spatial relationships between phrases, but follows a similar tendency of juxtaposing held notes with fleeting ones within the space of arcing linear progressions. Mutes again come into substantial use creating the range of inflections and in the process the illusion of multiple voices. The thematic logic of the pieces is sometimes difficult to chart given that only a single instrument is employed at any one time to communicate them. But Smith's measured litany of precisely situated notes serves as a scintillating trail of sonic breadcrumbs left upon the circuitous path for the astute listener to retrace and gain insight into the structural whole.

By comparison, Malik largely avoids accoutrements for his horn, opting to adhere to smooth buttery phrases on the opening pieces and jockeying confidently through cleanly enunciated themes. His incorporation of the invisible fields of space and silence surrounding the vibrating bell of his instrument is remarkable. By adding emphasis to strings of beaded notes with muzzled moments of repose he breathes a sense of tension into tracks that might otherwise be lacking. "Odds Out" stunningly demonstrates his deft command of tonal shifts as he switches from open bell to mute within the stretch of a single line as legato figures segue into staccato invectives. "Good Graces" is saturated in soaring ascents and exhilarating drops, while "Cruise Control" gallops along on the back of well-chosen note clusters dipped in a fresh coating of brassy bravado. With "Abstract" Malik experiments with pitch and register shifts, mixing rich flugelhorn-like statements with nasal-capped enunciations. The brevity of "Float School" is directly at odds with the amount of musical punch packed into its miniature duration. An untitled track, sutured on to the disc's terminus, acts as farewell for the set with Malik hoisting his horn once more to moistened lips for one final say. Fortunately a repeat tour through the funhouse of Malik's speakeasy is as easy as cueing up the album for another go round.

There are points were microphone crackle enters the audio picture, probably the result of Malik's enthusiasm getting the better of his positioning in the studio. But these minor blemishes blend right into the aural portrait and lend to an ambience of an improviser caught up in the passion of a highly personal and heatedly extemporaneous recital. Malik's received some much needed opportunities to record in recent years and this date denotes that the resuscitated interest in his music is well deserved.

Two trumpeters, two intimately realized visions of what the instrument can yield when used as a means of solitary rumination. Wisecracking about musicians who seem to reap the benefits of critical laudation only to rest on said laurels may not be couth, but listening to the soul stirring work of Smith and Malik I couldn't help but wonder, could Wynton muster the same in similar surroundings?