David Murray & Creole II
Houston TX, 21 April 2002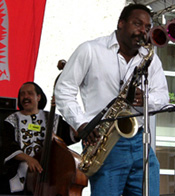 The Houston International Festival pays tribute to a different country each year by featuring over a two-week period its art, music, dance, and food at a sprawling downtown area. For 2002, France was the honored country, so it seemed only fitting that expatriate and French-resident David Murray would appear with his band of master Carib musicians from the French controlled Caribbean island of Guadeloupe, where Creole is spoken. Murray has been involved in many diverse projects over his career ranging from the most intense free jazz to experimenting with the music of The Grateful Dead. So, this latest endeavor to promote the cultural heritage of this island where Columbus landed in 1493 should come as no surprise.

The band had as its central figure Guadeloupe vocal artist Guy Konket, who is referred to as the James Brown of that country. With him were percussion masters Klod Kiavue and Philip Macea, while US artists Jaribu Shahid on bass and Pheeroan AkLaff on drums rounded out the band. This set became a festival of rhythmic drive and intensity. The percussionists meted out soul-drenched percussion fire while Konket's highly infectious chanting became trance inducing. Murray is able to meld his robust sound into any musical circumstance, so his spirited blowing was a natural blend with the Afro-Caribbean cries and rhythms from these Guadeloupe artists.

Konket is a fascinating personality. With his lean, sinewy frame and the look of wisdom in his ancient eyes, he proceeded to use repetitive vocal calls to inspire the percussionists, who in turn affected the American contingent in the band. The group often worked itself into a frenzy of danceable rhythms inspired by the mesmerizing Creole verse of Konket. Murray became one with the band, displaying his noted fire by going on extended freeform blowing excursions while percussive pulsations reverberated around the stage and directly into one's soul. He also explored the bass clarinet to create yet another spellbinding mood.

The hour-plus set contained excellent improvising as well as rhythm-inspired music. Shahid gave a solo bass recital of unusual beauty that introduced yet another Konket original vocal call-and-response song. With Kiavue, Macea, and AkLaff all pounding out the non-stop beat and Murray wailing with all the fury in his body, it was impossible for anyone at the outdoor venue to be still. Murray's soulful spirit rose to great heights on many occasions while the band kept up the African-based drive. Many in the packed audience danced in delight.

While this event at the massively attended festival attracted more than just jazz enthusiasts, the spirit of the music affected everyone within hearing range. It was a joyous occasion that left everyone in an uplifted mood.