Bruce Eisenbeil : On Record & In Conversation



Bruce Eisenbeil is an exciting guitarist. He surrounds himself with a diverse blend of creative musicians who complement his highly original approach to playing the guitar. Eisenbeil has recorded three albums on the CIMP label, and each has a unique character, vibrant sound structure, and a truly challenging itinerary. He has a style that combines sustained runs of high-density, single-note progressions with a full-fisted strumming technique. His execution displays elements of the classic lyrical guitarists yet he also appears to have a subdued touch of the Sonny Sharrock school of playing in him. Eisenbeil executes with distinctive clarity and regularly leaps off into multiple chord structures to fill the sound stage with volumes of resonant music.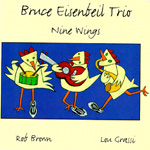 Nine Wings, the earliest of the triad, was done in 1997. Bruce enlisted the dynamic alto player Rob Brown and the ignitable drummer Lou Grassi as a team for launching this initial project. The three musicians click from the onset. Alto solos by Brown evolve in unfolding waves that maintain a consistent rushing intensity without noticeable ebbs in the current. The high pitch of the alto is a compatible partner with the ringing tones from the guitarist. Their playing swirls into a spicy olio of resounding and alive music. At times, Eisenbeil produces a squeaky, piercing pitch with rapid phrasing, which pushes Brown to the upper register as well. Rounds of dual improvised magic are the result. Grassi is a true force behind these two. He is one of the most dynamic drummers on the scene today, and he has the innate ability to accelerate the music to a higher level without being obvious or overt. He plays improvised drum sequences behind the others that are exceptional solos when isolated and absorbed singly.

Eisenbeil used this recording to highlight his compositional talents as well as his inventive playing skills. Although the songs are a mixture of ballads and upbeat tempos, they have a hidden sense of melodiousness that remains as a core in the structure even when the trio is playing with collective spontaneity. The group can effortlessly turn a boiling pot into a mellow simmer, and this change of pace keeps the recording unpredictable. Tender blowing by Brown, delicate picking by Eisenbeil, and light brush stokes by Grassi emerge between the more blazing acts of free expression. The dominant characteristic of the set, however, is their collective way of interacting regardless of musical pace or style. They speak in a single mind and produce a session overflowing with cohesive density.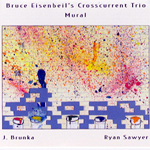 Eisenbeil's second recording on the CIMP label is Mural, with J. Brunka on bass and Ryan Sawyer on drums. This appears to be a more daring undertaking, since it uses a format where the guitar is the primary focus. With his sound being featured for an extensive period, Eisenbeil's improvising skills would appear to be under considerable pressure, but it is certainly not the case here. Brunka and Sawyer coat the proceedings with a wealth of inspired playing, and what emerges is an integrated session where the dynamics of three musicians eddy into a swerving mass of improvised sound. Eisenbeil produces music with clarity and an obvious absence of blurred electrified notes. He builds the tension gradually on his solos, picking up speed and substance, but he does not fall into the amplified noise syndrome. His phrases all connect into a lengthy dissertation of the art of improvising.

Brunka is in total synchronization with Eisenbeil's direction. He alternates between the arco and pizzicato mode, weaving the deep tones in and around the abounding guitar notes. The two string players overlap their output to produce a tight wrap of heavy fabric. The lengthy "Caesar" finds them exchanging reams of telegraphed messages that become collectively expressed gems. In the center of the strings is drummer Sawyer. He plays with restrained power to match the elusiveness of the music surrounding him. It is as though he is trying to corral the mercury scurrying about, which he adeptly captures and sets free again with his asymmetrical accents. Eisenbeil's identifiable style of combining mandolin-like fullness with single-note advances is again on display. This dual approach is clearly evident on the fiery "Christ v. Paradise", where the two styles coexist with equal integrity. He features his compositions exclusively on this date, and the lyrical consistency built under the open-ended tunes has alluring appeal.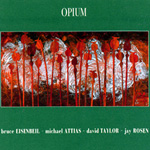 The mercurial tones continue to unfold on Opium, but with a very different configuration of musicians and instruments and at a different level of fluidity. Alto and baritone saxophone player Michael Attias, bass trombonist David Taylor, and drummer Jay Rosen join forces with the inventive guitarist to produce highly explosive music coexisting with the sound of silence. Eisenbeil sustains his passion for slippery runs by creating intricately improvised passages that are splattered with brass and reed outcries and a weighty anointment of percussive undercurrent. The sonic balance is quite effective; low, guttural groans from Taylor's trombone meet on a temporarily quiet battlefield with the moaning blurts from Attias's baritone sax. They lay down a spacey bottom end that permits Eisenbeil to fill in all the cracks and crevices with his dexterous string manipulation before eruption occurs and all are improvising with sustained vigor.

Rosen is an intuitive drummer who adapts his large talent to the moment. With Ivo Perelman, he is bombastic; with Trio X, he finesses the game; and with this group, he merges the two approaches. He adds shimmering color and prisms of light around the fencing horns and the lunging guitar counterattack, and then he cranks it into high gear when the collective intensity begins to surge. This is not a fully unrestrained session, though. The guitar and horns, while displaying their eruptive personality, subside and retreat into terse sequences where voices are heard in softer, less aggressive tones. They join in on a folk dance of sorts on "Ode to Blind Joe Death" to supplement free playing with a disguised taste of mountain music. Contrary to the other two releases, the music on this session is credited collectively to all four artists. They spar, test the waters, send out signals, and when a response is received, they burst into open communication. This setting shows Eisenbeil's ability to co-exist in a group situation where he is not the prime spotlight recipient, yet he excels in either environment. His music is challenging, and it works wonders on the psyche when allowed to wash unabated over the mind.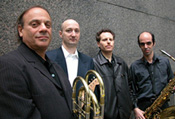 David Taylor, Bruce Eisenbeil, Jay Rosen, Michael Attias by Roni Taylor


Listening to these three recordings whetted my appetite to know more about this musician, and Eisenbeil agreed to expound on his philosophies and musical values. A distillation of our verbal exchanges follows:

I mentioned in my comments that I hear a lyrical side of your playing co-existing with the more unrestrained multi-tonal style. Can you elaborate on your penchant for incorporating these two seemingly disparate approaches into one unique package?

When I'm playing, I like to be wound up. I'm not usually relaxed or at peace. It's mostly a struggle, and at some point, you know, peace might happen. What interests me most is making music that is emotionally eloquent at any energy level, whether it's lyrical or aggressive playing.

You appear to be a prolific composer, yet you opted for instant creativity on Opium. Is there any significance to this directional change?

OPIUM is our free exploration of 1-2-3 GO! I enjoy improvisation and composition and for me each process informs the other. I don't really perceive OPIUM as a change in direction.

What type of adjustment is necessary when you jump into the spontaneously composed arena after having played your own material almost exclusively?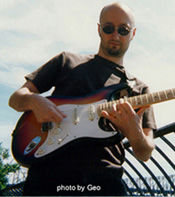 Emotionally, there's not that much difference. We always have to be in touch with our inner selves. I mean, I do my best. Being a guitarist, I can move around the room. During the process of improvisation, I like to vary my spatial proximity to each of the musicians. This enables an interesting elasticity of communication, so I have to feel comfortable in moving around the room. It's nice not to be tethered to a music stand.

On the three records, you selected three different yet highly talented drummers. Does the change in rhythmic pulsation affect the way you respond?

Absolutely! It's really fun when the rhythmic pulsation is pre-cognitive of the direction in which the music moves.

Many younger jazz musicians and certainly the majority of jazz fans I see at festivals and concerts came out of a background of rock or punk and gravitated to jazz because of the additional challenge it offers. Tell me about the route you took to becoming an improvising musician.

I always improvised. I'd learn a song and then find other notes that I liked better but seemed to go with it. Sometimes I wrote them down, but most of the time, I would just play it for my friends.

Playing the guitar is an expression of my spirit, an extension of my voice. I have been playing the guitar since I was 4 and professionally since I was 15. At this point playing the guitar is second nature to me, so I don't really think about it. I do my best to express feelings. It's an instrument for creative expression and communication. Ultimately, I hope the music generated is a healing force.

Some approaches have had major effects on my playing. There have been stages that helped me to evolve. I've realized that no one can teach this to you since the concept has to visually and, simultaneously, aurally manifest itself to you. It's a sound revelation. [long pause] When I was a kid, I saw a film of Jackson Pollack painting. That was so amazing to me.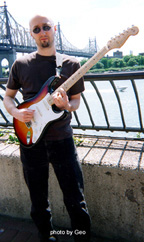 Yes, but how does painting relate to the guitar?

Seeing people move is the relationship, whether it's playing the guitar, or dancing, or the way they speak. It's been a goal of mine for a long time to just play on the motion, the energy. Along the way, I studied intensely all the standard guitar literature. I've always been unorthodox in my technique and implementation of new ideas. Developing a unified concept through the use of parent chord forms and scale fingerings was a primary step toward greater freedom. Transcribing solos by Wes Montgomery and then later John Coltrane, learning them at tempo and performing them with the record have been big steps. Learning about rhythm, from a drummer's point of view and rhythmic developments in the history of jazz and 20th century classical music has been key. You know, for me it's been important to also check out Ligeti, Elliott Carter, Boulez, Xenakis, Ives, Babbitt, Messian… and others with new sounds.

How did these musicians influence you?

At first, I learned from all kinds of guitarists and then after a while, I realized all of the material that is NOT being explored on the guitar. So, I began to take the forsaken material and give it value. The magic lies in giving value to that which is usually despised.

You are equally comfortable in playing acoustic or electric guitar, and in both instances, you exude clarity. How do you view guitarists who take a dissonant and distorted electric view of the music?

I really enjoy a great sounding guitar—distorted, fuzzed out, with a tricked out greasy sound… or not. Some guitarists play well with distortion. You know, they get a good sound, and they know how to move the sound around. Those are the guitarists I enjoy.

But that's not what appears to interest you?

For the past 10 years, I have been interested in the clarity of the notes. I gave up using effects because I felt they masked the core tone… the essential personality. I prefer it when the sound that comes through is clear and well formed. From the bass range all the way through the top. The bass especially has to be clear. When a guitarist plays in the bass register, it shouldn't be mushy. I model my sound on a Steinway piano—clear and not too dark, yet warm.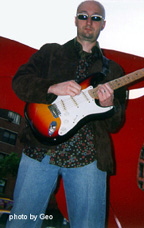 There are two extremes, in my mind, that guitarists today seem to take. One is the spatial, sound purity approach where there is a definite lack of flow or pulse; while the other extreme seems to fall into the category of noise jazz. You obviously are in the middle of this spectrum, but I am interested in how you view each of these two approaches?

Accents in music, especially in jazz are very important… at least to me. Guitarists are only a small group of instrumentalists from the whole improv spectrum. I don't listen to many guitarists anymore… haven't since 1987. The musicians who interest me, in situations that involve spontaneity and improvisation, are those that have the ability to produce a strong forward momentum. Accents man… you gotta have accents. Accents help to provide a rhythmic THRUST in the music. Now don't get me wrong, cause I like SOUNDS, sonic effects—whatever you want to call them—very much. I'm always looking for new sounds. It's necessary for all modern instrumentalists to be aware of the sonic effects that are idiosyncratic to their instrument and to know how to be creative with effects. And for some people, that's all that interests them—and that's fine, but for me I need more.

The summer season seems to be a time for many American musicians to tour Europe. Have you taken a band on tour out of the country, or do you have plans in that area?

I would love to tour Europe and Japan in part because the audiences are so receptive to unique and truly modern music. It won't be long before those invitations begin to develop. This summer I'm focusing on composition.

Composition? Is it a specific project?

Yea, for solo guitar. I don't have a deadline so I just do what I can everyday.

Please touch on your experiences with some of your teachers, such as Joe Pass, and Dennis Sandole. How do their respective approaches, techniques, opinions influence your playing?

I met Joe Pass at Fat Tuesdays (a NYC club that has been closed for 12 years) in 1980 where he had a weeklong engagement. He was playing solo. For a few years, I had been trying to learn to play chords with walking bass lines, like what Joe did on Virtuoso. It was tough. So by seeing him actually pull that shit off… well, it all kinda came together. I saw him play live a lot and had the opportunity to talk with him. He was cranky, man. (laughs) But he didn't bullshit you. From him I learned the importance of being able to play bebop blues, whether it was for only two great choruses or letting it rip for 75 choruses. He also emphasized being able to play rhythm changes, blues and several standards, including "All the Things You Are" in all the keys.

By 1985, I was spellbound by the music of John Coltrane. So, I was playing the guitar 16 hours a day. During the day, I would practice, compose, orchestrate, do a rehearsal, sometimes two or three rehearsals and then in the evening, I'd go to work at a club or go over to a friend's place to record. At that time, I was learning many of Coltrane's songs: the bass lines, the melodies, the harmonies and the solos. I eventually began reading all the biographies on Coltrane, and I came across the reference that Trane had studied with a Philadelphia guitarist named Dennis Sandole. One afternoon I went over to check out a Mesa Boogie amplifier. Coincidentally, the guy who was selling the amp, Steve Hayden, was studying with Sandole. Steve asked me if I had heard about Sandole and then gave me Dennis' number. By the way, Steve is an amazing guitarist and composer. A producer should record him. Anyway, I met with Sandole a few weeks later and was immediately impressed with his approach.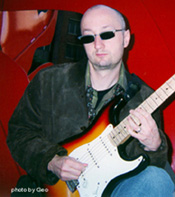 Now, you know, it's just like anything else in life, you only get out of it what you put in, and I found out early on that by concentrating on his literature, he would illuminate through an advanced development procedure, uncommon harmonic principles with original rhythmic inventions. Each lesson was unique to each student but most importantly, Sandole's lesson was a response to that student's conceptual development over the past week. I hope this is clear, but suffice to say that Sandole's literature was musically stimulating. Now please understand, Sandole never demonstrated this material. I just did what I wanted to do with the material.

Teaching seems to involve a sizeable part of your musical agenda. How did you specifically get involved in this pursuit, and how does it mesh with your performance schedule?

I don't do much teaching anymore because of time constraints. When I do have time to teach, I enjoy it because it gives me the opportunity to re-evaluate my ideas and to realize what's important to pass on.

As with many of your peers, you have been compared to a veritable litany of other guitarists/musicians. How do you feel about these comparisons, and which do you perceive as being the most accurate?

Some comparisons are more enjoyable than others. I don't really understand comparisons though. But… you know… whatever they've got to say is fine. Writers are just trying to do the best they can to describe what they hear.

Then how do you categorize yourself?

I'm obviously from the jazz avant-garde idiom and one thing that's always struck me about the genius of that idiom is that, at least in theory, it can incorporate and encompass everything. There's a lot of things going on in the music of Duke Ellington, Sun Ra, Jimmy Giuffre, Steve Lacy, Sonny Rollins. When you listen to Cecil Taylor, you not only hear Monk and Bud Powell but also Brahms and Xenakis; bebop synthesized with some classical things. When you listen to Albert Ayler, you can hear folk songs, American Indian melodies, spirituals and of course the elements of traditional jazz. Ornette brings so much of Lester Young and Charlie Parker and mixes it up with folk songs and even more recently with classical music. And man! What about John Coltrane? With his pioneering efforts using Eastern/Indian concepts combined with the strong African influences, he synthesized all of this with his obvious jazz underpinnings. Remember man, before these musicians had opportunity, all of these guys were part of the underground. It took awhile before people picked up on what they were doing.

As a kid, I grew up in Plainfield, New Jersey in a neighborhood filled with music from all over the world. I've grown up listening to a lot of different music and have been influenced by a lot of different things. Improvisation and composition for me is not forced. I don't try to "mix this with that". All of my experiences go through my filter and that includes a lot of different types of music. Each type of music, if it's strong enough, has archetypal elements. Tapping into these archetypes is powerful. So, this power goes through your filter, and what comes out is natural. So, it's understandable that, for some people, it might be more difficult to understand or to pigeonhole.

What would you site as some of the highlights of your career in the music thus far?

Playing music with great musicians is the best thing. Workin' with Milford Graves, Cecil Taylor, Ellery Eskelin, David Murray, Badal Roy, Edgar Bateman, Rob Brown, William Parker. Playing at festivals. Recording for CIMP. Being invited to go to the Mesa Boogie factory and meeting the great people there and seeing where and how they work. Doing tours, playing in Chicago at the Unity Temple, playing up and down the West Coast and meeting so many fine people and musicians while out on the road. Being invited to play at festivals is really great.

Could you elaborate a little more on your experiences playing with icons such as Cecil Taylor and Milford Graves?

I spent ten months organizing and then participating in a month long residency with Cecil Taylor at Turtle Bay Music School here in NYC. Musicians, poets and painters from all over the world came in to participate. It was an intensely creative time.

Cecil Taylor has a constant, steady, and bold imagination. There were 35 musicians in the ensemble, and we would rehearse two to four times a week. Each rehearsal lasted four to six hours. Every rehearsal, CT brought in new charts and this freaked out a lot of the players who were having a tough time with the music from the previous rehearsal. They got over it, and the music came together. Cecil challenged the musicians to do their best. Playing Cecil's music showed me how much struggle it takes to create even a fleeting sense of peace.

And Milford?

Back in 1995, my friend Jeff Reed invited me to a basement concert at Milford's place where he was hittin' with Charles Gayle and William Parker. They were slammin'! Mrs. Graves served a light lunch to everyone there. It was a memorable afternoon. After that, Milford and I stayed in touch.

After a while, he invited me to join him along with Joe Rigby (ts), Tony Larokko (as) and Oseiko DanEL-Diaz (perc) to perform at the Vision Festival. On several Sundays prior to that gig, I went over to Milford's place and played duo with him or sometimes trio with Joe or Tony. Those hits were just as much fun. Milford playin' some wild Tito Puente congero shit! Whew, man! That was so much fun I thought the top of my head was gonna burst into flames! We'd be downstairs in his laboratory with a battery of computers and a life-size acupuncture skeleton lookin' over our shoulder; a totally unique experience.

Milford Graves has his finger, no man it's not just his finger, his whole being, on the pulse of music. He is super energized. His work deals with music as a healing force.

What are your preferences when it comes to equipment? How did you form these attitudes?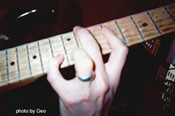 I have been playing guitar for a long time, and my sound has been evolving for a long time. My tone is my voice. This is my response to all the matter that has been filtered through me in the past and in the now. The tools of course are important. On OPIUM, MURAL, and ASHES I used a 1958 custom shop Fender Stratocaster. The Fender Stratocaster I use has a rock maple neck, which is a dense and resonant wood. I use heavy D'Addario strings: .018P, .022P, .026W, .030, .038, .049. A maple neck is the only thing I've seen that will hold up under that tension. The heavy strings produce a fat tone; there is a lot of mass with the vibration. The Mesa Boogie Mark 4 amplifier has a transparent sound, which helps to produce a large 3-D image.

I don't use any effects, so my guitar is plugged directly into the Mark 4 head, and I use 2 cabinets, one open back, the other closed back with 12" EV's. The closed back cab provides more bass. The Boogie amps provide a transparent yet warm tone, and I've been using them since 1986. When I did a West Coast tour, I used a Boogie Heartbreaker. That was a great amp too.

How do you figure out how to make what you are doing connect with a jazz audience?

I don't think about that kind of thing. I don't make conscious deliberate decisions to shape my music for anybody else's aesthetic. Oh man, I have no idea what the masses will respond to, but at the same time I am interested in connecting with people. I started out playing along with Wes Montgomery records, and I still enjoy playing standards with a strong swing feel, keeping the form intact and playing bebop. Playing new music, the avant-garde or straight-ahead, it's all part of a continuum. I believe that jazz audiences will perceive some type of collective unconsciousness that runs through the modern expression and hopefully, over time, the audience that is familiar with my work will want to maintain their interest as a way of seeing how my conceptual development is connected to the cultural development at large. It's fascinating to compare and contrast different artists in history so as to ascertain their collective conscious and unconscious experiences.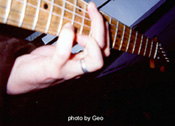 What motivates you to play original music?

I play original music because I have a strong visionary component to my nature. I think it's important to do what's unknown. There is a cultural dimension and a metaphoric dimension that vigorously stirs emotions. Music is always on shifting ground, and it is best when it expresses a synthesis of emotions and ideas.

What is it like working and living as a creative improvising musician in New York City these days? What would make it more manageable?

The biggest challenge of living as a musician in NYC is paying bills and trying to figure out how to get through the next couple of months. The more patient I am, the more manageable it is… (laughs). I've always known I'll get my day. Besides, I don't have a choice. I have to do what I do. It's beyond my control.

Even though you have taken the guitar to innovative levels, isn't your music from the jazz guitar tradition?

Sure! You can't just jump over several generations of influential music and land on your feet.

You said earlier you like musicians who have strong forward momentum. Of the guitarists currently on the scene, who sounds interesting to you?

Stefan Dill is a guitarist who currently lives in New Mexico. His approach using flamenco influences is very energetic; full of life and he has interesting rhythmic ideas. Steve Hayden is a guitarist with a completely original sense of harmony. His recent work on a doubleneck Steinberger is awe-inspiring. In San Francisco, Ernesto Diaz-Infante plays some great stuff. I've had the pleasure of working with him a few times. Of course Derek Bailey is one of the most unique players alive. What he does on the guitar is meticulously organized. His freedom with his vocabulary and his unique musical gestures can make it appear that his music is random. One doesn't get to that level by accident. Lists like this aren't too important because there are so many great guitarists out there. I get a kick out of the usual suspects, but you know there is only so much space and the usual suspects are dragged out way too often; so if you don't mind I would prefer to mention the unmentionables.

How spontaneous or worked-out are your improvisations?

Each composition has its own innate concepts. My improvisations are my emotional responses to the concepts that are introduced. This is true of written-out, pre-conceived compositions as well as those that are spontaneously invented.

Do you have a specific approach to the guitar that allows you to develop your unique instrumental voicing?

I approach the guitar in several ways. First off, everything is from the voice. The guitar is an instrument, an extension of my voice. And because music, for me, is communication, when I play solo and when I play music with other musicians, or birds, or a river, or the howling wind, or the city sounds of car horns, the steel wheels of a train, I want to communicate with them. I might imitate an old man's sigh, a battle cry or the soft breath of a sleeping child—or play on the echo in the forest, a man looking into the sea, or reflect on the divine spirit that holds the universe together. I might think from a percussive point of view—and you know there are so many traditional percussion instruments. They all utilize pitches too. People usually don't notice the hammers on a piano. You can't get too much more percussive than a hammer. Sometimes when I play close to the bridge I'm thinking of a certain color the Hammond B-3 gets. If I play melodies on the string tree, above the nut, I might be thinking of a Kalimba.

So, you're a student of life's experiences?

Life shapes one's consciousness—collectively and individually. This is the essence of creative improvised music—group expression in the now. As an individual, this is where my personal beliefs intersect with my art. What interests me is a unified concept. This unity is explored and developed in an endless variety of ways. Infinity within unity.

Given the biannual pattern you have set, will a record release be forthcoming in 2003? Do you have other releases on the drawing board with other labels?

The pattern of release is not by design, not my design anyway. I have volumes of work from multiple ensembles that I hope to release. ASHES is scheduled to be released in early December on the Freedom Jazz label. This CD features 12 other musicians: David Murray on bass clarinet, violinist Mat Maneri, Badal Roy on tabla, Jeribu Shahid playing bass, Bob Moses and Edgar Bateman on drums, Todd Margasak on cornet, percussionists Felix Sanabria and Michael Sotolongo, flutist Mark Weinstein, Edward Rollin on oboe and English horn, John Clark on French horn. It is a very different album of creative music.

They are all on this one recording?

Only one track features everyone performing at once. The remaining tracks are various breakdowns of instrumentation. There are some rather unusual combinations. It was a real honor to work with these fine musicians. I've known Edgar Bateman for almost 10 years. I used to play a lot of music with him when I lived in Philadelphia. He's original. He's real. I have been listening to David Murray's work for over 20 years. His musicianship is fucking amazing. And he has that great warm signature sound. And he's a total pro man! He came into the session all prepared to go and just played magnificently. Badal Roy is another heavyweight and one of the few musicians I know who uses sound like it's poetry. His placement of notes is so relaxed. It was also an honor to work with Bob Moses. As a teenager, I had listened to Bittersweet in the Ozone, a record of his compositions with a lot of fine players. The other thing is that Bob was with Jaco on Pat Metheny's excellent record Bright Size Life. This record was a big influence on me when I was in high school. I learned most of the songs from that record. Pat's solo from the title track was a lot of fun to learn, too. Hearing Pat play Ornette Coleman melodies gave me some insight about translating sax lines to the guitar.

Ten years ago when I was playing with Edgar he told me that Moses was one of the few drummers to publicly acknowledge him. Moses dedicated one his books, Drum Wisdom, to Edgar. Bateman and Moses had never played music together. I thought it would be amazing to get Edgar and Bob to play and record together. Bob used to go hear Edgar in the early 60's when Edgar was playing with Joe Henderson, Herbie Hancock, Chick Corea and Eric Dolphy. When Edgar was a teenager living in St. Louis, he played with Charlie Parker and Miles Davis. I'm really glad Edgar and Moses made the session.

Are there others in the works?

Back in December 2001, I made a record with Stephen Flinn on drums and Tony Wren on bass. This is a co-led band. It is scheduled for release on the Nine Winds label. Tony was in from London to do some gigs and Steve produced the trio session. Along with the Strat, I played a 20-year-old Ibanez Champion acoustic guitar on a few tracks. This brings out a different kind of interaction with the other musicians. This project should be out in the fall.

These projects really sound exciting, and I am sure all lovers of improvised music will be anxiously awaiting these new releases.

Thanks, Frank, I certainly hope that is the case.