FLASHBACK #04
Vancouver Jazz Festival 1995


The Vancouver Jazz Festival is a mammoth event spanning ten days and covering multiple styles of jazz. With over 200 concerts from which to chose, the fan has the ability to concentrate on a specific genre or to sample a bit of it all. I chose to seek out the innovative side that distinguishes this festival and has made it one of the most successful in North America. I was very fortunate to make the acquaintance of Steve Robinson, a noted photographer who clicked his way through many of the shows I attended. His dynamic pictures of artists in action are featured in this article that capsulizes some of the performances I witnessed. Ten overly full days of music is a lot to absorb; yet I squeezed in about 60 acts without overdosing on the sounds. Here are the highlights from some of the shows I attended: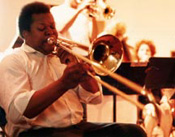 The NOW Orchestra opened the festival for me, performing original compositions by George Lewis. He was a master at directing and evoking both sound and spirit from the ensemble. His work featured the voice of Kate Hammett-Vaughn, who emulated a musical instrument with her phrasing. The music ran the gamut from bebop on forward, but it was most stirring when Lewis played with 13 free-form voices sounding wondrously cacophonous. Other standouts were Paul Plimley, Saul Berson, and Paul Blaney, although all shined when given their cue to solo by Lewis.

A few nights later, René Lussier and Pierre Tanguay were guest directors of the orchestra. Lussier's composition was a giant opus that crystallized the collective talent of the NOW orchestra. Done in several movements, the suite went from free form shouting to structured parts, then back to controlled chaos, and round and round. Everyone was featured, including Tanguay who fiercely attacked the drums. Hammett-Vaughn did not have the same spotlight she enjoyed when George Lewis directed the band, but she was effective in small parts. The group was well rehearsed and responded flawlessly to Lussier's direction. It was an exciting and loud evening that had the blood pumping if only through sheer volume.

Upbeat, semi-free, semi-structured music came from Joey Baron's Barondown trio. There was excellent tenor/trombone rapport and great interplay between Ellery Eskelin and Steve Swell. Baron remained always as the driver and always in control. Eskelin, a new discovery for me at that time, showed both power and imagination. Although the tunes grew progressively more adventuresome, the street crowd remained into it. The second performance in a late-night club setting was just as powerful, with Eskelin and Swell stretching out while Baron had an obvious ball as the maestro of this dynamic group.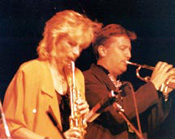 Jane Bunnett's band gave an amazing performance. The union with Jeanne Lee was ingenious. This group's presentation was very professional and polished, yet not slick. Bunnett has mastery over the soprano, and her interplay with Lee's voice was astounding. Piano player Daryl Grant was a fine addition in filling the void left by the death of Don Pullen. Power-plus drummer Andrew Cyrille was a remarkable sight, while trumpeter Larry Cramer added a complementary touch. Several tunes were from Bunnett's then-recent release The Water Is Wide (which included Pullen), but they were given a fresh reading—especially Rahsaan Roland Kirk's "Serenade To A Cuckoo". Bunnett maneuvered the band skillfully. This set was a real treat to hear and see.

Paul Plimley & Joey Baron represented instant composing at its best. How two men who had never met before this event could read each other perfectly while exploring such difficult music is a wonder. Plimley played in unstructured format at times, but he also developed a melodic stream and then reverted to atonal progressions. You had to witness their interplay to get the full impact, which was spontaneous and flawless. Artistry such as this is not seen often, and when it is created on the spot, it is joyous.

Dave Holland's performance was simply wonderful. He laid down such a strong bass line that it permeated the entire over-packed hall and obviously inspired the other artists. Eric Person was an outstanding contributor to the Quartet, and on two tunes, he created an out-of-body experience for me with his raw intensity combined with the thunderous propulsion of Gene Jackson's drums. Steve Nelson's vibes provided a form of contrast. He had to play with gusto to match the emotion of the others. The concert lasted almost two hours with no breaks, and every tune was an extended piece. Holland was overwhelming on his deep-toned solos that never faltered. He carried every selection with amazing strength and was a marvel of stamina. This is what the music is all about.

The Evan Parker Trio was another festival highlight, with incredibly free and spontaneous improvising coming from all. Parker was in a groove of demanding blowing on both occasions on soprano and tenor, while Guy was magical with his deft manipulation of the strings. Guy coaxed amazing sounds out of the instrument, frequently turning it into a percussion tool. The group reached astounding peaks during both concerts and left the audiences drained. It was a compelling, exhilarating, constant stream of sound with an intensity level to match. These three musicians performed wondrously together.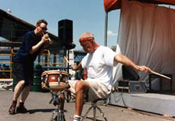 Han Bennink was up to his antics again, this time with pianist Beresford. The game was the same, only the opponent different. Beresford tried to compete with Bennink's comedy while playing a small horn and partially succeeded. If they had played it straight, it could have been an interesting duet. As it was, it was show time.

It was difficult to distinguish the written parts from the improvisations, but the collective sound of ROVA was so good, it did not matter. Their work demands a high degree of concentration, but the rewards for making the effort are great. ROVA played collectively or in various pairings in exploring the depths of their compositions. Diligent attentiveness is a prerequisite for absorbing this intricate music.

Every decade or so, a new star emerges to attempt to take up the challenge put down by John Coltrane. David Murray was successful in assaulting the throne, and in 1995, I thought James Carter was leaning in that direction. Cocky, super-confident bordering on arrogant, he had such total command of the alto, tenor and soprano that they reacted as the genie in Aladdin's lamp, just there to do his bidding. For almost two hours, he blew nearly non-stop, pausing occasionally to let the others take short solos. In the Sonny Rollins tradition, he never seemed to end a tune but instead carried it on with free blowing for more and more iterations. Although he used the blues and basic structure, he took off on every tune, playing in a variety of styles and using circular breathing extensively. He was a virtual one-man show who authoritatively reaffirmed the musicís roots. It was a performance not to be missed.

Tim Berne's new group played a brooding type of jazz that emphasized droning tones. He was surrounded by young, highly skilled musicians who were new to me then. Berne has a commanding stature on stage, and it is projected through his music. The pieces were long and carefully constructed to keep the dark mood prominent throughout both performances. This group was a big change from Berne's previous configurations, but it was just as enjoyable. Chris Speed's extensive soloing was challenging, and it dovetailed neatly with Berne's style. Jim Black's playing was particularly exciting. Berne's stamp, however, was on all the compositions.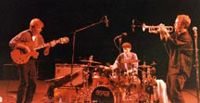 Dave Douglas's Tiny Bell trio had the appearance of youth and featured an unusual configuration of trumpet, guitar, and drums. The compositions were all original, and no sheet music was used by any band member. Brad Schoeppach on guitar played off nicely against Douglas's trumpet. Douglas was a constant stream of ideas, and I marveled at his ability to play with such commanding authority over the lengthy sets. My only negative reaction to the group related to its diversity of sound, but Douglasís originality made up for lack of variety.

Gianluigi Trovesi presented two entertaining concerts fortified by the strong rhythm supplied by two basses and cello, plus drums and percussion. They laid down the familiar Trovesi rhythm lines, allowing the horns to state the theme and then improvise. Pino Minafra provided a little theater, but he was also an impressive contributor on trumpet. The appeal of the band is in the compositions of Trovesi. They can be very addictive. The club setting allowed the band to stretch out more than it did at the concert venue. They improvised more and featured the talents of the band better when given more time. Although I was familiar with most of the selections, it was still exciting to see this band live. Vancouver audiences thought so too.

Hearing Glenn Spearman live with his Double Trio was the high point of the trip. Spearman and Larry Ochs emitted a piercing, penetrating sound that soared and took me with it. The band used two drummers who provided plenty of accent, color and drive but little soloing. Chris Brown's piano playing was an added treat. The solos of Spearman and Ochs, however, dominated the performance. As an improvising duo, it would be hard to top them. The level of energy they exuded was incredible, and the creative thinking that made up the free parts was phenomenal. I was totally engulfed in their thunderous sound that took off as a space missile. Spearman was ultra cool as a leader and showed no emotion despite the fact that the music was so emotional. I could not conceive of a better new music group.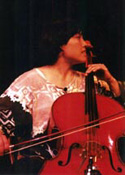 Joe Williamson and Peggy Lee take their art seriously. These two virtuosi were masters of instant composing, using a form of telepathy to transmit their direction. It was heavy, brooding, atonal, unstructured, freeform art being made before my eyes. There was not any similarity to the Fred Hopkins / Deidre Murray duets I had witnessed, for this music contained no melodic line. The Western Front setting was perfect for this form of attention-grabbing art.

Saul Berson plays a beautifully toned alto that is reminiscent of the sound of Cannonball Adderley. Although he is a stalwart in the NOW orchestra, he is much more effective in a small group context. The band played a mixture of out pieces and standards that were spellbinding for the late-night crowd. Tony Wilson's guitar playing has quite melodic and complemented Berson perfectly. Berson's creative juices kept flowing, and the band grooved on high. Berson is a highly competent musician and a great discovery for me.

Brad Muirhead's group was a neat surprise and quite innovative. His trombone pitted perfectly against the tenor of Graham Ord, while Peter MacDonald played his guitar with abandon. The announced 'out' pieces were really out, 'in' pieces were still very creative, and even the blues entry was exciting. This band generated a big sound, and the group interplay and the soloing were treats. They managed to produce something special although the daylight open-air venue was less than conducive to this.

The Georg Graewe trio played an esoteric set that definitely appealed to a higher level of intellect. The compositions, although short, were creatively constructed and gave each musician an opportunity to present his or her serious side. Houle's playing was different from that shown in other events he participated in this week. His music here was serious, introspective, and heavy. As you would expect, the listener's attention was demanded to enter their world.

Adding Plimley to the Evan Parker trio was pure magic. They soared higher and higher, particularly with Parker on tenor. The interplay between Plimley and Guy was magnetic, and they really seemed to enjoy prodding each other. This music kept flowing at an intense level for the duration of the set. It was amazing that these four could continually put out creatively solid music in spite of the many gigs they were required to play this week.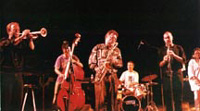 Francois Houle assembled a mighty international group to perform his "Carmine Perpetuum", a work based on a poem by Robin Blaser. Featured extensively was Evan Parker, but Houle allowed room for much bass/cello interplay and stints by Douglas and himself. It was a weighty, lengthy composition bordering on classical music except for the free improvisations. Dark in tone, it progressed through several movements that included readings of the poem by Leandre. This was a challenging work for both the musicians and the audience.

Willem Breuker has the unique ability of combining free jazz with theater to make it palatable for the masses yet rewarding to the true jazz fan. His Kollektief, an ensemble of talented (and aging) Europeans, provided quite a show while still doing some serious playing. He showcased everyone in the band and was able to draw the audience into it through the antics of the players. When they were not clowning, the music was very fine indeed.

As a duo Willem Breuker and Han Bennink put on a form of vaudeville, with Breuker playing non-stop free improvisation and Bennink doing his usual clowning on drums without missing a beat. There is no denying he is a very dynamic drummer who literally assaults his instrument and plays rhythm on everything in sight. This act had added cameo performances by many of the Kollektief, who walked on stage independently and blew for a half-minute or so. The set was very entertaining, but I am a jazz purest who prefers music separate from comedy.

Marilyn Crispell's union with Fred Anderson was a gift to the music. What I thought originally would be an unusual pairing of styles turned out to be a perfect match. Anderson brings a bold, brawny tenor sound to Crispell's wonderful improvisation, and the rhythm laid down by Drake made it an exceptional trio. The respect they showed for one another was quite evident. This set went by as if in a moment and was highlighted by Drake's Moroccan rhythm sojourn opposite Crispell's piano string strumming while Anderson oozed out low, smooth riffs. Their concert was an exceptional one.

A power team was formed through adding two pianists, two bassists, and a percussionist with a large array of tools to ROVA. They created an incredible sound that was used to spotlight Ochs' long composition "The Secret Magritte". The quartet did not commandeer the spotlight but instead allowed the others to shine. And shine they did. The competition between Guy and Ellis was electric, and Crispell's playing contained magic. The piece had highs and lows of intensity and was compelling from start to finish. This was one fine presentation.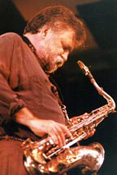 Evan Parker made yet another appearance in what started out as free improvisation, but Bennink and Beresford could not resist cutting up. Williamson, though, played it straight throughout the set. Parker started strong, but he waned as the set lagged. It could have been great music, but it ended up not being very satisfying.

Kevin Elaschuk transmits a warm sound as trumpeter and leader of the Stratochiefs. They were very effective in the development of their tunes. Although the music was straight ahead, it was very engrossing, particularly on the longer selections. This group was a pleasant surprise for me. They put on a good show.

Gus Janssen is a Dutch pianist playing with a mature group. They did short but original pieces. Although there was a light bent to their playing, it had its adventuresome moments. The music was not overpowering, yet it was quite interesting to hear. It reminded me at times of Gaslini's musical approach.

I witnessed numerous other performances over the fortnight, many of which were memorable. My predominantly favorable responses are due mainly to the artistry, but being able to select the shows you want to see has its advantages. Vancouver has so much to offer, and the main requirement for enjoying it all is stamina.