Evan Parker & Susie Ibarra
Houston TX, 10 April 2001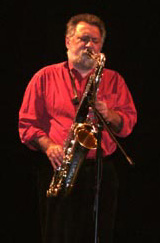 Evan Parker and Susie Ibarra appeared in concert at Rice University's Hamman Hall on a program co-sponsored by the school's radio station KTRU, and Diverse Works (an art center dedicated to presenting new visual, performing, and literary art). The concert was part of an April USA tour Parker made, which also included duets with Ibarra in Austin and New Orleans and five solo concerts in several southern cities and the nation's capital. Parker, of course, is one of the most influential European performers on the new music scene, and he has held that status for three decades. Ibarra is a musician whose talent is synonymous with innovation, and she has risen to star status in a relatively short timeframe. She first appeared on the scene in the 1990s, and no drummer in recent years has made such an immediate impact as she has. The music, however, is a bridge that unites the ages and crumbles any perception of generation gap, so the union of these two was a natural pairing of kindred spirits.

The program opened with Parker playing tenor as he and Ibarra delicately established the sonic ambiance that would define the session. Parker demonstrated his well-recognized fluttering technique on an extended improvisation that explored the breadth and depth of the instrument's capabilities. His ideas developed in logical sequence, progressively building the tension in layers as the program became more intricate and involved. The music held a sense of quietude devoid of any riotous extroverted behavior. Although the passion and intensity of his playing was fully evident, the music had a calming effect filled with the warmth he was able to project while taking the tenor to exotic realms. For over 20 minutes, he continued to wander through unknown territory without ever conveying the feeling of having trod that ground before.


Ibarra masterfully merged a plethora of drum and percussion nuances into the meld. With deft handling, she inserted shimmering sounds of cymbals, rattles, gongs, bells, beads, and numerous other implements to color the music in varied hues. She followed Parker's sonic venture with a drum solo that was the epitome of subtlety and taste. While Ibarra has shown (most notably with William Parker's In Order to Survive and with the David S. Ware Quartet) that she can be monstrously overt, she sculpted a more subdued drum portrait on this occasion. Using padded mallets against the rims and cymbals, plus the variety of ambiance-enhancing percussion tools, she shaded the instant compositions with feathery droplets of energy in keeping with the spiritual tact Parker had taken. Her playing unfolded as a blanket of sound covering the streams of energy flowing so gracefully from Parker.

Parker also showed his mastery over the soprano saxophone. Making extensive use of circular breathing, his solos hit ear-piercing highs with a whirlwind of spiraling notes spinning out of his horn. He took on the appearance of a true pied piper as the squeaky pitch from the soprano eddied in swarms of mesmerizing bee-like sonority. His opening 11-minute soprano solo on the second set was a marvel in control where no evidence of breathing was obvious for the duration of the piece. Ibarra continued to envelop the set by injecting varied patterns including march rhythms to keep the music stimulating and alive. She occasionally made overt gestures through the bass drum when Parker showed some tenor muscle, but even these statements were contained and softened.

Parker announced the closing number as a composition by Ibarra that "she is just about to write now". It summed up perfectly the concept of instant composing that erupted so effortlessly from these two musicians. Although they are from very diverse backgrounds and are separated in age by many years, none of that seemed to matter on this night. They communicated as of one mind, and the audience at this heavily attended event was treated to a magical performance.