Trio Natto & Dennis Gonzalez Yells At Eels
Houston TX, 14 April 2001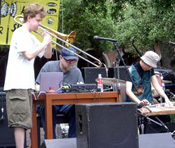 Each year, Rice University's radio station KTRU sponsors an all-day outdoor festival that mixes musical genres from the cutting edge of their respective disciplines. This year, the jazz segment was represented by two opposite-pole groups that showed just how diverse the music can be. The shows were held on Rice's lovely campus grounds and attracted primarily a student audience, although word leaked out to the public even though publicity was minimal.

Philip Gelb, the shakuhachi player from California, and Trio Natto with koto player Shoko Hikage and electronic and computer wizard Tim Perkis was invited for this 2001 event, and he brought along koto player Shoko Hikage and electronic and computer wizard Tim Perkis. They opened by spinning a veil of gossamery fabric using aspects of the Oriental musical culture as a basis for their internalized communication. Gelb is a mystical player who evokes ancestral spirits that seem to awaken within his instrument and cause the band to levitate with them. He took in-depth excursions into Eastern realms where images of Tibetan monks and Western improvisers appeared to meet in harmony. The traditional Japanese bamboo flute comes in varying lengths that produce different tonalities, and Gelb showed his expertise on instruments in the 1.8 alto and 2.4 soprano range.

Shoko added further to the illusion, playing serene, compelling music reflecting visions of exotic dreams. She gingerly stroked the strings, filling the air with delicate spatial tones while Gelb puffed simulated smoke rings of varied musical texture. Perkis tastefully inserted electronic coloring and complementary computer sounds to maintain the sČance-like mood.

Trombonist David Dove, a Houston mainstay on the creative improvised scene, was invited to join the trio after the opening number and remained for the balance of the set. He merged in a droning, hypnotic dirge by emitting low register waves of dense growls and intermittent barks in a steady flow of semi-liquefied lava. He added measurably to the density of the music through the colored patterns he supplied. The session conjured up visions of drifting tumbleweed rolling gently over the grasslands. Although the outdoor venue was not truly conducive to this form of hypnosis, the music had trance-inducing qualities abetted by the hot afternoon sun. Attentive listening equated to a rewarding musical experience.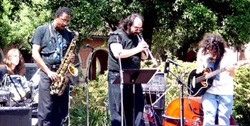 Trumpeter Dennis Gonzalez created a much different sensation with robust, driving music based on his highly rhythmic compositions. His band Yells at Eels includes his two sons, Aaron on bass and guitar, and Stefan on drums, and they supplement their concerts with invited artists. Rounding out the band for this session were tenor player Tim Green and keyboard specialist Frank LoCrasto. They produced a jolting opening to snap the audience out of the trance state set by Gelb. D. Gonzalez made dancing fire with his trumpet, using his noted brand of music that includes a distinguishable melody line forming a recurring backdrop for the free improvisations to follow. He acted as a lightning rod that transmitted energy and incited the band into energized action. Tim Green was the major recipient of this conductive power. He branched off the themes and rolled into high gear with stimulating improvisations while a constant flow of theme/rhythm surged from the band.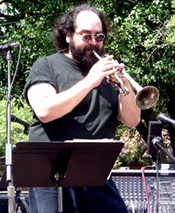 D. Gonzalez's compositions have a mesmerizing quality of their own, and it is not based on serenity. When the band rolled into the mournful ballad "Ganesha the Spy," the soulful tones of Green's tenor gushed with anguished cries. A. Gonzalez set the dense pattern on upright bass and S. Gonzalez continually pushed from behind. A. Gonzalez also played electric bass and guitar during the set with similar motivational effects. LoCrasto altered the sound of his keyboard on this tune to simulate steel drums, and then moved into a modal piano run before Dennis made his own passionate trumpet plea.

The band was really in a cooking mood after that, and jelled with an uptempo sprint where LoCrasto, Green, and D. Gonzalez got into a collectively improvised mode as a bridge between individual solos by each. Green was into power playing and exuded energy to spare as he blew with intelligent authority. One of D. Gonzalez's most motivating compositions is "Hymn for Julius Hemphill," and this band played an exciting rendition of the tribute song and its nine-note recurring rhythm pattern. It was a fitting closing to a session that had the stamp of D. Gonzalez all over it. His music can put you in a joyous mood in the same way Abdullah Ibrahim's music can, and it had exactly that effect on this contrasting day of music.

The Rice Outdoor Festival was plagued with an occasionally distorted sound system and no counteraction to microphone wind noise, but somehow both groups overcame these difficulties and produced music of significant yet differing beauty.