Frank Lowe Duets Across Jazz History


There's a strange and beautiful humility in Frank Lowe's music. On Billy Bang's Valve No. 10 (Soul Note, 1987), the tenor saxophonist takes a solo on John Coltrane's "Lonnie's Lament" whose form is never smeared or obscured by the long shadow the composer has cast over three subsequent generations of improvisers. It is a supremely moving, soulful solo Lowe plays all the same, abstract yet lyrical, blunt but nuanced in its slow articulation, and expressed with a timbre that can be as dense and dark as cast iron, as tough as sinew and still somehow breathy around the edges. Lowe is one of the great communicators in improvised music, as anyone who has heard his Exotic Heartbreak (Soul Note, 1981) can attest. Like any dedicated listener, Lowe sounds as if he is engaged with his own awe at the forces music can unleash. His playing often evokes the response: "Yes, he's one of us." Few figures in the history of the music express the hard-won verities of their experiences with the dignity, intelligence and passion that Lowe can muster at his best.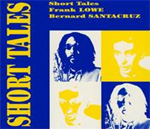 Three new compact discs place this sensitive but unsentimental player in duet settings. Far from being simply intimate, all three recordings explore and explode the ramifications of inwardness. Short Tales is Lowe's third recorded meeting with Algerian / French bassist Bernard Santacruz—Latitude 44 (Bleu Regard, 1995); After the Demon's Leaving (AA, 1996)—and the first made by both men absent the company of the late master drummer Denis Charles. As the title suggests, these pieces are almost parable-like in scope. Santacruz is very much a bassist in the Wilbur Ware / Charlie Haden (not to mention John Lindberg) tradition, with his own highly individual concept of "walking" and "a groove". This is most apparent on a quietly stunning version of Don Cherry's Old and New Dreams favorite "Mopti", which achieves a pleasantly unorthodox swing. Santacruz's broad tone and broad rhythmic gestures make for a stimulating contrast with Lowe's own often complicated, starkly demarcated rubato strategies. Many of the pieces here follow a common format, as the two players begin with a unison statement, pursue their own paths of exposition, and return to state a sympathetic denouement. Lowe probably reaches the peak of his eloquence on Santacruz's jauntily melancholic "Walk in Matosinhos", although the tenor saxophonist's own brief (57 seconds) "Nothing but love" is a masterful example of melodic concentration, communicating a profound emotional experience with the most circumscribed of means. In fact, the performance could almost be heard as a trio performance, with Lowe transforming his tenor into both a baritone and a soprano in order to say what has to be said. Short Tales is further evidence that Lowe continues to sharpen his considerable abilities, and that, despite the size of his oeuvre, he has really yet to repeat himself.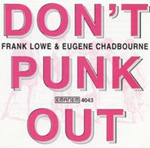 Lowe the composer is even better represented on another recording of miniatures, Don't Punk Out; the discovery here of his heretofore unknown "Inner Extremities Suite (for solo guitar?)" qualifies as a major one. Recorded in 1977, this recording finds Lowe in the company of a very young Eugene Chadbourne. The session's original producer, Martin Davidson, has fleshed out the original release with previously unheard solo performances by each participant, Chadbourne's from 1979, Lowe's from this year. As a writer, Lowe is capable of loosely-jointed tunefulness in the manner of Monk, Coleman and Lacy. The opening track here, "Composition for David Murray" is so effective precisely because it is so candid and song-like in ways the dedicatee rarely is in his own work. Don't Punk Out is actually made a better listening experience by virtue of its slightly clattery mix, as it helps to foreground Chadbourne's contributions, most of which are made on an unamplified instrument. His gnarled, bottleneck flourishes and jagged strumming on a reading of Albert Ayler's "Ghosts" fall just short of complete and delightful irreverence. "Ghosts" is a key track here, as Lowe requested its inclusion. His interpretation juxtaposes licks that reference bop and hard bop harmonies as well as tricks out of a rhythm-and-blues bag with Ayler's essentially aharmonic rapidity of articulation. But even in the relatively tight confines of a two-and-a-half minute free duet such as "At Reel's End" (literally cut short by the tape's running out), Lowe and Chadbourne map out some fairly expansive spaces. The events recounted in "Fright", while hardly specific, are all the more uncanny for being so. Both men resort often (if tastefully) to the spontaneous extraction of non-tempered sounds from their instruments, and yet these performances are remarkably uncluttered. This is cerebral, even at times "cool" music, more experimental than Short Tales but also, at times, more insecure. (Then again, even the friendliest of proximities can be somehow awkward.)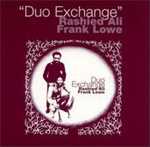 There's nothing tentative about Duo Exchange, one of several re-issues of sessions originally produced by drummer Rashied Ali for his Survival label during the loft jazz, DYI heyday of the 1970's. Duo Exchange dates from 1972 and reveals Frank Lowe still in the process of purging the overt Coltrane-isms from his improvising. The two collectively extemporized compositions here are not mere sequels to the cosmological visions of Ali's 'other' saxophone-drums duet record, Coltrane's own Interstellar Space. If anything, "Exchange Part 1" and "Exchange Part 2" are less orchestral, less unrelenting, and less flowing than the performances from that earlier record. The scale of Duo Exchange is more human; though there are moments of anguish and triumph commensurate with those on Interstellar Space, the context here is very, very different. Of particular interest in these performances is just how Lowe responds to Ali's virtuosity, his split-second ability to free-associate shards of metric patterns and his kaleidoscopic sense of percussive coloration. Lowe often lets go of his phrases such that his notes somehow fall in those small open cells of silence in Ali's otherwise overpowering detail. The more closely one listens, the more it becomes obvious that Lowe is assembling a steady beat from the wailing pull of his tenor sax against the coruscating push of Ali's kit. In this setting, Lowe is the chorus—the rueful and wise narrative agent—and Ali the flamboyant actor personifying the tragically incongruous circumstances that befall the individual as they follow the trajectory of hubris. It is clear even from this brief recording (barely over half an hour in length) that Frank Lowe is one of the most unique of "free" players, as his playing demonstrates how deeply he comprehends the serious risks involved in his aesthetic. Frank Lowe's art is a super-realistic one, because it is an art open to life and life's endlessly proliferating decisions, each of which is possessed of an integrity and gravity that is to be honored.