Kidd Jordan & The Improvisational Arts Quintet / Max Roach Quartet
New Orleans LA, 28 April 2001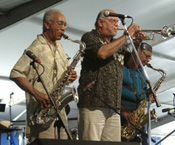 The JazzFest in New Orleans has been going at a strong pace for over 30 years, but it has not held the reputation for being a forum for cutting edge, innovative music. However, for 2001, the festival did allocate time for music that does not typically fit the commercial mainstream tastes of the tens of thousands of people who attend this huge event spread out over ten stages on the racetrack grounds. When I heard from band members that Kidd Jordan was re-assembling his Improvisational Arts Quintet for the festival and had expanded it to a sextet that included Fred Anderson, Joel Futterman, Alvin Fielder, Elton Heron, and Clyde Kerr, I decided to make the trip from Houston solely to see this dynamic lineup.

The band played at the inappropriate time of 1 PM in the Jazz Tent to an unusually large crowd as new music concerts go. Futterman began with an immediately ambitious solo, and this paved the way for an incredibly intense, 15-minute assault of the tenor saxophone by Anderson. He blew with sustained vigor, spewing out round after round of armor-piercing bullets. An exhausted Fielder told me after the concert that he had never been pushed to such extremes by a musician as he was accompanying Anderson's sprint. Fielder did keep pace, and the entire band was energized by Anderson's performance.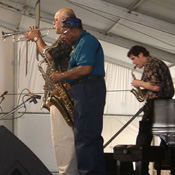 Kerr showed great forcefulness as the trumpeter of the band. He played with power and emotion and regularly responded with engrossing free trumpet outbursts. He was a fine counterbalance between the two tenor players. When Jordan made his first entry, he initially calmed the waters with a tender sequence of unexpected quietude, but then he also began interjecting emotional tenor responses. It all built to a beautiful crescendo of intensity, with Jordan and Anderson flanking Kerr and interacting intuitively and wholeheartedly. Futterman continually emitted acute lines of demarcation, playing with his patented cross-handed approach to produce a continual stream of charged ions. Heron on electric bass responded resonantly with ever-changing bass lines filled with tension and diversification.

Behind the overt commotion, Fielder mapped out a militant strategy of arrhythmic drum sequences that kept the fires burning brightly with his uproarious attack. At one point Futterman joined the horn players with his curved soprano saxophone, and the wellspring of musical ideas continued to flow. All musicians were pushed to extreme levels on this set that was a rewarding tribute to the free spirit inherent in each of them. The acoustics in the big tent were not perfect, the sound system was somewhat unbalanced, and the time of the performance should not have been conducive to igniting the creative juices. Jordan and the IAQ rose above this and gave a strong performance that hopefully made converts out of some in the festive crowd.


I was quite surprised and pleased to learn that the Max Roach quartet would be playing after the IAQ. We sometimes take our jazz icons for granted, but Roach is one musician who deserves all the respect and appreciation we have to offer. I had first seen the 76-year old super drummer in 1959 in Pittsburgh with George Coleman and Booker Little, and again in 1982 with Cecil Bridgewater and Odean Pope, but I was overly excited about having another opportunity to see this giant who has reached emeritus status as a musician and who has not slowed down since he began playing in the early 1940s.

Roach began with a drum solo in front of an overly packed tent that was estimated at over 5,000 people. He projected a level of energy that belied his age. Although his movements going to the stage were slowed, once he had the drumsticks in his hands, the magic appeared. With him were Odean Pope on tenor, Eddie Henderson on trumpet, and Tyrone Brown on bass. They played as their opener the strenuous composition "It's Time." Breaking out at a fast pace is a well-known trait of any Roach band, and his finely tuned quartet met the challenge. With Roach sitting prominently up front, the band blew wholeheartedly on this and several other classics, including Monk's "Straight No Chaser," Billy Harper's "Trying to Get Ready," and Benny Golson's "I Remember Clifford."

Although Roach was the focal point, both Henderson and Pope had ample time for solos that were spurred into high gear by the drummer's prodding. Brown, who has been associated with Roach for many years, played a small upright instrument at the frantic pace Roach dictated. A surprise addition to the show was the appearance of pianist Connie Crothers, who gave a fine rendition of "The Man I Love" with Roach in duet. She mixed her freeform style into the melodic tune to give it a unique twist and a percussive sound in tandem with Roach.

Roach ended the concert giving another solo drum clinic and brought the audience into the performance with a patterned three-line sequence that encouraged a two-beat clapping response. The crowd loved it. The most heartwarming part of the event was the admiration the crowd showed to this true superstar of the music world. May he continue to please crowds for many years to come.