A Slice Of The Du Maurier Jazz Festival
Vancouver BC, 24-26 June 2001


The Vancouver Du Maurier Jazz Festival is one of many that occur annually in Canada, one which is earning a competitive reputation for assembling the most colorful threads of the jazz tapestry in a most timely fashion. This 16th year featured more than 1500 jazz musicians from around the world, performing at over forty different venues. Du Maurier's organizers have their ears close to the rails of the jazz progression, thus booking in advance such headliners as Dave Douglas, John Scofield, Louis Hayes, Curtis Fuller, Joshua Redman, Roy Hargrove, Kurt Rosenwinkel, Tim Berne, and Ellery Eskelin's acclaimed trio with accordionist Andrea Parkins and drummer Jim Black. For all of these promising acts, the most anticipated event of the festival took place within the opening weekend—the Barry Guy New Orchestra, an international concoction of some of the most prolific instrumentalists in contemporary jazz.

While inspired by Barry Guy's renowned London Jazz Composers Orchestra, his New Orchestra purports to take jazz composition and improvisation into a different direction. Guy does so by combining two of his own working trios—one with Evan Parker (saxophones) and Paul Lytton (percussion), the other with Swedes Mats Gustafsson (saxophones) and Raymond Strid (percussion)—around the functional center of pianist Marilyn Crispell. Brass and extra woodwinds then augment the unit.

The assemblage of the Barry Guy New Orchestra was a blessing, when you consider the logistics involved with organizing an international band. Multiple contributors, non-profit and governmental, fought migraines in organizing the members' stay. Their booking also allowed for multiple possibilities for the ticket holders and for the players themselves. For two days prior to the New Orchestra's single performance on Sunday night, the musicians could be heard in a variety of settings spread across four separate venues, each of the exhibitions a marathon of free improvisation unto itself. The performances were both primer and filler for hungry audiences.

—friday—
On Friday, opening night of the festival, Barry Guy and Mats Gustafsson joined Vancouver composer/instrumentalist Randy Raine-Reusch for a set of meditative free improvisation. Raine-Reusch, a master of eclectic East Asian wind and string instruments, was perfectly suited for the foundation laid by Guy and Gustafsson, which was a blend of their own telepathic skills and the uniqueness of the setting itself. The stage was the limestone floors of Dr. Sun Yat-Sen's Chinese Classical Garden, in the Chinatown section of Vancouver.

The garden is said to be "a microcosm of nature and man's place within it". Honored for the early-20th century Chinese leader of the same name, it is a stunning call back to the architecture of the Ming Dynasty, adorned with mahogany wood, ornate tile patterns, bonsai trees, bamboo, and a contemplation pool brewing with Koi fish.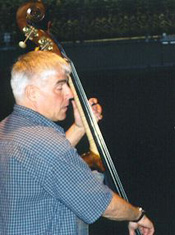 It was a natural atmosphere for the trio, who seemed to play not just for their audience, but also as an extension of the serene elements of their surroundings, both organic and immaterial. The trio settled into the first piece with Raine-Reusch blowing a sumpoton—a Sabahan mouth organ with several reed-fitted pipes affixed to a gourd wind chamber. Guy joined on bass with Gustafsson close behind on tenor saxophone, and soon the trio was engaged in a thirty minute improvisation that was as incomprehensible as it was awe inspiring. The unsuspecting audience was taken for a colorful ride that called to Eastern mysticism and the permutations of European free improv alike. As remarkable as the trio played, nothing was more endearing than the way in which music fused with environs. At one point during the set, with Gustafsson taking a soft solo on fluteophone—Gustafsson's creation, a flute outfitted with the mouthpiece of a saxophone—a small group of gulls soared overhead, inspiring a brief burst of call and response between the birds and the reedman. Other pieces featured Raine-Reusch on two fretless Chinese zithers, using fingers, slides, brushes and mallets to extract a mélange of tones and inflections. During the second improvisation, following an excursion colored by straight ethereal tones from each instrument, Guy constructed a weighty solo, moving violently up and down the strings. With intense and concentrated energy, he maintained communication with his stage mates; upon hearing percussive tones from the Chinese zither, Guy began mimicking with mallets on the strings of the double bass. Gustafsson occasionally came alive on baritone saxophone and Guy never failed to push the group into new territory with thoughtful submissions and an against-the-grain idealism that was both commanding and stimulating.

At show's end the audience stirred and reflected. Some attempted to deconstruct the sounds that were experienced, others engaged in the judgmental diarrhetics that so often plague the free jazz crowd—"Wow, that was…well, I don't know. Fantastic." "A perfect match, Randy was amaaaazing." "I don't know if I liked it or not." "…Matt Shipp…No, I don't care for that crowd." But all minds were immediately occupied with getting to the next venue for Steve Lacy, and with what would come of the possibilities in a rare midnight concert at the new and trendy Studio 16.

Steve Lacy appeared at the Vancouver East Cultural Center (more on this venue below) with his regular trio-bassist Jean-Jacques Avenel and drummer John Betsch. Joining the group were trombonist George Lewis and Lacy's wife, vocalist/violinist Irene Aebi. I had heard the trio in Seattle earlier in the year, so it was nice to have the expanded instrumentation. It didn't matter that the set list was nearly identical to that of the Seattle show-the music was extraordinary, and you can't lose having Lewis in the lineup. The group commenced with a reading of my favorite Lacy tune, "The Bath". Lewis took the first solo, his trombone an extension of himself. The solo was colored with multiphonics and excitation before moving slowing into a lazy New Orleans stride.

Following "The Bath" the quintet proceeded into its "Beat Suite", a colloquy that pays tribute to Beat poets through musical interpretation of selected works, with Aebi singing the lyrics as opening and closing heads. The first piece was "Inside My Head", taken from an obscure Robert Creeley poem, which was patterned with various breaks for the roller coaster lead. Lacy took the first solo, vivacious and happy. Lewis followed with something linear, delving into the trombone's low register. He got a chuckle out of the audience, capping off his solo with a traditional Vaudevillian wrap. Aebi began the next tune singing a stanza from Lew Welch's "Ring a Bell". Lacy had a vibrant chromatic solo peppered with high harmonics. Lewis followed, creating huge oscillations with some tremolo blowing while simultaneously employing a plunger mute. The group then performed "Race", with Aebi singing words taken from a newspaper article. It was about this time that I began to get annoyed by the audience's robotic applause after each solo and between numbers. There's something about that tradition that seems intrusive and obligatory. The quintet continued with the suite, and made some dedications along the way. One piece was played in memory of Leroy Vinnegar and Billy Higgins. Lacy "played" Kerouac's "Wave Lover" as a tribute to Art Farmer.

Lacy's killer "Blinks" found its way into the flow of the "Beat Suite", setting Avenel and Betsch ablaze. Finally, the leader showed some restraint by having only one Thelonious Monk tune in his set list. The group delivered a scorching take of "Bye-Ya", an appropriately titled closing number. The music was tasty and the band seemed to have genuinely enjoyed themselves. It was good to experience the subtle theatrics of George Lewis.

The show had me in a good mood and I was ready to do some damage. After Steve Lacy's show I asked my buddy if we were going out for beers. Puzzled, he asked, "Wouldn't you like to go hear Gush?"

"Gush? Hmm…Why does that sound familiar?"

"It's the Swedes. Mats, Raymond Strid and Sten Sandell."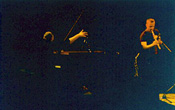 I had known of Gush but never heard their music. Sten Sandell is a commanding pianist who is reminiscent of the Cecil Taylor tradition, but with a discriminating style all his own. And Raymond Strid, the versatile percussionist who has been a fixture in European improv for several years. The three of them-Mats Gustafsson, Sandell and Strid-comprise the Swedish creative trio, Gush, and an appearance in North America was extremely rare.

A midnight concert for the nocturnal was fitting for this group. Studio 16 was packed to the back with a young crowd with a mean age of about twenty-three. Newcomers and seasoned free jazz enthusiasts were scattered throughout the venue.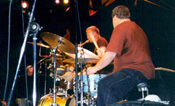 Gush opened with a very stylish Gustafsson blowing and tapping a series of percussives that sounded like distant gunfire. Strid responded spasmodically on the rims of his snare. The mood turned from ambient to galvanized when, beckoning Sandell to join the conversation, Gustafsson arose from a crouched position with a sweeping lateral arc, throwing a beefy tone from one side of the stage to the other. Light, trebly piano riffs began to circulate throughout the venue. The trio set the house on fire. I was intrigued to see a guy of about twenty standing directly in front of Gustafsson. The kid's eyes were closed and his head was bobbing trance-like. When the music pulsed, so did he. He came down with it. And back up again. It's a shame that I couldn't stick around to see if his head exploded. I was tired and my buddy had to get home. But the thirty minutes that I heard of Gush was some of the best time spent in Vancouver that weekend. Sometimes a half-hour is all you need to win a new fan.

—saturday—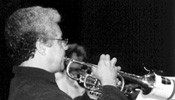 As a taste of exactly what type of modulation the brass section would bring to the Barry Guy New Orchestra, trumpeter Herb Robertson, trombonist Johannes Bauer, and tubaist Per-Åke Holmlander met for a recital of eclectic chamber music in Saturday's early evening. The event took place on the upper floor of the homey Western Front, East Vancouver's multi-cultural venue for electronics and performing arts. The only drawback to the cozy room was the rickety old chairs that Fats Waller ticket holders might once have used. No WD-40 on hand, we circumvented the problem by not moving for an hour. Though the sun had not yet begun to set, the room was dark, save for tactically placed lighting that was centered upon the three musicians.

The concert was given from the platform of dynamic expression rather than as a collective "musical" improvisation. It was more drama than music. One could easily imagine mimes improvising through scenarios and foreign dialogues—each member of the trio frequently choosing from an arsenal of mutes and toys to modify their tones and methods of expression. Much of the performance had Robertson and Bauer taking their instruments to radical extremes, speaking in tongues to one another over the tuba's loose rumblings. Bauer often submitted a vibrato so abrasive that his trombone could have easily been mistaken for a bass sax. In a later segment, Bauer began mumbling in monotone, kicking his head from side to side for inflection and emphasis. This blabbery was delivered softly through a plastic mute, sans instrument, that could be likened to a child's paper party favor. He quickly inserted the mute into the trombone's bell, picking up where he left off in his ramblings, this time through the mouthpiece of his instrument. All eyes were on Bauer; minds wondered if he would begin translating with traditional blowing, or if he had just momentarily gone mad. Metallics erupted from Holmlander's position, fingernails tapping every conduit of his tuba. Then Robertson exploded, shrieking through the high register of his muted trumpet. The trio rearranged the chaos by occasionally playing clean tones, but then quickly returning to derangement. The concert was tied up with a soft detour into traditional sounds, each musician subsiding into reflective silence.

Those who were expecting an appetizer of pensive chamber music were likely disappointed. But those craving the possibilities of impressionistic improv were surely satisfied. You have to wonder what fuels and inspires such musicians to bequeath their audience with gestures so personal and unfamiliar. Johannes Bauer believes simplicity is disguised by drama, "It's the most unintellectual thing you could imagine, really." Hmmm.

With all of the excitement and preoccupation with its coming performance, the Barry Guy New Orchestra had a close rival in a unique double billing. Barry Guy's performing trios are tops among the most innovative and thrilling free jazz groups of the past two decades. Two of these groups played at the Vancouver East Cultural Center on Saturday evening. To fortify the possibilities of both performances, Guy invited pianist Marilyn Crispell-a close friend and vision sharer of Guy's-who has played and recorded with these groups before. But, in keeping with the nature of any project involving Barry Guy, it was difficult to hold expectations.

The "Cultch", as locals know the venue, is a handsome, renovated church located in Vancouver's east side. Its auditorium—a floor section and a lower balcony, all-wood—can compete with the best of them in terms of comfort and atmosphere. Sound circulates freely there, but not to the point of absorption; a good thing, taking in mind the musicians that were aboard.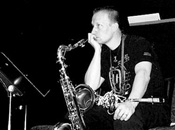 The two groups have surprisingly different sounds, considering the similar instrumentation. The first—Gustafsson, Guy, and percussionist Raymond Strid—is an energetic one, visibly and musically. Gustafsson is a powerful player in any setting, whether alone or alongside saxophonist Ken Vandermark in their mighty AALY Trio. Strid complements the saxophonist's intensity with an uncommon mix of subtlety and aggressive counterpoint—always reading, never drifting. While versed in the same methods of free improvisation as his younger counterpart, Evan Parker's approach is perhaps the ultimate antipode to that of Gustafsson. Where Gustafsson aggressively probes the highest timbres and edgiest depths of his instrument, Parker sounds almost passively scrutinizing. Parker takes his time, appealing to the possibilities of beauty. Both saxophonists also employ circular breathing techniques to wide effect, exposing a multitude of color (Parker) or migratory cacophonies (Gustafsson) along the way. Percussionist Paul Lytton completes the second triad, bringing a shimmery stamp to the nomadic inquiries of the trio.

Slightly altering the one-for-all philosophy that propels these trios into fascinating territory, Guy and Crispell were the common denominator shared by the two groups. That Guy is so closely and effortlessly compatible with both sets of musicians is affirmation of his own far-reaching talent.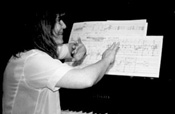 Crispell has found her way into the trios through mutual admiration. She and Guy have worked together on many occasions and share a deep fondness for each other's work. From his own experience, Guy is fond of the strength that the pianist can bring to any performance, "With Marilyn joining both trios…you get different inflections and a different focus according to the way the group dynamic works." Having any pianist aboard with these two trios is an exercise in both trust and potential.

Gustafsson/Crispell/Guy/Strid began their set with an airy bass and sax duet. Hints of themes surfaced initially, only to quickly disappear, with one or two remnant notes circulating around the stage. The set was off on a hobbled foot as each musician tried to attenuate to the sound environment and the dynamics of the venue. Gustafsson had the first searing solo. Flailing wildly about with his tenor, he built upon fragments set forth by the bass, Strid crashing asynchronously behind him. Sax and drums connected for a cochlear resonance that elevated the stage even as Guy and Crispell contributed weight, hammering furiously into their instruments. The collective became noise that refused to abate.

The music subsided only after Gustafsson must have needed a rest. The saxophonist dominated the majority of the set, seeming to care for progression only when he was blowing. Perhaps he had something to prove for some jokester who, between numbers, requested that the group play a Cramps tune, referring to Gustafsson's black T-shirt bearing the band's name. Later in a separate piece, when Crispell's turn for a solo came, she re-entered delicately by toying with the keys, but it was in vain. Her piano was miked poorly, and Gustafsson added to that frustration, allowing little space for her to move. But the music was still contagious, even with mediocre sound that the mixman was never able to perfect.

Following a brief intermission (and a couple of beers), Parker/Crispell/Guy/Lytton came to the stage. The ensemble that has recently come to be recognized as the "After Appleby" group—after a performance of the same name on Leo Records—had me reeling with anticipation. I have become a rabid fan of Parker's over the past year, and this night was my first to hear him live.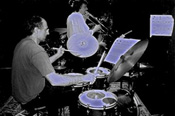 Parker opened with one of his trademark soprano saxophone solos, circular breathing the entire way. His sounds came from the middle register of his instrument with spotty excursions into the higher spectrum. He stood immovable before us, anticipating the entry of his stagemates. Lytton came first. The saxophone arpeggios were soon enveloped in crashes and high-end shimmers, carefully selected from Lytton's percussion warehouse. Crispell came aboard on the high keys, followed by Guy, and then ascension. The band flawlessly connected as a single, sonorous unit for a good ten minutes of spectacular improv.

Each musician had ample solo space, and the solos bordered on majestic. Lytton and Crispell combined for a fragile three minutes that were easily the highlight of the set. When Parker put down his soprano, it was as if he never came back. He and Guy made eye contact, and soon the saxophonist was wielding the tenor. He came in with brief bursts, followed by a series of circular riffs, and then stopped. Parker began to pace the stage as if he was searching for just the right vantage point to reenter with more music. He tried two, maybe three times to join the collective and then bowed out for an extended time, resolving to stand at the side of the stage. If anything was wrong, it was not obvious to me. The mix was considerably better for this group and Crispell seemed to be only distracted by Parker's lack of enthusiasm.

The quartet continued to play for forty minutes or so, and Parker eventually found his entry point. The performers were unexciting for the most part (the exception was Guy, who was on fire the entire night), but the music had plenty of captivating moments. I experienced a few brief episodes of goosebumps during the eighty minutes that they played. And that is all that mattered.

—sunday—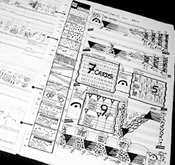 As exciting as the previous concerts were, the Barry Guy New Orchestra was easily the favorite. The Cultch's stage was spectacular. Paul Lytton and Raymond Strid's drum kits were nestled neatly in the back, their percussion equipment strewn about the floor as if a four-year-old had just had his way with a roomful of toys. In front of Lytton (left) was Herb Robertson's trumpet seat and Bauer and Holmlander were forward of Strid (right). Crispell was extreme left and Swiss multi-instrumentalist Hans Koch was at extreme right with soprano saxophone, bass clarinet and the cumbersome contrabass clarinet. Evan Parker and Mats Gustafsson were forward of the brass and Barry Guy's conductor's platform was front-center. While anticipating the performance, many concertgoers were transfixed on the complex sheet music at the piano, a system of classic notation interspersed with cryptic diagrams and sketches.

When Guy appeared on stage it was like a release among the audience. Many of the faces were familiar, having attended all of the group's fledgling shows throughout the weekend, and were in deep anticipation to hear the New Orchestra. Guy announced his orchestra, its intentions, and then positioned himself at the conductor's stand.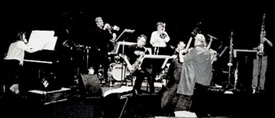 The concert was divided into two sets. The opening set was a forty minute reading of a single movement from Guy's own "Nasca Lines", a multi-part piece originally written for an orchestra of twenty-three. The orchestra then followed an intermission with "Inscape-Tableaux", the music from Guy's record released earlier this year on Intakt.

The music for "Nasca Lines" was inspired by the mysterious geoglyphs permanently etched into Peru's coastal desert. The markings are thought to have served a purpose similar to that of the Pyramids—mysterious because of their construction to be appreciated from above, 1500 years before airplanes. The music is traditionally sequenced; however, at certain points the charts direct selected musicians to improvise by randomly selecting from 16 "cards" in the margin of the sheet music. The "cards" were a series of spatial and directional diagrams. For instance, one card was dotted with a series of "down" arrows, indicating to the improviser that he/she was to launch a sequence of low stabs on his/her instrument. Another had stars and moons, suggesting that ambience should be achieved…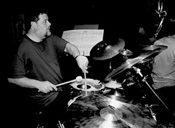 The performance was quite climactic. Each soloist had plenty of room to contribute. It was most intriguing when the improvisation sections were carried by predetermined clusters of musicians, rather than by a single soloist. This required a segregated trio or quartet to be attuned to itself, all the while being attentive to the written parts being played simultaneously by the remainder of the orchestra. An interesting moment featured Bauer, Guy, and Strid improvising off of "cards". Bauer took a memorable trombone solo that was interweaved with raucous bass sounds. The group was both rousing and quiescent, intricately layered over a slow wave of moods ranging from energetic to melancholy. The final five minutes were a rarefraction of increasingly quieted swells. We were on the edge of our seats waiting for an explosion, but Guy was fixed on bringing the orchestra down to calming inertia. The brass billowed softly while Crispell generated delicate assonant lines, at pace with the conductor's lazy cadence. The last notes came from the collective, spiced with a final symphonious chord from the piano.

Following the intermission the orchestra played "Inscape-Tableaux" in its seventy-minute entirety. The composed areas were delivered note for note, splattered with fresh improv that was perfectly executed by the orchestra. "Inscape-Tableaux" began with a piercing thrust. Johansson followed with a ragged line on trombone, and we were off. Strid, insatiable with his array of percussion gadgets, cauterized an improvised progression between Parker (soprano), Holmlander and Crispell. He tapped away at the rims of his toms while reaching for bell cymbals to place upon available drumheads, which resulted in some very industrial sounds. Gustafsson then appeared to have lost his mind on tenor, standing, kneeling, leg muting, sweeping, and all the while unaware of the veins protruding from his neck and forehead. He spat. Lytton surged. The other members played patiently and intelligently behind him, following the charts with apparent precision. Gustafsson returned to madness. Guy sawed away at his bass. Then [snap!] Crispell and Parker came in, the pianist riffing furiously alongside the soprano sax. Robertson announced his presence. Upon reaching a collective crescendo Guy holstered the intensity, segueing into some serious jazz tradition, leaking some repressed affinity for Gil Evans. The orchestra continued to play the music as it was originally realized, including a lengthy, heart-stopping middle section written exclusively for Crispell.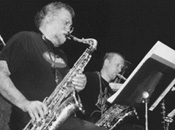 Somewhere during the second half of the piece, Guy gave Gustafsson an executive officer role as second conductor. Guy continued his duties, playing and directing composed sections for the left half of the orchestra—Crispell, Lytton, Robertson, Parker, and himself. Gustafsson cased his baritone sax, swung around, and theatrically began to conduct, improvising, the right half—Bauer, Holmlander, Strid and Koch (bass and contrabass clarinet). He motioned randomly for swells, stops, cutouts, and tremolos. Interestingly, he began to hold up index cards. He grabbed one with a big, written "S" and held it in the face of Bauer, cueing him. Bauer erupted with a huge sine wave that went from the upper to low register on his trombone. Then Gustafsson flashed a card with disordered "up" arrows all over it to each of the horns. High stabs followed (see where this is going?). He was joyous to watch, full of energy, and remarkably tuned in to Guy's half while directing his own. Toward the end of the piece, a superb duet between Guy and Crispell duet went off perfectly, given a complicated slow tempo. Hans Koch joined the duet on contrabass clarinet, following scraps of the lead and improvising as directed.

"Inscape-Tableaux" ended as it had begun: collectively. The final ten minutes featured each musician with spurious solos, pulling from the written material and adding further to it. The orchestra came together on a final climactic note, on a dime. The audience exploded and so did I. The music was incredibly smart and the performance was infectious, especially considering how fragile it was. The vulnerability was not so much in the performance of a single musician, or how well that player could add to the material within allotted free space, but in the simple act of a missed cue, or discoloring the progressions with a sour note. It went off without a hitch.

Having spent the last several months with the music of the Barry Guy New Orchestra, live and captured, I can conclude that Guy has set a new precedent for how music can be approached, perhaps beyond what he has established with the LJCO. Only ten musicians large, the sound of this orchestra is thick. Small groups would do well to take elements of what he has achieved and make it their own. Which is what jazz is about, right?

As wonderful as the music was, I have to mention how easily it could have turned out otherwise. Of course all of the musicians showed up for their respective gigs. A good thing. But one thing I noticed was how well the succession of concerts was organized. Getting to and from a venue was never a problem, and there was always plenty of time to settle in before the music began. Obviously the music I heard was catered to a certain audience. Most listeners attended like shows, and no one could have had a valid gripe about the coordination of the gigs. It was flawless. I'd venture to guess that there was a continuous stream of communication between venues to complement some serious, effective planning. My only complaint is that I couldn't have stayed longer. Sten Sandell's trio played the following night. Later in the week Vancouver heard Tim Berne's Hard Cell, Ellery Eskelin with Parkins and Black, Dave Douglas' New Quintet, Louis Sclavis, Emmylou Harris, and the Uri Caine Trio. I'll just have to budget better for next year.