Eugene Chadbourne & Paul Lovens
Houston TX, 7 October 2000


Eugene Chadbourne and Paul Lovens included Houston as one of their stops on a 15-concert fall tour. The duo performed at MECA, an inner-city educational institution for music and arts that is quickly getting a reputation for being a prime source for hearing improvised music. These two artists may seem to make strange bedfellows, and indeed the type of music that evolved during the two sets reaffirmed that perception.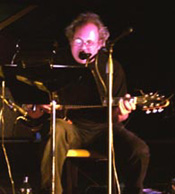 Chadbourne has had a longstanding love affair with Country & Western music, and he has been incorporating this style regularly into his recent performances. On this night, Chadbourne walked the tightrope between the freely improvised music for which he is more noted and the lyrical popular song form, which he turned into unique Western-sounding ditties with his twangy voice. He opened the program playing finely spun improvisations by exercising the guitar strings in a frenzied display of energy. His sounds ranged from high-pitched shrieks to basement level thumps, providing electrified excitement through his exceptional fingering and visual maneuvering. However, these moments were always abruptly transformed into vocal sequences where he sang and played in C&W fashion. Old standards such as "Everything Happens to Me" and "Sometimes I'm Happy" received the same treatment as the numerous country songs and novelty verses that rolled off his tongue so effortlessly. Even the Jobim samba classic "Corcovado" had a country tinge.

Interestingly, Chadbourne also excelled in the freeform arena when he switched to banjo. This instrument with its long history of identity with folk music was a stimulating improvising tool in the hands of Chadbourne, who showed great dexterity and originality in strumming at breakneck speed. He eked out eerie tones and wild runs from these unlikely strings. Nevertheless, the vocal segment was always the anticipated next phase, and he predictably reverted to mountain music and homespun country tunes that now seemed more appropriate with the banjo.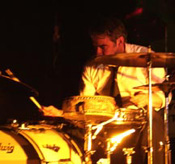 Lovens is an amazing drummer. This automobile tour allowed him his first exposure to Texas, giving fans in this part of the country a rare opportunity to see the fine German percussionist. He is a very unassuming man who calmly sits down at his kit and proceeds to make challenging arrhythmic music. He concentrated on two small leather-bound snare drums with unusual tonal qualities, and he massaged and tinkered to produce all sorts of percussive effects as Chadbourne played and sang. The most striking observation I made, however, was that he was not a co-leader with Chadbourne. Throughout the two sets, he allowed Chadbourne to take the lead. He listened intently to what Chadbourne was doing and supplied freeform, unstructured rhythm patterns that were at times at odds with but always complementary to the musical direction Chadbourne dictated. Lovens is fun to watch. He is all over his drums but in a very subtle way. He is not demonstrative but instead produces improvised drumming without appearing flamboyant. He quietly goes about his business, and the result is percussion with a high level of creativity.

Chadbourne and Lovens put on a show that pleased the crowd, but it did not provide enough substance for lovers of instrumental improvised music. The hybrid performance had its moments, but mainly it was a platform from which Chadbourne could indulge his eclectic spirit.