The Art Of The Trumpeter : Commentary On The Music Of Rob Blakeslee



The world of jazz has been dominated by the saxophone for most of the twentieth century's second half. Yes, Miles, Dizzy, and a host of other significant trumpet players have left their indelible mark on this wonderful art form with their enormous contributions; however, it has been much more difficult for the brass players to capture the imagination of the jazz fan when the competition from those playing woodwinds has been so enormous.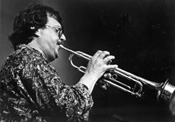 One trumpeter who has been fighting this uphill battle for 30 years and who has produced a small but excellent body of work is Rob Blakeslee. He started his career on the West Coast in 1970 and migrated from there to Dallas, Texas in 1983 after having gotten exposure to the international jazz scene through several tours in Europe. In Dallas with Dennis Gonzales and his Daagnim label, he experienced his initial recording opportunities, including his first as a leader titled 2100 New Orleans. Thereafter in 1987, he settled in Portland, Oregon where he juggled a playing career with the teaching profession as Director of Jazz Ensembles at Oregon State University through 1996. It was this return to the West Coast and the associations that ensued that proved the most fruitful. Blakeslee performed with the Northwest Creative Orchestra in 1989 on the ambitious Anthony Braxton recording Eugene on Black Saint. He was reunited with Vinny Golia, whom he first met and sat in with in Austin, Texas in 1986, and thereafter appeared on several Nine Winds releases with the multi-reed player. Out of that union came three notable Nine Winds recordings under his name, followed by his widely acclaimed release on Louie Records.

My first live exposure to Blakeslee occurred in 1999 in Antwerp, Belgium while he was on tour with Golia doing their tribute to John Carter. It was a memorable evening filled with happiness from the music and sadness over the loss of Carter, a man who was so poignantly in tune with the beauty on this earth yet so vividly aware of its ugliness.

Here are a few comments on Rob Blakeslee's most recent recordings as a leader:



Lifeline, Blakeslee's initial Nine Winds release as a leader is an amazing collaborative effort. It includes Vinny Golia on baritone, soprano, wood flute, and bass clarinet as a foil for Blakeslee's probing trumpet style. Tad Weed is the pianist, Ken Filiano the bassist, and Billy Mintz the drummer. The recording is dedicated to the memory of pianist Richard Grossman, another unsung hero who posthumously is commanding much attention. The magical qualities of Lifeline would certainly have pleased Grossman. The recording builds through controlled tension, moving with ease from structured openings to freeform intensity. There is a constant outpouring of creativity from Blakeslee. It seems to gush from his horn in huge gulps. His tone is fluid and flowing, yet he switches effortlessly into segments with jagged edges that seem to ignite the performance. He is a master at inserting the unexpected. His lines intertwine with Golia's as they bounce ideas off each other. Blakeslee's high-end trumpet counteracts with the lows from Golia's baritone and bass clarinet to provide intricate sonic contrasts. The fully motivating playing of Weed, Filiano, and Mintz adds a wealth of richness to the set that never ceases to challenge with its complexly woven fabric. Blakeslee set a standard with this release that marked him as a trumpeter with great composing skills but more importantly, a player who could take that framework and transform it into intriguing improvised dynamics.



For his second Nine Winds recording, Long Narrows, Rob Blakeslee again asked Tad Weed and Vinny Golia (this time on soprano sax, Bb and bass clarinet) to join him. Michael Bisio took over the bass role, and Bob Meyer sat in the drummer's chair. As on Lifeline, this date has a comparable amount of intensity and power. Blakeslee and Golia jointly put on a fierce display of collective eruptiveness with ensemble parts that launch the individual solo efforts. The song structures have a mesmerizing quality from which each band member springs into complex individualized improvisations. Blakeslee again mixes his approach, pouring out smoothly flowing lines or using broken, near staccato blurts with Weed pushing with power statements of his own. Golia also soars on high with involved prodding by Weed. Weed is quite commanding on piano. You can hear in his playing soft undercurrents of acknowledgement to Horace Tapscott, another West Coast giant who failed to receive full recognition during his time on this earth. The title song displays very convincingly the authority with which Blakeslee plays. He opens by reaching ultra-sonic heights while Bisio drones out dense rounds of arco tension. The interplay is extremely involved. The music maintains its elaborately dense posture with Golia's striking soprano solo and the ensuing delicately laced cooperative when Blakeslee reenters. All these songs have character, and each becomes a potent potion in the hands of this quintet.



Spirit Of The Times, Blakeslee's third leadership outing on Nine Winds reunites him with his Lifeline rhythm team of bassist Ken Filiano and drummer Billy Mintz. His sidekick, Vinny Golia, is also on board playing Bb and bass clarinet exclusively. Although the previous two recordings included the piano, Spirit of the Times does not. The quartet maintains a constant degree of pressure to keep the music moving despite not having the drive that came from Weed. The kindred spiritualism between Blakeslee and Golia jumps out from the opening lines. They intertwine yards of textured thread that blur the line between theme and improvisation. When the full quartet enters, the momentum builds to peak levels with personalized statements that wed in forming beautifully sounding collective speech. Golia plays with a combination of fervor and fury. His solos rise to ecstatic highs, typically being prefaced by invigorating statements from Blakeslee. Filiano and Mintz form an exceptional team. Filiano's spurring tactics are on display throughout the recording. His arco solo on the second tune with drum accompaniment by Mintz is a concert all to itself. The astounding communication between Blakeslee and Golia, however, is the most absorbing element of this emotionally charged album. Their expressions breed off each other and expand in multiple layers of excitement. They are in tune with each other's inner thoughts, and the resulting energy that flows from each is full testament.



For the recently released Waterloo Ice House, Blakeslee ventured to Louie Records. Rich Halley plays tenor, Clyde Reed is the bassist and Dave Storrs is the drummer. The music has many contrasts, not only because Blakeslee's entire team changed. The recording is full of brooding, intense feelings. Darker images constantly emerge, and the interplay between Blakeslee and Halley is considerably different from that with Golia. Blakeslee becomes a probing, searching soul wandering through a maze of intertwined emotions, while Halley interjects caustic statements that add to the weightiness of the program. The atmosphere is kinetic, not from resounding solos that sing out with exuberance but from restless expressions that suggest loneliness and solitude. The lines are considerably more broken, instilling the session with a foreboding aura. Blakeslee's compositions are again gems of opportunity to allow the artists their individualized interpretation. Reed does a superb job of setting the heavy tones with dense passages that convey these ground rules, and Storrs adds shading and subtlety with his discreet patterns. Halley conveys a sense of anger in his playing, which further alters the course and stamps such a recognizable change on Blakeslee's music. This recording with its altered tack further substantiates the wide-ranging talent of Blakeslee both from a compositional and improvisational stance. Combined with the other releases, Blakeslee has put forth a quartet of recordings that should establish him as a trumpeter willing and able to challenge the saxophone's dominance on improvised music.

Rob Blakeslee's most recent quartet endeavor is also on Louie Records and features a twist in presentation by matching him with trombonist Michael Vlatkovich along with bassist Reed and drummer Storrs. I have heard an advance copy, which is titled Last Minute Gifts, and this equally exciting performance matches the excellence of his other recordings. It is scheduled for release in early 2001.