35 Years Of Great Black Music : Delmark's AACM Anniversary Reissues


The story of the development and institutionalization of the Association for the Advancement of Creative Musicians (AACM) is well-known to most followers of the more experimental corners of jazz history. Founded as an extension of pianist Muhal Richard Abrams' "Experimental Band" project, which sought to combat the lack of opportunities for forward-thinking musicians in mid-1960s Chicago, the AACM has endured for over three decades as a prominent musical and social force in Chicago and throughout the world.

In fact, the original goal of the meetings that evolved into the AACM looked to remedy the situation of African American musicians in general in the wake of the city's desegregation of the musicians' unions—a misleading victory of the Civil Rights movement that actually resulted in a loss of jobs as the non-Black union members, who were given first priority for gigs, earned the ability to cross into the once-forbidden neighborhoods on Chicago's south side. Upon its recognition as an official cooperative organization by the State of Illinois in May 1965, the AACM embarked on an ambitious journey to both expose the South Side's predominantly African American residents to their decidedly non-commercial music and to help them reach a better understanding of their heritage through a myriad of educational programs.

In retrospect, it seems difficult to conceive of anyone premeditating the impact the AACM would have on the face of jazz and other creative music. However Bob Koester, owner of the still-fledgling Delmark blues label, refused to balk at the chance to preserve the collective's activities after being hipped to their existence by his associates Terry Martin and Chuck Nessa. Koester offered saxophonist Roscoe Mitchell a recording date—which resulted in his Sextet's declarative AACM masterpiece Sound—and the rest is, as they say, history.

To celebrate the organization's 35th anniversary, Delmark has reissued their three remaining AACM recordings on CD along with a retrospective of early and previously unreleased material by trumpeter Malachi Thompson—effectively making available the final pieces of the collective's initial history. Kalaparusha Maurice McIntyre's Humility in the Light of the Creator, Anthony Braxton's For Alto and Muhal Richard Abrams' Things To Come From Those Now Gone fill in the last holes of the original members' hometown production, giving a more complete picture of the AACM's aesthetic before several of its members' permanent relocations to points across the globe.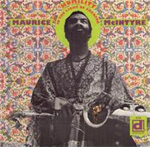 The earliest of these sessions, Humility in the Light of the Creator, represents the first recording as a leader of (soon-to-be Kalaparusha) Maurice McIntyre, a tenor saxophonist and clarinetist who had previously breathed some necessary fire into the spatial explorations of Roscoe Mitchell's Sound. The session is split into two side-long suites with slightly different personnel: "Suite: Ensemble Love"—which features the wordless vocals of George Hines out front with McIntyre over a two-bassist, two-drummer rhythm section—and "Suite: Ensemble Fate"—which replaces Hines with trumpet, soprano sax and piano to achieve an unbelievably huge ensemble sound. Each configuration has its merits—whether in "Ensemble Love"'s pounding jungle of sub-Saharan dreamscapes (see "Kacb Emoh") and appropriately humble melodies that swell into subdued, yet burning climaxes (see "Humility in the Light…"), or in "Ensemble Fate"'s more cohesive, blissfully skyward-bound collectivity.

McIntyre would go on to become one of the AACM's most underground legends, recording only a handful of dates as a leader (including another for Delmark—Forces and Feelings) before disappearing for most of the 80s and 90s. His late 90s resurfacing in Bright Moments (see Return of the Lost Tribe, also on Delmark) and as a leader (on CIMP's Dream of ----) proved that neither age nor a lack of opportunities had tempered his gruffly ecstatic improvisations.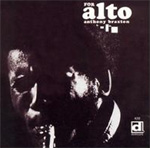 Anthony Braxton's For Alto is perhaps best known as the record that sprouted the now-prevalent genre of solo saxophone recordings. Solo performance was a tenet of the AACM philosophy from the outset—the idea being that anyone who could produce an interesting and coherent musical statement without the interaction of others would only be that much stronger a player in an ensemble setting. However, Braxton was the first member to put forth any solo work, collecting a series of home recordings for the second Delmark release under his name. As fantastically raw as many of the legendary ESP-Disk sessions that helped to document the New York free jazz scene of the 60s, For Alto is important not only for its lo-fi utilitarianism, but also for its revealing glimpse into the early stages of Braxton's development as a composer.

While it's impossible to escape an acknowledgment of Braxton's instrumental abilities, especially in the context of his introduction of extended techniques that would be subsequently embraced by the architects of the European improv movement, the coherency of his compositional framework in such a minimal setting proves to be the disc's most impressive trait. From the brutal intensity of "To Composer John Cage" (an odd tribute to someone notorious for working with silence) to the cyclical repetitions of "Dedicated to Ann and Peter Allen" and "Dedicated to multi-instrumentalist Leroy Jenkins" to the iconoclastic swing of "To pianist Cecil Taylor", Braxton creates a program of meticulously constructed patterns and dynamic tensions that foreshadow his more bombastic larger ensemble work of the 70s and 80s. To be sure, there are moments throughout the double LP-length disc that are difficult to endure due either to sound quality or just plain overextension, but the disc's historical relevance far outweighs any minor criticisms.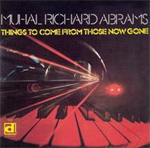 Things To Come From Those Now Gone can possibly be taken as a kiss goodbye from the AACM's first president to his hometown. Even though Muhal Richard Abrams was one of the few core members to stay when most expatriated to Paris in late 1969, he did permanently leave Chicago for New York City in the mid-70s. Reflected through nostalgia-tinged song titles like "Things To Come From Those Now Gone", "In Retrospect" and "March of the Transients", this disc prefigures Abrams' imminent departure with a collection of small group pieces that feature a revolving cast of comrades.

Due to the shifting personnel, it's difficult to nail down a particular mood for the session, perhaps indicative of an uncertainty on Abrams' part as to which compositional road he intended to follow next. The moods, particularly in the five short pieces that comprise the first half, range from austere ("Ballad For New Souls", "How Are You", "Ballad For Old Souls") to energetic ("Things To Come…" and "In Retrospect") without seeming to fully commit to either. The second half's longer pieces are slightly more fleshed-out than their predecessors: "1 and 4 Plus 2 and 7" finds Abrams concocting Sun Ra-like synthesizer space chords and radar waves under the blessings of Steve McCall's minimal percussive accents and "March of the Transients" captures the telltale elements of what would become Abrams' signature compositional style—jittery angles merged with uptempo rhythm, executed with impeccable precision.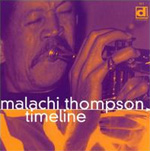 Malachi Thompson's Timeline is both the oddest and most patched together release of the reissue batch. Compiling material that represents 16 years of the trumpeter's career, the disc proves to be a bit inconsistent in the end analysis. The earliest pieces show an electric-based sound that flirts with soul jazz and fusion without compromising its bop integrity—the most curious results being "The Ali Shuffle", a boogie-down blues groove complete with handclaps and chanted group vocals in tribute to Muhammad Ali. However, the later tracks offer some truly bright moments—like the freebop (a term coined by Thompson) call and response of "They Stole Einstein's Brain" and the high-energy, militaristic tensions of "Ghost Guest". Although Thompson is a minor figure in the AACM legacy in comparison with McIntyre, Braxton and Abrams, his eclectic sensibilities demonstrate just how far-reaching a scope the organization embraces.

Fortunately, Delmark didn't stop recording AACM artists when the collective's first chapter came to a close; in fact, the label has been and continues to be one of the most consistent sources for AACM music in the world. But, as these reissues testify, the still-independent label was there from the very beginning—charting the AACM's innovative course nearly every step of the way.