String Trio Of New York w/Oliver Lake
Houston TX, 24 January 2000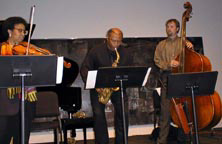 When you couple stellar jazz musicians and an exceptional venue, the likelihood of an outstanding performance is enhanced. At the prestigious Menil Collection, a Houston gallery housing an abundance of art from antiquity, the Byzantine world, tribal cultures, and the twentieth century, Oliver Lake joined the String Trio of New York in providing a classically schooled audience with an opportunity to hear what the creative music world is all about. Presented by Da Camera of Houston, an organization that mainly sponsors classical programs but dabbles in the fringe world of jazz, the concert showcased the master alto player Lake interacting with the sometimes precise, sometimes groovy String Trio comprised of bassist John Lindberg, guitarist James Emery, and violinist Diane Monroe. The String Trio has been a pet project for Lindberg and Emery since its initial venture into chamber jazz in 1977. The concept has had longevity even though the violin position has changed from original member Billy Bang through Charles Burnham, Regina Carter, Mark Feldman, and now Monroe, who has made her presence known as first violinist with Maxine Roach's Uptown String Quartet. Each violinist has approached his or her role in the String Trio differently while integrating with the concepts of Lindberg and Emery, yet the results have always been unique and the music quality excellent. This version is no exception.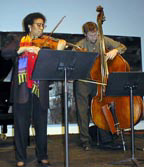 The String Trio opened the program with a Monroe composition that contained African rhythm influences and the solid beat to allow the group to loosen up the audience. Monroe is a sensitive violinist who shuns flashiness to concentrate on driving, energetic music. She is melodic yet free, unassumingly adding depth and quality to the trio's output. The group continued with a Lindberg piece that was near classical in construction with multiple movements, yet it always reverted to the strong theme statement. Lindberg is a complex composer and an even more complex bass player whose tones resonate with deep feeling. Monroe soloed in spirited fashion while Emery displayed his substantial talent for delivering sparkling rhythm or robust improvisation. Enter Lake, looking solemn and priestly in all-black attire. The four moved gently into a space-filled composition with Lake spieling out his recognizable staccato blasts in the high register while the String Trio advanced the tune from its classical structure to one with down home roots. Lake and Lindberg engaged in a duet that found the bassist soloing off the theme by wielding guitar-like strums, while Lake kept the spirits rising with robust playing on the curved soprano. Da Camera Artistic Director and classical pianist Sarah Rothenberg then joined Lake in another duet of structured/unstructured music. Lake used his fluttering blowing technique along with key clicking to soar above the Ravel movement while Rothenberg played interruptive and totally composed piano.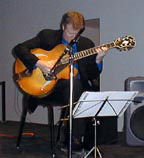 After the intermission, the String Trio returned to do two memorable selections. Mingus'"Pithecanthropus Erectus", with all the dynamics inherent in the tune's structure, was a perfect vehicle for Emery to break out with swinging, singing strings. They followed with an absolutely gorgeous version of Duke Ellington's infrequently played "Heaven". Lindberg showed both strength and sensitivity on the hush-toned ballad. Lake rejoined the party, playing the curved soprano again in duet with Emery, producing high-pitched interaction. All performers joined in on the finale on Emery's "Standing on a Whale Fishing for Minnows". Broken lines and uneven rhythms marked the song that rose to collective cacophony to end the program.

The immense and highly visible modern art abstraction by Robert Rauschenberg was a fitting backdrop for this concert of tangible and abstract music. Lake and the String Trio excelled at their craft, and the classical artist Rothenberg found a common ground for participation. Together they formed a bond of music pleasing to all.