FLASHBACK #01
Solo Now! : Rio de Janeiro BRAZIL, 26 June 1976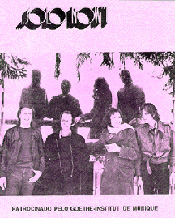 During 1974 to 1976, I was living in Rio de Janeiro while working for U S Steel Corporation. Besides being surrounded by the wonderful sounds of the samba, I had opportunities to see touring jazz musicians who found Rio a haven for creative expression. One such experience involved four stellar Europeans who performed as soloists and in various collective configurations. I recently uncovered my documentation of the concert and realized how vital their contributions were to the development of creative music. Although the music was performed 24 years ago, it remains a fresh memory in my mind through these notes. Each of the musicians has continued the development of the music in the ensuing decades. My original text and photos (attributed to Funk and Ruthardt) from the concert program are presented below:
Albert Mangelsdorff Trombone
Gunter Hampel Vibraphone, Flute, Bass Clarinet
Joachim Kühn Piano
Pierre Favre Drums, Percussion
Europe invaded Rio de Janeiro on June 26, 1976, and the results were truly outstanding. Albert Mangelsdorff, Gunter Hampel, Joachim Kühn, and Pierre Favre presented their Solo Now concert of solo, duet, and quartet playing that gave this Latin American city a taste of some fantastic new music.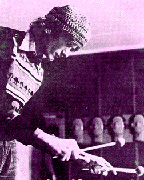 The program at the Sala Cecilia Meirelles opened with Gunter Hampel playing a vibe solo that quickly warmed up the audience and gave promise of what was to come. Hampel's virtuosity was quite evident as he played with a combination of technical wizardry and intelligent creativity. Hampel next picked up his flute and turned this instrument as well into a percussion tool as he combined his blowing, spitting, and whistling manner with non-blowing where only the clanking of the keys was audible. As if to show that this was not the extent of his talent, he then soloed on bass clarinet and displayed an awesome range from guttural low tones to high-pitched squeaks. Hampel was on stage for about 35 minutes, including a return to the vibes for another solo, and then he turned the program over to Pierre Favre.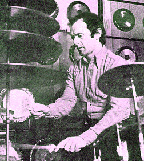 Favre's setup was overwhelming. Besides his normal drum alignment, he was totally surrounded by more than 40 cymbals of varying size, several large gongs, and an assortment of small gongs, bells, and other percussion instruments that completely hid all but his face from the audience. Beginning with a drum solo and then proceeding to make music with each of the percussion instruments, he put on a demonstration that would even make believers out of drum solo haters. Using two bass bows, he massaged the cymbals to produce eerie sound effects, then used various metal cups to capture and reverberate the sound to the true delight of the audience. Favre appeared as a jack-in-the-box as he played the instruments in back of him, on his right, left, above and below while jumping up and down amid a barrage of sound.

After this forty-minute display, Hampel returned to the stage to participate in a bass clarinet/percussion duet with Favre. The communication between the two was very sensitive and indicated the awareness each had for the other's efforts. By now, over one and a half-hours of music had been played, and the two called for an intermission. Favre, in announcing the break, asked what language would be preferred and volunteered to use Spanish, Italian, French, German, or English. However, since Portuguese is the native language, he proceeded to tell the audience of his appreciation of their response in sign language. He communicated with everybody.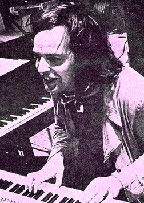 After intermission, Joachim Kühn entered to give us a stimulating and provocative piano solo that was reminiscent of Jarrett's efforts. He literally had the audience spellbound, particularly on John Coltrane's "Welcome". Kühn displayed a dexterity and sensitivity that caused you to forget about time and just drift into the music. He varied the mood, tempo, pitch and range continually while building up the audience and releasing them. He created an excitement that was totally appreciated, even though Rio has a Latin music reputation. Clad in silk skin tights, an undershirt, and being barefoot evoked a physical sense that was almost at odds with the beauty of his playing. Three extended pieces were presented, after which Kühn introduced Albert Mangelsdorff.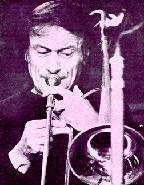 Mangelsdorff's trombone solo had to be seen as well as heard to be believed. The guttural tones and higher pitches he coaxed from the horn were spooky, and the physical effort he put into it was evident from the fatigued expression on his face. He played the entire range of his horn on several pieces, which were mostly original tunes, and Rio caught a glimpse of a master musician at work. He commanded such rapt attention that the shutter sounds from camera bugs were annoying to Mangelsdorff. His music required the total attention of himself as well as the audience and even these small distractions could break the trance. After his dazzling unstructured solo performance, Mangelsdorff invited Kühn back on stage. The two of them performed in duet, with Mangelsdorff issuing bleats and staccato interjections to Kühn's fluid style.

Well, after having sampled the solo and duet fare, the audience was ready to hear these masters "conjunto". Hampel and Favre joined the others on stage, and the four soloists showed their group awareness in an extended free blowing session. Hampel again was on bass clarinet. The free-form piece built to an incredibly high pitch, and the delightful agony could be seen on the facial expressions of the performers. Even though the musicians were visibly exhausted, the audience was not and demanded one more contribution. The group returned for one last piece that began with freeform blowing and then returned to more structured surroundings to close the evening.

This time, both the musicians and the audience were enervated. It is difficult to believe that so much good music flowed from a performance of mainly solo pieces, but the full house crowd that included standees and aisle sitters was made believers.

Rio was one of the last stops of the Solo Now tour that began in New York and Montreal and then hit virtually every major Latin American city before the close of the tour in Lisbon. MPS records announced in the program the making of a recording featuring the highlights of the tour. Naturally, it is to be titled Solo Now. If the album captures only half of the excitement that these four men generated, it will be a standout.