Matthew Shipp & William Parker
Houston TX, 4 February 2000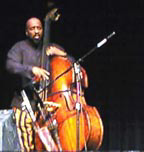 Performing arts center Diverse Works and radio station KTRU at Rice University jointly presented pianist Matthew Shipp and bassist William Parker in concert on the Rice campus. These two instant composers moved effortlessly through two sets of open-ended improvisation coupled with totally reshaped compositional material. Shipp can be deceptively melodic while exploring the far reaches of his piano, and that trait emerged immediately as he aggressively opened at a brisk pace with heavy concentration on the lower register. To set the stage, Shipp used ripples of notes that developed into clusters of broken and bombastic statements of authority. He accelerated his pace using an overlapping hand technique to strike randomly at high notes and then retreat to the bottom keys to sustain a sense of brooding weightiness. Parker, always the dynamo, matched Shipp's aggressiveness by furiously exercising the bass strings in thunderous consort with Shipp. His speed and agility powered the extended opening segment of this set-long collage of sound.

Without notice, Shipp converted his attack into serene musings to allow Parker to be featured, and then they varied the direction by gliding into a most unusual version of "Autumn Leaves". Done in block structure with dense tonality, Shipp created a mesmerizing drone around the very well disguised melody line. He was overly percussive and emphatic in contrast to the sprightly approach by Parker. This signaled a change for Parker, who created a symphony of bowed intensity. He delivered a wild and long-lined arco solo while deftly manipulating the strings in pizzicato style with his left hand—all based on a very loose interpretation of the theme line from "Autumn Leaves". The stabbing blows of Shipp continued to focus on the deeper notes until he segued into the children's song "Frère Jacques". There was nothing childish, however, about his thunderous statement of the theme and the wild variations thereon. This less than lighthearted melody line closed the first set.



The second set followed a similar format. Shipp worked over a given grouping of notes to drain out every ounce of tonality from his piano while Parker worked himself into a trance with his resonant musings. Ellington suddenly became the center of attraction. "Take the A Train" was the vehicle, and Shipp and Parker were the dual engineers who scurried over the tracks in runaway fashion, always managing to insert one or two theme notes to maintain the delicate balance between their improvisations and the melody. Shipp moved into a motif of repeated dark phrases while Parker matched the mood with a sweeping arco solo using a four-note theme produced with long bowed lines. He played with violin-like virtuosity as the program wound down.

Both men were at the top of their game on this night. They were in total harmony with each other and displayed an amazing empathy for the aesthetic direction each took. The well-attended house, having witnessed a truly artistic success, was struck with a feeling of awe when the torrent of sound stopped.