FLASHBACK #03
Early Reflections On Seeing the Duke Ellington Orchestra And Other Artists : Pittsburgh PA, 1958-1961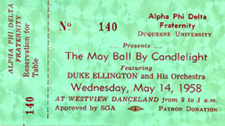 Do you recall how you first caught the jazz bug—that moment or event that caused you to change your musical taste? For me, that instant in time occurred in 1958, a period when I was deeply into the then-underground sounds of Rhythm & Blues that were accessible only on an independent, daylight station in my hometown of Pittsburgh, PA or on hard-to-find 45s. Oh, I had heard several jazz albums in an uncle's collection that included LPs of Chet Baker, Zoot Sims, and Illinois Jacquet, but the music of The Moonglows, The Penguins, The Crows, The Chords, Clyde McPhatter and the Drifters, and Hank Ballard and The Midnighters still dominated my musical taste. I was in college at the time at Duquesne University and my fraternity, Alpha Phi Delta, promoted each year a formal ball with music by a name big band. Groups led by Ralph Martieri, Richard Maltby, Warren Covington, and Johnny Long were presented by us in the latter half of the 1950s. However, in 1958, our social director learned from our booking agent, Joe Hiller, that Duke Ellington would be playing in Chicago a day or so before our event and was scheduled in New York shortly thereafter. Since trains were the preferred mode of transportation then, Ellington would be passing through Pittsburgh, and a reasonable deal could be struck for him to play at our May Ball. Well, we made the contract, and the resulting exposure to Ellington was all it took to make me a livelong devotee to this music.

We had been promoting the event for weeks before his arrival by convincing the owner of a popular college hangout to insert Ellington singles into his juke box, and our group fed the machine constantly with nickels to keep the sound of the Duke in the forefront. The event was held at the Westview Danceland, a huge room in the center of an amusement park complete with rotating crystal chandelier and ever-changing light patterns.

The full Ellington band arrived with all the pomp and ceremony of royalty. It included his entire troupe:
Duke Ellington-Piano
Johnny Hodges-Alto
Paul Gonsalves-Tenor
Cat Anderson-Trumpet
Russell Procope-Clarinet
Harry Carney-Baritone
Jimmy Hamilton-Tenor
Ray Nance-Violin
Quentin Jackson-Trombone
Clark Terry-Trumpet
Willie Cook-Trumpet
Jimmy Woode-Bass
Britt Woodman-Trombone
John Sanders-Trombone
Sam Woodyard-Drums
Velma Middleton-Vocals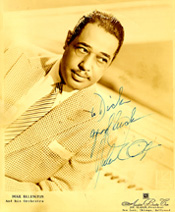 Ellington was magical. He opened the early stages of the ball with very danceable music as the crowd of around 500 couples graced the huge dance floor. The music was overwhelming for me. The band hit dynamic highs with emotional intensity, and the crowd was enthralled. Midway through the ball, Ellington and the band put on a show where no one danced. Everyone crowded around the stage to hear Ellington and all the famous soloists strut their stuff. I recall a lengthy version of "Caravan" as the highlight of the show. Johnny Hodges oozed out smooth, long-lined riffs, Cat Anderson soared to heights I had never heard, and Russell Procope made the clarinet do things clarinets were not supposed to do. The tight ensemble playing crystallized everything they were saying. If I could pinpoint one moment that turned my musical tastes around forever, that was it. Although I was obviously not an astute student of this music, the sounds simply captivated me. No formal understanding of what they were doing was necessary. The Duke's music spoke and I listened. It was pure communication.


One of the great moments happened at the end of the dance. I was the newly elected treasurer of the fraternity, and so Ellington met with our ball chairmen and me in a private room to settle our account. I vividly remember writing a check payable to Duke Ellington for $2,500, which in 1958 dollars was a lot of money for a group of college kids. Actually, Ellington commanded $4,000 for a weekend show in 1958, but since this was a mid-week stopover, we were able to strike a bargain. My only regret is that I did not have my picture taken with the Duke, who posed with the chairmen Ralph Martini and Dick Mellick. He even gave Dick the signed glossy pictured above.

After Ellington, I went on a quest to hear more of this music called jazz. I purchased my first record player and started buying Horace Silver, Cannonball Adderley, Thelonious Monk, Miles Davis, Ahmad Jamal, and all the other greats who were easily available at record shops throughout the city.

During the several years after the Ellington ball, I was able to catch numerous live performances in Pittsburgh. At the Syria Mosque center in the Oakland district, I saw in 1958:

Nina Simone Solo Performance. Her smoky voice and her infusion of classical music with jazz were thrilling. At that time, she was coming off her great hit "I Loves You Porgy".

Maynard Ferguson Big Band. His brand of music was much removed from what I heard Ellington do. His claim to fame in those days was the ultra-high trumpet notes he was capable of hitting.

Ella Fitzgerald & Orchestra. The band was not identified but the scatting of Ella was the memorable part of the night.

Oscar Peterson Trio. With Ray Brown on bass and Ed Thigpen on drums, the group simply known as "The Trio" was a happy, pulsating band spewing out infectious rhythms at a rapid pace.

Sonny Rollins Trio. This group really startled me. Rollins had Henry Grimes on bass and Pete LaRoca on drums playing music that was one of my earliest tastes of sounds breaking out of the conventional mold.

In 1959, several great artists found their way to Pittsburgh, including:

Chris Connor & Trio. Connor was the rage on campuses at this time, and her sultry offering of "All About Ronnie" was a memorable part of the evening.

Chico Hamilton Quintet. This drum master's group included Eric Dolphy on reeds, (I was too much of a novice to realize the magnitude of Dolphy at that time), Robert Haynes on bass, Nathan Gershman on cello, and a guitarist I failed to document. Besides the obvious thrill of seeing Hamilton, I most recall the strange but hauntingly beautiful music that came from Gershman's cello, an instrument that seemed initially at odds with jazz. He quickly dispelled that misconception.



Max Roach Quartet. Roach played with George Coleman on tenor, the great trumpeter Booker Little, and Ray Draper on tuba. Roach's bombastic style was the scene-stealer, although Little made a strong impression on me. Draper's contributions on Deeds, Not Words were a startling discovery for me, particularly the pulse he set on "You Stepped Out of a Dream".

I continued my jazz education in 1960 by becoming an aggressive record collector. From the concert and club side, I saw:

Art Blakey & The Jazz Messengers. Blakey came equipped with an all-star lineup of Wayne Shorter on tenor, Lee Morgan on trumpet, Bobby Timmons on piano, and Jymie Merritt on bass. All I can say is—Wow!



Dave Brubeck Quartet. Brubeck was a seminal player in the jazz world in those days. He performed at the Melody Tent with Paul Desmond on alto, Gene Wright on bass, and Joe Morello on drums. To this day, I still revert to Jazz Goes to College, which I mark as one of the most essential records in my vast collection.

Shirley Scott. This amazing organist gave a solo performance at the famous Hurricane Bar in the Hill District of Pittsburgh. The small stage sat above the bar, giving her a commanding presence which she exploited with her funky sound.

Kai Winding Quintet. Winding was also a very popular name at this time. He played a small room in suburban Pittsburgh, but unfortunately, I do not remember the names of the others.



The year 1961 was pivotal for me. I was exposed to a group led by Pittsburgh pianist Charles Bell called the Contemporary Jazz Quartet. Bell had won the Georgetown Intercollegiate Jazz Competition in 1958 and received a Columbia record date as his prize. I first met him at a record store where he sold me the LP, The Contemporary Jazz Quartet (he convinced me the stereo version, for an extra dollar, was better). It simply blew me away. Downbeat gave it five stars (June 22, 1961, p. 26). Bell played a brand of jazz I had never heard before, using complex and intricate movements with third-stream overtones and incredible improvisations. His group had Bill Smith on guitar, Allen Blairman on bass, and Frank Traficante on drums. Smith's ability to weave in and around the dense piano playing was integral to the group sound. I followed their gigs around Pittsburgh like a rock groupie, catching them every opportunity I could. Bell turned me on to Cecil Taylor (Looking Ahead with vibist Earl Griffith was my initial splash), Ornette Coleman (I bought Free Jazz as my first taste), and Eric Dolphy (his collaboration with Ken McIntyre on another LP called Looking Ahead was my first recorded exposure). I was a new-music fan forevermore. Bell released two other albums, but neither reached the innovative heights of his Columbia release. He never became a big-name star, but his influence was the dominant force in moving me toward the new music.

New music in clubs or in concert form was not available to me in Pittsburgh during 1961, but I did have the opportunity to see:

Ramsey Lewis Trio. Lewis was another 'name' in 1950s jazz. With gentlemen Eldee Young on bass, and Red Holt on drums, he played music that was totally at odds with what Charles Bell was doing. I recall heavy discussions with Bell on the differences in these two diverse styles of piano playing. Still, his Down to Earth recording had its moments for this impressionable newcomer to the music.


The Mastersounds Trio. One of my great thrills was hearing and talking with Wes Montgomery. His brothers Buddy and Monk were on the bill with him. I owned his great Montgomeryland album with Harold Land, but he told me he had moved beyond that point. During our conversation, he excused himself and said he wanted to catch a new guitarist of whom he had heard good things. This set at the Crawford Grill, also in the Hill District, was just down the street from a bar called Mutt's Hut, where Montgomery went to see the then-unknown guitarist George Benson play.

Les McCann Trio. At the same Crawford Grill, I saw McCann with Leroy Vinnegar on bass and Ron Jefferson on drums. McCann's The Shout was a big seller at the time, and his blending of gospel with his pounding ripples was a real crowd-pleaser.

I was transferred by my employer away from Pittsburgh in 1962 and continued my quest for jazz in other cities. The Pittsburgh jazz scene, however, made an indelible impression on me that has never waned. The starting point for it all, of course, was my exposure to the Duke Ellington orchestra in 1958. I would guess that, had I not seen him at that time, I would probably have found my way to jazz through other avenues of exposure, but Ellington's music at the May Ball on that one special night was the catalyst that put me on a musical path that to this day dominates my life.