Pauline Oliveros
Houston TX, 12 May 2000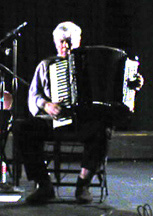 Pauline Oliveros refers to her music as a sound journey. She explores the intricate interrelationship of sound on sound, gathering inspiration from her surroundings and transforming her feelings and emotions into exquisite gems of sonic light. On May 12, 2000, she found just the right setting for her trek into an aural land of tonal purity. The setting at MECA (Multicultural Education & Counseling Through the Arts) in Houston was quite conducive to her being able to slip into another world, a never-never land where the ability to listen was the only qualification for joining her on the trip. The performance, part of MECA's ongoing Improvisational Program, consisted of an opening solo concert, followed by group interplay with three Houston creative artists in a roundtable exchange dubbed by Oliveros as Ear Rings.

Oliveros slowly unwound her music in a cautious, discreet way as she put herself into a self-induced trance and felt the vibrations around her. She encircled herself in a mesmerizing aura, encompassing her total being with the sanctity of sound waves coaxed ever so delicately from her seemingly unwieldy instrument. Oliveros easily manipulated the box into doing her bidding. As the spirits in the room enveloped her, she expounded more dramatically in sťance-like communication with another world—a knock, a rap, did you hear that sound—the spirits are speaking to you and me. Emotions seemed to intensify as she delved deeper and deeper into an ethereal state. Her playing became more overt, the volume more obvious, until you were drugged by the movement of air being pushed through her accordion folds. The process was one of evolution and not revolution. Through her methodical standards of exploration, nuances and subtleties emerged. Her music transformed the room into a cloud of levitating bodies gently floating through space. Oliveros captivated the intensely receptive audience with her tranquilizing magic. She built an ephemeral film of gauze over the entire room, allowing each to swim in the warm waves of her seductive playing. Only when she opened her eyes as a signal of conclusion were we released from her grasp and permitted to respond enthusiastically.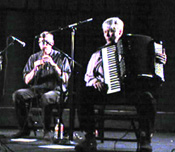 The second half of the performance featured trombonist David Dove, pedal steel guitarist Susan Alcorn, and recorder player Tom Bickley in the Ear Rings circle conversation. Oliveros orchestrated a series of duets where each musician played with the other three in a continuous blending of tones and sounds that culminated in full collective improvisation. The duets emerged as seamless conversations that flowed unerringly into the next by momentarily having three players interact and then one drop out. Alcorn and Bickley opened with an exchange that had oriental overtones and were followed by a duet between Bickley and Dove where the incessant drone of Dove's trombone meshed with the Andean pitch of Bickley's recorder. Dove and Oliveros next engaged in battle, with the lighter accordion vibes clashing with the gruff, muted trombone. Dove oozed out continuous groans of improvised music as waves washing up on a shoreline. They were met with the filaments of sound spun gingerly by Oliveros.

Alcorn and Oliveros next did a dance of light, delicately prancing along as the steel bars met the strings and the accordion gushed out beams of brilliance. The union of Bickley and Oliveros was a fanciful dance of laser beams as well and was followed by the sweeping, long trombone lines of Dove moving in a linear direction while Alcorn interjected soft fragments of raindrops randomly plucked from the sky.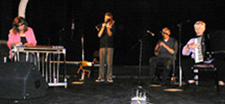 The culminating quartet session unitized the artists in an aggressive, take-hold posture. The quartet was one of contrasts—the high-end recorder piercing the shield of the basement-level trombone—the biting notes from the pedal steel guitar molding with the impeccably chosen accordion strains—darkness blending with the light—quietude vs. boisterousness—chaos meeting serenity—all forms of contrast presented themselves in this unique array of musicianship. The mouthing techniques used by Bickley brought out still more innovative sounds from his several recorders that further contributed to the diversity of the music.

Oliveros coordinated a very satisfying solo, duo, and quartet program full of innovative spontaneity. She dedicated the program to her mother, Edith Gutierrez, a long-term music educator in Houston who was present to see her daughter excel. Many years ago, Jon Hendricks wrote a one-word jazz poem. He simply said, "Listen." Oliveros has expanded on that concept by promoting her philosophy of Deep Listening, which she describes and teaches as "exploring the relationship among any and all sounds". That was all that was required to communicate with Oliveros on this very special night.