Meniscus Roundup #03 : Bisio/Kang + Dörner/Lonberg-Holm/Zerang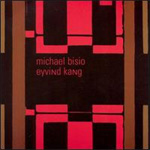 Just in its infancy, the Minneapolis label Meniscus has already chalked up a formidable roster of releases, including ventures from master improvisers John Butcher and Matthew Goodheart.

Here, the Bisio/Kang offering is the more compelling of the two with Kang's punkish energy meshing gloriously with Bisio's merciless, yet versatile bass sprawl. Throughout, Kang's scintillating violin flashes every possible color in the tonal spectrum, his maniacal mewl and screech on the last half of "After the Break" diminishing to introspective plucking on "JGLag". On their absolutely beautiful rendering of Coltrane's "Seraphic Light", Kang amazes with his anguished, keening high notes screaming and swirling with unearthly fervor while Bisio's rugged, relentless bass gravity fulfills its earthbound duty of anchoring the whole blistering sermon by tugging and pushing Kang's burning rainbow. They even play it somewhat straight on the relatively conventional, bluesy head of "The Biszer", laying the melody open in the center, and then returning home to the original riff. Sessions like this can be slippery propositions in the quality department, but it's obvious that both players' ears were open to each other's ideas and spontaneous creativity, alternately tussling and locking it in as the situation demanded.


With the trio effort, consisting of two notables from the Chicago new and improvised music scene and likeminded German trumpeter Dörner, the results are mixed. Sporadic victories are scattered amidst a field of fidgety, ragged meanderings which are often too insubstantial to sustain interest over the course of fifty-odd minutes. True, there are moments of bristling tension, with edgy bits of threatening noise bubbling up from the uncontained brew of fits and starts, but they jar the listener only intermittently. Each piece finds the three agile musicians balanced on a charged, taut wire which never really bends enough to allow the players to do more than cagily stalk around each other's staked-out territory. Dörner mostly eschews the conventional note-making capabilities of his instrument, content to accent the rhythmic slur of Lonberg-Holm's cello and Zerang's tribal drum and patter with buzzes, splutters, squawks, and breathy, dripping washes. The relative brevity of each selection helps matters, but the collective tightrope is too frequently just dropped at show's end, plummeting the artists abruptly into silent oblivion.

Claque is a promising excursion which falters and loses itself in its anxious wanderings. MBEK is the satisfying, completed journey.