Meniscus Roundup #02 : Matthew Goodheart + John Butcher


After firmly establishing its place as a notable new independent label with last summer's releases by Gino Robair and Matt Turner, the Minneapolis-based Meniscus imprint serves up two new recordings that further its commitment to improvisatory minimalism and intimacy. Not content to simply nudge the proverbial envelope, both discs literally shove the boundaries of improvised music to their breaking points with somewhat logical results—namely, sometimes it works and sometimes it doesn't.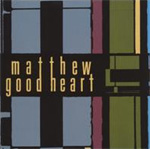 While many seem to be content with writing Goodheart off as another Cecil Taylor clone, his solo work on Songs From The Time Of Great Questioning proves that the situation is much more complex. Although many of his structural devices certainly retain a Taylor-esque flavor, the technical aspects of Goodheart's playing suggest a pianist who has obviously studied Taylor's work and absorbed the most relevant tenets for use as a point of departure for his own distinct keyboard explorations. The first two tracks do have a certain CT echo to them, as seen in the hinted-at chord progression that introduces "Sparks from the Ancient Sea" and the spacious anticipation of "Structure for Piano No. 2", but the rest of the disc highlights the strides Goodheart has made in his own development. "Can One Letter 'Om'? (for Ornette Coleman)" offers a brilliant translation of its dedicatee's edgy pulse and discrepant tonality to the piano with a succession of frazzled bluesy runs and intermittent stops; the slightly more classically oriented "Variations on a Theme by Alvin Curran" solidifies raging clusters of sound from distended origins while momentary swings sneak out from the frenetic discourse; and "Shaker Melody" explores the piano's innards with rhythmic purpose and well-conceived abstraction, only to finally reveal the melody in a hazy conclusion.


Butcher's Music On Seven Occasions explores even more adventurous territory and, as might be predicted, comes up with a less desirable outcome. As a saxophonist who nearly embodies the form vs. content debate in his adherence to displays of postmodern technical prowess (tongue-slapping, split tones, etc.), Butcher offers a series of duets with various collaborators recorded over a two-year period that more often than not emphasize technical virtuosity over musical communication. The three pieces that match Butcher with pianist Veryan Weston come the closest to breaking this mold—especially "Sea They Think They Hear", in which Butcher's opening curdled shrieks digress to a stuttered dialogue, and the more introspective "Gil Thread Dream", where the virtual storm brewed between the two eventually breaks into an intensified squall of blistering harmonics. The duets with Gino Robair that open the disc almost achieve a similar end but ultimately result in a sort of musical tease—continuously building tension between the saxophone and percussion that never reaches a point of release. However, the collaborations with Chicago improvisers that fill out the disc's second half are a bit more problematic. While "The Late Approach" is grounded by trombonist Jeb Bishop's plungered melodicism, the duets with John Corbett ("The Step Sequence"), Terri Kapsalis ("The Interior Design") and Fred Lonberg-Holm ("The Only Way Out") are typified by an overenthusiastic excess that not only make for difficult listening but also impede the overall musical flow of the disc.

But even though the products of all this experimentation sometimes come out with mixed results, it's fortunate that labels like Meniscus are getting music to the public that might not be heard otherwise—a reason to celebrate that transcends both opinion and evaluation.