Peter Kowald
Houston TX, 9 April 2000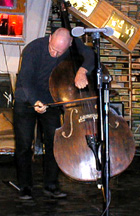 In March 2000, bassist Peter Kowald embarked on an extensive three-month concert tour of the United States. His program was to include about 50 solo performances in cities all across the country, and he would also play with a duo or trio of selected area musicians as the second part of each performance. He purchased a station wagon and began negotiating the country. In Orlando, Florida, he included Sam Rivers as his second-set partner. He continued to North Carolina and a union with Eugene Chadbourne; New Orleans, where he hooked up with Kidd Jordan and Alvin Fielder; and numerous other cities before arriving in Houston. The Houston date marked his 28th concert appearance on this tour that would take him westward and to several cities in California (playing with Vinny Golia among others) before culminating with an appearance at the 5th annual Vision Festival in New York in May. The entire event was documented by a traveling companion who videotaped each performance for eventual distillation and issuance as a documentary of the tour.

The Houston venue was a most unique downtown site. An antiquated, multi-story dry goods store has been converted into a Bohemian coffee shop named No Tsu Oh, where crowds gather to sip exotic brews, play chess, and indulge themselves in the arts. The performance space is filled with numerous overstuffed sofas and easy chairs that had seen better days, racks of empty shoeboxes, and two large live-in dogs that share the territory. This all seemed to be the appropriate atmosphere for Kowald to turn on his creative juices.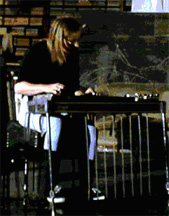 His set-long solo opened with furious arco playing accompanied by his own guttural throat singing. It was a massive beginning, energetically fueled by the muscular use of his left-hand knuckles to massage the strings while he bowed. Kowald appeared to be conducting an exorcism, willing the instrument to do his bidding. When he switched to pizzicato mode, the mood turned solemn as he played abstract rhythm in hymnal fashion. He also turned the bass into a percussion instrument while beating the strings with highly reverberate results. On returning to arco, Kowald grabbed a fist full of strings and muscled the bass into submission. His style featured the use of short phrases or groups of notes that he worked into variant forms of reiterative rhythm. Heard within the music was the aura of the American Indian culture interspersed between the predominant European musical esthetic. The performance was one of contrasts, alternating between the violent and the serene. Foreboding arco romps with deeply ominous emotion gradually transcended into high-energy squeakiness. His visual effects were equally overwhelming. Kowald used a circular bowing technique to develop eerie tones amid a recurring theme. He finished the set as he began, using knuckles and throat singing to reestablish the heavy drone tone.

For the second set, Kowald featured two of the city's premier avant-garde musicians in duet with him and as a trio. Pedal steel guitar player Susan Alcorn and Kowald set an ethereal stage of serenity on the first duet. Alcorn uses the unusual instrument much the way oriental string instruments are played and completely disguises any association it may have with country music. She played in sensitive, atonal phrases while Kowald matched the mood. Alcorn used a steel bar and picks to produce eerie tones of elusively twisted notes to establish the sťance. The piece methodically built in tension that was only released when the two reverted to serene musings. Kowald admitted he had never even seen this instrument before, let alone played along with one. Yet the meeting was as natural as could be. He intertwined his string bursts around Alcorn's spatial playing in perfect union.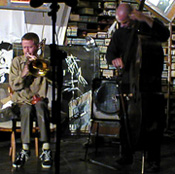 The second duet found Kowald playing with freewheeling trombonist David Dove. Dove is a forceful and physical musician whose playing draws comparison to the great German trombonists in his phrasing and execution. He produces a heavy sound typically expressed in staccato style with interjections of punctuated tonality. Dove spewed a consistent flow of molten lava from his open or partially muted horn. Still, his music exhibited smoothness. Kowald again merged his frantic bowing with Dove's blasts to provide a cacophonous symphony of brooding music. Kowald's throat singing was a natural for the opposing tones of the trombone and proved to be an effective technique. Kowald is a traffic director in these situations. He subtly changes the pace and rhythm to achieve his spontaneously realized goals.

The evening closed with a trio performance. Again, Kowald set the tone and direction while Dove produced waves of deep trombone groans and Alcorn showed a more frantic style in manipulating the steel guitar. Kowald played fast and furiously as Alcorn oozed out shades of color. The trio displayed extensive group empathy.

Kowald announced he was off to Austin, Texas for another performance the following night. He has put himself on a grueling schedule, yet he showed no signs of fatigue or lack of inventiveness. Apparently, he is recharged with each new challenge that faces him along the torturous route.