The Seventh Annual Guelph Jazz Festival
Guelph ON, 6-10 September 2000

The Guelph Jazz Festival continues each year to expand its breadth while quietly competing very effectively with festivals of much larger size and budget. In this, its seventh year of operation, it again presented an exciting array of international musicians, all of whom were showcased at congenial venues over a five-day period. The locale is an amiable college town situated about 50 miles west of Toronto. The festival makes use of university and community facilities to showcase its agenda of creative and cutting-edge performers. Its programs are well spaced to preclude it being a marathon event, and the ambiance of the surroundings is conducive to the creativity that ensues. In addition, the festival fosters a colloquium where panelists and speakers consisting of educators, writers, and musicians are offered the opportunity to expound on the cultural, economic, and social aspects of the music. The 2000 colloquium was titled Improvising the Future: Jazz in the Global Community and featured four panel discussions, two keynote speakers (trombonist George Lewis and educator George Elliott Clarke), three workshops, a dozen formal treatises, and a roundtable forum intertwined among the performances. The community atmosphere at Guelph is pervasive and very conducive to the musical and educational vibrations that permeate the air at this delightful late-summer site. The musical portion of the Festival began on Wednesday night: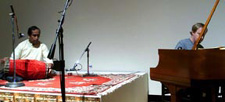 The high ceilings and hardwood floors of the Macdonald Stewart Art Centre provided excellent acoustical balance to promote this union of jazz piano and South Indian percussion. Paul Plimley and Trichy Sankaran played a stimulating duet that embraced the ritualistic and fast moving dance of the Indian culture as it overlapped gracefully with the jazz aesthetic. Evoking spontaneous and highly intricate Karnataka rhythm patterns from two traditional South Indian instruments, the double-ended mridangam and the small-framed kanjira, Sankaran set a pulsating pace to encourage Plimley to prance in cat-like manner over the resonating keys. Plimley's often-percussive piano style is quite complementary to the playing of Sankaran. He picks up the signal from a few beats and proceeds to develop it into an engrossing exploration of the music's core. This was demonstrated throughout the program, but it also became the feature of an extended call and response conversation. Sankaran produced a wide array of rhythms that cajoled Plimley into making involved statements as an answer to the tease. The empathy demonstrated between these two was boldly on display as each musician used threads of the other's output to expand their creative energies. Sankaran had the spotlight frequently and awed the crowd with his lightning-fast fingering as he meted out talas of repeated time units with differing degrees of stress to form a cyclical pattern. This project is a challenging alternative in the creative sphere of Plimley, who subtly instilled his own Western dynamics into a program filled with uniqueness. It was a joyous festival opening.


Thursday's activities began with ASZA, a collective representing multiple cultures linked by a common thread through the language of world music. They engulf the stage with a vast array of strange-looking and unconventional instruments and proceed to make highly rhythmic and spontaneous music that reflects the totality of their worldly experiences. Although all musicians appear to have equal standing in the group, Randy Raine-Reusch is the spokesperson and effective leader. He coaxes amazing sounds from his 21-string Asian zither, saw, and numerous other wind and percussion instruments. Raine-Reusch explained that he does not simply play these exotic music makers—he first absorbs the culture of their origin and studies with local experts to master them. His exotic sounds blend gently with the oriental music from Qiu Xia He's Chinese pipa, an ancient string instrument that she manipulates with high dexterity. Folding in the heartbeat of South America and the other continents is Pepe Danza, a powerful Uruguayan percussionist and shakuhatchi player who visually and aurally dominates the soundstage. The impact of Southern and Eastern Europe is provided through André Thibault on flamenco guitar or the oud, another ancient string instrument. Guest musician Mark Rodgers inserted the bass line, and the five artists took the crowd on a whirlwind journey around the world, with stops in Spain, India, China, Japan, South America, Thailand, North Africa, Eastern Europe, and others. The exciting element in ASZA's music is its integration of multiple ethnic and cultural rhythms, melodies, and improvised enthusiasm into a collage representing a homogeneous whole. ASZA is a wonder to watch and hear. They captivated the crowd with their infectious beat and creative skill.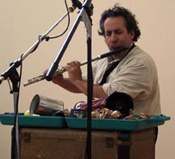 Yet still another blending of cultures was represented by the duet performance between French Canadian reed player Jean Derome and Chinese Canadian pianist Lee Pui Ming. Derome brought with him a bevy of toys and small wind and percussion objects to augment his reeds. He opened the program making arrhythmic sounds and strange noises by squeezing, whirling, striking, blowing, or otherwise simply toying with all the paraphernalia in his bag of tricks. This playful musicality evolved into a spirited and liberated reed/piano duet by these two contrasting yet compatible artists. Lee can be delicate or aggressive with her piano as she often allows her Western influences to take precedence over Oriental musical concepts. Yet, there were moments when her Chinese background formed the basis for an entire sonic segment. She scurried over the keys at quick-time pace to match the high-pitched shrills from Derome's flute. Her playing exhibited a sense of spirited zeal as she filled the session with dynamic highs and occasional bombastic pounding. Lee as well came equipped with assorted gadget noisemakers. Derome was at his creative best on alto. He wrenched torturous tones from the upper and lower register while establishing a hectic feeling of urgency. These passages were followed by other exercises in manipulation of his table of sound-producing accessories. Both performers were highly emotional and emphatic in outwardly expressing a communion of spirits. Whether on traditional instruments or makeshift utilities, they were enthusiastically received by the crowd.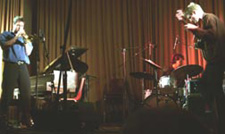 The Toronto-based trio of Jean Martin was a pleasant surprise for me, given that I had not been previously exposed to their stirring brand of music that mixed structure with openness to achieve a satisfying composite. Martin propels the group from his drum chair, using either subtle colorings of asymmetric rhythm or more demonstrative blasts to incite trumpeter Kevin Turcotte and guitarist Justin Haynes into flights of eccentricity. The compositions were melodic benchmarks designed to establish a foundation from which Turcotte and Haynes could rise to seek the unregulated potential of the tunes. Haynes used real-time electronic feedback of his bent and twisted guitar notes to supplement his playing and to spread a spooky aura over the set. His redistributed notes echoed and competed with his newly imputed expressions and the trumpet probes of Turcotte. Turcotte is a very expressive player. He swirls his notes around and around the melody much the way Dave Douglas does in establishing a beachhead. Starting with basic melodic statements, he evolved the tunes into more elaborate pieces where all three musicians could collectively respond. Behind it all, Martin unassumingly maintained control as the prime mover of the set. The use of electronics with this music was very tastefully done and added to the prevailing atmosphere of unusualness. The Martin trio brought freshness, tension, and challenging music to the bandstand on this night.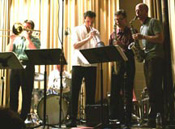 Misha Mengelberg made a return trip to the Guelph Festival, but this time he brought with him the entire ICP Orchestra. This group has a reputation for having fun on the bandstand, yet on this night, they got down to serious business and kept the intensity at a high level throughout their extended set. As though to allow Han Bennink a chance to expel his pent-up aggression, Mengelberg scheduled him to open the concert. He played a bombastic solo filled with the energy and fury for which he is noted. Enter the full band, which casually segued into the melodic Mengelberg tune "A Bit Nervous" to loosen up the audience for the excitement to come. It came as a heavy downpour of cacophonous energy corralled by the loosely controlled guidelines of Mengelberg. Ernst Glerum and Ab Baars' freely improvised duet was the vehicle to set an orbital path. The ICP is comprised of stars and each had his or her moment in the sun, but Wolter Wierbos appeared to be the feature of the evening. He brought muscular yet controlled fury to both his ensemble and solo trombone playing. Michael Moore and Thomas Heberer were also on prominent display. One of the band's most stirring selections was a totally unique and freewheeling rendition of Ellington's "Caravan". It allowed for much individual expression and would have gone on indefinitely had not Mengelberg risen authoritatively to say "enough". A surprise addition to the band was American expatriate Mary Oliver, who wielded string enchantment, along with Tristan Honsinger and Glerum, as a counterbalance to the often-dominant brass and reed assemblage. Mengelberg himself had many featured solos where his pensive and probing approach to the piano was on full display. The set was an enormous success that seemed all too short despite its nearly 80-minute length.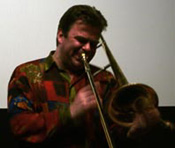 At the midnight session held in a local movie theater, Wierbos picked up as a soloist where he left off with the ICP. He played a short but diversely interesting set. Initially he dismantled his trombone and gave a clinic on blowing without the trombone sound—only the swishing of his wind could be heard passing through his dismembered horn. He then reassembled the instrument and began to emit short spurts of sound to a rhythmic marching pattern he established in layers. This gradually evolved into more clamorous playing where he sustained a constant flow on ideas that appeared to pour effortlessly from his horn. He invented theme fragments and discoursed off their lines with multiple variations. A highlight was his dissertation on circular breathing on the trombone, an exercise quite difficult to accomplish, I am told. Wierbos played the range from gruff to smooth tones over the entire sonic spectrum at this concert, and he communicated very effectively with the attentive crowd.

Friday morning opened quite auspiciously with the keynote address from George Lewis titled "The Old People Speak of Sound: Personality, Empathy, Community" where he delved extensively into the origins of the AACM and other topics of historical significance to the music.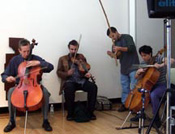 What followed was billed as a workshop, but the appearance of Global Strings turned out to be a high-quality performance. The Festival selected nine string players from the various performing groups to play with Plimley in a totally spontaneous and improvised set of sorcerous power. Mat Maneri made his first appearance, while representatives from ASZA, the ICP, the NOW orchestra, and Jason Stanyek (who on Wednesday presented a paper on Pan African collaborations) displayed the art of listening, interpreting, responding, extending, and embellishing the continual string conversation that arced around the stage. Each artist instinctively knew when to play and when to listen, while individual solos randomly evolved into duets, trios, and more. Plimley punctuated their work with sensitive statements, and eventually the entire group responded in full chorus as violin, viola, zither, oud, cellos, birimbau, bass, and pipa sang in joyous and soaring union. Stanyek remarked profoundly at the closing, "That was an interesting way to get to know each other."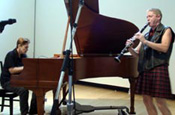 One of the freest sets of improvised music came from Queen Mab, a Canadian piano/reed duo who broke from the starting gate with shimmering flashes of electricity to spark their communion. Lori Freedman, an aggressive purveyor of spontaneity, alternated between clarinet and bass clarinet while maintaining a consistently high level of nervous energy. She was driven by the equally aggressive notes resounding from Marilyn Lerner's piano. Lerner is an extremely accomplished pianist who comfortably fits into many musical scenarios including klezmer music (she is the pianist for From Both Ends of the Earth, which performed at an open-air concert on Thursday), Cuban music, and other diverse contexts. On this afternoon, however, she was a fully exploratory navigator probing into the deep recesses of the piano. Although the songs were titled, they came across as totally improvised expressions. Freedman coaxed guttural blurbs from her bass clarinet and proceeded to take the instrument into the stratosphere with high-pitched wails. On clarinet, she produced the same liberated tonality as she wound her keening around Lerner's single stabs or rich clusters of notes. The music was intense, often yielding stark emissions of near hostility. It folded into layers of textural tonality only to spurt off into robust rounds of adventurism. Lerner toyed with the piano strings on "B Piece" and then became bombastic in assaulting the keys. Freedman's tortured facial expressions signified the total involvement she had with the music. Lerner and Freedman produced exciting emotional music to captivate the opened-eared listener. I was most impressed.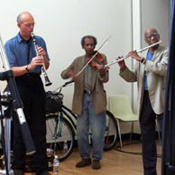 A unique opportunity is afforded the Guelph Festival through its community spirit, and it often manifests itself in the mixing and matching of divergent talents into a meaningfully new assemblage. This happened with the performance segment of the Jazz Cooperatives workshop that paired three members of the AACM with an equal number from the ICP. Although George Lewis explained that the two groundbreaking organizations had very different cultural and social origins, the music has evolved into a common concept where individual and group creativity is the norm. This heady table of superstars played a freeform set where Leroy Jenkins' weeping violin evoked spiritual flute and clarinet chirps from Joseph Jarman and Michael Moore while Lewis puffed mellowly into his trombone. With jarring suddenness, Han Bennink would insert bolts of thunder to break the quietude and then allow the band to seek refuge again in pastoral undertakings. Mengelberg added color as he gently roamed the keyboard inserting pinpoint punctuation. He sashayed into an introspective solo that was periodically awakened through Bennink's cloudbursts, but then even Bennink became somewhat subdued in the spirit of unity. Lewis could be heard playing fragments of Monk, and Mengelberg tiptoed gingerly over the keys. Midway through the set, all hands jumped into the fray and the temperature rose significantly. Each player was fully expressive while simultaneously melding into a unified entity. With an all-star cast such as this, you might have expected to see egos emerge, but just the opposite happened. There was a display of respect swirling around the sextet even when they took the gloves off and did serious musical combat. This was probably a once-in-a-lifetime chance to see these six musicians together. It alone justified the pilgrimage to this festival, as Stuart Broomer of Coda described such trips.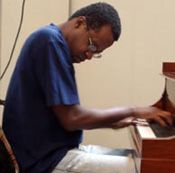 A very intense and lengthy performance resulted from the duet of Matthew Shipp and Mat Maneri. These two extremely serious artists joined forces in probing the darker side of creativity. Shipp was at his ominous best as he concentrated on the lower end of the keyboard to set the somber tone. This contrasted well with the high-toned waves of string sonority from Maneri's viola. They played what appeared to be a totally improvised opening segment where individual expression merged to form a complete picture much the way a jigsaw puzzle comes together. To bring a point of reference to this improvised beauty, Shipp moved the lengthy suite into "Greensleeves", where rich textures of the song's foundation gave way to extended variations, with only micro-fragments of the melody surfacing sporadically. Maneri was an intent listener to the direction established by Shipp. He immersed himself in the powerful rumblings from Shipp and added his own brand of spiritualism with wildly emphatic strokes. When Shipp would move into the upper register, Maneri tended to counterbalance the music with lower virtuosity. They concluded the first opus with fragments of Monk, although it was well disguised and uniquely Shipp/Maneri. The second piece opened with Maneri soloing pensively, which allowed Shipp to enter with dynamic cascades of notes. On this piece, Maneri seemed initially to be the directional force, but the way Shipp molded his playing around the strings made it a unitized body. Shipp then reassumed the pilot's role and took the movement on a wild flight of droning left-hand rhythm patterns spurred by Maneri's pickup of the theme. They wound this portion of the long movement down gradually with near-melodic sensitivity and a six-note repetitive rhythm, only to rise again for one last hurrah of vigorous demonstrativeness. This was a draining intensive on the art of improvisation that left the audience in awe.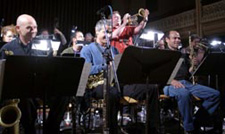 One of the most risk-taking yet disciplined big bands today is Vancouver's NOW Orchestra, which lends itself out to guest conductors to expand its breadth and enlarge its sphere of musical knowledge. George Lewis has been experimenting with this band for a number of years and was invited to conduct his music on a tour with the band to Eastern Canada that included the Guelph Festival. Lewis is an emotional and visual conductor. He physically breaks out in a sweat as he animatedly brings out nuances in the band's playing. Most NOW members are leaders in their own right, but they suppress that role for the orchestra and appear to receive great satisfaction from their collaborative efforts. Lewis opened the program with his "Endless Shout" while establishing a set-long pattern of featuring multiple band members as soloists on each piece. Every musician excelled in his or her moment in the spotlight. Lewis worked the band energetically, dividing them into small groups while always returning to the huge ensemble sound. After the rousing starter, Lewis presented an extended sequence of his "Shadowgraph" music, offering five consecutive examples of the brooding and difficult music. The entire series was a challenge to the band, yet on each, individual play carried the day. This "Shadowgraph" series dates back to Lewis's 1970s composing period and is extremely intense and demanding music. It evolves with sudden turns, quick starts, and changing tempo while always keeping the dense tonality as its identifier. It is atypical big band music. The last scheduled tune was a return to rousing play with Lewis'"Hello Goodbye" where the band was able to release pent up energy. Of course, an encore was demanded and happily given by the appreciative band so warmly received. Lewis did a wonderful job of molding this orchestra, but his job was made much easier due to the high caliber of musicianship exhibited by all.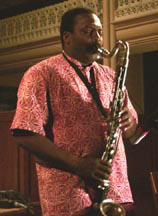 David Murray is a wonder to hear and see perform. He exudes so much energy, so much charisma, so much talent—it just spills over from his commitment to the music. That inimitable sound that swells from his tenor and bass clarinet was ever present on this night when he teamed with Jon Jang. It was a very enticing union. Jang brings with him a rich tradition of the social and cultural aspects of China, yet he has adroitly managed to merge these musical qualities with Western music. Several selections during the evening represented traditional Chinese songs adapted to conform to the elements of improvised jazz. Murray was a powerful force on this night. He opened on tenor with ringing rounds of robust blowing while Jang pounded out a traditional Chinese melody. The program contained a considerable measure of political overtones. Murray's hauntingly beautiful tribute to Eleanor Bumpers, an African American casualty in the war against police brutality, was an emotional high that saw him consistently hitting gripping peaks with raw conviction to free expression. Jang's solo on this piece maintained the vital message as he built the tension for Murray's reentry. Murray played a bass clarinet solo with his recognizable tonguing technique and then smoothed out his motion with fluid blowing. Jang followed with his own solo, the inspirational "You'll Never Walk Alone", which he dissected convincingly with only a minimum of schmaltz. Another moving piece was a dual composition on the same subject, the injustice of capital punishment that Jang and Murray unilaterally composed in protest to the death row imprisonment of Mumia Abu-Jamal. They closed with the African American anthem "Lift Every Voice and Sing" but did return for a short encore. Murray soared on high on this captivating night, and Jang was a fitting foil to spur the action. It truly was a festival highlight.

Fatigue caused me to miss the midnight session featuring vocalist Maggie Nicols and drummer Ken Hyder, but by all accounts from those with more stamina, it was a wonderful show.


Only a super attraction such as Matthew Shipp could draw a crowd for a 10 AM Saturday performance, and those who did not make it out of bed missed a stellar solo concert. Shipp unassumingly took command of the keys and for nearly an hour held the audience in his grasp and at attention. He began with an improvisation constructed at slow tempo and wound dense phrases in and around a semblance of a melody. From there, he was able to veer in multiple directions, dropping down into the lower register with rumbling authority, sneaking in sparks of high notes unobtrusively, or simply cascading over the range of the keyboard with power strokes. His notes rose in reverberant fullness in the church sanctuary venue. Shipp's process in approaching a solo is extremely methodical. Although the element of spontaneity and surprise is ever present, you get the feeling he has the entire scenario planned out in his mind. It unfolds in logical sequence while remaining totally unpredictable. Suddenly, though, Shipp broke the mold and resorted to a favorite tactic of deconstructing the melody of a standard. "Green Dolphin Street" was the vehicle this time, and he pushed off from the familiar refrain into dark areas where reference to the theme became a challenge to discern. The third triad in this set-long solo was very loosely based on "Love for Sale". Again, Shipp gave the audience a frame of reference before abandoning it for destinations unknown. The entire session was masterfully assembled as a true work of art, and the short encore simply punctuated its artistry. In a festival with many highs, this may have been the pinnacle.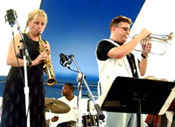 One way the festival bonds with the community is through its series of free Saturday afternoon downtown performances staged in a huge open-sided tent. Five acts were presented this year, and Jane Bunnett & The Spirits of Havana was the headline group. They ignited an overflow crowd itching to get up and rumba. Bunnett and trumpeter/husband Larry Cramer controlled the action while the percussive sounds and beat of Cuba filled the air. Bunnett has always been an exciting improviser, and although this current rhythmic direction has its improvisational limits, she still produces stirring soprano and flute flights of fancy. A focus of the group is Pancho Quinto, a percussionist extraordinaire. He and singer/percussionist Ernesto Gatell dazzled the crowd with their infectious beat while pianist Elio Villa Franca filled in the melodic lines. Bassist Roberto Occhipinti from the very talented family of Occhipinti's played a heavy hand in keeping the music moving forward. Bunnett's solos were high-flying affairs. Although I feel she is more expressive on soprano, she spiels out long, flowing improvised runs on flute in keeping with the Afro-Cuban theme of the band. Cramer had several opportunities at the solo helm, alternating between flugelhorn and trumpet to give the band an extra bit of oomph. Add the drumming of Mark McLean and the singing and dancing of Ida Sanchez and you have a crowd-pleasing event that also had an exceptional level of professionalism. This group in this atmosphere was well conceived, and they did not disappoint the crowd looking for a reason to party.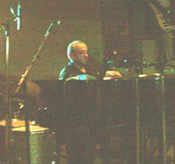 Sounds of percussion could be heard clanging from off stage prior to Vyacheslav Ganelin making his way to his piano, drums, and electronic paraphernalia. He had the drum kit positioned to his right and the black boxes stationed on the piano, so he was able to effect a one-man show quite easily. The Russian born Ganelin, who now resides in Israel, began expelling the evil spirits by meting out a freeform drum sequence and then glided into a slow-paced piano dirge while simultaneously striking the cymbals. To say his music is foreboding would be an understatement. He takes a very somber approach to playing, and is forcibly aggressive in his attack. Ganelin uses electronics as a real-time adjunct of his own production. He feeds drum or piano sequences into the machine and then creatively reinserts this augmented sound into his current direction. His music is devoid of structure. It is a muscular form of instant composing using his various tools, which include a volume-controlled ring simulator that periodically could be faintly heard and seconds later was obvious. These little effects meshed neatly into his playing, which often became thunderously loud and frightfully violent. Ganelin also contorted his playing into artificial sounds of other instruments as he simulated numerous tonalities, including the soprano sax, bike horn, pipe organ, flute, and others. Except for one brief sequence where the electronic drum rhythms came off as too mechanical, the use of these space-age music enhancers became an integral part of the performance and heightened its level of originality. The freely executed piano expressions of Ganelin, however, were the strength and focus of this concert and unquestionably identified him as an innovator of the first rate. This unassuming man made quite an impression with his continual wave of ponderous inventiveness.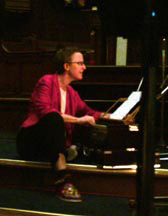 The formation of the exquisitely beautiful Equal Interest Trio was a stroke of genius. Myra Melford, Leroy Jenkins, and Joseph Jarman form a tight union that produces challenging, absorbing, and uplifting music. It is an appropriately named group as well. Each member is a compositional contributor but more importantly is equally expressive in his or her role as improviser and innovator. The swirling sound of Jenkins' violin stirred the air on this night as Melford became one with her piano. Jarman was at his adventurous best as well, often playing with robust vigor. This unique group often breaks down into the solo or duet format. Melford started things off aggressively, and Jenkins then joined her with an intricate intertwining of personalities. Jarman took over with a gripping saxophone solo, which coaxed Melford and then Jenkins back into the fray. These three display a high level of respect for each other. They instinctively united in a sphere of responsiveness and expelled countless rounds of spirited originality. The song structure was complex. It required concerted concentration to absorb the vital nuances that emerged, but this attention was rewarded by a feeling of elation as their musical movements washed ashore as non-stoppable waves of brilliance. At the midpoint, Melford switched to the harmonium, and although the sound composition changed, the interplay was consistent. The reed-like tones of air being forced from a bellows gives the harmonium a distinctive appeal, and combined with the flute of Jarman and high-pitched strokes of Jenkins, had enchanting results. Melford returned to piano for more inspired playing and the trio delved deeply into music with weighty overtones. They held the audience spellbound. Equal Interest is a masterful trio. As a well-deserved encore, Jarman chanted to his compelling piece "Lifetime Visions for the Magnificent Humans", which is documented on his upcoming album of the same title. It was a fitting and spiritual closing to this exceptional concert.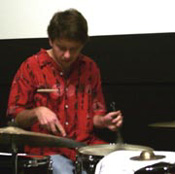 The midnight concert matched two stellar musicians from the west and east of Canada. Vancouver's highly creative drummer Dylan van der Schyff fielded kinetic volleys from Montreal's Rene Lussier in an electrified example of sound exploration. Lussier sat amid a bevy of electronic foot pedals that he stomped to contort, interrupt, augment, and otherwise redirect his electric output. Telepathically, van der Schyff knitted sensitive percussion touches into the weave as he intently listened to Lussier and interrelated as an extension of the guitarist's music. Van der Schyff used small metal cups, little wooden sticks, rattles, and other accessories to establish subtle ambiance and textural effects. He bowed the edges of the drum kit, massaged their skins, and generated reverberated sounds from the small cymbals in establishing a pattern of non-patterned percussion. Then suddenly he exploded into full-blown power drumming. Meanwhile, Lussier was wildly exuberant in forging high-pitched atonal screeches from his guitar. A most unusual effect occurred when he pulled steel wool through the strings to create sinister yet absorbing noise music. There is a natural affinity between these two creative minds, and their sometimes subtle but more often violent emissions were in harmony with their free spirits. Both players bonded to present late-night excitement for a weary yet appreciative audience.

Travel considerations forced me to miss the two concluding and very enticing concerts on Sunday. A United Nations Millennial Jazz Summit was held and featured Myra Melford, Jane Bunnett, Trichy Sankaran, Maggie Nicols, Matt Darriau, Seido Salifoski, and Ken Hyder. The festival's concluding concert was "Passages", a multi-media jazz opera written by Guelph's exciting percussionist Jesse Stewart. It included lyrics by jazz poet Paul Haines, vocals by Maggie Nicols, video installation by David Rokeby, and music from Roswell Rudd, trombone (who flew in from Paris for the set), David Mott, baritone, Anne Bourne, cello, and of course Stewart. Not witnessing these performances was a disappointment to me.

Still, I left Canada with the sounds of so much music swirling through my brain. Every concert I attended had significant merit and meaningful substance to recommend it. It was one of the most consistently satisfying events I have attended, and I can honestly say that there were no downturns or low points to any of the shows I observed. As Artistic Director, Ajay Heble put together a wonderful spectrum of world artists who met the challenge by playing inspired music with an abundance of creativity. The Guelph Festival rightfully ranks as one of the world's top-notch musical events, and I look forward to making my fourth trek to this celebration of artistry in 2001.